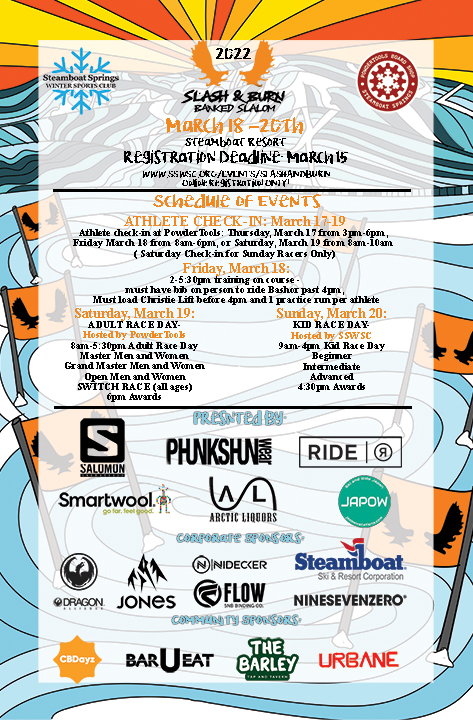 The first annual Slash and Burn came to life in 2014 with collaboration between Steamboat Springs Winter Sports Club and Powder Tools. It is now one of the biggest Banked Slalom events in the U.S. From industry members to Olympic athletes, this event brings together the entire snowboard community! Athletes range from 6 years old to 60+.
Get ready for a full weekend of activities at the 2022 Slash and Burn Banked Slalom! Training is on Friday, March 18 and official races are on Saturday, March 19 and 20 at Steamboat Resort! This event marks our 8th annual Slash and Burn! Make sure you register online, check the rules and regulations at www.sswsc.org/events/slashandburn and check in IN PERSON on Thursday March 17 or Friday March 18!
RESULTS
WOMEN OPEN CLASS
WOMEN MASTER CLASS
MEN OPEN CLASS
MEN MASTER CLASS
MEN GRAND MASTER CLASS
SWITCH RACE
JUNIOR RESULTS
JUNIOR SWITCH RACE
SCHEDULE OF EVENTS
Athlete check-in at PowderTools: Thursday, March 17 from 3pm-6pm,
Friday March 18 from 8am-6pm, or Saturday, March 19 from 8am-10am
( Saturday Check-in for Sunday Racers Only)

Saturday, March 19: ADULT RACE DAY- Hosted by PowderTools
8am-5:30pm Adult Race Day
Master Men and Women
Grand Master Men and Women
Open Men and Women
SWITCH RACE (all ages)
6pm Awards
Sunday, March 20: KID RACE DAY-Hosted by SSWSC
9am-4pm Kid Race Day
Beginner (all genders and ages combined)
Intermediate (all genders and ages combined)
Advanced (all genders and ages combined)
4:30pm Awards
Tshirt and Sweatshirt Artwork below!