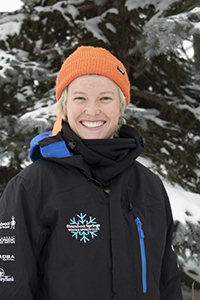 Maddy Schaffrick, Snowboard Director, Snowboard Freestyle Head Coach
Email:

.(JavaScript must be enabled to view this email address)
Hello! My name is Maddy Schaffrick. I was born and raised in beautiful Steamboat Springs, Colorado and grew up in the Winter Sports Club. My list of passions is substantial but snowboarding has always been at the top of it. I love all creatures but lions are my favorite. My favorite color is the Rainbow and my favorite thing to eat is ice cream. I'm allergic to all nuts, which is funny because my favorite people are nuts! Snowboarding is fun. Friends are family. Nature cures everything. Kindness makes a difference. Magic is Real. Love is All.

On top of Maddy's contagious personality and smile she was on the U.S. halfpipe team for seven years. Her resume is packed with impressive results including X Games and Grand Prix events.