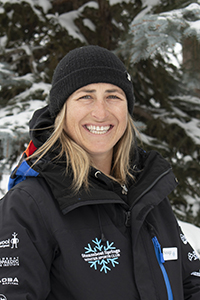 Sasha Nations, Snowboard Ability Head Coach and Cycling Director
Email:

.(JavaScript must be enabled to view this email address)
Never one to come up short on wisdom, Sasha has managed countless athletes, athletic programs, and coaches in all facets of the sport. Many of her athletes have gone on to professional careers, while others have become outstanding individuals taking on other challenges. She is a coaches coach, holding down a level 300 USSA certification and educating coaches for the USSA/USASA. Sasha has a business mind that has helped athletes land global contracts as well as their first shop sponsor. She is dedicated to helping the athlete bring out the best in themselves through demanding accountability. She has a long history producing top notch training programs and camps with Team Summit.
Sasha graduated from the University of Denver with a background in Marketing, Finance, and Real Estate.