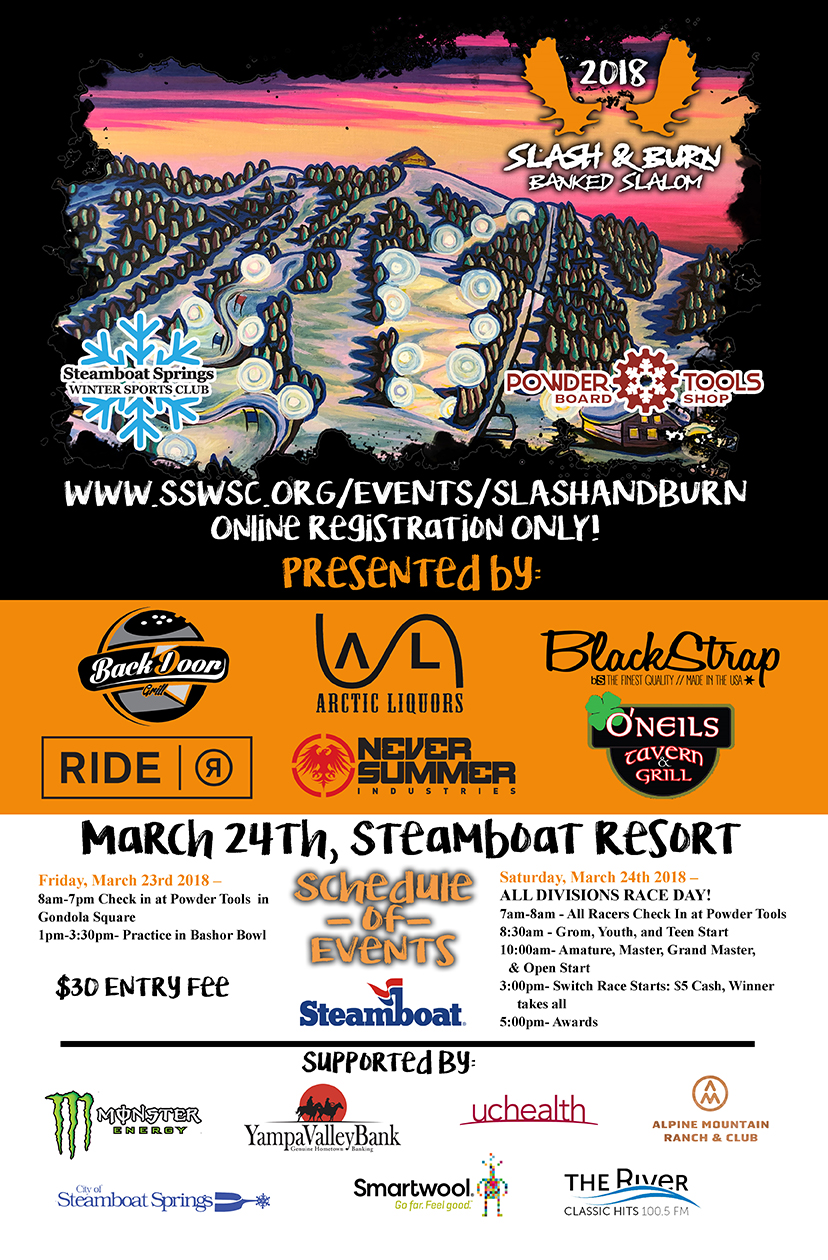 Get ready for a full weekend of activities at the 2018 Banked Slalom Slash and Burn! Friday, March 23rd and Saturday, March 24th marks our 5th annual Slash and Burn! This year, the course will run on Steamboat Resort, giving us more terrain to make the biggest and best Bank Slalom yet!
REGISTRATION IS NOW FULL.
To be placed on the wait list, please show up from 8am-7pm (the sooner the better) on Friday, March 23rd at Powdertools. We cannot place you on the wait list over the phone.
You will then need to attend athlete check in on Saturday from 7am-8am at Powdertools to see if you will receive a spot. Payment will be collected at this time.
Friday, March 23rd 2018 - Check in and PracticE
CHECK IN BEFORE PRACTICE-8am-7pm Check in at Powder Tools in Gondola Square
Bring These waivers to check in, or sign at check in. All athletes 18 and under will need a guardian signature.
SSWSC Waiver
Steamboat Resort Waiver
* PRACTICE 1pm-3:00pm in Bashor Bowl
• lift tickets NOT included in your registration fee: $55 Racer tickets sold at check in

Saturday, March 24th 2018 - ALL DIVISIONS RACE DAY! Steamboat Resort
$55 Racer tickets at check in & spectator tickets sold at check in
ALL RACERS MUST CHECK IN If you did not check in on Friday: 7am-8am ONLY at Powder Tools. Your spot will be filled with wait listed racers if you do not check in by 8am.
Bring the above waivers to check in.

* 1 run Practice load Christie Lift at 8:00am
* 8:30am Start - best of 2 runs
Groms Boys & Girls 8 & under
Youth Boys & Girls 9-13
Teen Boys & Girls 14-17
* 1 run Practice 9:00am
* 9:30am Riders Meeting and Start - best of 2 runs
Amateur Men and Women ages 18-34
Master Men and Women Ages 35+
Grand Master Men 50+
Open Class Men and Women
* 3pm Switch Race open to all racers: $5 cash WINNER TAKES ALL
* 5:00pm Awards on Main Stage in Gondola Square
* After Party at the BARley 7:00pm