2017-2018 Word of the Week
March 16, 2018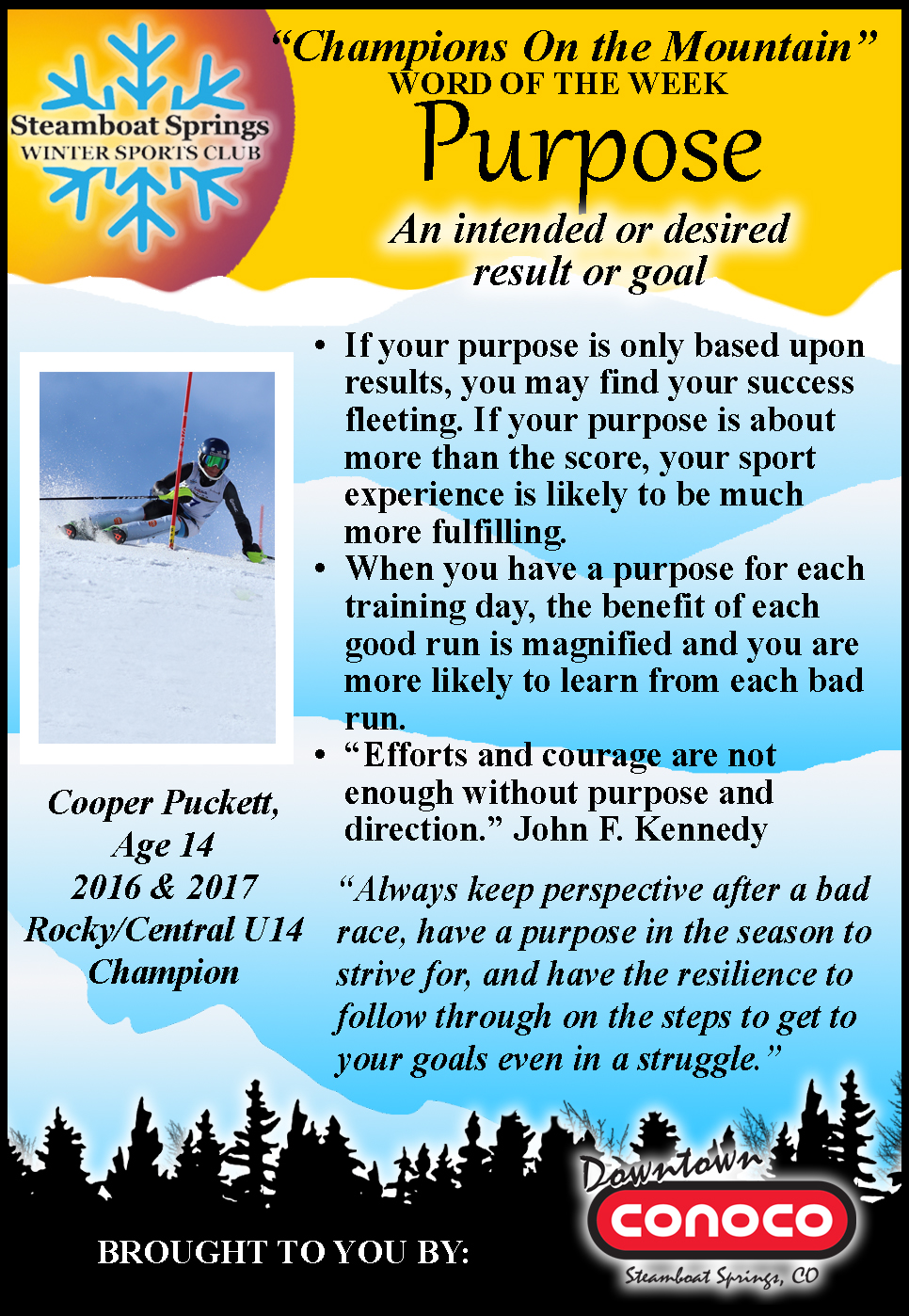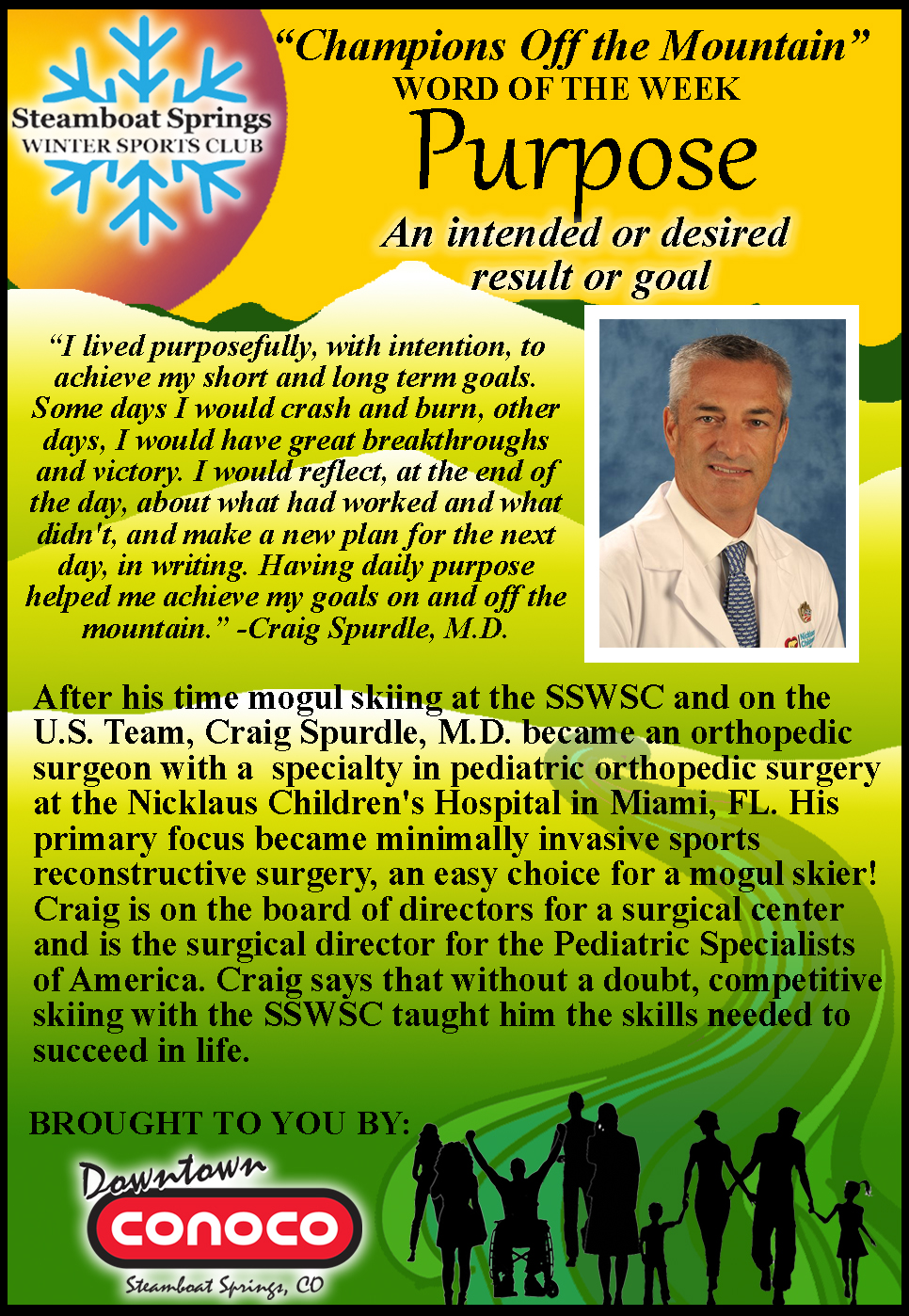 March 2 2018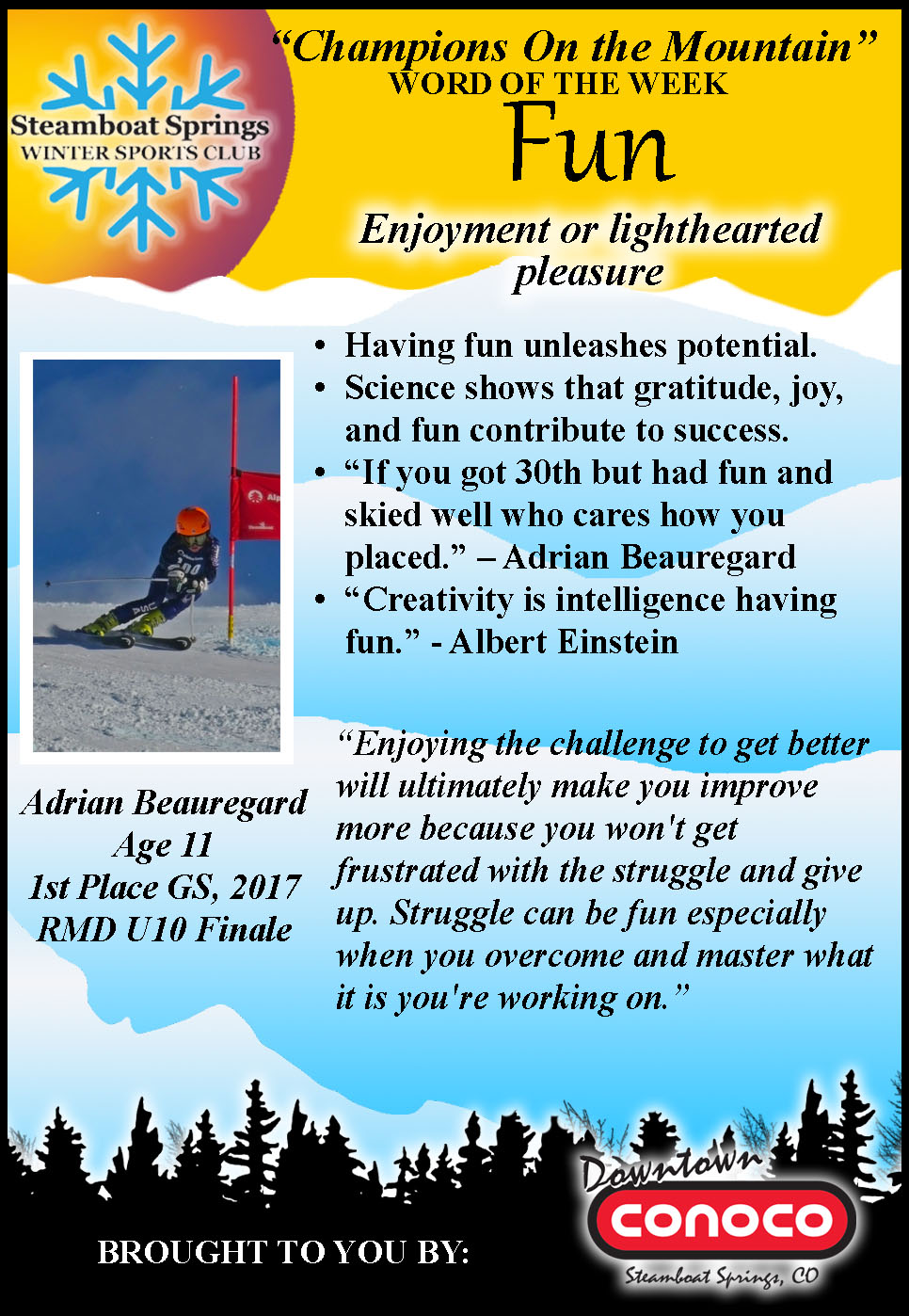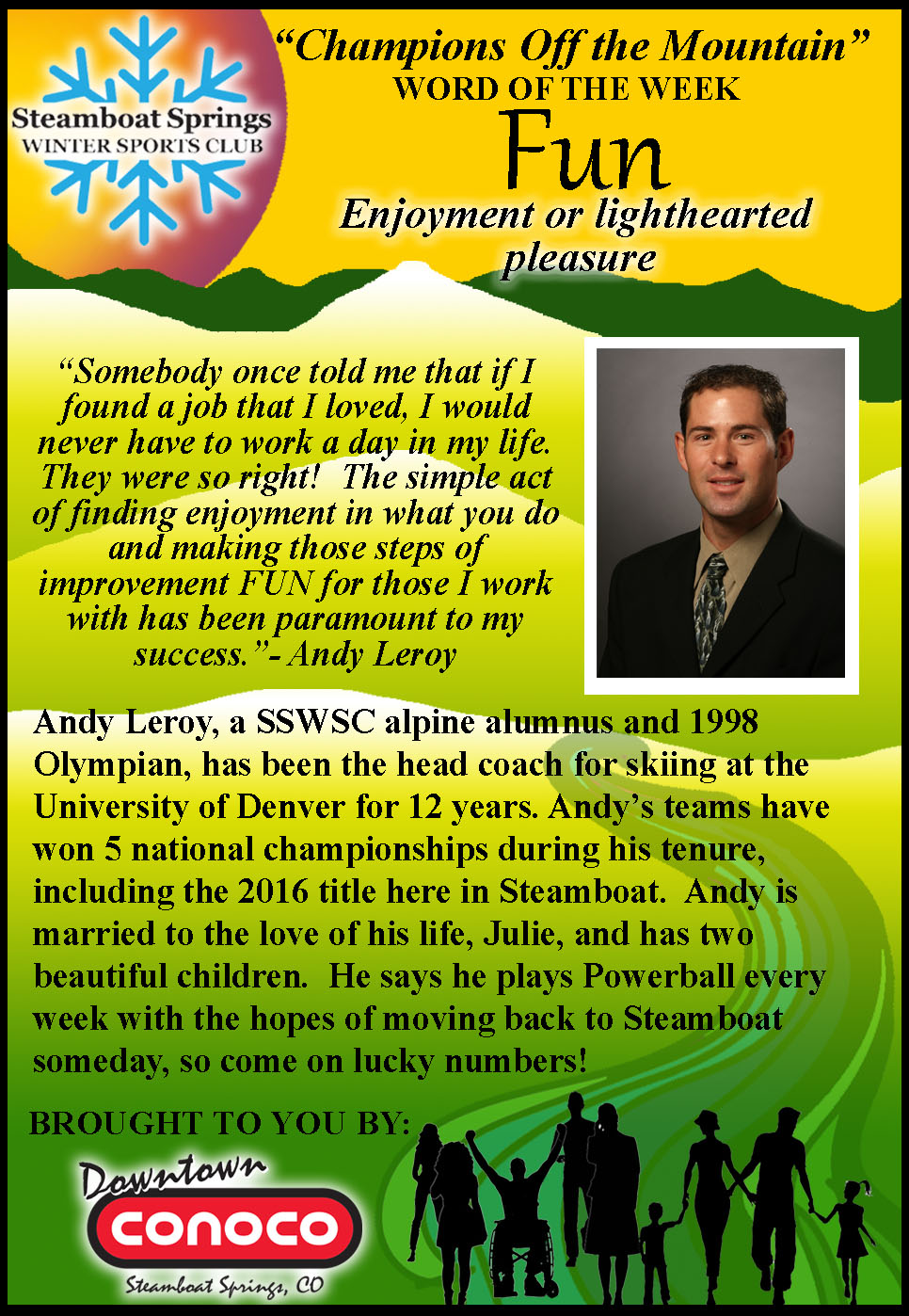 The word of the week for the next two weeks is Fun! Fun was chosen by 11 year old SSWSC athlete Adrian Beauregard, who said ""Enjoying the challenge to get better will ultimately make you improve more because you won't get frustrated with the struggle and give up. Struggle can be fun especially when you overcome and master what it is you're working on." After all, science shows that gratitude, joy, and fun contribute to success! SSWSC Alumnus and Olympian Andy Leroy embodies fun in his current position as head coach for skiing at the University of Denver, which he has held for 12 years! If you find a job you love, you never work a day in your life! Andy attributes finding enjoyment to be paramount to his success.
February 16 2018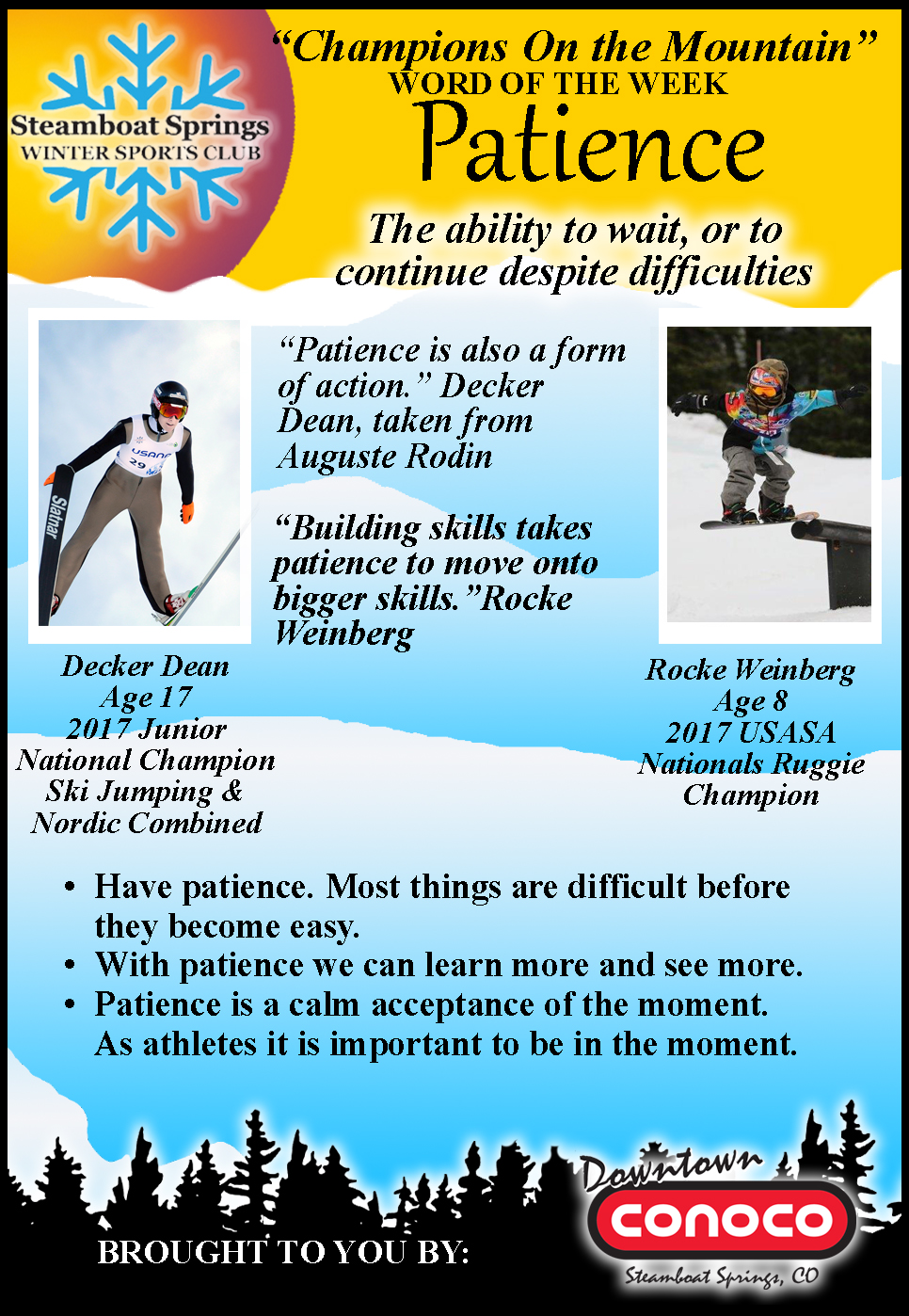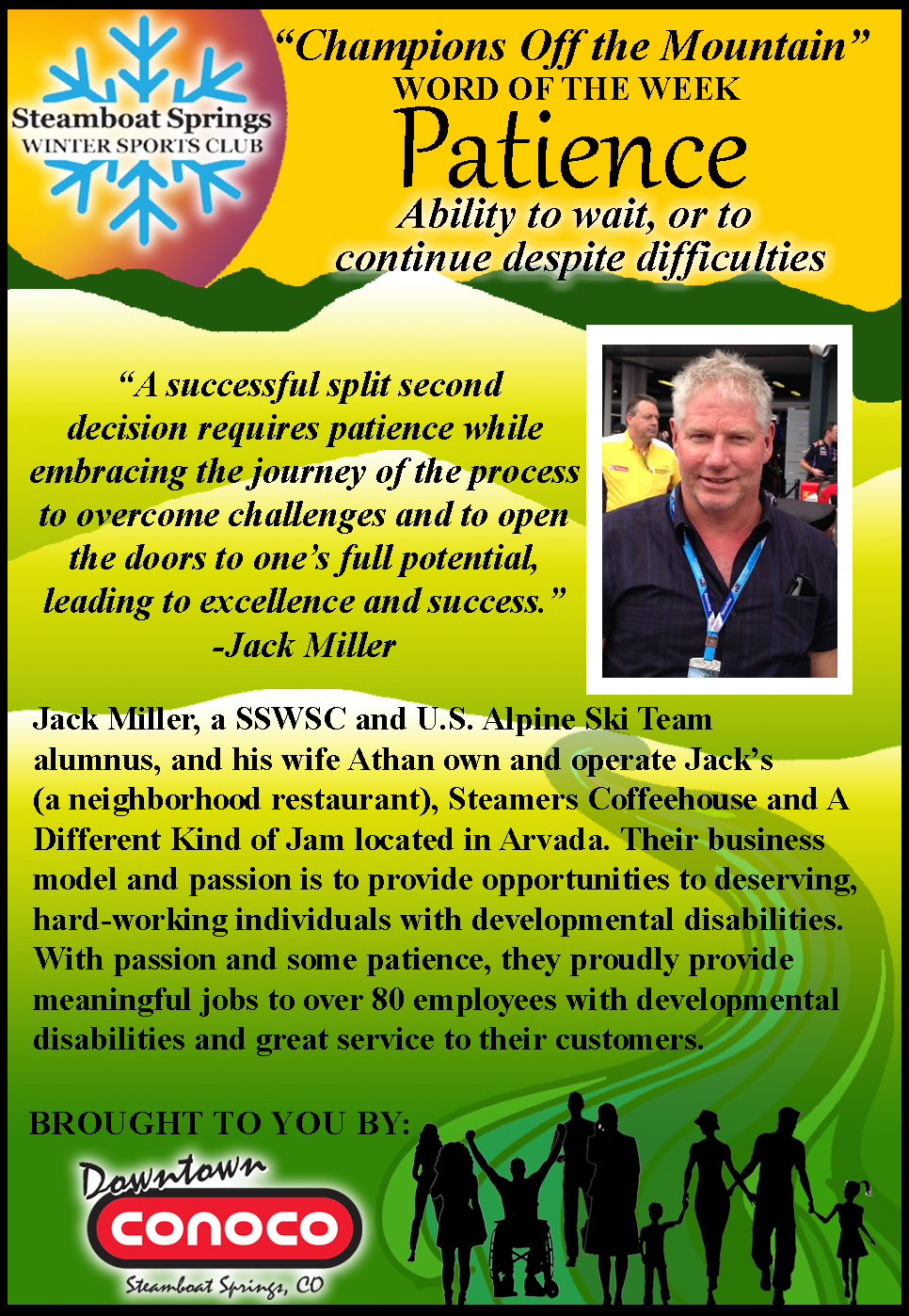 February 2 2018


The word of the week for the next two weeks is commitment. Commitment was chosen by SSWSC HP mogul skier Maggie Ryan, who said, "being committed to a sport is time consuming, but if you love what you do, showing commitment is and never has been a burden." We're in the heart of our season, and her comment about commitment not being a burden is pertinent for this time of year. If you love what you do, commitment is easier. If you are focused on your goals, commitment is more natural. If as coaches, we clearly communicate the purpose for each training session, it is much more likely our athletes will commit to the task at hand.
January 19 2018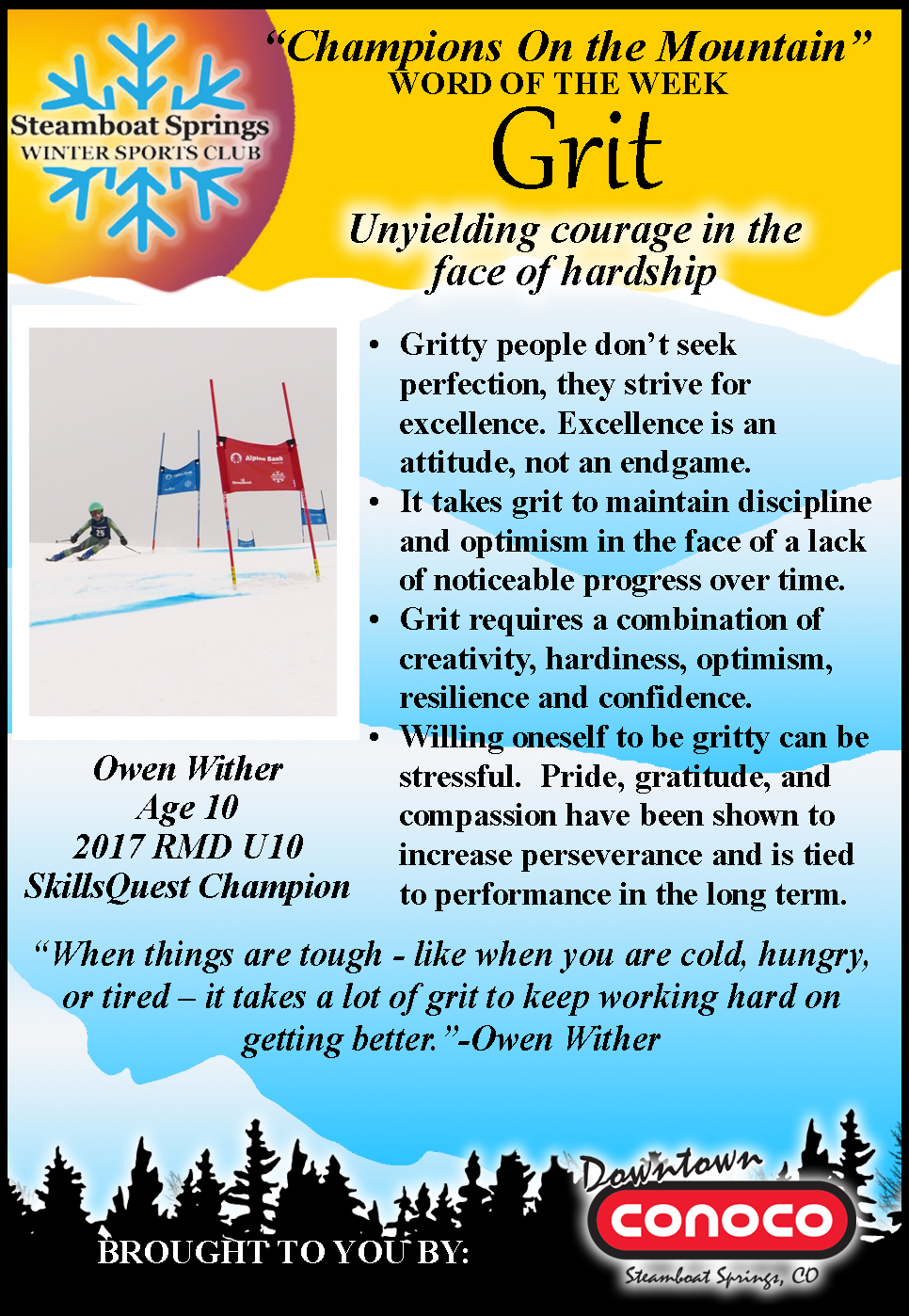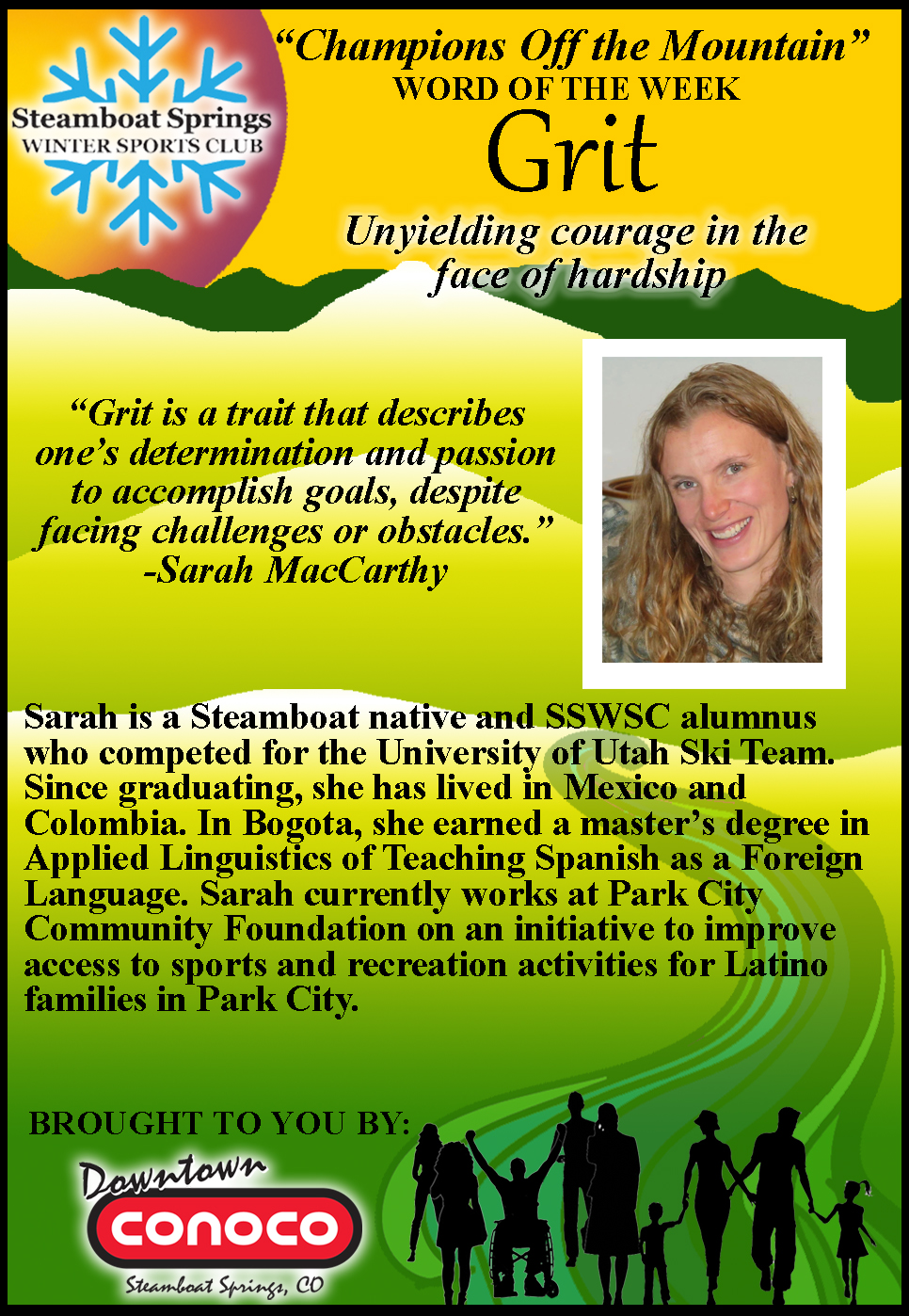 December 22 2017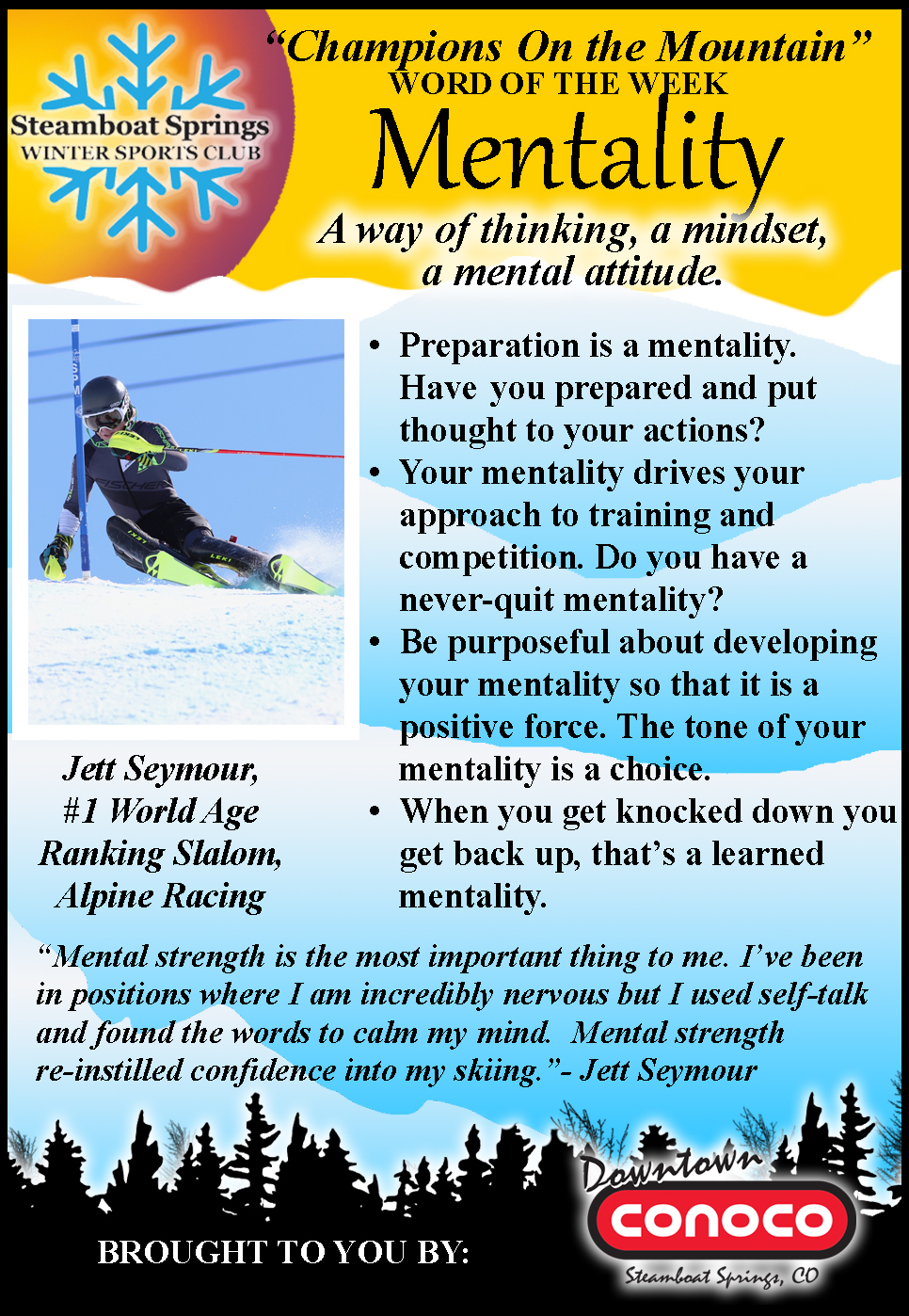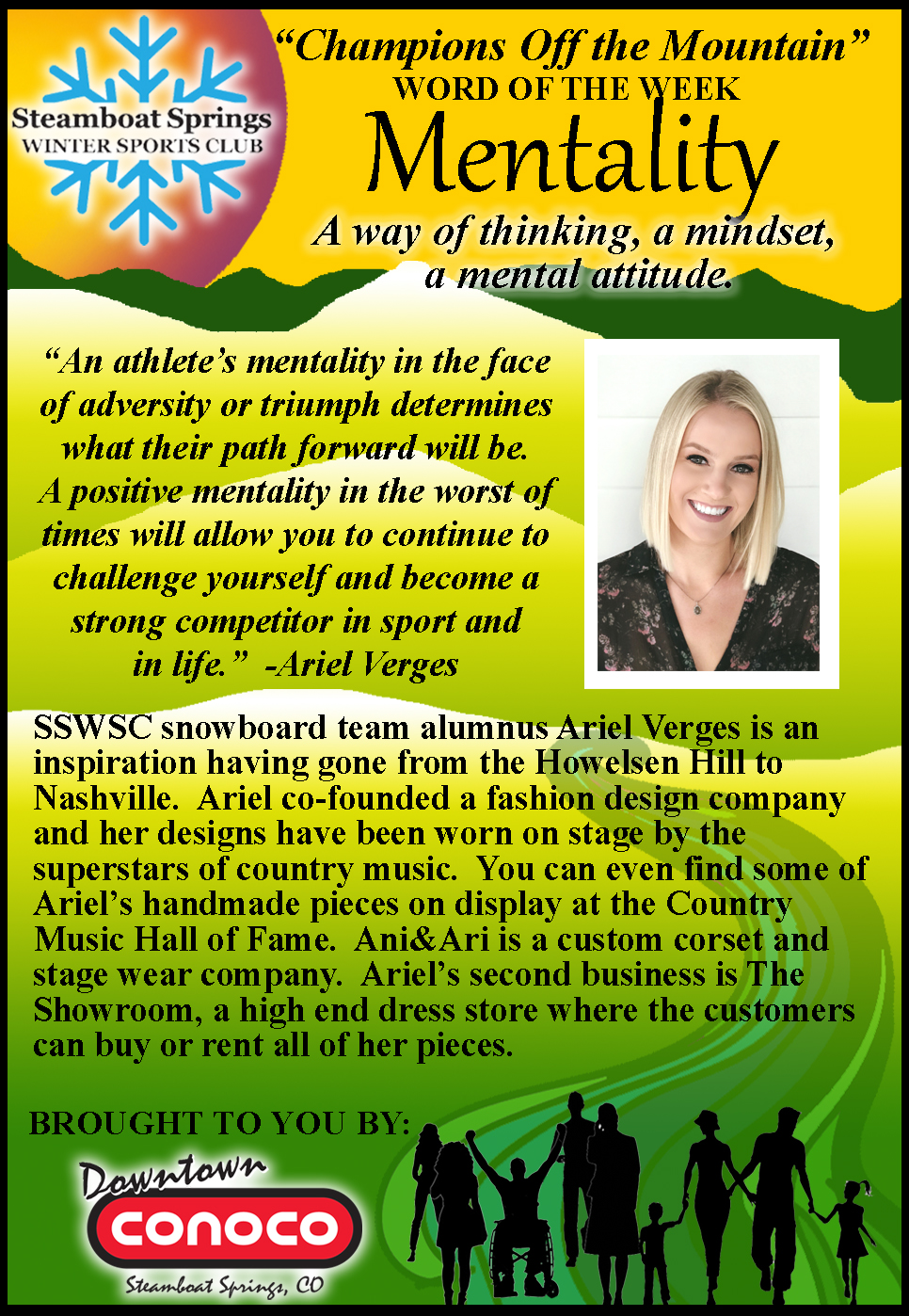 "Mentality" was chosen by SSWSC athlete Jett Seymour as our "Champion On the Mountain." Jett currently holds the #1 World Age Ranking for Slalom in Alpine Racing. Jett said of his chosen word, "Mental strength is the most important thing to me. I've been in positions where I am incredibly nervous but I used self-talk and found the words to calm my mind. Mental strength re-instilled confidence into my skiing." Mentality is a way of thinking, a mindset, and a mental attitude that our athletes can use both on and off the mountain to guide them to successes in their lives. Making purposeful decisions, having a never quit attitude, and getting back up after being knocked down are learned mentalities that will help athletes in every aspect of their lives. Former SSWSC athlete Ariel Verges shows that mentality goes a long way in life, and helps to determine what their future will be. Today, Ariel has co-founded a fashion design company, and her designs can be seen at the Country Music Hall of Fame and across many stages in the Country Music world. Thanks to her mentality, Ariel has landed where she is today, and is a great example of our "Champion off the Mountain".
December 8 2017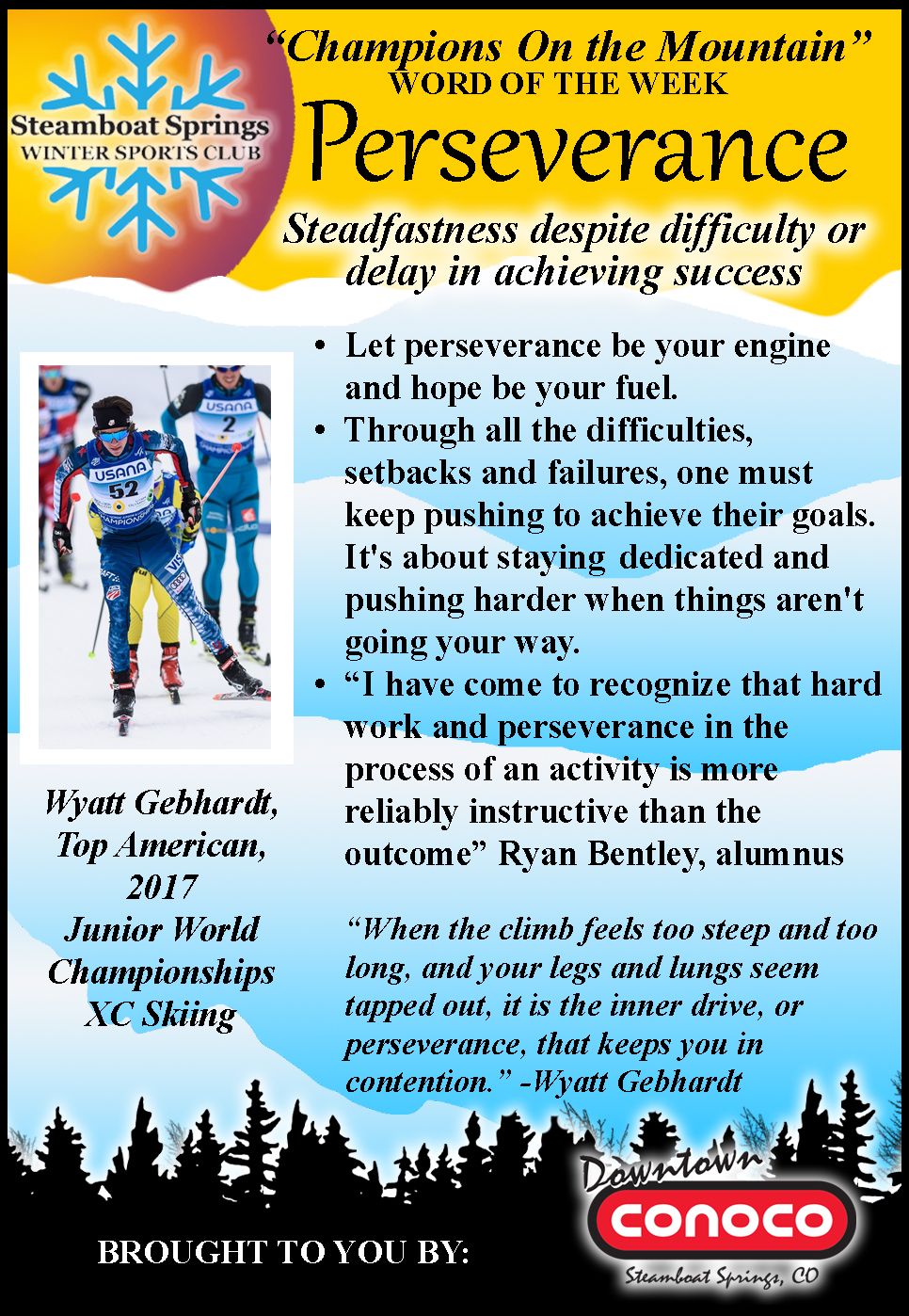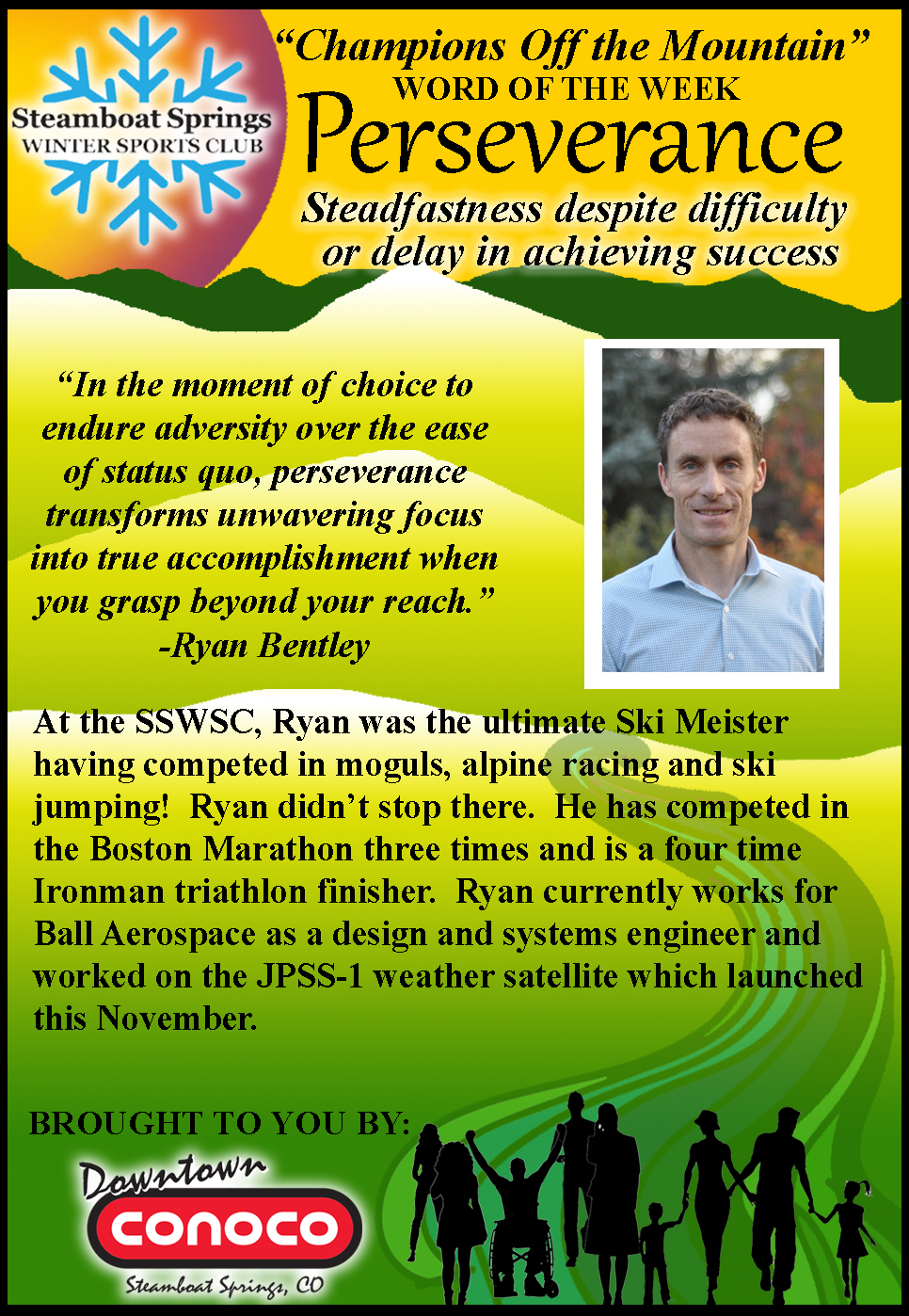 November 22 2017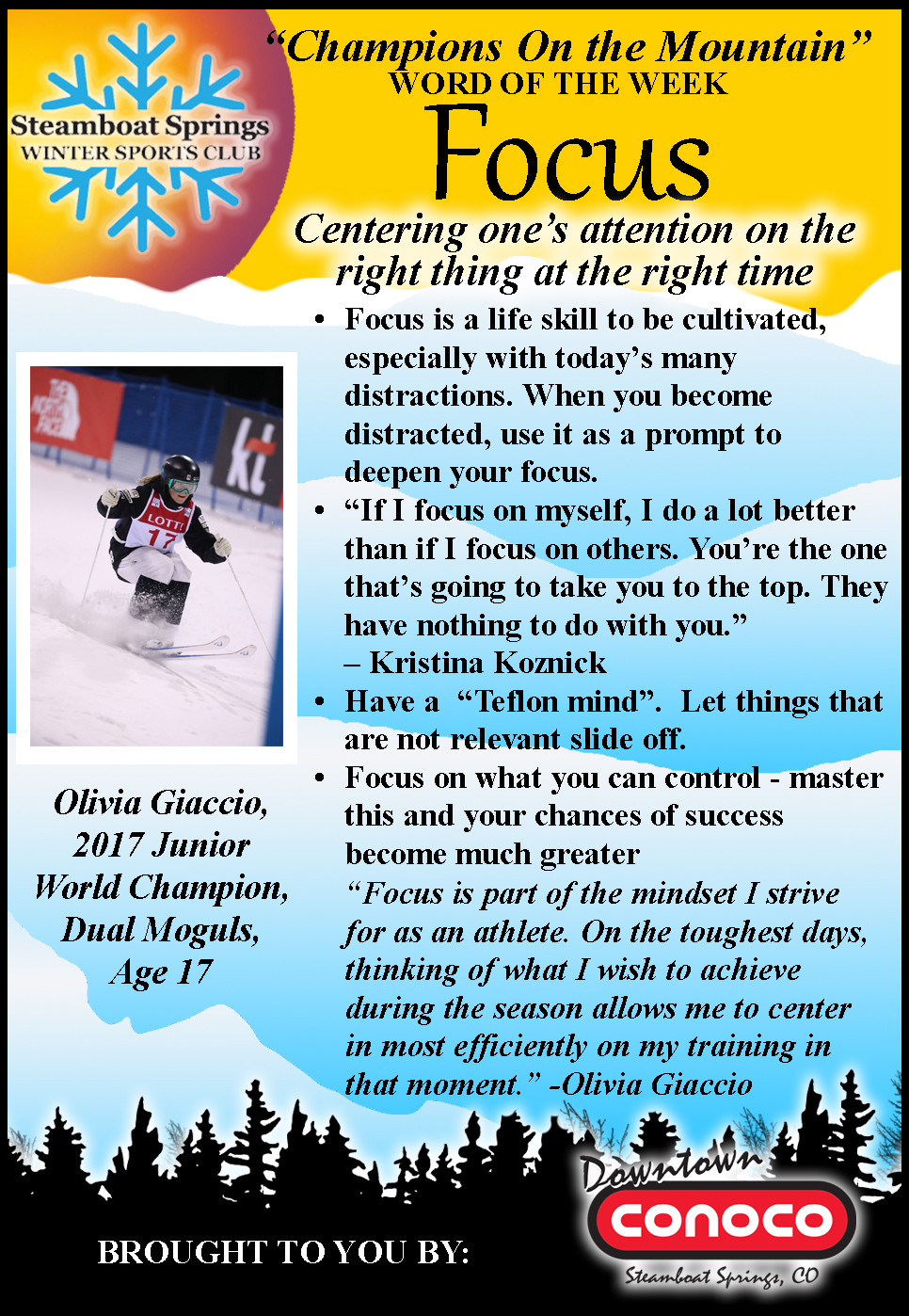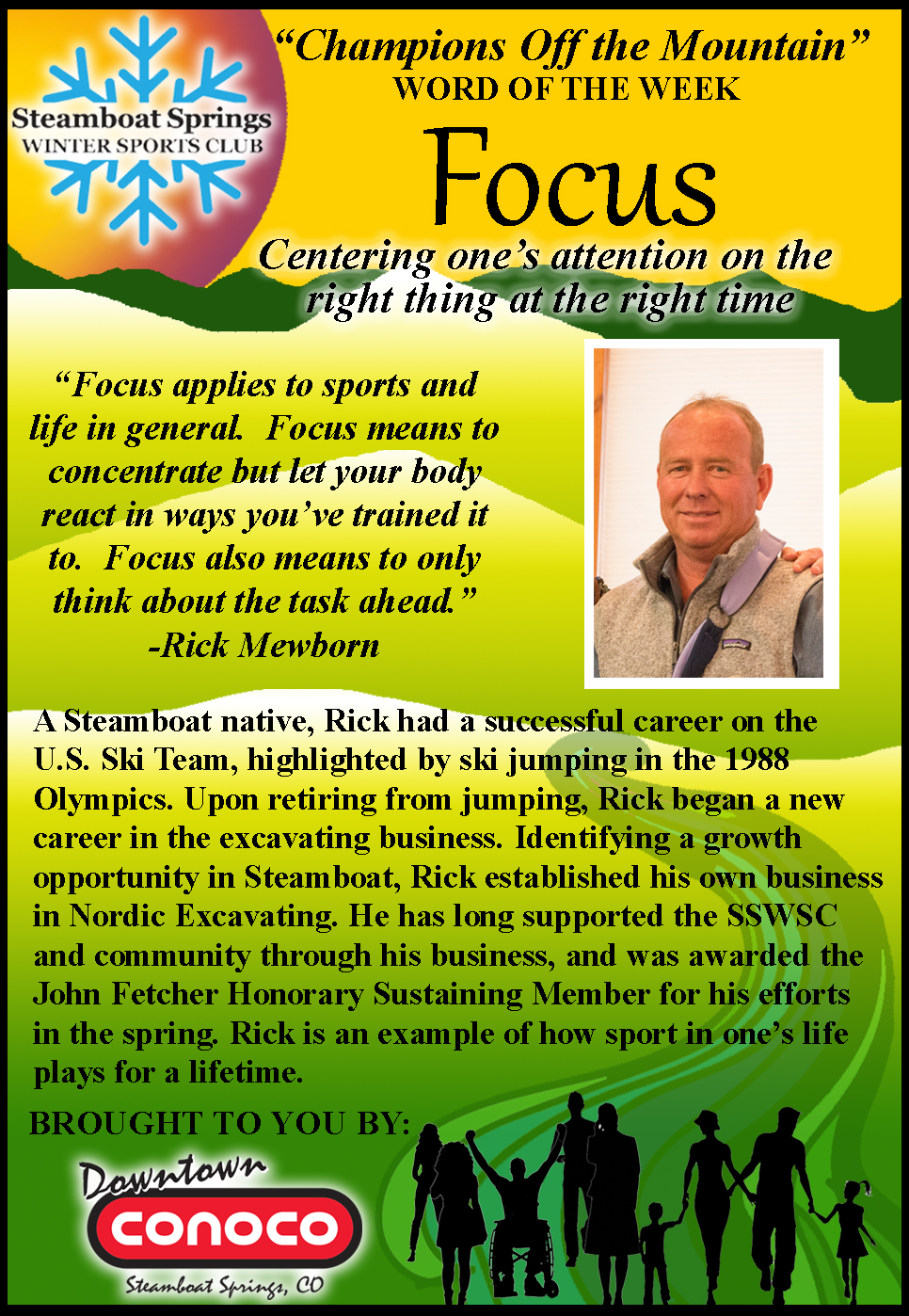 This week's Word of the Week is focus. In today's world of technology, distractions are ever-present. Being able to focus is a life skill that is perhaps more important today than it ever has been. For an athlete, being able to focus on the right thing at the right time is critical. We focus on things that are in our control. Think of a "Teflon" mind, and let things that are not relevant slide off. SSWSC High Performance mogul skier Olivia Giaccio said about focus, "it is part of the mindset I strive for as an athlete. On the toughest days, thinking of what I wish to achieve during the season allows me to center in most effieiciently on my training in that moment."
November 10 2017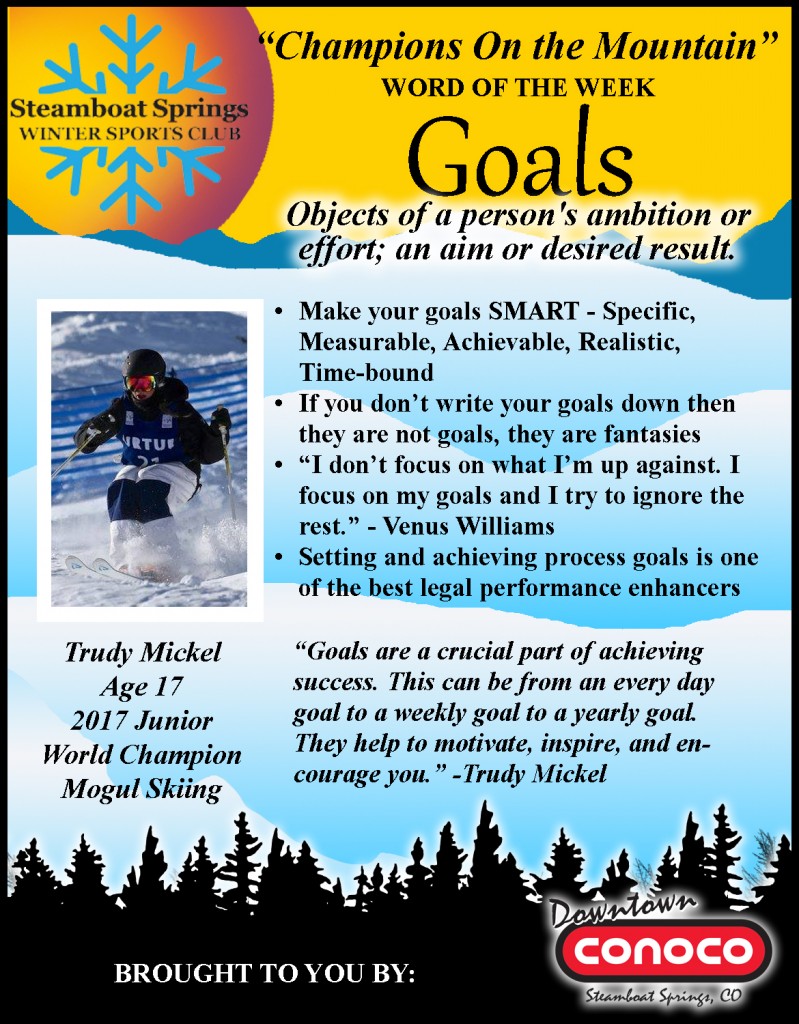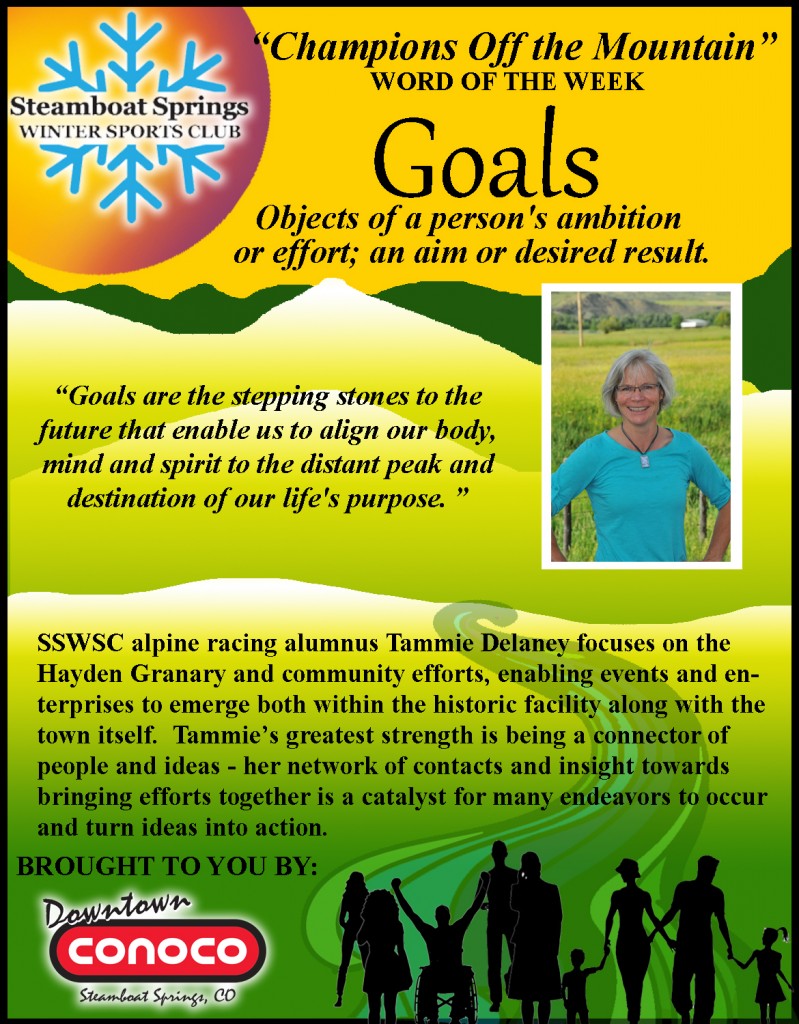 Our "Word of the Week" program, presented by Downtown Conoco, has started! Over the course of the winter, we will feature ten words that have significance for our athletes and the club in pursuit of creating champions on and off the mountain. The words were chosen by our own "Champions on the Mountain"; athletes who won championship events last season. These words will also celebrate ten "Champions off the Mountain"; SSWSC alumni who have been successful and made a positive impact on their community or in their industry, outside of snowsport.
This week's #WordoftheWeek is "goals". Goals was chosen by mogul skier Trudy Mickel. Last season, Trudy made some huge leaps in her skiing and capped it off with a win at the Junior World Championships at Chiesa in Valmalenco, Italy. Trudy says, "Goals are a crucial part of achieving success. This can be from an every day goal to a weekly goal to a yearly goal. They help to motivate, inspire and encourage you." Alpine racing alumnus Tammie Bowes Delaney is this week's "Champion off the Mountain."
2016-2017 Word of the Week
March 24th, 2017
Our last #WordoftheWeek is here – innovate. True leaders are innovators. Learning and innovation go hand in hand. Innovation means generating creative ways to overcome the obstacles that we face. In the heart of the season, when stakes are high, it can be difficult to take risk. But at the end of the season and as we start a new preparation period, the time is right to innovate!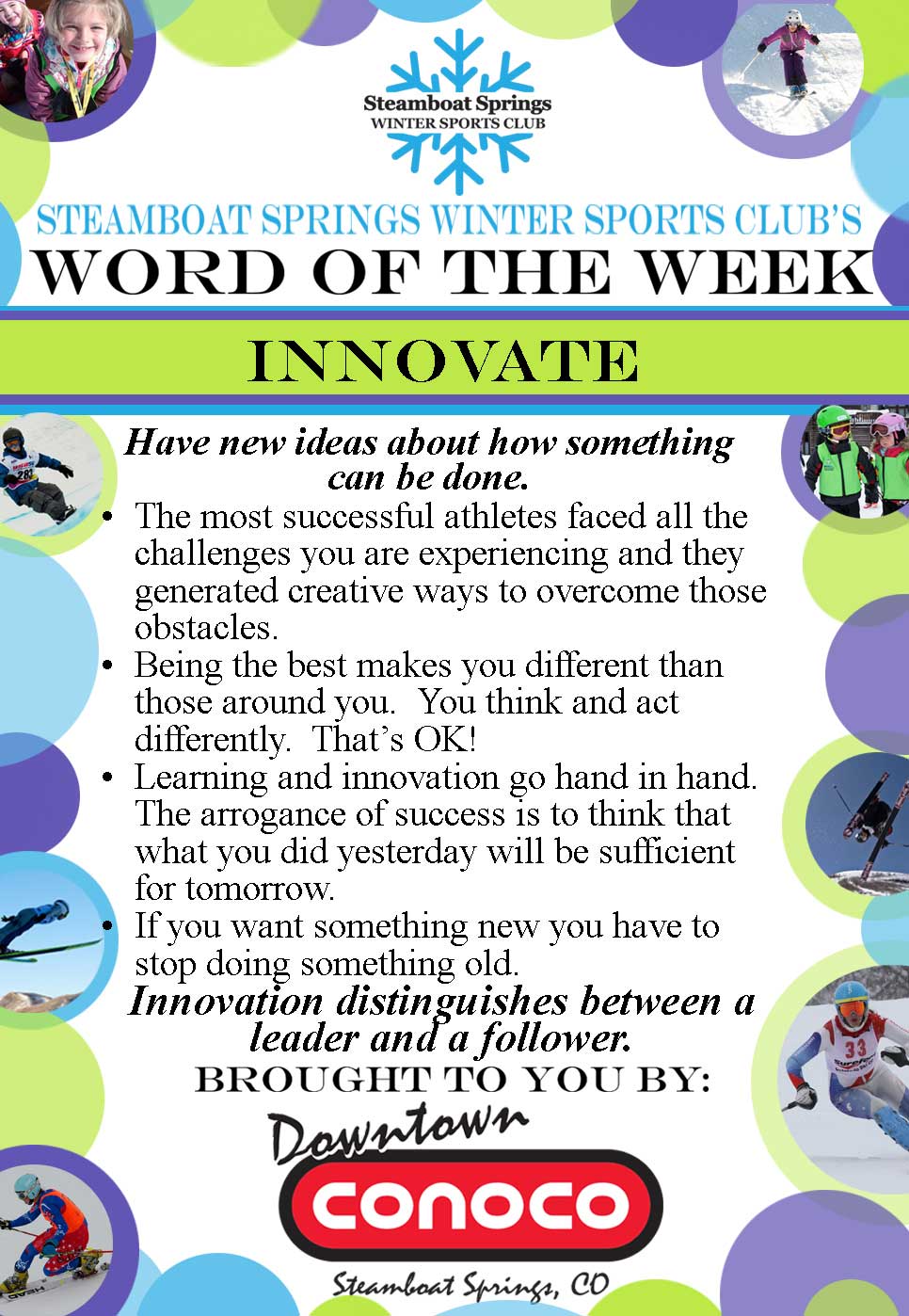 March 17th, 2017

We only have two more words left, and this is our final golden #WordoftheWeek . Two-time Olympian alpine ski racer and former SSWSC Alpine Program Director and athlete Caroline Lalive Carmichael contributed the word perspective. Caroline shared this about perspective: "It is my opinion that our attitude shapes the athlete and competitor we will be. If we are focused on only one aspect of our athleticism or one result, we can limit our potential. If we can keep a positive perspective and broad point of view on who we want to be and what it takes to be great, than we will continue to fine tune ourselves as athletes and teammates. Because truth be told, tomorrow will bring another challenge and opportunity!"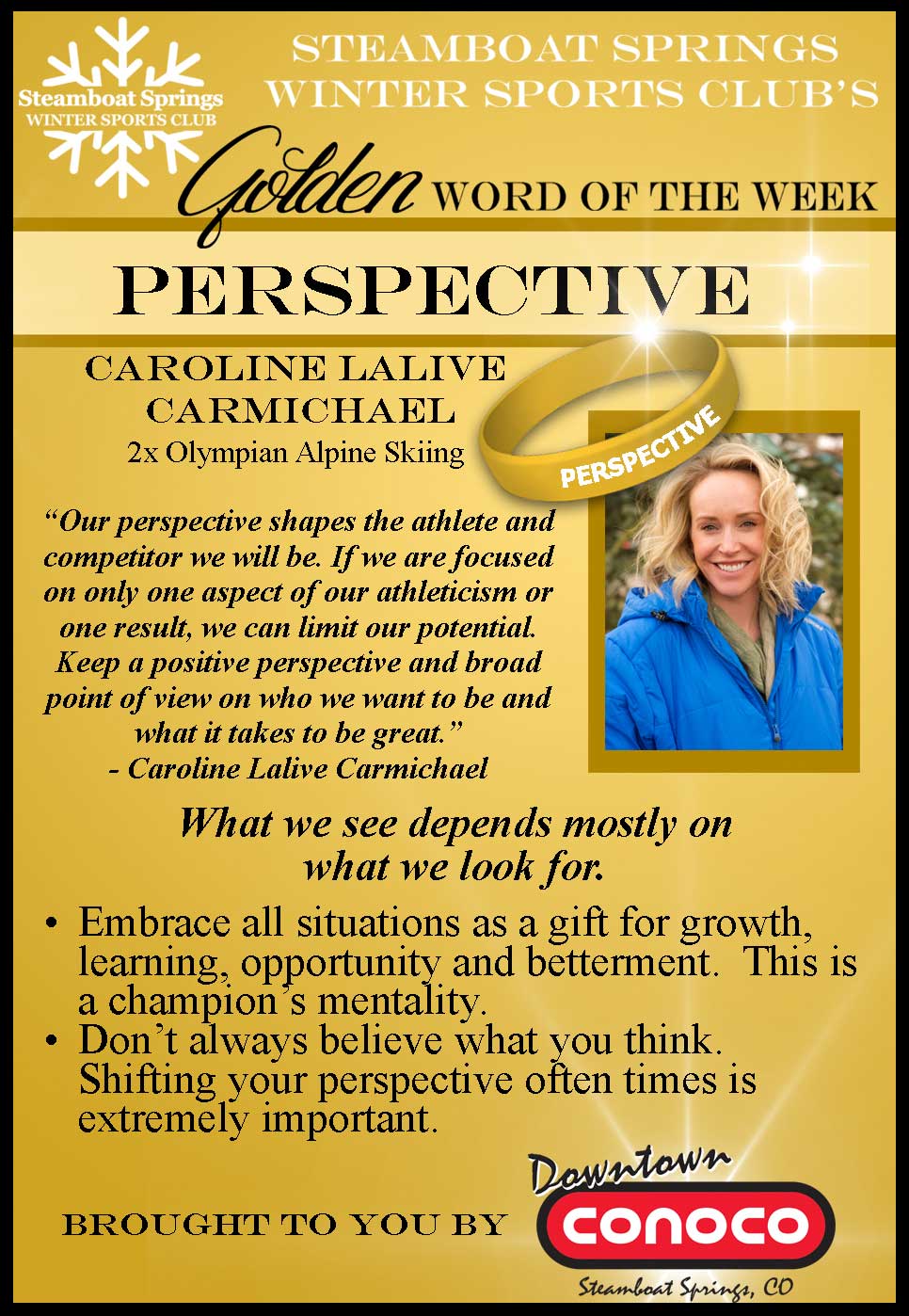 March 7th, 2017
This week's word of the week is our final SSWSC core value word – integrity. Integrity is a person's level of honesty, moral commitment and willingness to do what is right. Our biggest responsibility to the kids we coach is to do what is right for them. It is important that we teach and act as a program with an "integrity at all costs" approach. Do not stand for a "win at all costs" approach. Our core values state that "grounded in high ethical standards, we promote accountability for delivering on our word, inspiring trust through honesty and taking personal responsibility for our actions in all relationships." Presented by Downtown Conoco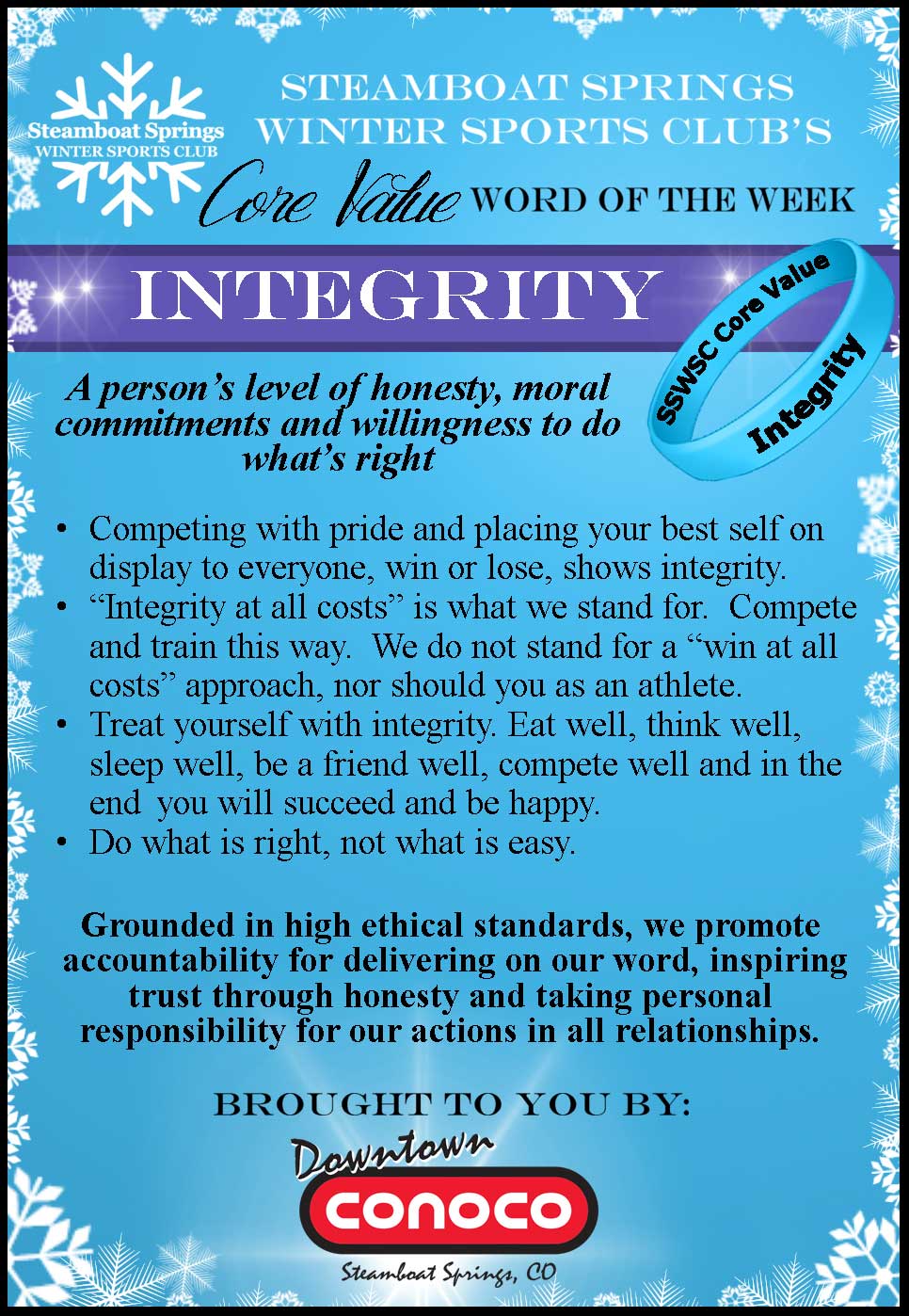 February 28th, 2017
We have a golden word of the week this week, ambition, from an X-Games halfpipe gold medalist, SSWSC snowboarding alum Matt Ladley. Matt says, "The definition of ambition is 'a strong desire to achieve', for me that isn't good enough. Ambition to me is to wake up and believe nothing can stop you. It means you look forward to the opportunity of failure because it means you will learn. You welcome a challenge and encourage people to tell you that something can't be done. That's the stuff I'm talkin' about."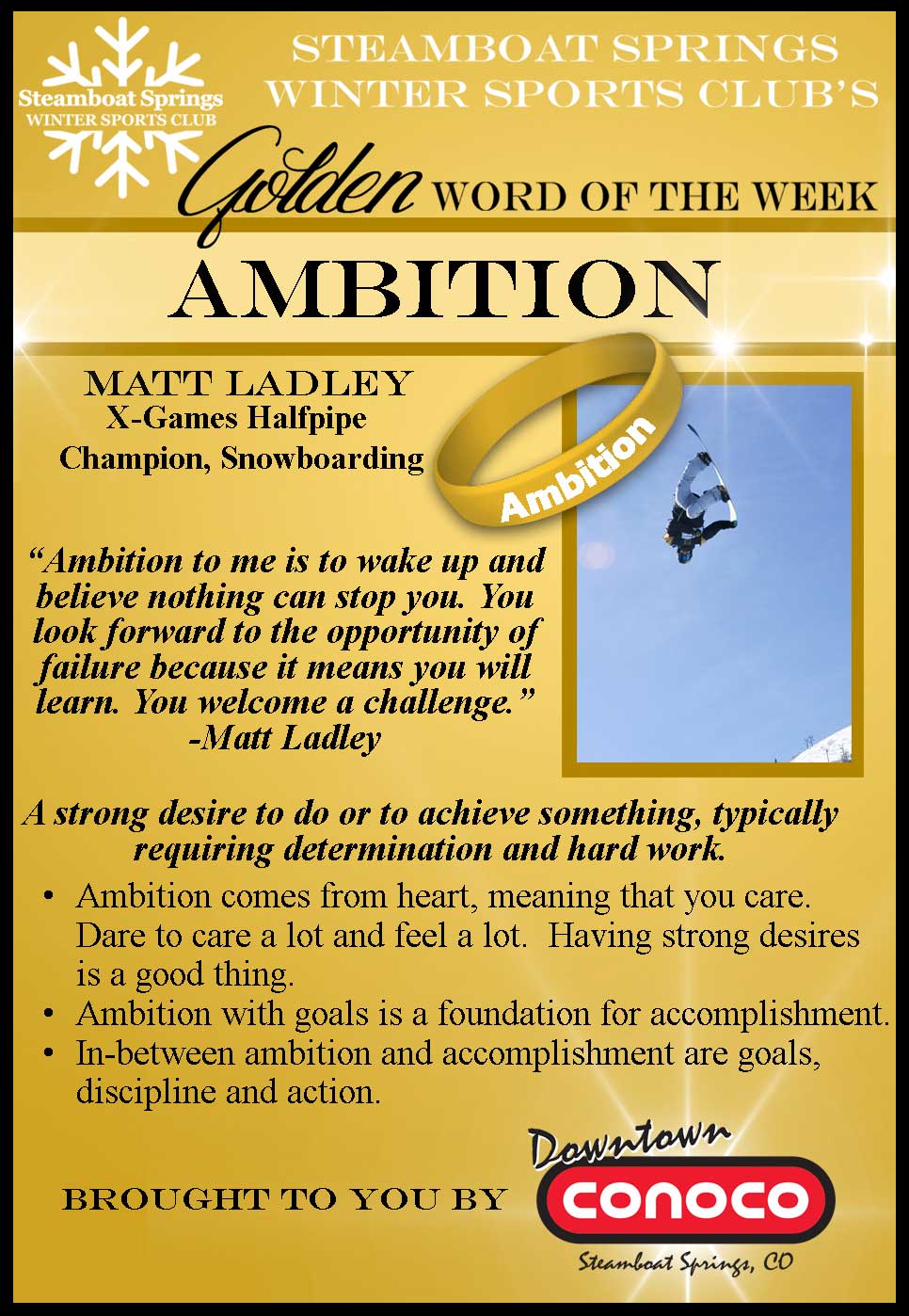 February 21st, 2017
This week's #WordoftheWeek, presented by Downtown Conoco, is dedication. Dedication is a SSWSC core value.
Our club describes dedication as going "above and beyond" to exceed athlete and parent expectations, promoting the pursuit of continuous improvement and knowledge relating to personal growth and sport, bringing passion, reliability, personal commitment and focus to the achievement of their goals, however they measure success.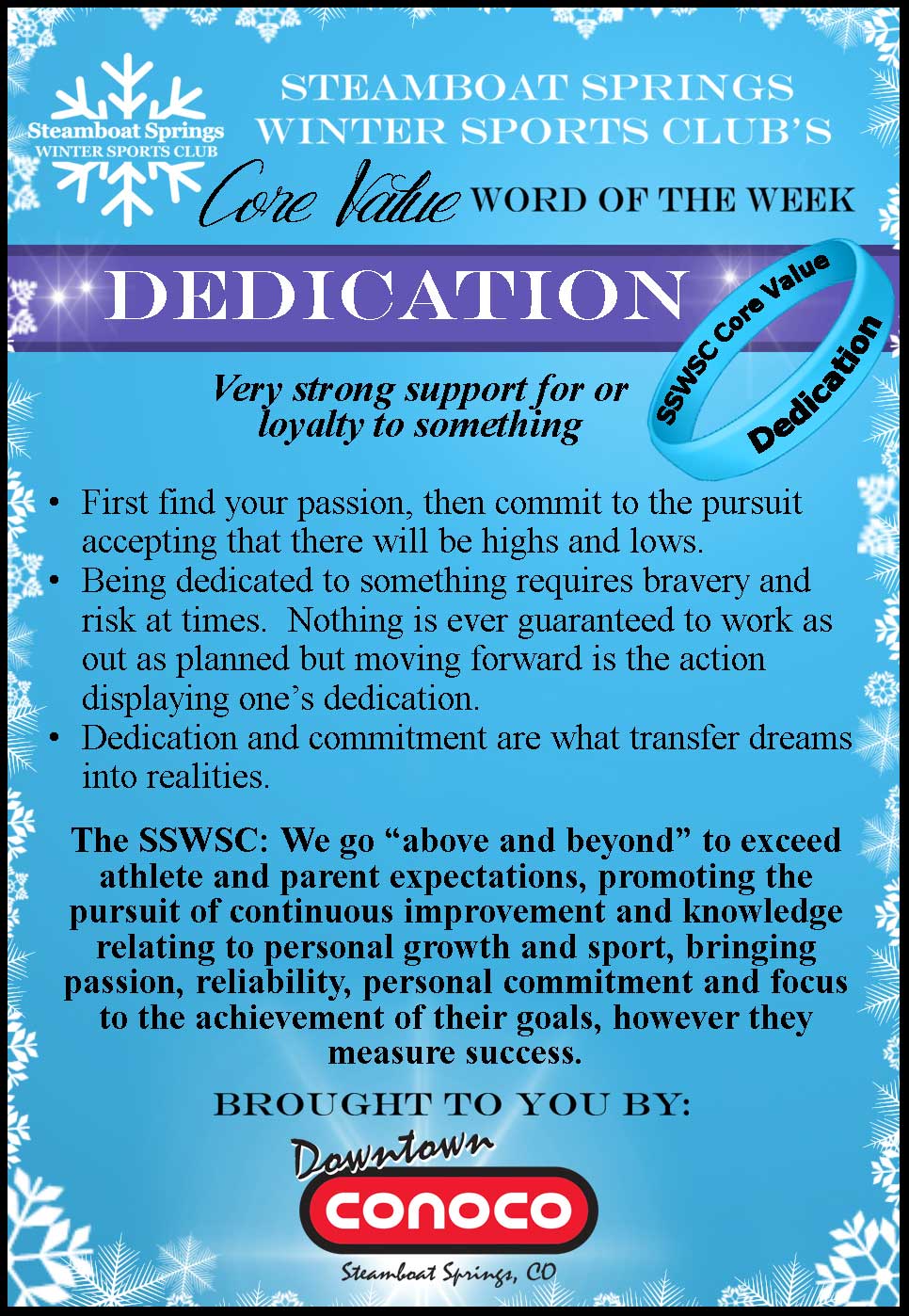 February 14th, 2017
Our word of the week this week is faith. This is a golden word, suggested by U.S. Freestyle Ski Team moguls skier and SSWSC alum Ryan Dyer. Ryan says, "Faith means complete trust or confidence in someone or something. If you are trying to reach the highest level of anything, you must have faith. Faith in yourself, the people around you, and your goals. At some point, you will experience failure, injury, or tough times along the way, and faith is what is going to get you through it. Your belief in yourself must be stronger than anything trying to hold you back." Ryan did a nice video segment with us about his word that you can watch here.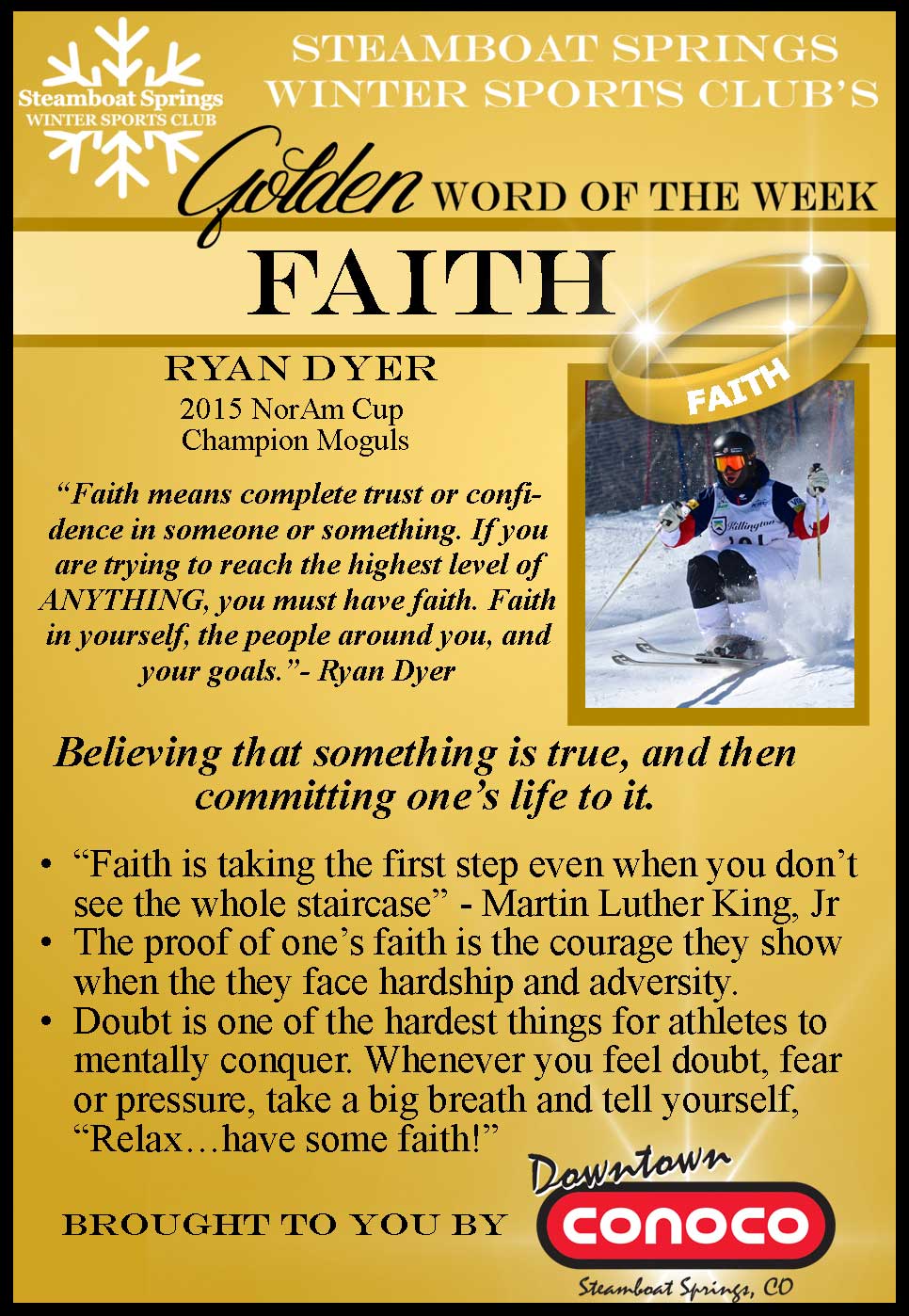 February 7th, 2017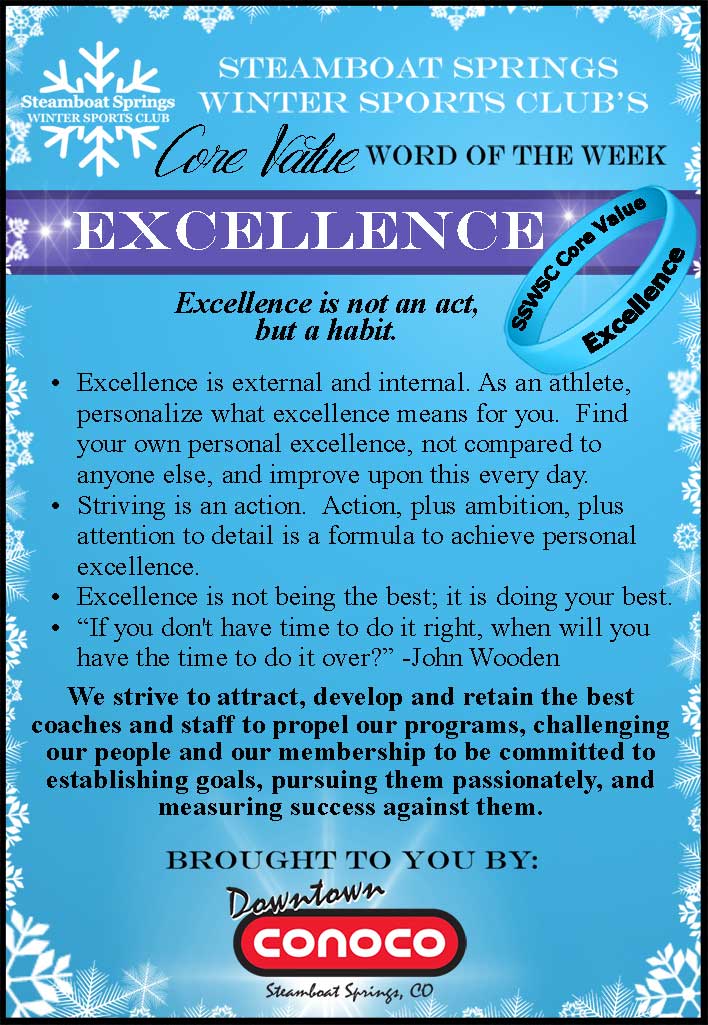 February 3rd, 2017
This week's #WordoftheWeek, presented by Downtown Conoco, is Failure. It's a golden word, offered by U.S. Moguls Team member Jaelin Kauf. Jaelin was named the FIS World Cup Rookie of the Year last season, an incredible honor, particularly since she was skiing the first half of the season as a SSWSC High Performance Team member and wasn't on the national team yet. Her understanding of failure, and its place in the make-up of a champion, is mature beyond her years. Jaelin shared this:
"Failure might not be the first word that comes to mind when you think of a champion. It is associated with so many detrimental words, but what is success without failure? I think you have to risk failure to test your vision. Failure is not a negative, it pushes you, molds you, and teaches you. Without it you cannot know true success."

January 24th, 2017

This week's Word of the Week is Adrenaline!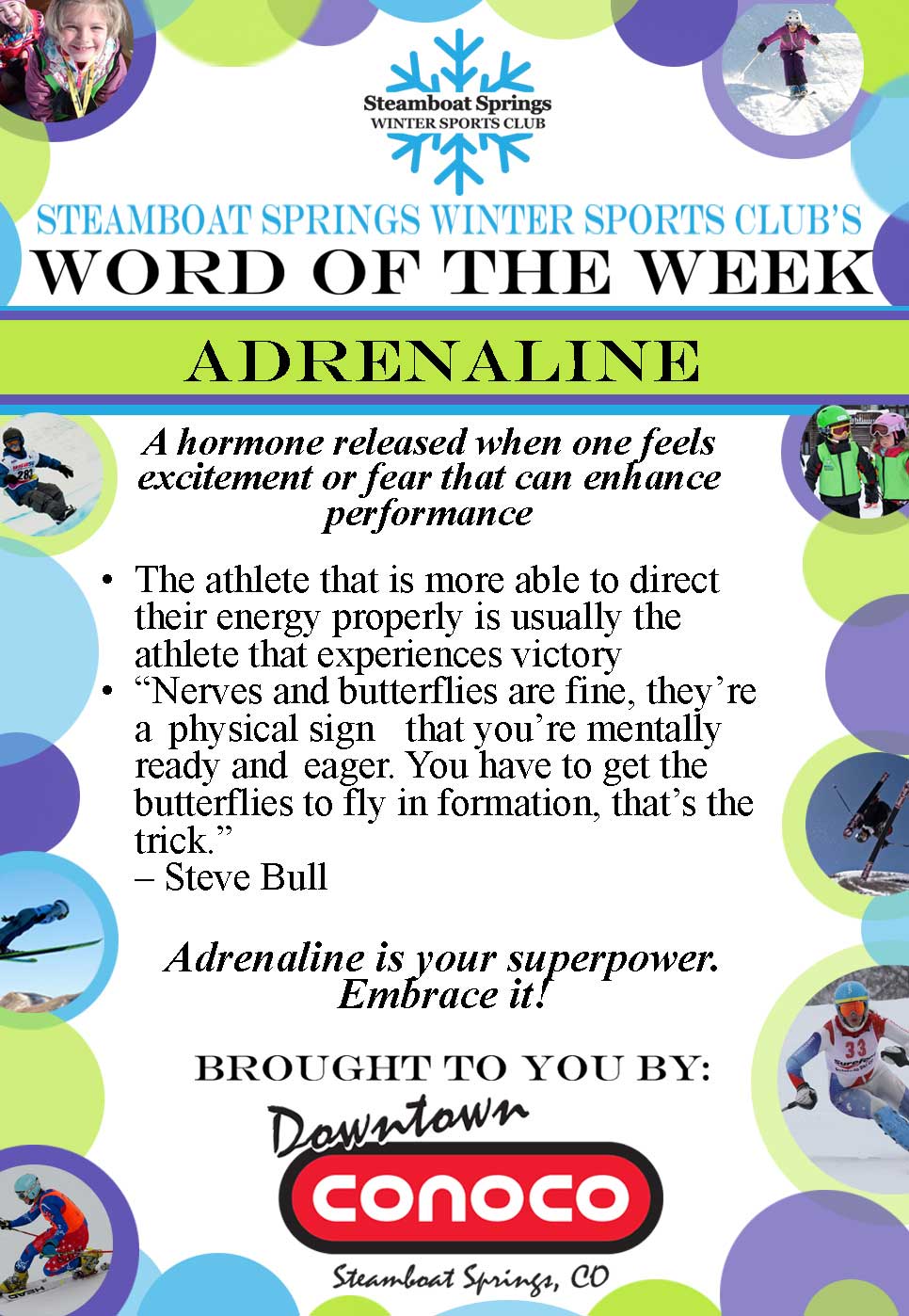 January 17, 2017
This week's #WordoftheWeek comes from Olympic Nordic Combined athlete, World Championships medalist, and SSWSC alum Bryan Fletcher – perseverance. Bryan thought back to a quote that his coach on the national team shared with him: "Big trees grow slowly". Bryan talked about how we all want results overnight, but remembering this quote helps him visualize that every day contributes to the overall picture. View his video here.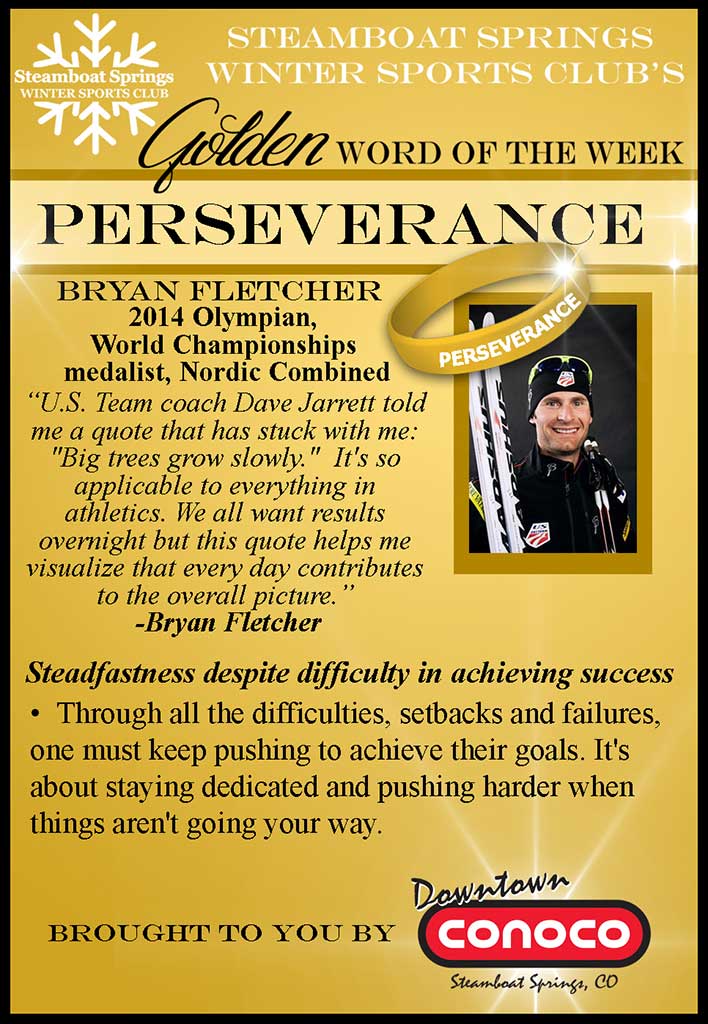 January 13th, 2017
This week's #WordoftheWeek is "Truth", presented by Downtown Conoco! Champions practice reality acceptance. This means accepting the truth of a situation and then dealing with that truth. To realize one's full potential, we must see and accept what is real. Only upon seeing and embracing one's personal strengths and weaknesses can an effective plan be implemented.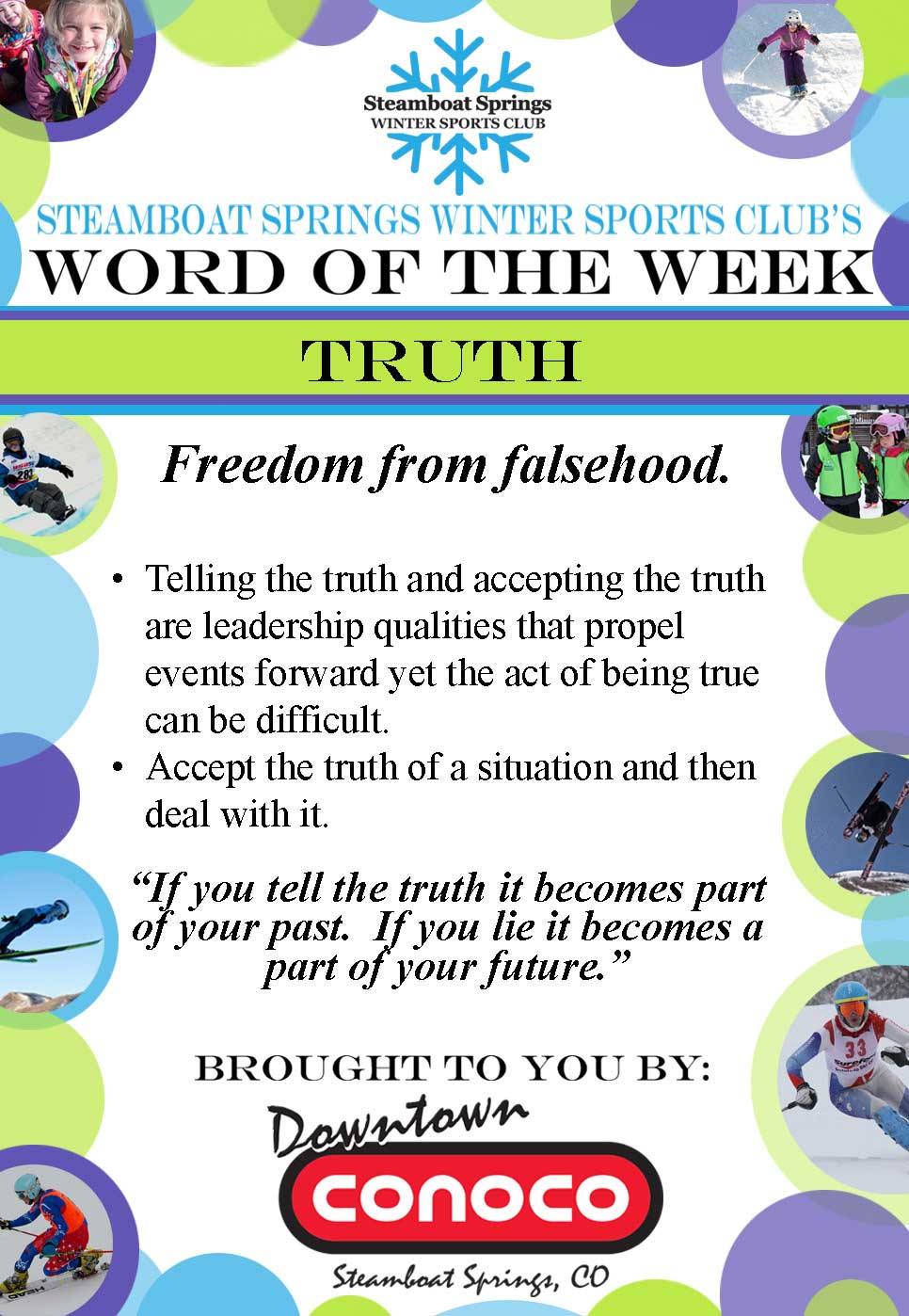 January 6th, 2017
Happy New Year! Kicking off 2017 we have a golden word from Olympic alpine snowboarder Justin Reiter - resilience. A great word for Justin, as he has been fighting not only to be at the top of his sport, but for the future of his sport. Justin filled us with good points to share with this word, featured on the poster (attached) and in a good, short video clip here.
Click the link below to view Justin's word, "resilience". Kids often perceive struggle as a sign they are weak or unskilled, when in fact, struggle is an important key to accelerated learning!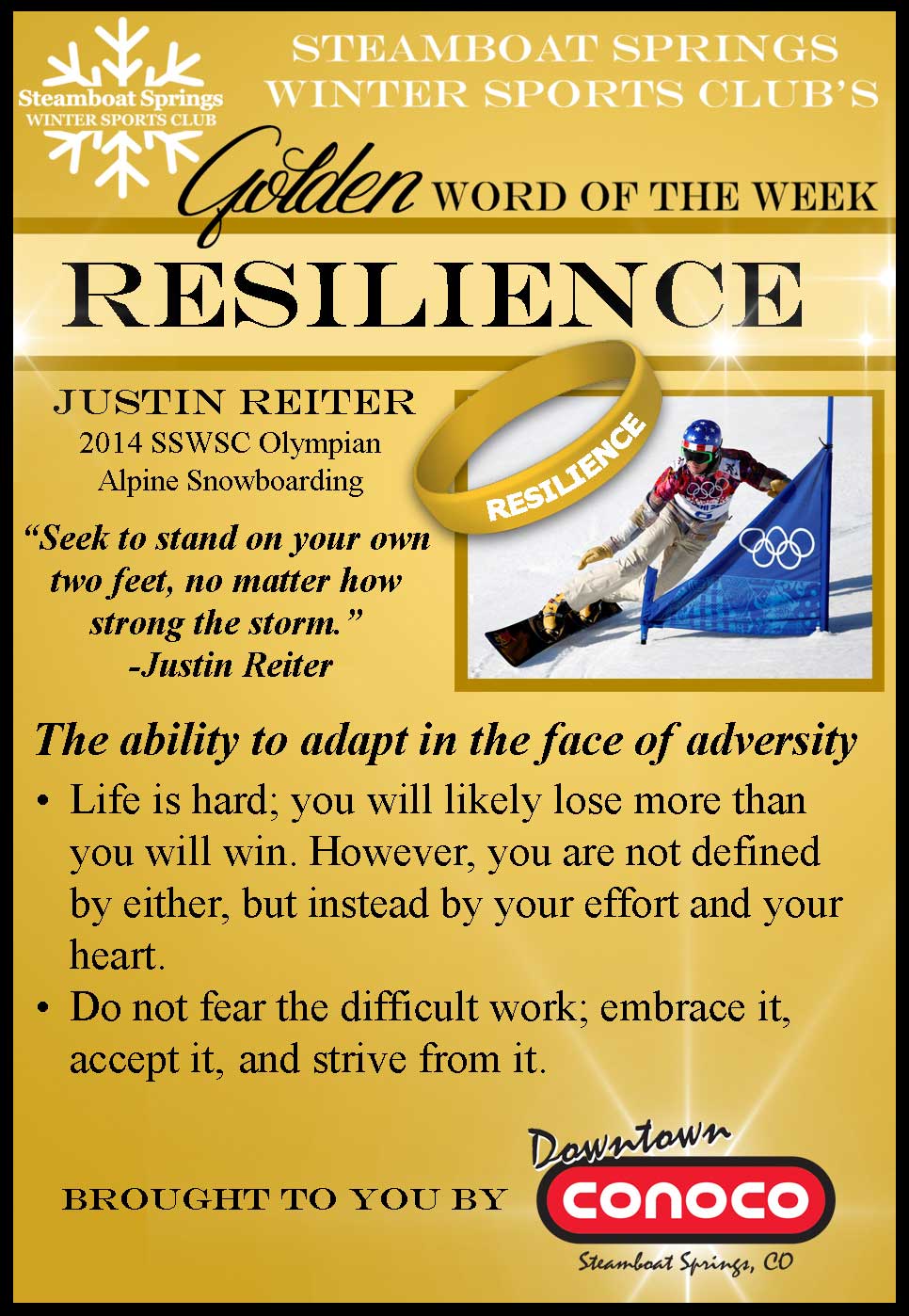 December 27th, 2016
This week's #WordOfTheWeek is "Respect". Respect is one of the SSWSC's core values. Within the club, it is essential that we treat each other and all with whom we interact with care and mutual respect, recognizing and embracing diversity and individuality.Our coaches seek to earn respect from our athletes and their parents, and our athletes seek to earn respect from their coaches, parents, and fellow competitors.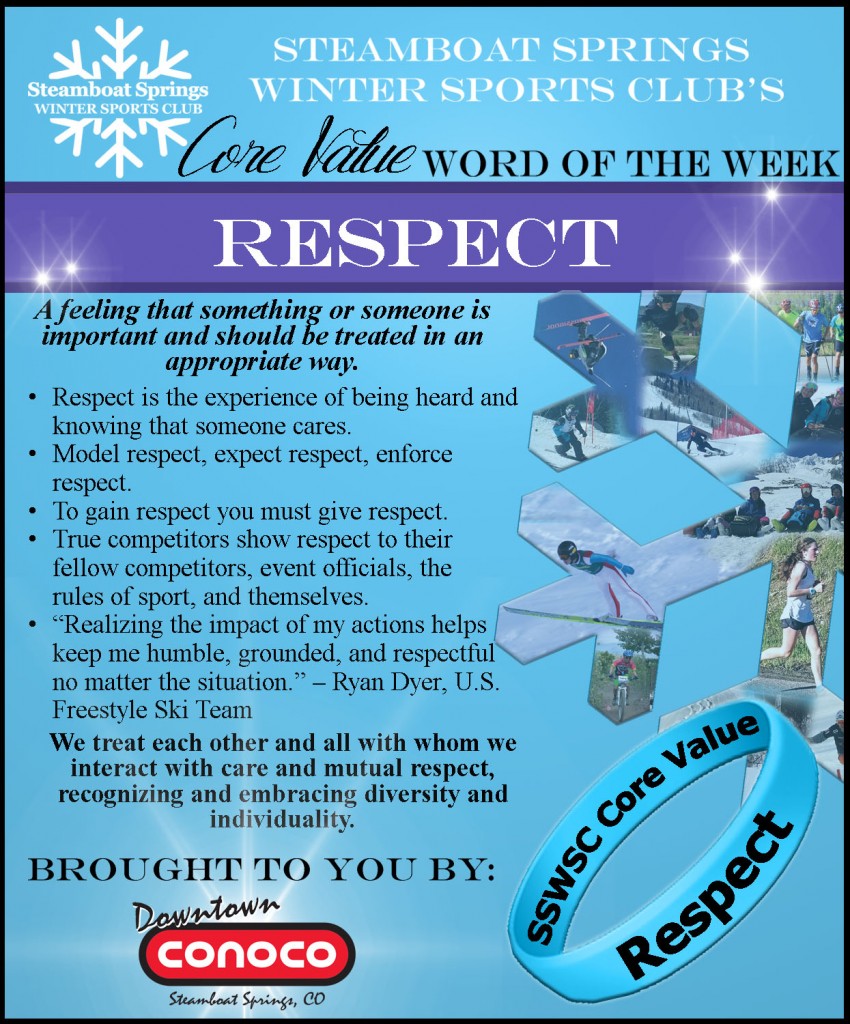 December 13th, 2016: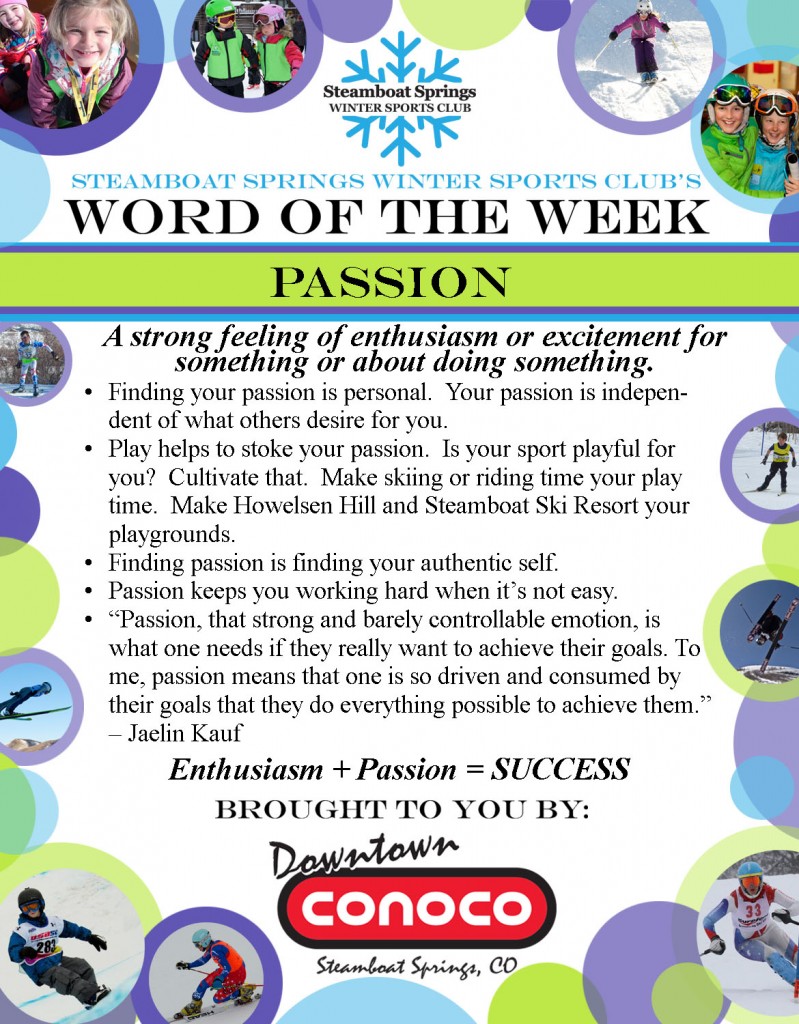 December 6th, 2016: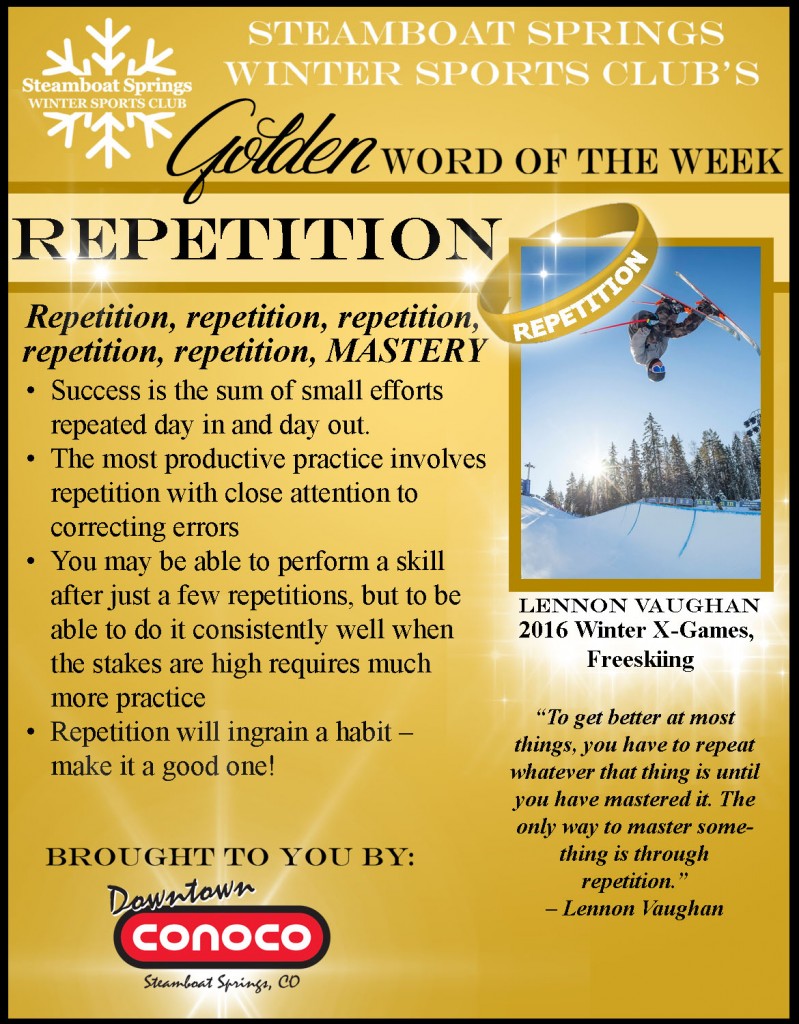 November 22nd:
Just in time for Thanksgiving, our word of the week for the next two weeks is gratitude. To become a champion on or off the hill takes help and support from many, many people, and those that show gratitude for the many good things they have around them as they pursue their goals in skiing and riding are those who get the most in return.

November 8th: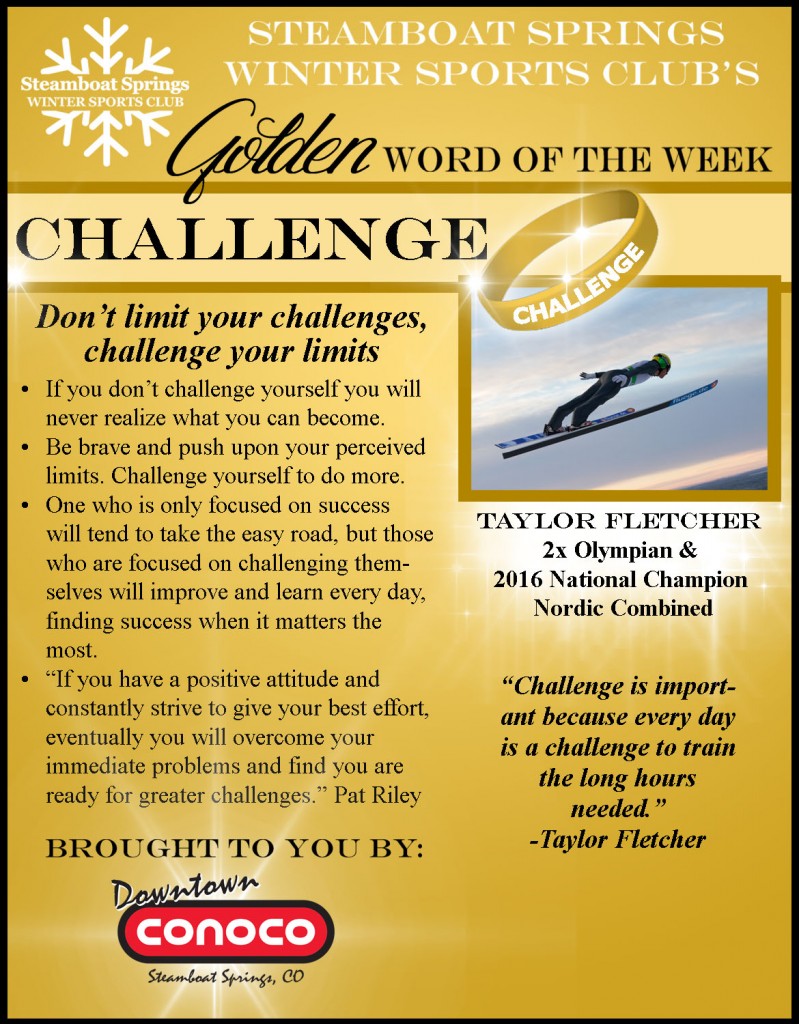 October 25th
This week we are excited to roll out our first "golden" word of the week, featuring a word chosen by one of our top alumni athletes!
This week's word is OWNERSHIP, chosen by SSWSC cross country alumnus Mary O'Connell. Mary is a great example of a champion on and off the mountain, having just graduated after four years of study and skiing at Dartmouth College. She is continuing the pursuit of excellence now with a post-graduate cross country skiing program in Craftsbury, VT. At Dartmouth, she was a NCAA All-American and earned an award called the Class of 1950 award, presented to the varsity student-athlete who has demonstrated the most extraordinary commitment to community service. Quite an honor!
This week's ad features how Mary describes ownership: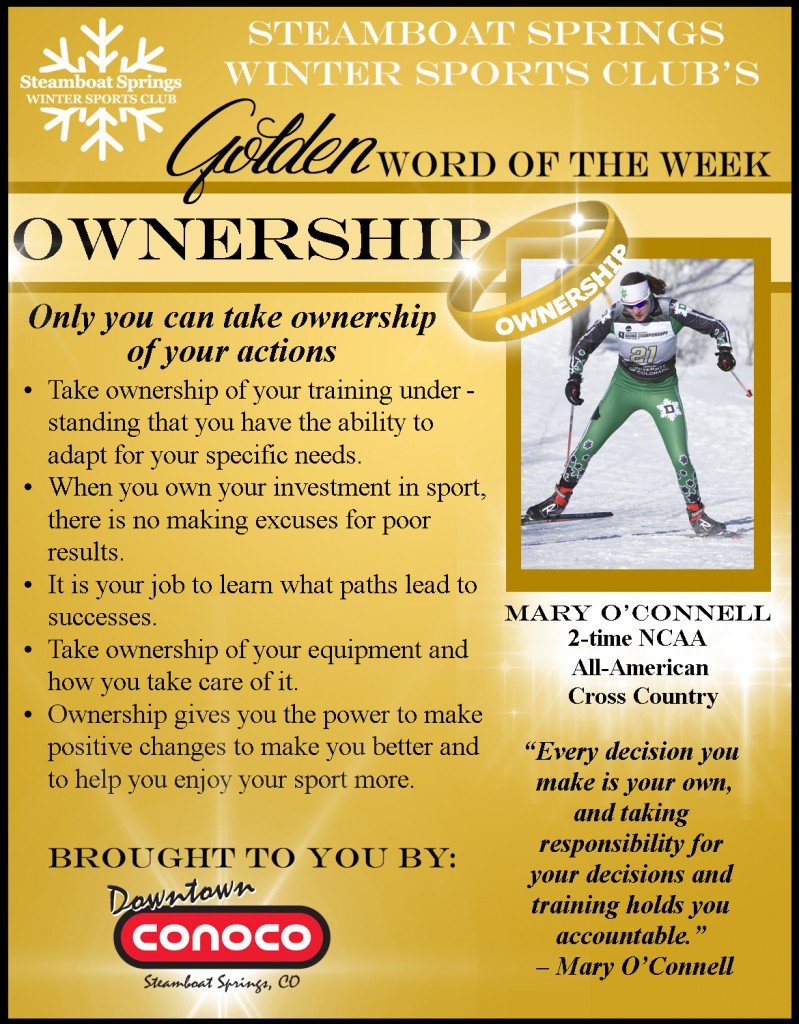 October 11th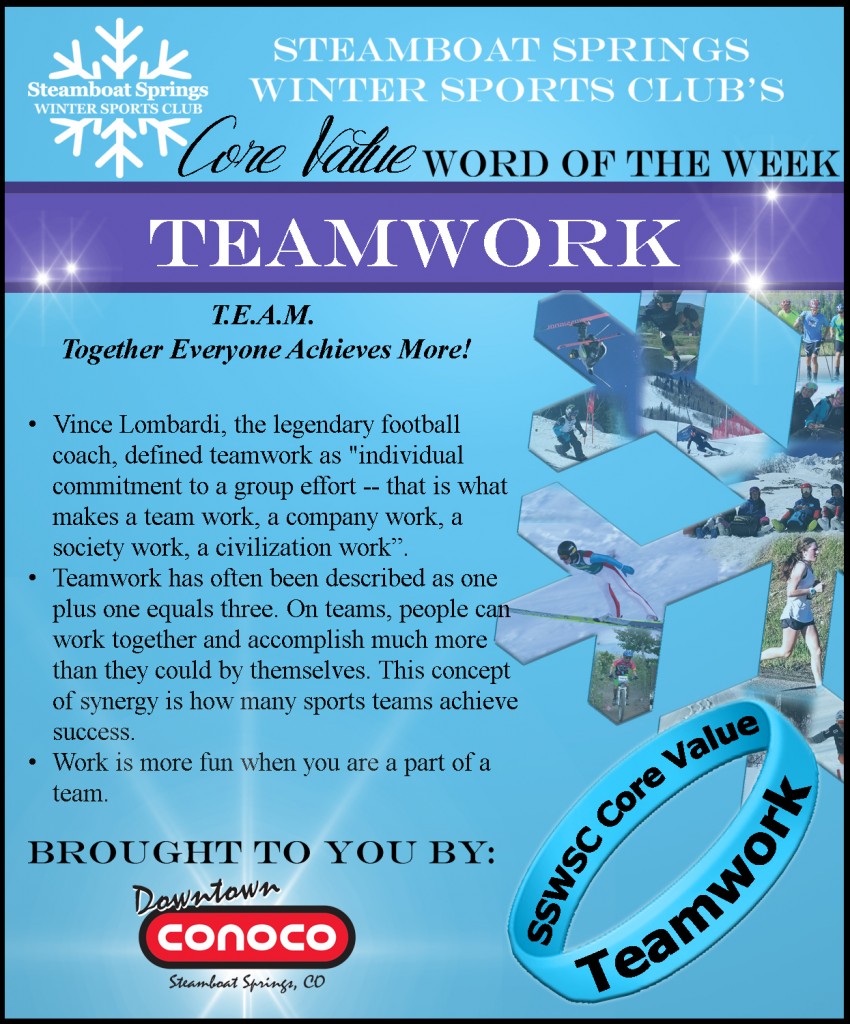 2015-2016 Word of the Week
February 23th, 2016: Competitor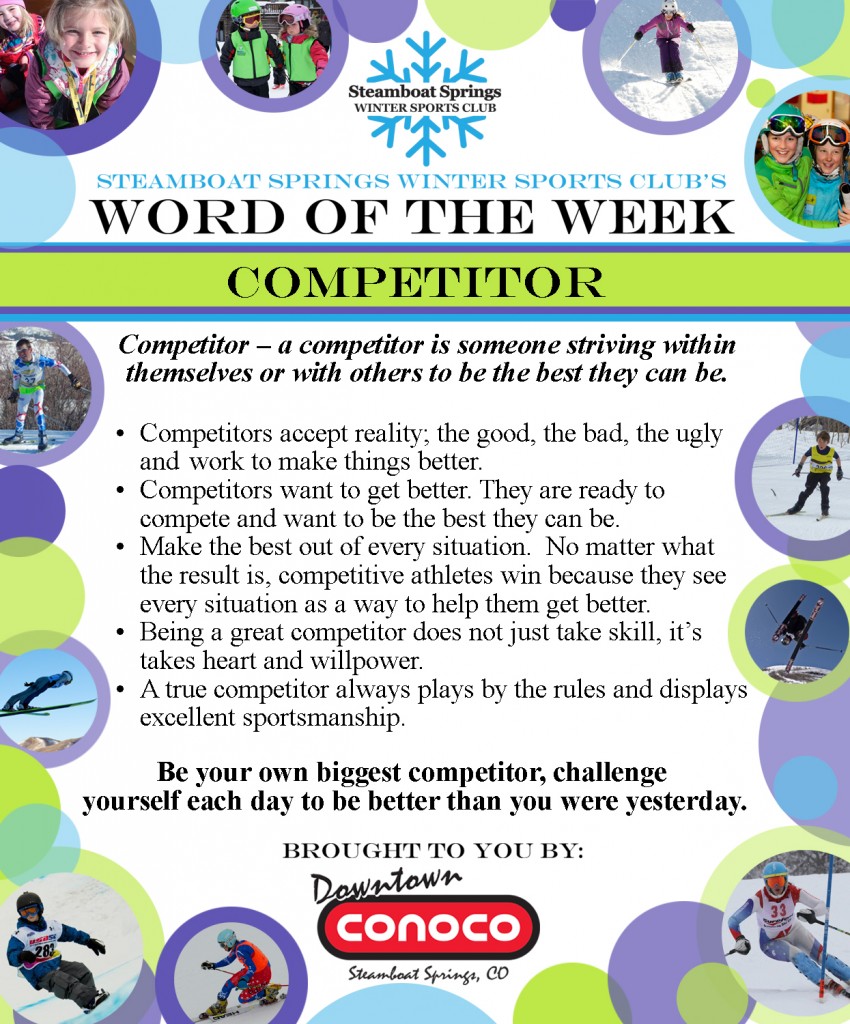 February 16th, 2016: Perseverance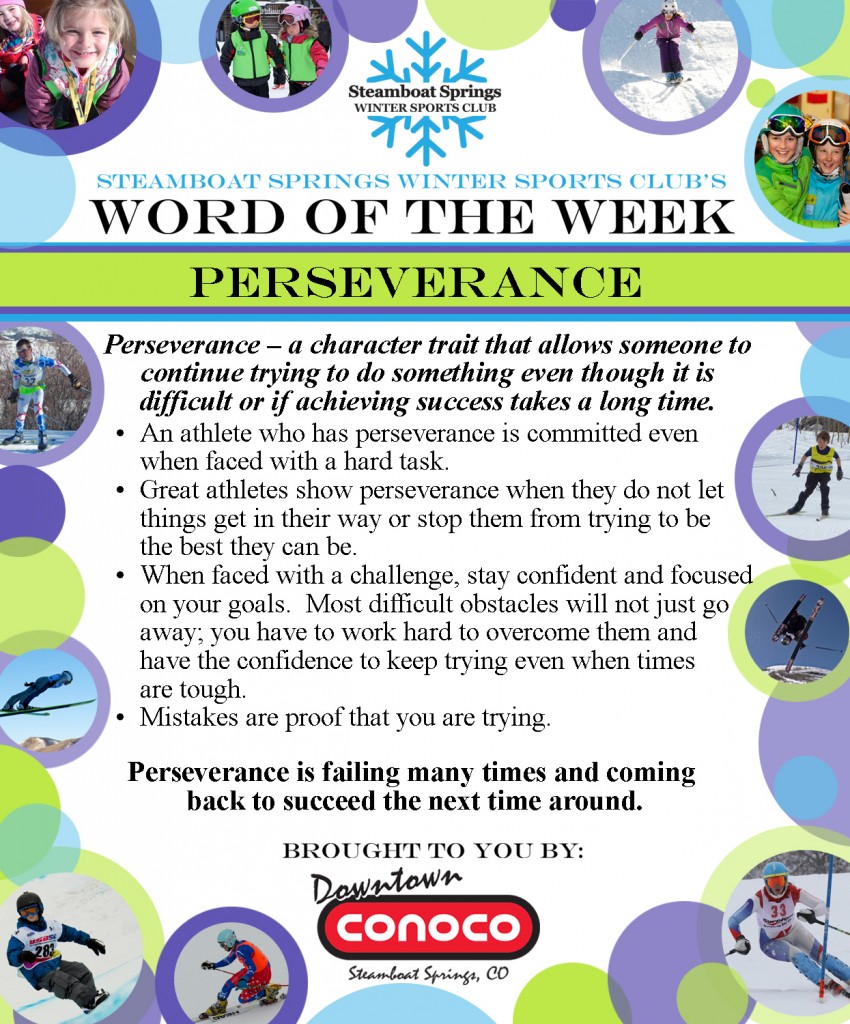 February 9th, 2016: Composure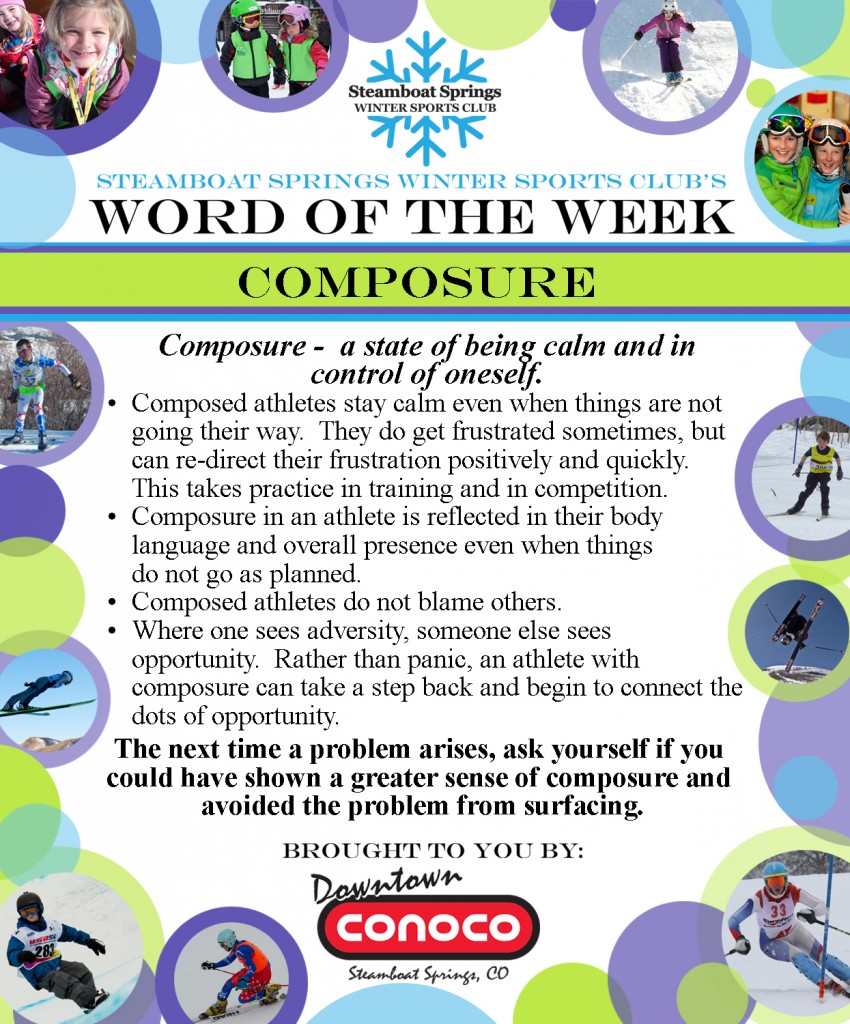 January 29th, 2016: Confidence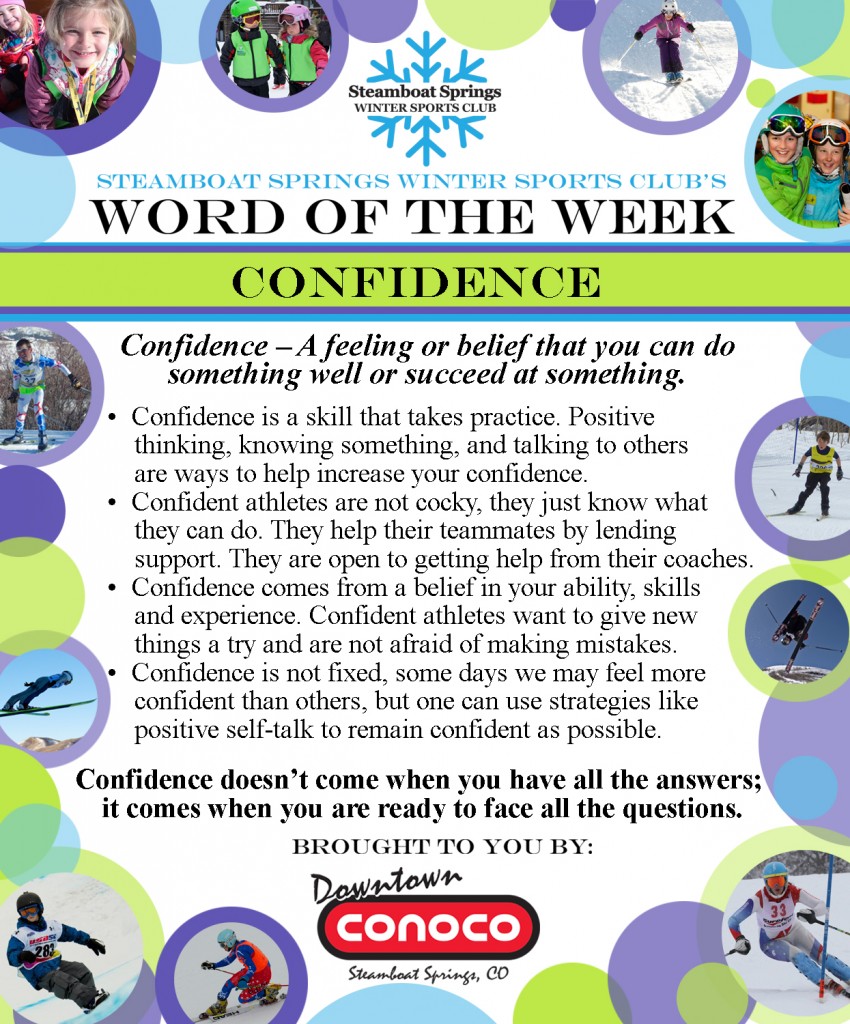 January 19th, Word of the Week: Respect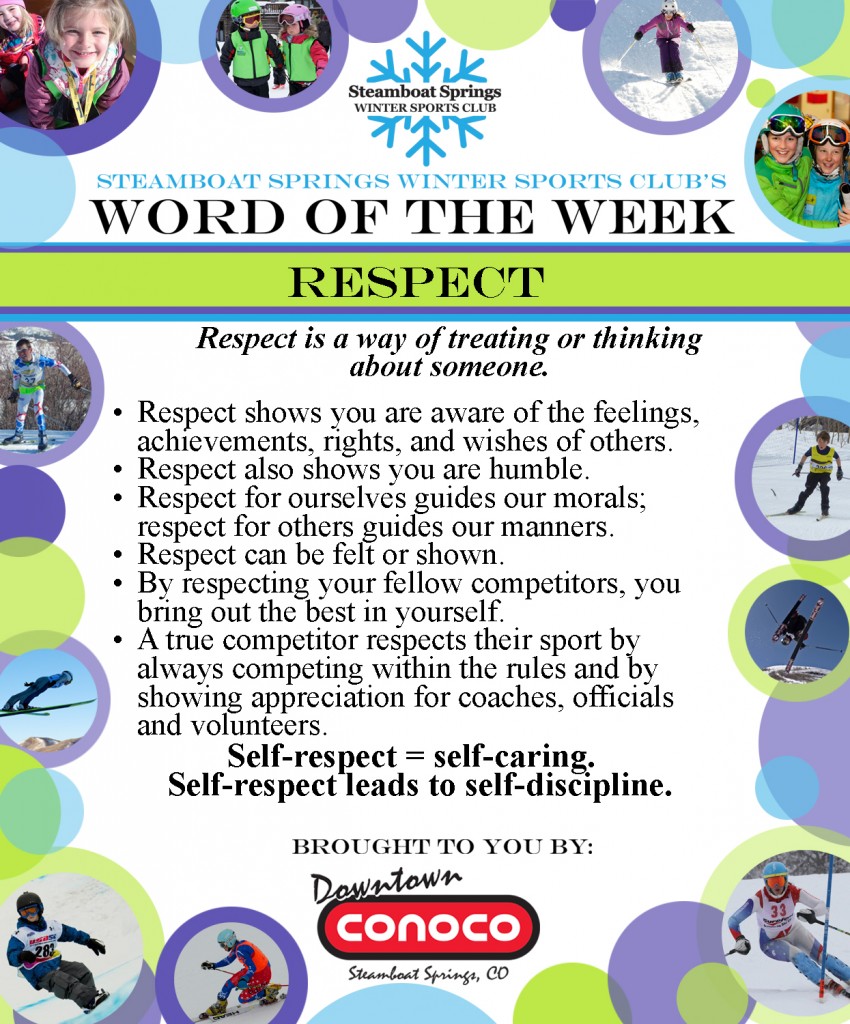 January 12, Word of the Week: Skill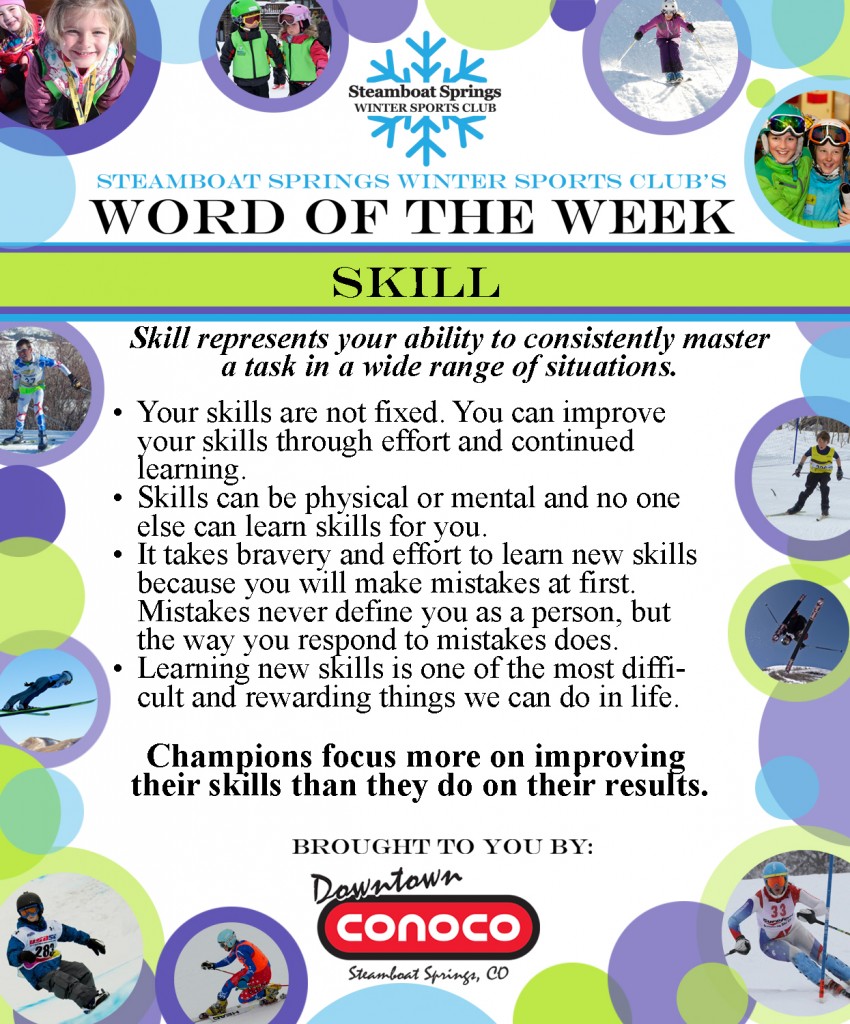 January 5th, Word of the Week: Friendship
Activities:
The top three reasons kids take part in sports are to have fun, to be with friends and to improve their skills. Spend time this week building social bonds.
• Write down positive comments about your fellow athletes and share them.
• Ride the lift with someone you don't usually ride with, and learn 3 new things about them.
• Do partner exercises and activities like synchronized skiing.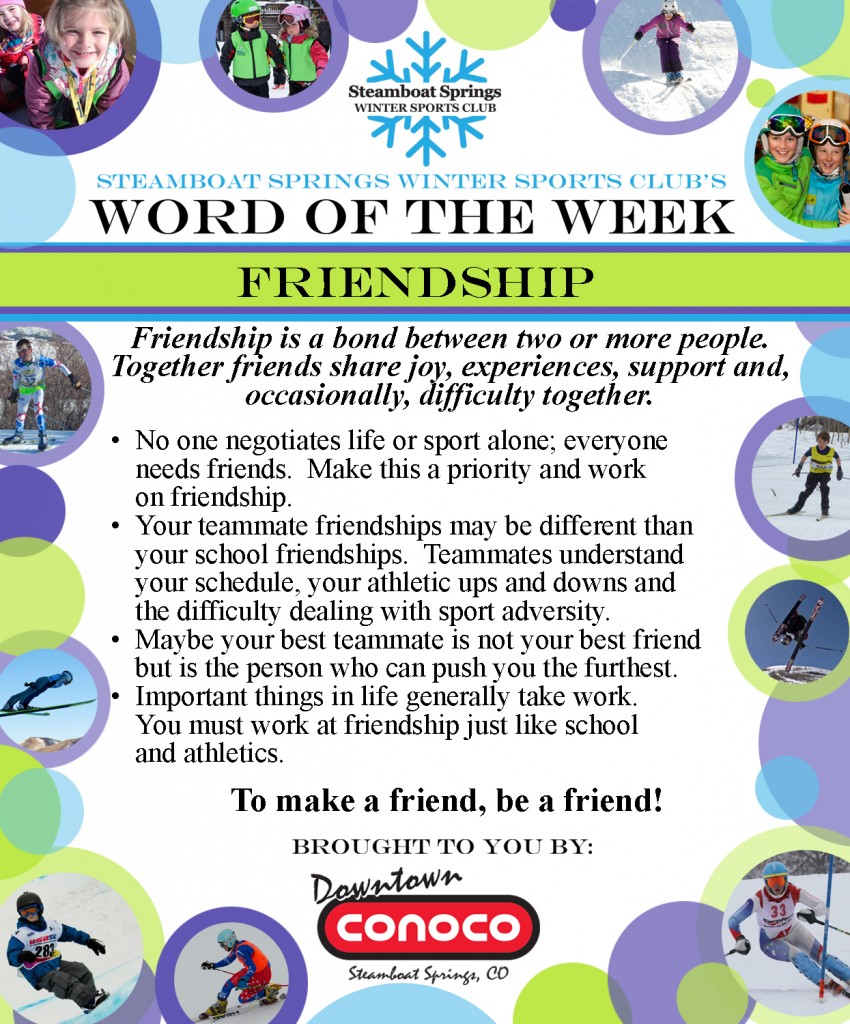 December 29th, Word of the Week: Curiosity
Are you inspired to learn every day?
What is your willingness to invest your time and energy into learning about your sport and yourself?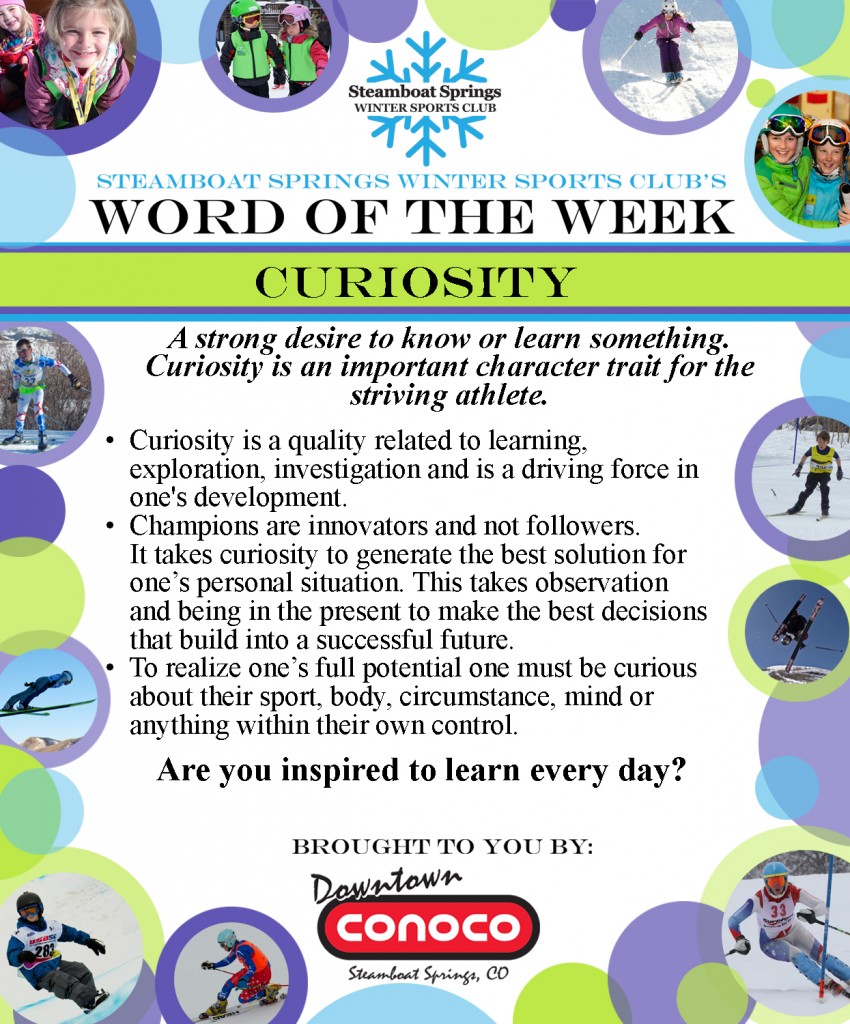 December 19th, Word of the Week: Mindset
Activities/questions:
• Are you afraid of mistakes?
• When you face a challenge and fail, are you motivated to improve to meet the challenge the next time, or does it make you question your abilities and want to avoid similar challenges in the future?
• When you are faced with a task you cannot complete, rather than saying "I can't do that", say "I can't do that yet".
• Think of a time when you successfully did something that you didn't think you could do. In that situation, what was the most important reason you succeeded?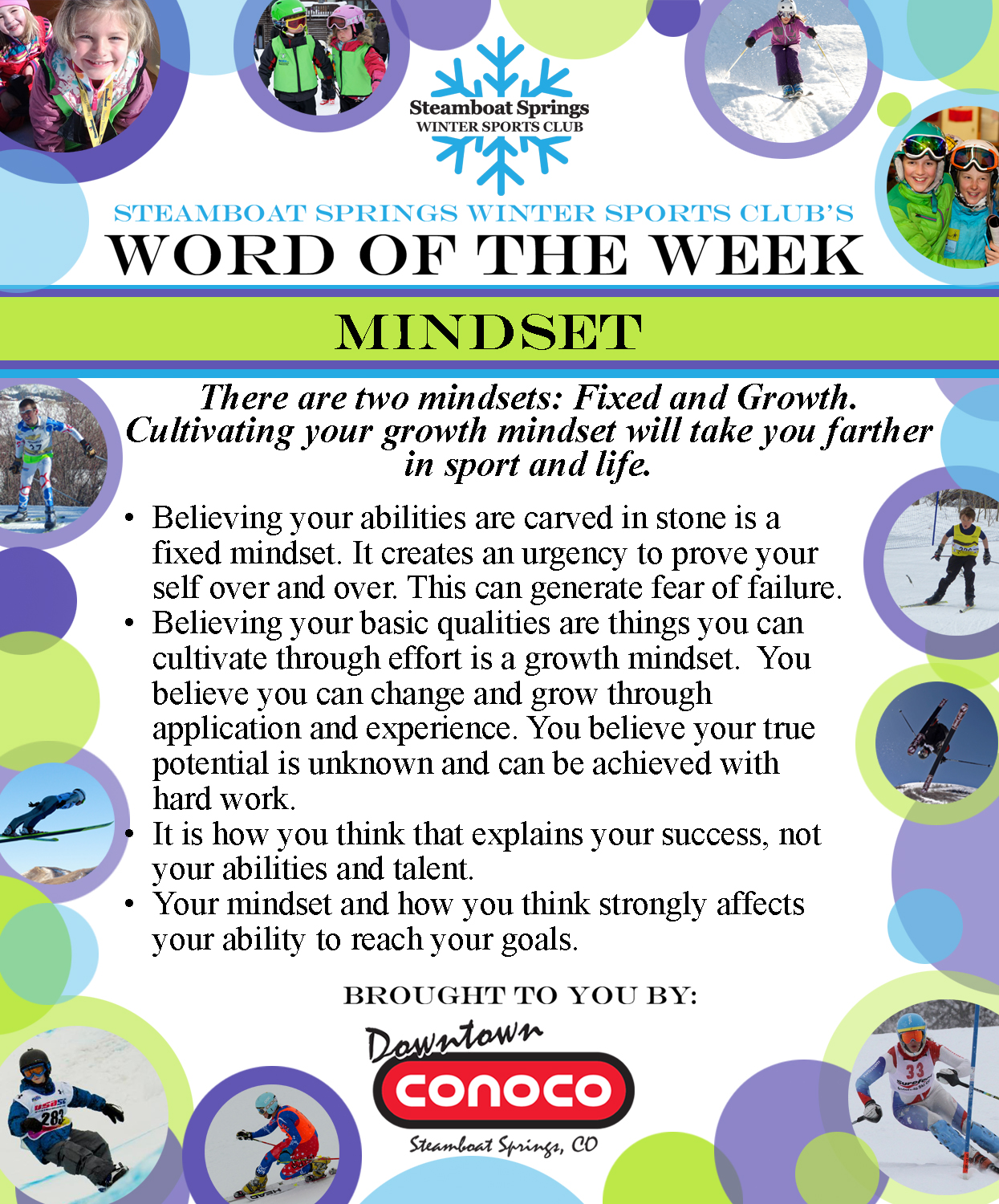 December 12th, Word of the Week: Character
Example of character traits:
Positive, grumpy, polite, sneaky, honest, curious, active, demanding, scared, bold, helpful
Activities/questions:
• Invent a super hero what character traits would you choose to describe your hero?
• Describe your ski groups character.
• What is a character trait that you would like to purposefully cultivate in who you are?
• If you grew up in the deep jungle what character traits do you think you would need for survival?
• What are important character traits in being an athlete?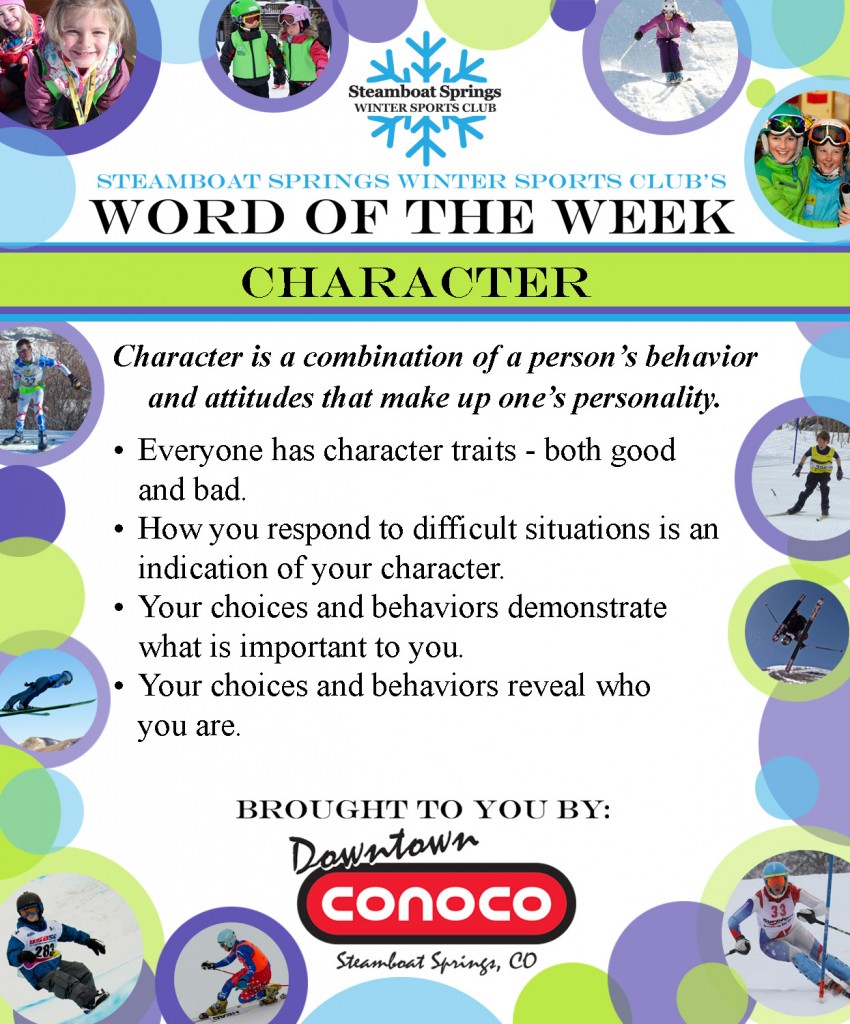 December 5th, Word of the Week: Optimism
Activity/questions:
• Who is the most optimistic person you know?
• Can you anticipate a difficult situation this season that may pose a challenge, yet your optimistic view on the matter can generate a constructive outcome?