Summer Highlight: Girls in Sports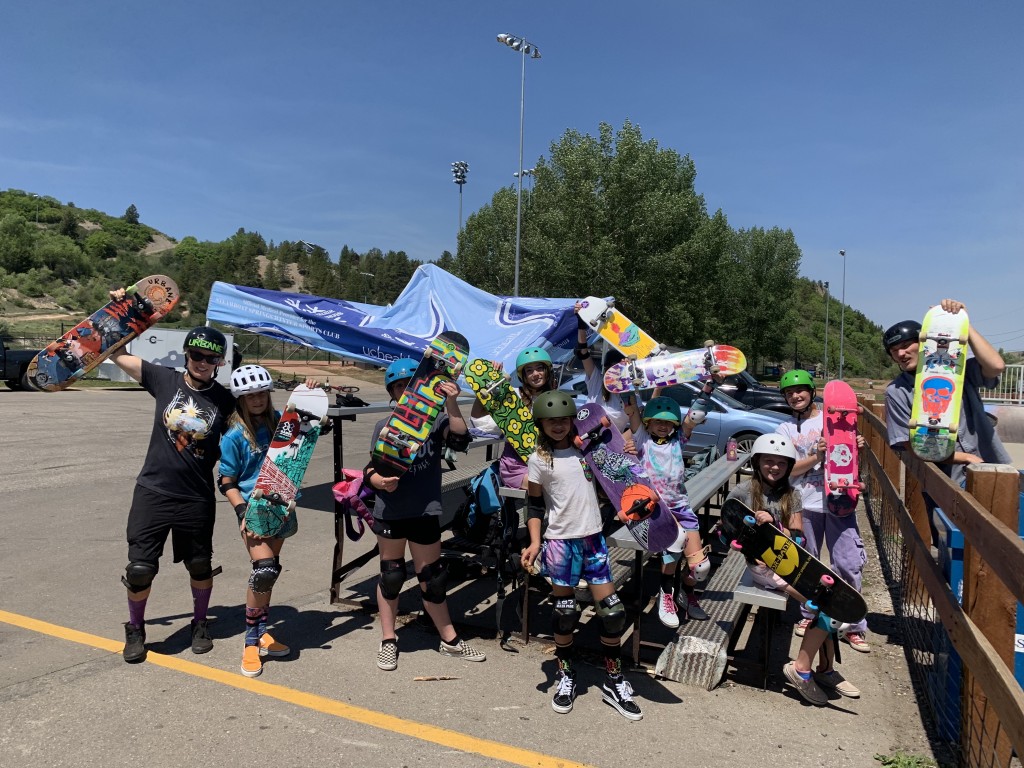 SSWSC has worked hard to be gender inclusive and to narrow the gender gap often seen in some segments of the outdoor recreation industry. The "It's a Girl Thing" Skateboard program, the third girl-specific program offered by the SSWSC, successfully kicked off with its registration this summer. The "It's a Girl Thing" series is aimed at increasing the opportunity and participation numbers for girls in sports.
Open to girls ages 6-14, the "It's a Girl Thing" Skateboarding program saw an incredible attendance rate and a wait list already started for next summer. In past years, SSWSC's skateboard programs saw one girl to every six boys participating. With the addition of this year's girl-specific program, that number has changed to one girl for every three boys, and female participation has nearly tripled.
"Girls want to skate, but without the intimidation," says Snowboard/Skateboard Director Maddy Schaffrick. "You've got to fall in the park and get back up again, and having support and a non-intimidating culture are really important in their self-esteem development to keep getting back up and doing it again and again."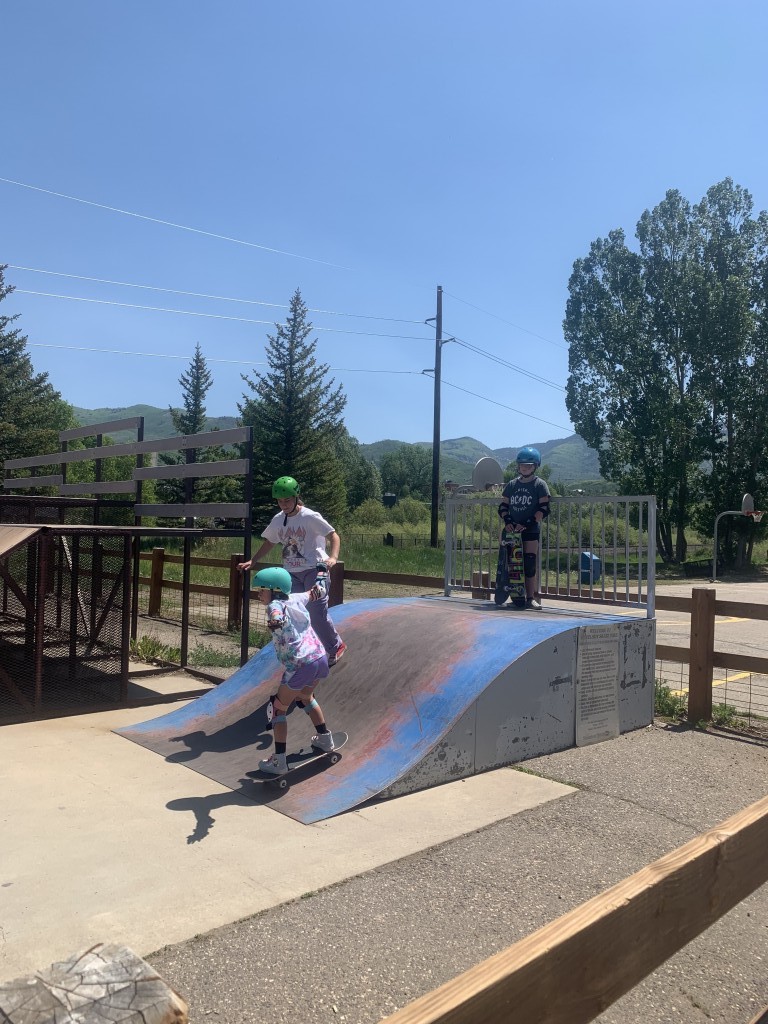 Schaffrick shared a story of two sisters who joined the program together. "They had never skateboarded before and were pretty shy," she said. "By the end of the program, the older of the two was dropping in the ramp at Bear River, and her little sister was pumping every transition she could find. They both came out of their shells and were having a blast!"
The new program follows in the footsteps of two other SSWSC "It's a Girl Thing" programs. The older of the two programs has run for over a decade; the "It's a Girl Thing" Mountain Bike Program is offered each summer for girls 6th grade and up as a seven-week program that teaches girls the important fundamental riding skills and fosters stewardship, trail maintenance, and group riding.
"Watching these girls encourage each other through cycling drills and over trail obstacles is inspiring, and that's exactly what it's meant to be, "said Blair Seymour, Cycling Director. "We want girls to learn to lead, learn to inspire, and learn that they have what it takes to be the best. Over the past 10 years, this program has been crucial to increasing the number of girls who participate in our programs."
This year, the Boys & Girls Club and the Mark Satkiewicz Dirt to Snow Fund helped four girls join the "It's a Girl Thing" Cycling program, providing bikes through the Dirt to Snow scholarship program. SSWSC Cycling Coach Kelly Landers, who is the Development Director for Boys & Girls Club wrote in the Boys & Girls Club newsletter, "They started off afraid and scared, but by the end, they were all standing a little taller and smiling a little bigger." One of the girls had previously tried to ride with her mom, and held some tentative feelings about mountain biking. Thanks to friendship, a great coach, and the routine of riding with other girls supporting her efforts, developed a passion for cycling and was even able to hit the trails with her mom again after the program was over!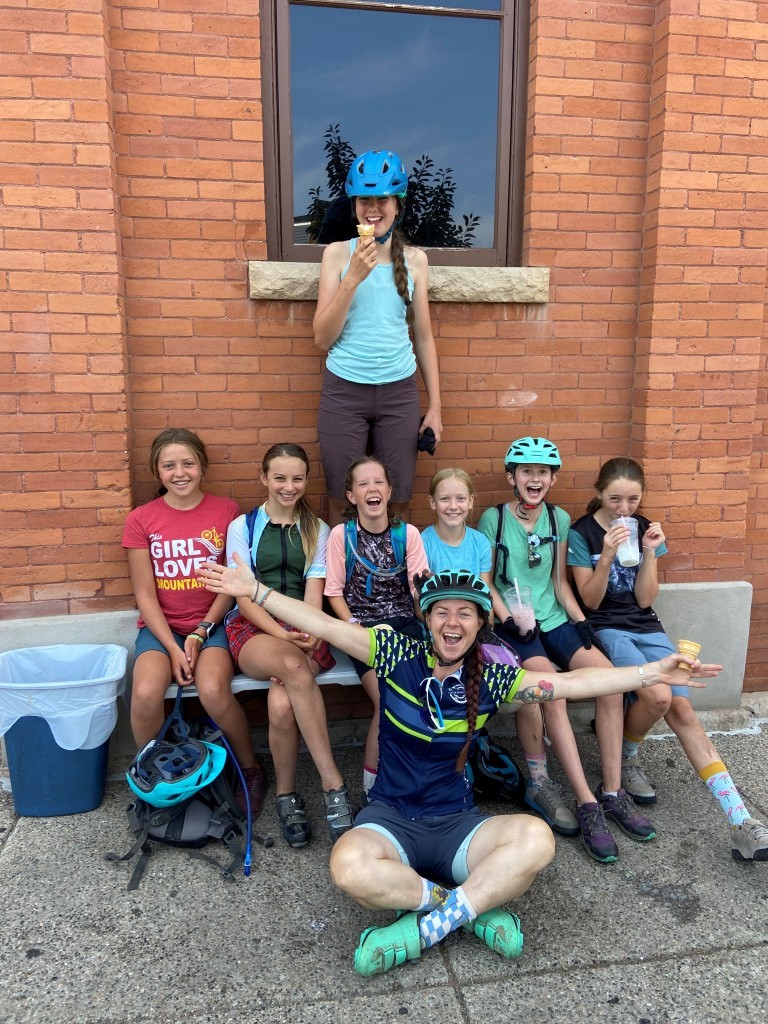 With only 7 weeks and two days of riding per week, the girls in the beginner group set an ambitious goal of riding to the top of the Quarry by the programs end. Some of the athletes had never been on a bike before the start of training, but all 7 girls achieved their goal, not only learning goal setting, but also learning how to care for their equipment. In addition to the Dirt to Snow Fund providing program fees and bikes for four girls from the Boys & Girls Club, a number of other athletes were assisted by the Routt County Riders Bike Match Program to ensure they had bike appropriate for dirt trails and downhill riding. Broken into skill level groups, there are 50 girls who participated in the "It's A Girl Thing" Cycling program.
"All of these incredible organizations come together for the kids," Seymour said. "This community is held together by making sure sports are accessible for our future generations. Empowering female riders is an important part of that."
As the cycling program grew over its decade-long span, so too, did the interest in girl-specific programs. The winter ski version of the all-girl-based cycling group quickly became a popular idea, and the "It's a Girl Thing" ski program debuted at the SSWSC five years ago. Focused on building camaraderie, developing skills, and gaining inspiration from female coaching staff, the program explores all aspects of on-snow development for girls ages 11-15. From the cycling program started a decade ago, to the skiing program 5 years ago, and the new summer skateboarding program offered this summer, SSWSC has consistently provided new girl-based programs in the "It's a Girl Thing" program series every 5 years, continuing to build a more inclusive future.
SSWSC wants to be sure all genders in the community feel supported and are encouraged to participate in sports, both beginner and competitive. Proudly, 46% of SSWSC's athletes are female and are led by a 40% female coaching staff, helping to encourage more girls who otherwise may not choose to participate, to feel welcomed.
Part of the magic of the girl specific programs is having a female coach," Seymour says. "Women are important in coaching regardless of the gender of the athletes being trained. In these girl-specific groups, having a female coach is even more powerful because you have a successful, confident woman encouraging girls as their role model to thrive in excitement, embrace competition, and set goals for themselves while leaving room to bond, foster friendships, and develop during learning opportunities that just aren't present in most training groups."
As summer programs come to a close and athletes ramp up for the winter season, SSWSC hopes to see the number of girls increase for winter program registration. Registration is open for the "It's a Girl's Thing" Ski program, and SSWSC is actively seeking coaches who are inspired to motivate, foster inclusivity, and believe in the importance of girls participating in sports.