Ben Brown: Domestic Alpine Coach of the Year
Congratulations Ben Brown for being named U.S. Ski & Snowboard Team's Alpine Domestic Coach of the Year! Ben's U16 athletes have racked up tremendous results over the past several seasons, but what's truly special is when you look deeper down in the results you realize that everyone is improving under his leadership. This is because of a growth-oriented, hard-working culture that Ben instills in his teams and that is embraced by all the athletes. Thanks for all you do, Ben!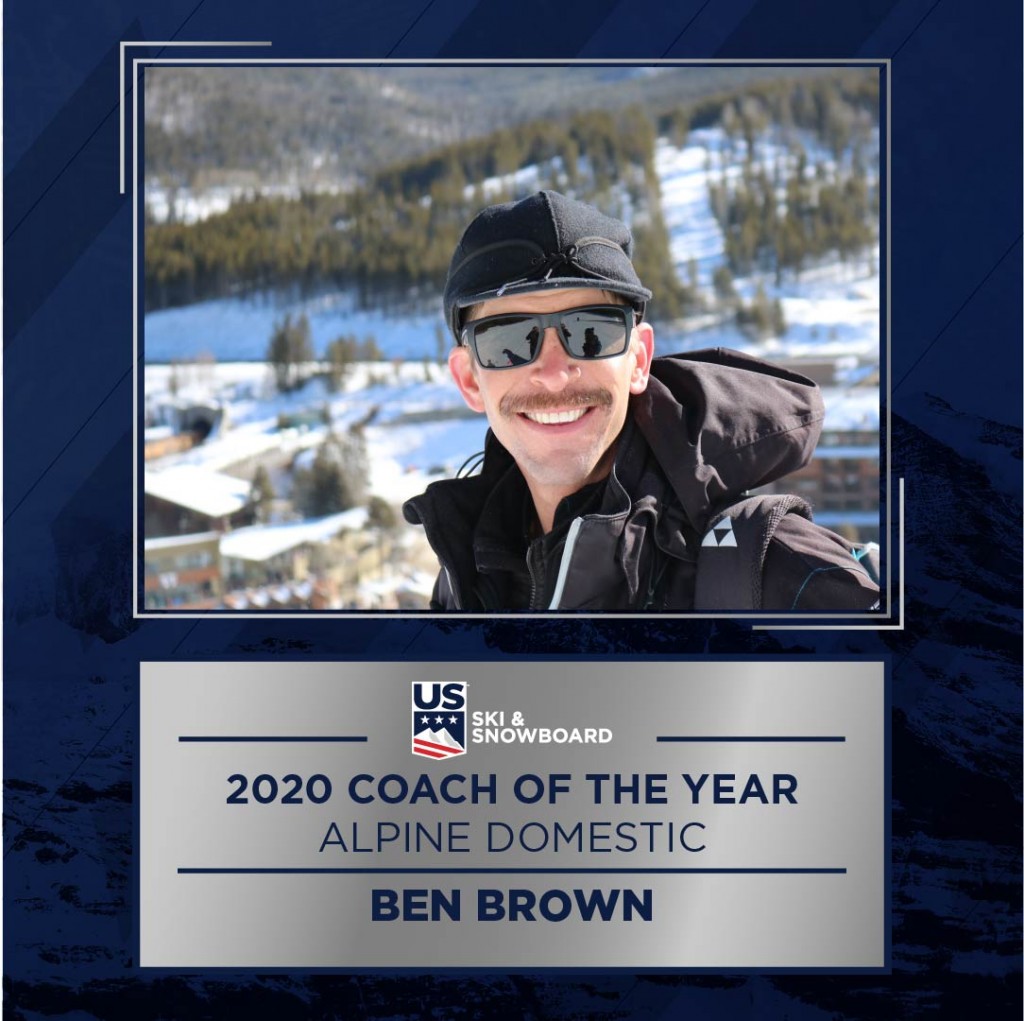 From the U.S. Ski & Snowboard's article featured in Ski Racing:
Ben Brown (Steamboat Springs, Colo./Steamboat Springs Winter Sports Club), who serves as the U16 Head Coach for the Steamboat Springs Winter Sports Club (SSWSC), was named Alpine Domestic Coach of the Year. A former Western State College racer who has been coaching for over 15 years, is known as a humble coach with a strong work ethic.
Brown's success with athletes has been achieved by extending his own qualities to his athletes, with strong expectations of them, gaining their respect and achieving results. His work, and that of his coaches, have resulted in SSWSC having a high percentage of athletes transition from U16 to FIS racing.
Steamboat qualified six athletes this season for U16 Nationals. Tatum Grosdidier was the overall winner at the Rocky/Central U16 Junior Championships and qualified for the U16 National Project in Alpe Cimbra where she finished sixth in GS. Brown attended Alpe Cimbra to support Grosdidier but also help all the U.S. athletes and learn from other international coaches. Nick DeMarco won the Rocky/Central U16 super-G while Katya Thurston, Caroline Gilchrist, Colin Kagan, and Charlie Welch all had podium or top five results. The results are typical of what Brown has accomplished in building a rich history in the Steamboat U16 program under his leadership.
A year ago, Brown was nominated by his peers to serve as the Rocky Mountain Division Alpine Competition Committee chair. He has brought his work ethic and positive attitude into the important divisional role. He also frequently serves on regional and national projects.
"It is quite an honor to receive this award as there are many great ski coaches in this country, many of whom I look up to as mentors. I am grateful to have had opportunities to coach at U16 International Competitions each of the past three seasons. Witnessing the best U16's in the world train and compete has helped me to develop a sense of ownership in the mission of US Ski & Snowboard to win at every level. To improve my coaching, I am constantly analyzing and questioning my own processes and fundamental beliefs and looking for ways to grow my knowledge of all things related to ski racing, skiing technique, tactics, coaching and athlete management," he said. "I look to recognize the full potential in all the athletes I coach, regardless of their past performances. This belief helps me to see each athlete as a true individual and to address his or her needs in skiing and in life beyond with attention to detail."
"It is my goal to help all my athletes become great ski racers as well as to guide them into becoming model citizens who care about their teammates and the world around them. As a team we strive to build each other up during the tough days and we share in the celebrations of achievement with one another."
- Ben Brown, U16 Coach, Steamboat Springs Winter Sports Club