Tony Lodico, On to New Adventures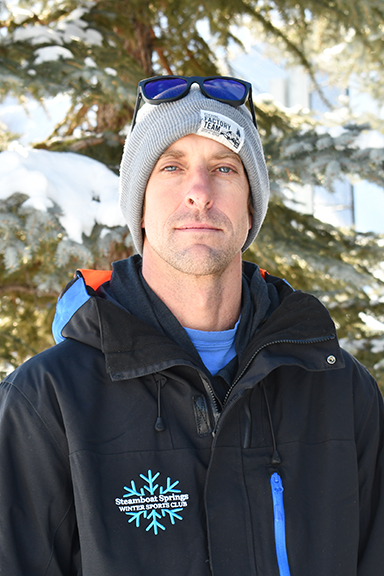 SSWSC's Freeskiing Director will be Missed

Steamboat Springs, CO- January 14, 2022: When freeskiing became a recognized sport in the Steamboat Springs Winter Sports Club (SSWSC) Tony Lodico was there. 20 years ago, Lodico joined the SSWSC family, coaching for the Freestyle Program as Head Freeskiing Coach. Except for a one-year hiatus, Tony has worked at the SSWSC for the past two decades. As interest in freestyle skiing and the freeskiing branch increased, SSWSC created the Freeskiing department in 2014, and Tony took the lead as the SSWSC's first Freeskiing Director. 2022 marks Lodico's 20th year overseeing freeskiing athletes at the SSWSC and his 8th year as Freeskiing Director.

With a decade of coaching double corks, spin-out's and misty-flips, Lodico is taking his own coaching instruction to successfully land a life-changing 180 with adventure in mind; traveling the world with the goal of spending time with his wife, Claire, and two children, Frostee (8) and Kirra (5), on a traveling adventure while their kids are still young.
"A career is a job you love so much that you forget to quit," Lodico said when asked about his 20-year experience at the SSWSC. "This isn't a career end for me, and I hope I'll return to the club someday. Family is an important cornerstone of the SSWSC, and I'm always told that parenting is over in the blink of an eye, so Claire and I are going to make sure we don't miss the opportunity to enjoy a life-adventure while we can. This hopefully isn't the end of my career at the Winter Sports Club, just a pause in the timeline."

In the past five years during his time as Freeskiing Director, Lodico has seen the SSWSC Freeskiing programs quintuple in participation, as more kids found the fun and adventure tied to half-pipes, big air jumps, rails, Big Mountain and Backcountry and as Lodico's team added new programs to fulfill community needs. Most recently, the Freeskiing Department saw the addition of a full set of Backcountry Awareness and Education programs. In 2021, the Freeskiing programs had a record number of 143 kids enrolled.

"I'm proud of the freeskiing programs for continually evolving and not being committed to one vision of what freeskiing is." Lodico said of his sport. "The sport changes, and we continue to change and work with new people to deliver what the sport needs and what the community needs. We have learned to balance competition with fun, and we continue to introduce new sports to the discipline: big mountain, ski touring, and now ski mo," he said.

High level training in the competitive sport of freeskiing is limited by Steamboat's natural terrain and man-made building capacities, so while other SSWSC programs focus on skill progression to elite competition, Lodico's programs focus on foundation basics and cultivating a fun, safe, and evolving environment for freeskiers. Lodico's backcountry programs are the first for the SSWSC that take athletes into the backcountry with a trained snow and avalanche professional.
"Freeskiing continues to evolve rapidly and Tony has had the vision to see the big picture, look ahead at the direction of the sport and have the courage to be bold and innovative with the direction of the program," said SSWSC Athletic Director Dave Stewart. "He also truly listened to what the athletes and families in Steamboat are most enthusiastic about and as a result we have new opportunities within freeskiing that meet the interest of these kids."
"I will personally miss working with Tony," Stewart continued. "He has great perspective and priorities and he puts the kids first in every decision. In addition to building the freeskiing program up to a great place, he has actively worked to develop and empower a group of coaches over the years, so Tony will leave behind a department filled with coaches who are ready to lead. I wish Tony, Claire, Frostee, and Kirra all the best in their next big adventure and hope they return to the SSWSC someday!"

As a "small but mighty" program, the freeskiing discipline incorporates both summer and winter training, with athletes practicing balance and air awareness on the trampolines and water ramps in the summer, and then bringing those skills to winter training with the safety of airbag jump training that then progresses to on-snow landing. The program has evolved from terrain park competitions to incorporating Big Mountain skiing, backcountry awareness, and skimo races (or uphill ski racing) to further develop the foundational skills that help prepare athletes as they move out of SSWSC's programming to pursue competitive, professional freesking in events like the Dew Tour and X-Games. The SSWSC freeskiing programs set the foundation for athletes hoping to compete professionally, while also fostering a fun love of skiing for those who do not intend to make skiing a career.

"Tony has always been intrigued by kids who have a need to explore. Not just in sport, but in their lives and in search of their purpose. He is focused on the kids who often are searching in all aspects of their lives and those who engage in sport for social, emotional and personal development. He is the one you want when your kid needs guidance," said Executive Director Sarah Floyd. "He believes in the power of sports in athletes' lives and his encouraging style of 'try it again' coaching provides support on and off the hill. He will be terribly missed."
"The thing I am most proud of is all of the different careers and professions that we have had former team members join, and that they are still excited to see us and still love snow later in their lives," said Lodico. It makes me smile when a former athlete is out on the hill with parents or friends smiling and they make the time to say hi, or even better want to find a year or two to come back and coach."

"We would like to thank Tony for his time with the SSWSC and for always putting athlete needs first," Floyd said. "We hope he will always consider Howelsen Hill his home."

The SSWSC will be accepting applications for a new Freeskiing Director in the spring. For the current season, Lodico has prepared a highly trained staff to continue winter programming, with lead coaches prepared to guide the program for the remainder of the 2022 winter season.