The SSWSC Word of the Month program highlights SSWSC's four core values using videos, banners, and incorporating the words into our daily athletic training!
Thank you to our Word of the Month sponsor Downtown Conoco!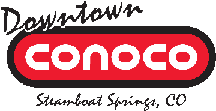 Our first featured core value is teamwork
Teamwork is our secret weapon. While our sports are contested at the individual level, we know that a highly supportive team will not only push all to greater results, but make the entire experience more rewarding. With a full slate of winter sports and summer programs as well, we look to take advantage of the expertise of our coaches across disciplines to make each other better. We encourage our athletes to interact across disciplines as well, through activities, shared coaching days, and athlete mentorships. Effectively, the SSWSC is one team, working together with our support partners to expand our opportunities and enrich the community.
The guiding principles of teamwork are:
Celebrate your success and that of your teammates
Hold yourself and others accountable
Promote, leverage and celebrate each other
Collaborate