Athlete News, February 17, 2017
Alpine
U6 Athletes stop for a break!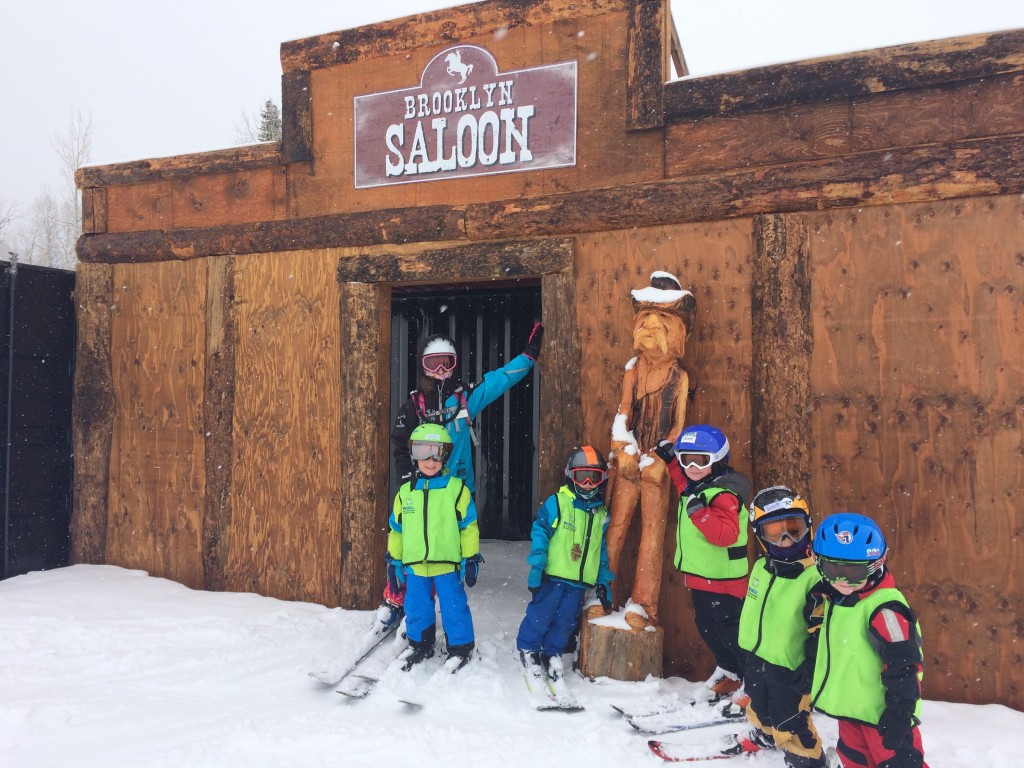 Freeskiing
The SSWSC Freeskiing Team had their second USASA Slopestyle Competition this past weekend at Winter Park Resort. In the morning it seemed that the weather was going to cooperate, but as soon as the first runs started we were hit by fog, wind, and snow. Even though the conditions weren't ideal, everyone gave it their all and tried to put down a run. Kai Doyle had another 2nd place finish and the 10-11 Boys had an amazing showing all around with 2 podium finishes from David Schlicht (3rd) and Cael McCarthy (2nd) with strong skiing from Wiley Wagner(6th) as well.
After all the skiing was done most of the team then rushed back to Steamboat to put on a show for the Winter Carnival Night Show.
Here are the full results:
Freeski Breaker Boys (12-13)
8-Blake Clemente
9-Owen Taylor
Freeski Menehune Boys (10-11)
2-Cael McCarthy
3-David Schlicht
6-Wiley Wagner
Freeski Youth Men (14-15)
2-Kai Doyle
5-Liam Baxter
8-Bryce Zetzman
18-Jon Kolvereid
Freestyle
Over the weekend the HP team began the FIS Freestyle Nor-Am tour with the first stop in Killington, Vermont. The entire team was fired up and very motivated to get in the gate after watching the Deer Valley World Cup in Utah the week prior.
It was definitely a tough weekend of competition as the east coast was hit with winter storm warnings and received over 18 inches of snow in 48 hours. But that didn't stop the HP Team as they had two great days of competition.
DAY 1 - Singles Event
Three out of four girls put down a excellent runs in qualifications and made the top 16 final (Avital Shimko 5th, Maggie Ryan 8th & Trudy Mickel 11th). Unfortunately, Lane Stoltzner missed out on finals after she got a little caught up in the middle section and changed lines.
FINAL 1
In the finals, all three girls put down clean top-to-bottom competition runs in the Final 1, in particular Trudy Mickel who skied from 11th to 6th place allowing her to just sneak into Final 1 (superficial). Maggie Ryan unfortunately had a couple of minor mistakes which saw her finish the event in 10th place. Avital Shimko, on the other hand, put down her best run of the week (great skiing and excellent airs) and qualified for Final 2 in 3rd place behind to Canadian skiers.
FINAL 2
Avital unfortunately was pushing the speed in the middle section and blew out, resulting in a 5th place finish. Whilst this was not the result she was looking for, it was great to see her push the limits with her speed (something she has been working on this year). There is no question she is a force to be reckoned with on the Nor-Am tour this year.
Trudy Mickel went into the super final with nothing to loose in sixth place, so we really decided to go for it and push the boundaries. She put down an exceptional run which included skiing faster than both her qualification and Final 1 run, as well as cleaning up her backtuck on bottom air. It was not only great to see Trudy deal with the pressure of her first ever FIS Superfinal and put down a great run, but her performance earned her a 3rd place. This is an exceptional result for Trudy, especially as she is only 16 years old and this was her third Nor-Am start of her career. It is clear this is just the first of many Nor-Am Podium results for Trudy.
DAY 2 - Duals Event
After a three hour delay and the event almost being cancelled due to extreme weather conditions (high winds and heavy snowfall) the event began around 12 midday. Maggie Ryan unfortunately had difficult with the top air exit and was knocked out in the round of 32. Avital Shimko and Trudy Mickel unfortunately had similar issues in the next round and were knocked out in round of 16.
Lane Stoltzner, on the other hand was out to seek revenge for her mishap from the day prior. Each round Lane consistently put down fast runs with clean top air jumps and exits. This saw her beat Day 1-Singles winner Valerie Gilbert (Canadian National team member) in the Semi-Final and win the big final (against Berkley Brown 2nd place on Day 1) and win the event.
This was a great turn around for Lane and will allow her to go in with confidence to the next event where she will be looking to back this result up.
It was a decent start to the Nor-Am tour for the HP Team, with a couple of days of rest and travel the team will be ready for the next stop on the tour - Val St Come, Quebec this weekend.