Athlete News, December 17
Moguls
The mogul skiers are thrilled to finally have some bumps! The Super Junior Mogul Course is up and running and with Mother Nature's assistance, the athlete's are having excellent training.

6 athletes from the FIS Team are in Winter Park for the week, competing in their first competition of the season, US Selections. Xander Tatar-Brown, Collin Hassel, Katie McGlaughlin, Zoe Schaab, Anabel Ayad and Ella Walker are representing SSWSC as they vie for spots on the Nor-Am Tour.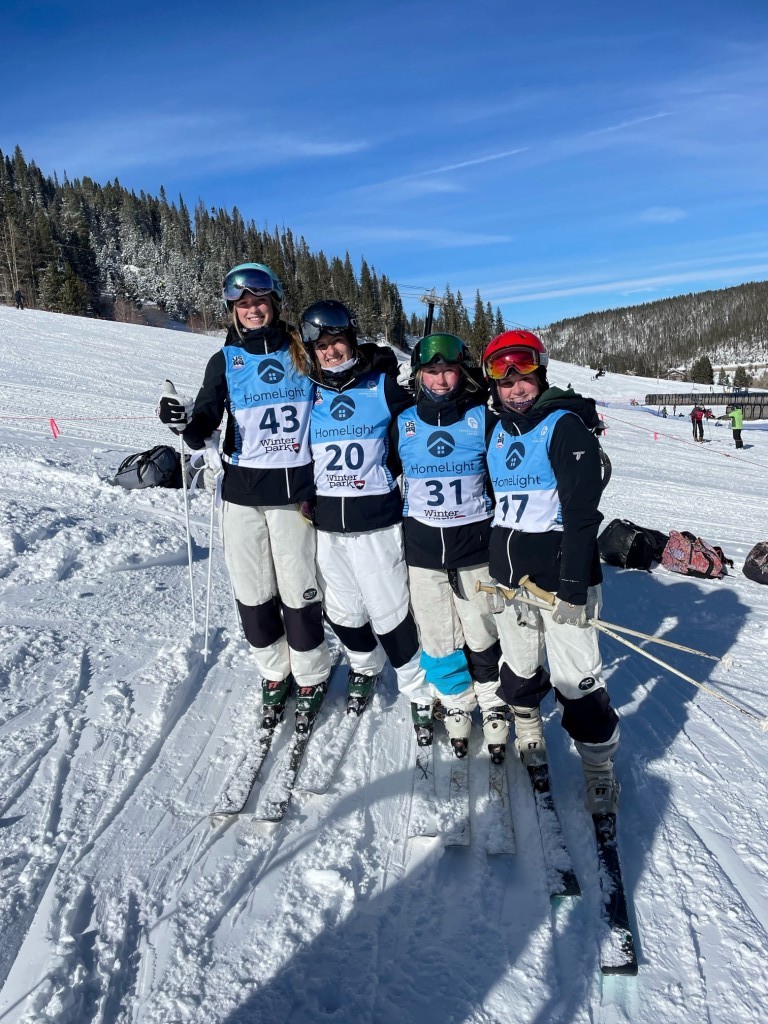 Snowboarding
This past Saturday, Dec 11, we hosted the very first USASA Snowboard and Freeski events for our region here at Howelsen Hill. Our region is called the Rocky Mountain Series and we had athletes from Vail, Copper, Breckenridge, Keystone, and Winter Park come to Howelsen to participate in a snowboard-only GS and Slalom event and a snowboard and freeski Rail Jam under the lights. We could not have asked for better weather for the event. The snow that came to the valley a couple nights before definitely helped our venues and allowed for a fun race and rail jam. This was the kick-off for our competitive athletes in both the Freeski and Snowboard Program here at SSWSC and was the first of many events they'll be participating in in hopes of making it USASA Nationals at the end of the season at Copper Mountain. We'll host another Rocky Mountain Series event in the halfpipe on Steamboat Resort in March, and until then we'll be travelling around the rest of the region participating in more GS, Slalom, Rail Jam, Halfpipe, Slopestyle and Boardercross events. Our hometown athletes are fired up and ready for the season ahead and having their first event of the season be here at Howelsen was a perfect way to kick the season off!
Kendall Harrington after winning both the GS and Slalom event. Kendall is a Senior at SSHS and has been snowboarding with SSWSC for 8 years now.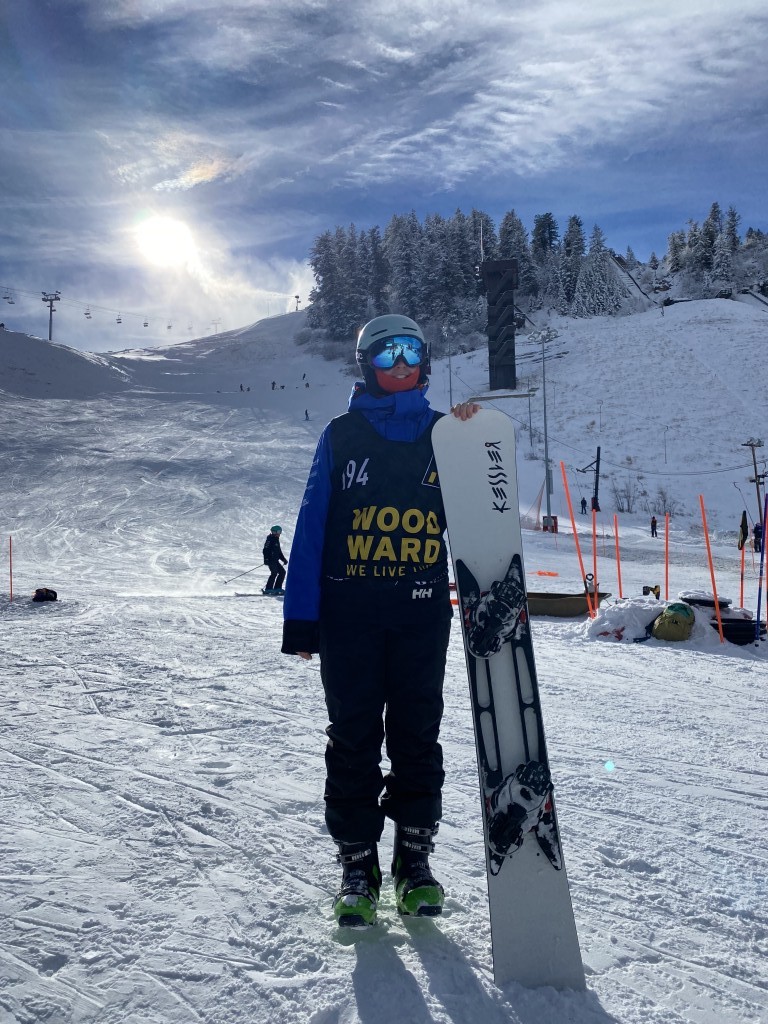 Below are our SSWSC Athlete Results:
Slalom (snowboard only)
Open Class Men:
1st - Walker Overstake
2nd - Michael Smith
Open Class Women:
1st - Kendall Harrington
2nd - Tatum Lightner
3rd - Cecelia Jones
Youth Men (ages 15 and 16):
3rd - Braden Duty
Breaker Girls (ages 13 and 14):
1st - Gigi Boyd
2nd - Ava Halberg
Menehune Boys (ages 11 and 12):
1st - Cooper Malia
2nd - Indy Lightner
3rd - Thomas Halberg
Grommet Boys (ages 9 and 10):
2nd - Isaac Weinberg
Giant Slalom (snowboard only)
Open Class Men
1st - Michael Smith
2nd - Walker Overstake
Open Class Women
1st - Kendall Harrington
2nd - Cecelia Jones
3rd - Tatum Lightner
Youth Men (ages 15 and 16):
1st - Braden Duty
Breaker Girls (ages 13 and 14):
1st - Gigi Boyd
2nd - Ava Halberg
Menehune Boys (ages 11 and 12):
1st - Indy Lightner
2nd - Thomas Halberg
3rd - Cooper Malia
Grommet Boys (ages 9 and 10):
3rd - Isaac Weinberg
Rail Jam (snowboard and freeski)
Snowboard Menehune Boys (ages 11 and 12):
1st - Reed Van Ness
2nd - Nolan Heydon
6th - Mason Boatner
7th - Cooper Malia
7th - Parson Cotter
Freeski age 11-14 Boys:
6th - Ethan Maines
Alpine
U16 Alpine National U16 Copper Mountain Speed Project December 5-10:
Last week a dozen SSWSC U16 Alpine athletes got a first-hand look at what it is like to race and train at the World Cup level. On the first day they were a part of the Birds of Prey Slip Crew for the Men's Downhill. Actually, being on a World Cup course, verses watching it on TV, gave the athletes a new appreciation for how challenging World Cup Courses actually are. The snow was so icy that even slipping the course was challenging and the terrain is so much bigger in real life than it is on TV. Although the race ended up being cancelled due to high winds, the athletes left both humbled and hungry for some speed skiing of their own!
With a clear picture of how important it is to move over terrain and the importance of being able to ski on difficult snow surfaces, the team headed over to the US Speed Training Center at Copper Mountain for 5 days of Super-G Training as part of a U16 National Development Project. SSWSC U16 athletes were coached by former World Cup Downhill, SG and GS skiers- Doug Lewis, Marco Sullivan and Dane Spencer, as well as experienced National Team Speed Coaching Staff. O the same speed track that the World Cup skiers train on SSWSC athletes practiced jumping, glide turns and interesting terrain features in SG training environments. The National coaches were all very impressed by the skiing ability and positive attitudes of the SSWSC U16 Alpine Team Steam!
As part of the training agreement with Copper Mountain the 100 + U16 skiers and their coaches from around the country that attended the Speed project all pitched in to help roll the over 300 rolls of b-net. The SSWSC skiers put their full effort into rolling and staging the b- net. That same net will come back out for the U18 Alpine National Championships at Copper Mountain in March! Again, the SSWSC athletes were praised for their positive attitudes and strong work ethic with the tear down process, everyone loved the new SSWSC jackets too!
The Steamboat U16 Alpine Team is off to Loveland this weekend for 2 X SL and 2 X GS Sync Cup Races. Their first races of the season! When they get back, they will be out cheering on the FIS athletes and slipping the courses for the Holiday Classic!