Athlete News October7, 2016
17 SSWSC Athletes Named to Colorado Ski Country USA All-Star Teams
SSWSC will have 17 athletes honored on October 9 at the annual USSA RMD luncheon as Colorado Ski Country USA (CSCUSA) All-Stars, representing top performers in the disciplines of alpine, freestyle and jumping/nordic combined. Heading the list is Cole Puckett, who was named the 2016 CSCUSA All-Star of the Year. He is joined by alpine teammates Jett Seymour and Hannah Soria. Freestyle athletes include Lane Stoltzner, Avital Shimko, Tyler Strnad, and Trudy Mickel, who has joined SSWSC after skiing last season at Purgatory. Jumping/nordic combined athletes making the CSCUSA All-Start team include Koby Vargas, Logan Sankey, Decker Dean, Grant Andrews, Peter Rosenthal, Nolan Sankey, Annika Belshaw, Elijah Vargas, Bennett Gamber and Brenden Andrews. Alpine and freestyle CSCUSA All-Stars that meet residency requirements and pass a fitness assessment are eligible to receive a CSCUSA Gold Pass for free skiing at all CSCUSA resorts. Vail Resorts also supports these athletes with complimentary tickets to its resorts.
Nordic Combined
National titles will be on the line this weekend at the U.S. Ski Jumping Championships Sunday, Oct. 9 at Lake Placid's Olympic Ski Jumping Complex on the HS100 meter hill. The event is a part of Lake Placid's traditional Flaming Leaves Festival with a warm-up competition on Saturday. The SSWSC has four athletes in Lake Placid with coach Karl: Decker Dean, Elijah Vargas, Brenden Andrews and Bennett Gamber.
The large hill and NC Nationals have already happened back in the end of July in Park City. This is the Normal Hill Jumping Nationals. There is also a Jr. competition on Saturday.

U.S. SKI JUMPING CHAMPIONSHIPS SCHEDULE
Flaming Leaves Festival – Lake Placid, NY
Saturday, Oct. 8
10:00 a.m. – Flaming Leaves Festival opens
12:00 p.m. – Trial Round NYSEF HS100 meter USSA ski jumping competition
1:00 p.m. – NYSEF HS100 meter USSA ski jumping competition
Afternoon – Live music
Sunday, Oct. 9
9:30 am – Trial round HS100 meter U.S. Ski Jumping Championships
10:00 a.m. – Flaming Leaves Festival opens
11:00 a.m. – U.S. Championship HS100 meter competition round (two jumps) begins
Afternoon – Flaming Leaves Festival continues featuring live music, barbecue and more
Alpine
U19 and U16 athletes groomed All Out by hand as a team last Thursday. Athletes and coaches reinforced the water bar check dams with loose rocks and removed many of the large downed trees from the upper part of the venue. This will help the groomers not picking up the stumps and old wood piles left over from last Summer's tree cutting as they widened the trail. The resulting slope will hopefully be more smooth and planar with less air pockets behind or around the obstructions that were removed. The athletes formed a long line from one side of the trail to the other, slowly advancing one step at a time. Wood or rocks were picked up and passed outward where they were put off to the side of the trail. Let's hope it helps get the snow harder sooner with less snow.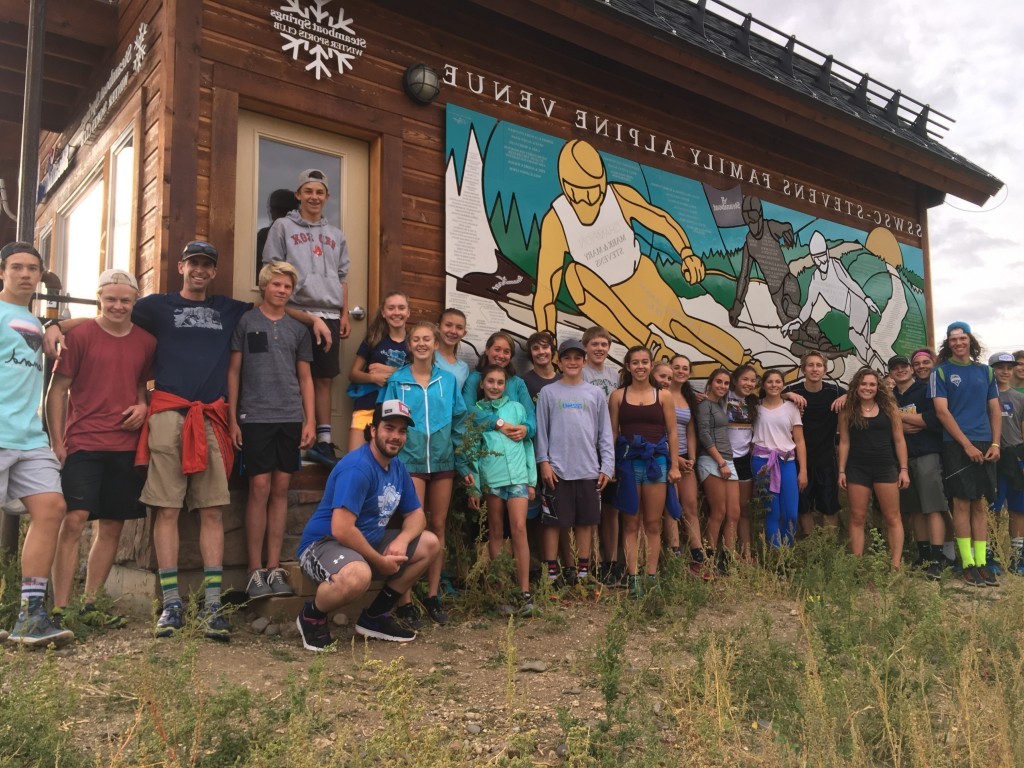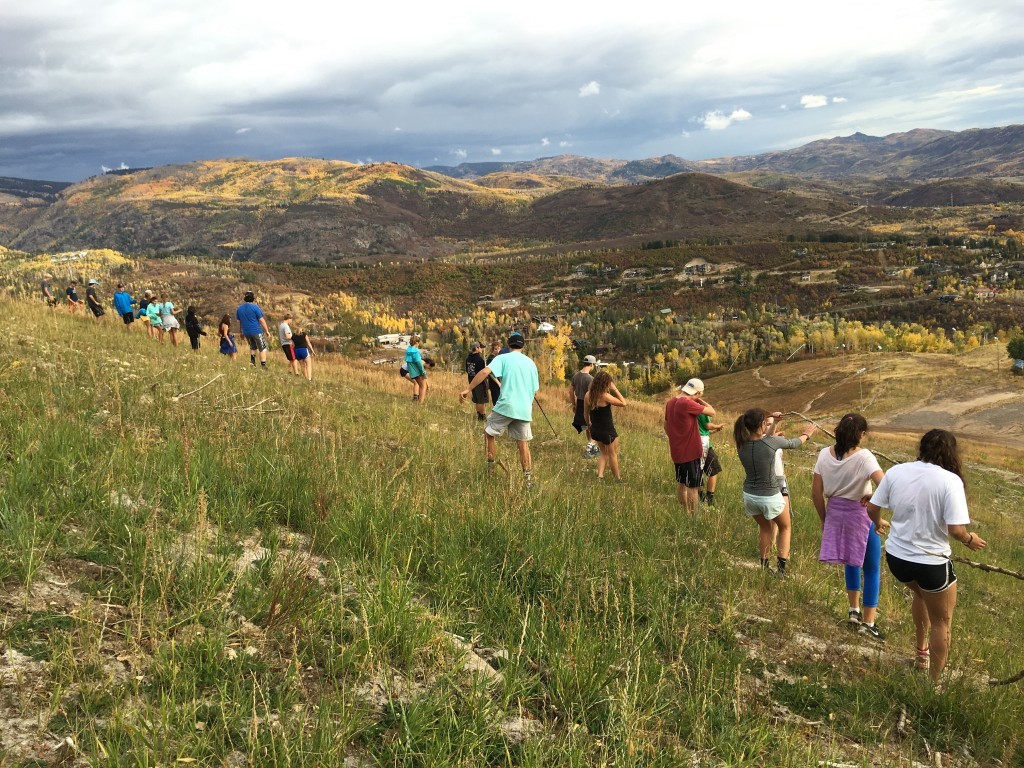 U19 athletes recover after a hard leg and core work out last Friday: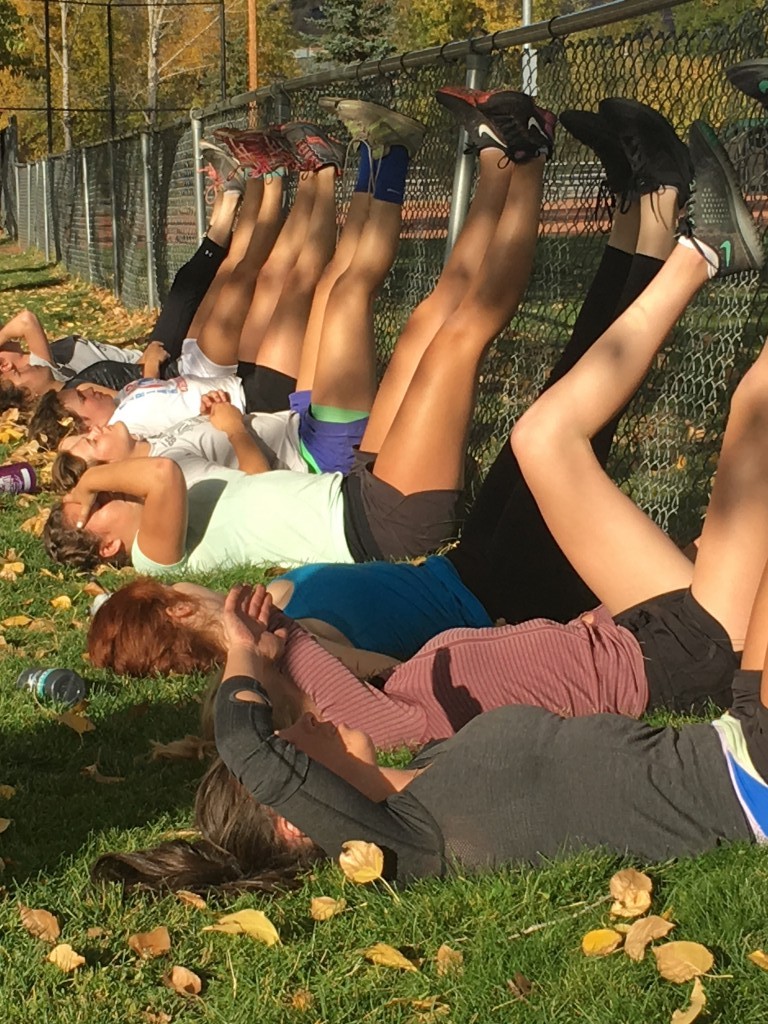 Critical Volunteer Opportunities on the Horizon
If you have never taken a Competition Officials class please join us on Monday, October 24 at 6:30 PM for a clinic lasting approximately two hours. This clinic covers the inner workings of a ski race and is intended to help any on-hill volunteer better understand his or her role and feel more comfortable about helping out. From here, should you choose, you can move on in an area of interest and gather further credentials. The CO clinic is a prerequisite for all other officiating clinics. Regardless, completing the CO course alone will provide vital information for all new race volunteers. To register please email me directly: achadbourne@sswsc.org.
This year we have the honor of hosting the Rocky/Central U14 Junior Championships. The event runs March 16-20. This is a big, fun event… and a major undertaking. We will need a robust crew of staff and volunteers to pull together details ranging from on-hill officiating to coordinating a banquet for more than 500 people.
On Wednesday, October 26 at 5:00 PM we will host a parent meeting for all who think they may be able to help in any capacity with the U14 Junior Championships. We will need help of any and all sorts so please come out and join in the process regardless of level of ski racing education or experience. This is hands down the biggest event we will host this year. Your help from the very start will ensure that we put on a truly world class event. You are invaluable.
Volunteerism is the backbone of ski racing competitions in the US and around the world. The Steamboat Springs Winter Sports Club has a long and storied heritage of running races of the highest caliber across the spectrum of ages and abilities. Steamboat volunteers are well known in the ski racing community for their effort and aptitude. We need your help in order to live up to this great legacy.
We have other competitions throughout the season that all require significant attention. They run the gamut. Competition starts with our home grown Steamboat Cup series for our youngest athletes and eventually graduates to some of the highest caliber FIS racing of the year during The Holiday Classic slalom races at Howelsen Hill.
Volunteering not only helps athletes from our community enjoy wonderful competition opportunities on their home slopes, it also provides some of the best seating in the house. Whether you work in or near the start or finish, on the hill as a gate keeper or course worker, or maybe in the timing building, you'll get an up close and personal look at the racing at hand. Ski racing is exciting to watch. Taking on a volunteer role at a race makes it that much more fulfilling.
Freestyle
A few photos from the summer on the water ramps!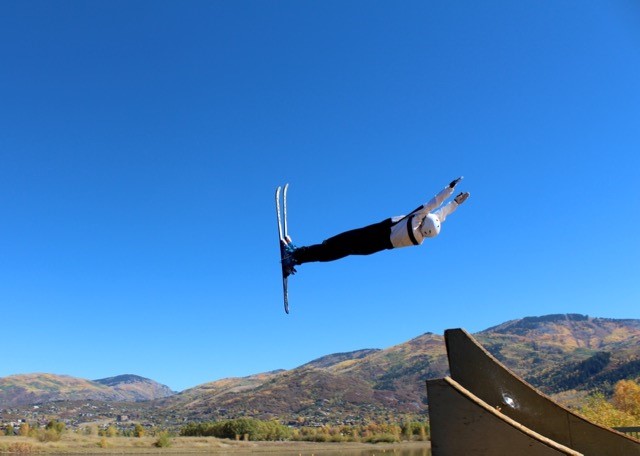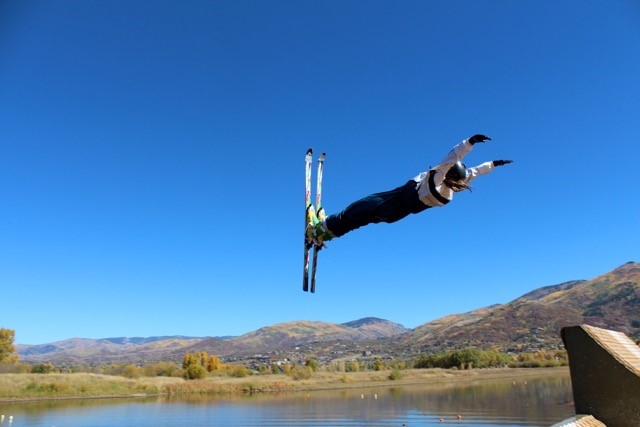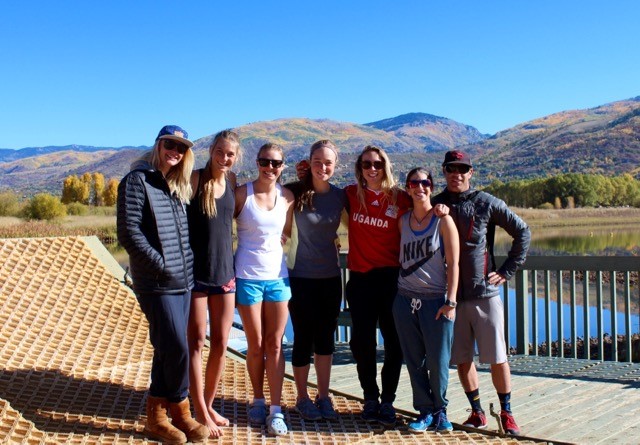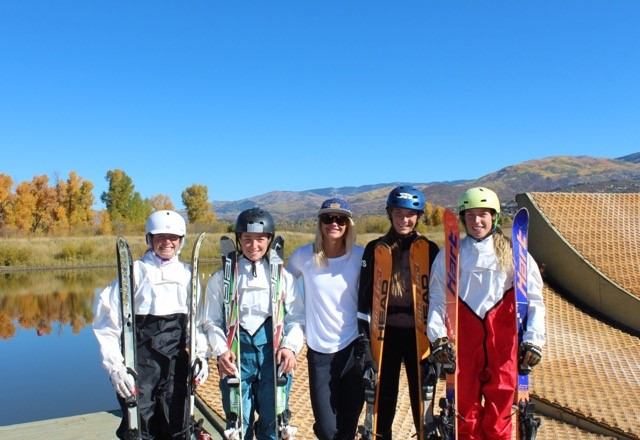 Big thanks to everyone who came out to help at our Water Ramp Tear Down Day.
It was a huge help to have everyone out there and as a result we made quick work of a lot things that were on our list!
This could not have been done without the parents and the athletes efforts so again THANK YOU!