Athlete News, January 27th, 2017
Snowboarding
Two of our coaches put together great articles for athletes!
Self-Talk
One of the most important yet often overlooked aspects of mental game and success in athletics is, "Self-Talk." In this eblast we will review the key concepts and the role self-talk plays in athletic performance.
With every new athlete that enters my program one of the first things we actively eliminate is negative self-talk. I often hear negative self-talk in response to feedback that is being provided to athletes. It usually sounds something like, "I am just not good at that technique" or "I just can't do that." The first thing that I do when I hear this kind of negativity is cut the athlete off to stop the negative self-talk. Then reframe the statement and try it again. The new statement would sound something like, "I am improving that technique," or "that is something that I am working on getting better at." If an athlete is verbally condemning their performance, it is almost a guarantee they are mentally doing it as well. READ MORE HERE.
The Importance of Athlete Feedback
There are multiple ways to provide athlete feedback, each effective in its own way. Proper communication of feedback is very important for the growth and development of an athlete. READ MORE HERE.
Congratulations to Rosi Mancari!
From the USSA eblast: "Jacobellis and Mancari Team Up For World Cup Win-The snowy conditions that plagued Saturday's event moved out of the area and the course stayed relatively clear of snow overnight, which made conditions much faster for Sunday's team event.
Jacobellis and Mancari combined fast speeds and strategies to take the win for the U.S. "Last run was fighting the whole way down," Jacobellis said after the race. "We were all really close and I was just trying to take away lines and options and slow down the girls so that Rosie did not have to fight through the pack."
All the U.S. athletes were happy to be in the States, competing in a World Cup on home soil. "I can't even really put words to (how it feels to win on home soil)," Mancari noted. "My mom is here watching for her first race ever so it's really awesome. This is my first race in the U.S. that's a World Cup, so the whole atmosphere and community is amazing. I see 100 people and they all want to give me hugs - it's amazing."Mancari fought hard to hold off France's Nelly Moenne Loccoz, who took second with teammate Chloe Trespeuch. Italy 1 team Raffaella Brutto and Michela Moioli rounded out the podium in third. Rosie said, "I did the team event with Lindsey in Montafon my first time and she was kind of the anchor in that one. We decided to switch it up this time and have her try to get the lead for me, so I could do my thing coming down and try to hold the lead and it worked out. I can't even really put words to (how it feels to win on home soil). My mom is here watching for her first race ever so it's really awesome. This is my first race in the U.S. that's a World Cup so the whole atmosphere and community is amazing—I see 100 people and they all want to give me hugs—it's amazing."
USASA event in Copper
Saturday was our first halfpipe competition of the year. It was fun getting into a 22ft pipe. The halfpipe here in Steamboat has been in really good shape this year and I think it was fun for the kids to see what comes after as far as the shape and dimensions of a good pipe. The Freeskier's were involved in it too. But as for the snowboarders, here are their results within their age classes:
Rochelle Weinberg (age 7) - 1st
Brayden Duty (age 10) - 8th
Elias Christian (age 11) - 9th
Johnny Duty (age 14) - 4th
Sunday was another slopestyle competition that only snowboarders attended. Despite the snowy conditions all the kids were able to clear the jumps and throw the tricks they've been working on. We've been really excited having the new jumps up in Bashor Bowl. The kids have been able to work on their larger tricks and hit something similar to what we hit at competitions here in the comfort of their hometown.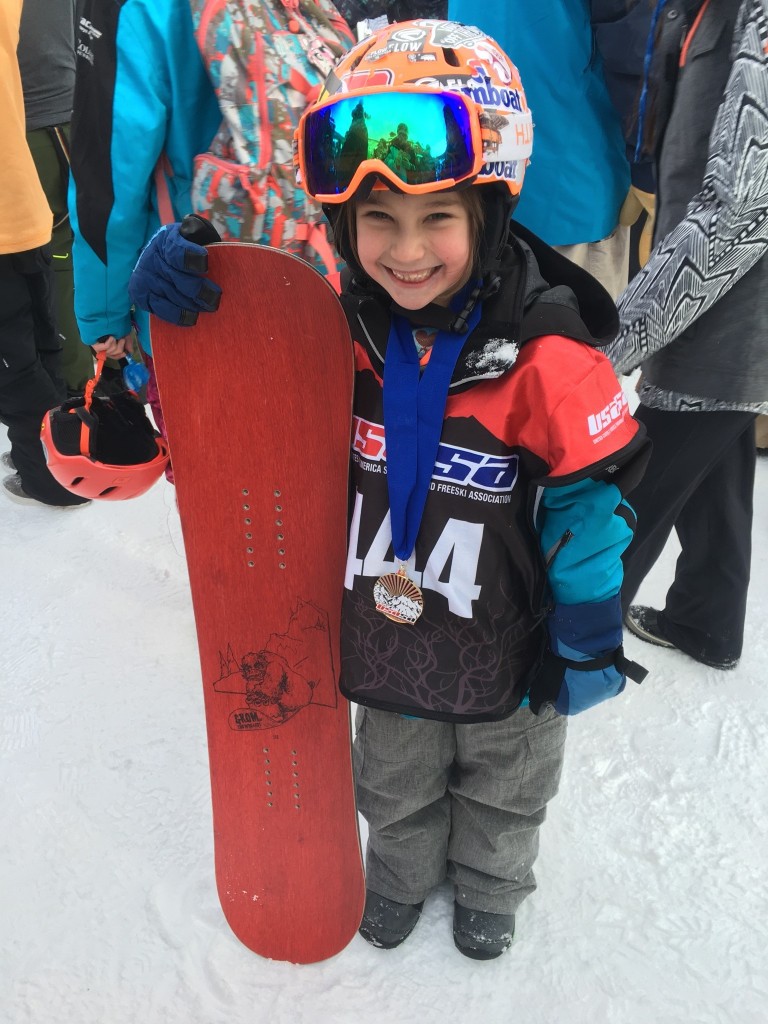 Rochelle Weinberg (age 7) - 1st
Elias Christian (age 11) - 8th
Jackie Clemente (age 11) - 14th
Marty Boyd (age 13) - 5th
Jake Suchowski (age 13) - 14th
Jacy Werner (age 15) - 6th
Johnny Duty (age 14) - 8th
Meredith Connor (age 16) - 2nd
Freeskiing
The SSWSC Freeskiing Team competed in their first Rocky Mountain Series USASA Halfpipe event this weekend at Copper Mountain. All of our athletes skied very well and adapted to the the 22ft pipe smoothly. Liam Baxter, Riley Jacobs and Cael McCarthy all took first place in their respective divisions, while David Schlicht took home 5th place in his first ever pipe start.
Full results
Freeskiing Breaker Girls (12-13)
1st Riley Jacobs
Freeskiing Menehune Boys (10-11)
1st Cael McCarthy
5th David Schlicht
Freeskiing Youth Men (14-15)
1st Liam Baxter
Alpine
U19
On the first day of the DH races the SSWSC Women's FIS team was led by Hannah Soria winning the U 19 age group and placing third overall. Following that third place Elsie Halverson and Margaret Dickson were 6th and 7th place respectively.
For the men on day 1 Riley Kilgore was the second place U 19 male and 4th overall.
Day two for the women was once again let by Hannah Soria who finish on top of the U 19 podium and once again was third overall. Sharing the podium with Hannah was Mary Kate Hackworthy who finished second amongst the U 19's and fourth overall. Additionally there were some strong performances by Margaret Dickson and Elsie Halverson in 9th and 10th place respectively.
Unfortunately due to weather the men were unable to race on day 2.
For the first day of the Women's SG the girls were led by Jazlyn Lynch finishing in 12 overall and followed by Margaret Dickson in 15th position.
On day 1 of the SG races for the men once again Riley Kilgore led the way finishing on top of the U 19 podium and third overall. Additionally Will McConnell, Cole Puckett and Trey Seymour finished 13th, 14th and 15th.
Day two of SG for the women Elsie Halverson cracked the top 15 once again finishing 13th followed by Margaret Dickson in 14th.
The men were led by Will McConnell finishing 7th.
The true inspirational moment for SSWSC came from Hannah Soria. Hannah, who suffered an injury in the finish line on the second day of DH resulting in a broken leg still attended the awards ceremony for her performances in the DH's. She was released from the hospital moments prior to this. Helped by the entirety of her team she made her way to accept all of her awards and proudly stood on top of the podium. This was truly a special moment for the entire club witnessing Hannah's true grit and inner strength. Additionally it embodied how her teammates acted as her family, helping her every step of the way. As a coaching staff we could not have been prouder of how our SSWSC athletes rallied in support of Hannah, and the strength Hannah showed on this day. It was a special moment and we were all touched to be a part of it.
U16 Women
SSWSC U16 and FIS athletes recently returned from the 30th Annual Wilder Dwight Memorial Speed Series in Aspen. The week started off with two Downhill Training Runs followed by two Downhill Races, and finished up with two Super G Races.

Colton Sankey from Steamboat won the first USSA Downhill Race for the Men, he was followed by teammates Marat Washburn in 6th, Finn Sadler in 10th, Noah Riemenschneider in 11th, and James Lahrman and Cole Gedeon tied for 12th place. On the Ladies Side Sequoia Anstine started the week of with a strong 2nd place finish in the Downhill, she was followed by teammate Alex Blair in 15th place.

In the second of the two USSA Downhills. Sequoia Anstine was again 2nd place. The second USSA Men's Downhill was unfortunately cancelled due to weather.

In the first USSA SG Men's SG Race Colton Sankey again took the win for the U16 boys and Sequoia Anstine took the win for the Ladies. Steamboat had a strong showing with 8 male athletes in the top 15. Noah Riemenschneider was 2nd, Kyler Armstrong was 6th, Kyle Kagan was 7th, Jack Rotermund was 11th, Finn Sadler was 12th, Cole Gedeon was 13th, and James Lahrman was 15th. Alex Blair was 14th on the Ladies Side.

In the second USSA SG Sequoia Anstine again took home the win for the ladies, capping off a strong week for her. She was followed by teammate Alex Blair in 13th place. On the Men's side Colton Sankey also capped off a strong week with a 3rd place in the SG, he was followed by teammate Noah Riemenschneider in 6th place. Nicholas Richeda after returning from U16 National Performance Series Races in Burke, Vermont was 9th, Finn Sadler was 11th, and Kyler Armstrong was 13th.

U16 Men
Steamboat Springs Winter Sports Club athletes shined during the USSA's U16 national perfomance series at Burke Mountain Academy in Vermont. Jack Reich and Nicholas Richeda were selected among the best skiers in the Rocky Mountain division to compete against the nation's best U16 skiers. The purpose of the NPS series is to pick the best U16s from each division, and have them compete against each other in a series of races. The series promotes healthy competition, and builds a relationship between all the athletes from across the country. When it came to the competition, Reich and Richeda stood out from the rest of the pack
Conditions at the series were far from what Colorado skiers are used to. The temperatures were cold and the snow was often referred to as "boiler plate ice." Even with the adverse conditions, Richeda and Reich proved they had what it takes to compete on any surface and in any conditions.During the four day series, at the world renowned Burke Mountain Academy, three races were held. Two Slalom and one Giant Slalom races would decide which athletes were the best. The competition was fierce as the best U16s in the country charged down the race courses.
The first race day was a double Header. Two slalom races in one day. In the first race, Reich finished in 12th and Richeda turned heads with a 4th place finish. After the first race ended, there was not much down time. The boys had to quickly return to the top of the race hill and begin their inspection for the second race. Conditions deteriorated quickly for the second race. The ice proved to be challenging, even for the East coat skiers. Reich, after a successful first run, crashed and did not finish. Richeda surprised many when he finished the race in second place, after starting close to the back of the pack. During the Giant Slalom Races, the boys from Steamboat continued to impress everyone looking on. Richeda and Reich ended the day of GS in 10th and 12th places respectively.
After the race series, Both Reich and Richeda were selected to represent the United States at international races in Europe. Nicholas Richeda was selected to compete in the Seven Nations Cup in Austria. Jack Reich was selected to compete at a similar event in Poko Loko, Slovenia. At these events, out nation's best U16 races will be competing against their European counterparts. These races are a great opportunity for both the American and European racers to compete and gain much needed experience. It is also a tremendous honor for Jack Reich and Nicholas Richeda, whom are now considered to be two of the best U16s in the country.

U14
This past weekend, U14 Alpine Team Mountain Goat conquered Breckenridge's Cimmaron SG trail to post some fast times and show their courage! Spending 3-days skiing that hill, in adverse weather, seeking top speeds thru the ruts and bumps tested fitness, commitment, and overall awesomeness of our SSWSC athletes! Top results from the weekend were…
Sat, Jan. 21 -
Women: Emi Cooper 5th, Marissa Drobek 15th, Natalia Tatge 22nd, Emma Ferer 26th, Emily Watson 27th
Men: Cooper Puckett 1st, Jordan Simon 10th, Colin Kagan 30th
Sun, Jan. 22 -
Women: Ryli Adrian 3rd, Annika Ort 15th, Natalia Tatge 18th, Marissa Drobek 27th, Emily Watson 30th
Men: Cooper Puckett 1st, Jordan Simon 3rd, Alden Wade 14th,
Great Job Team! Now we are home to train and prep for Feb. 4-5 races both at home and in Winter Park!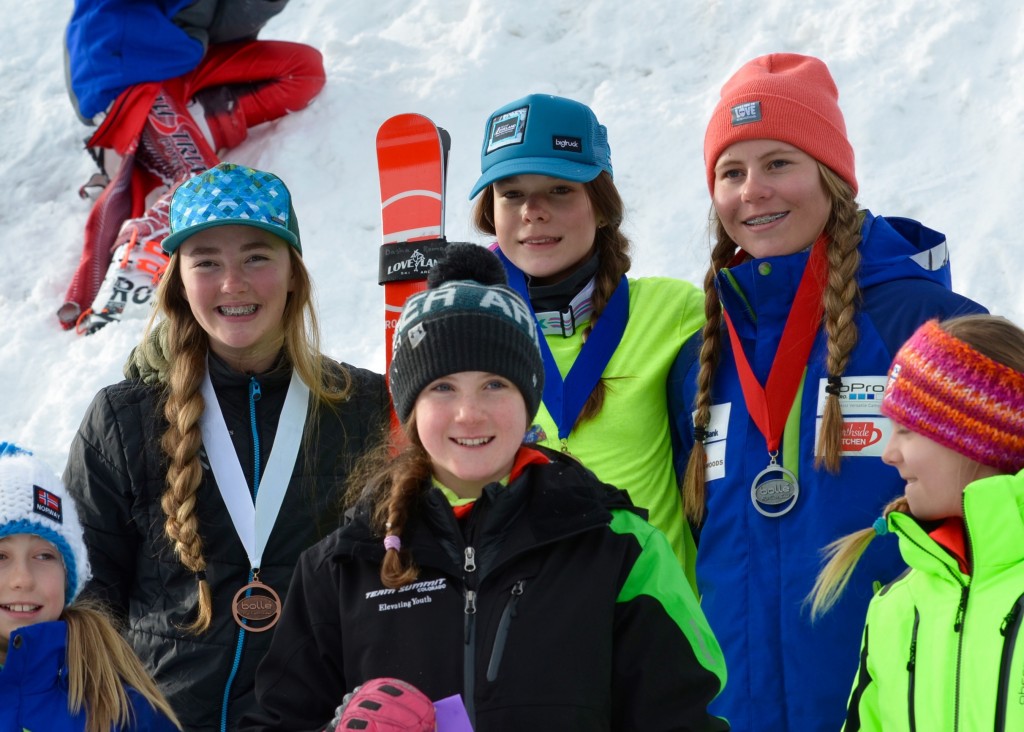 Ryli Adrian 3rd place podium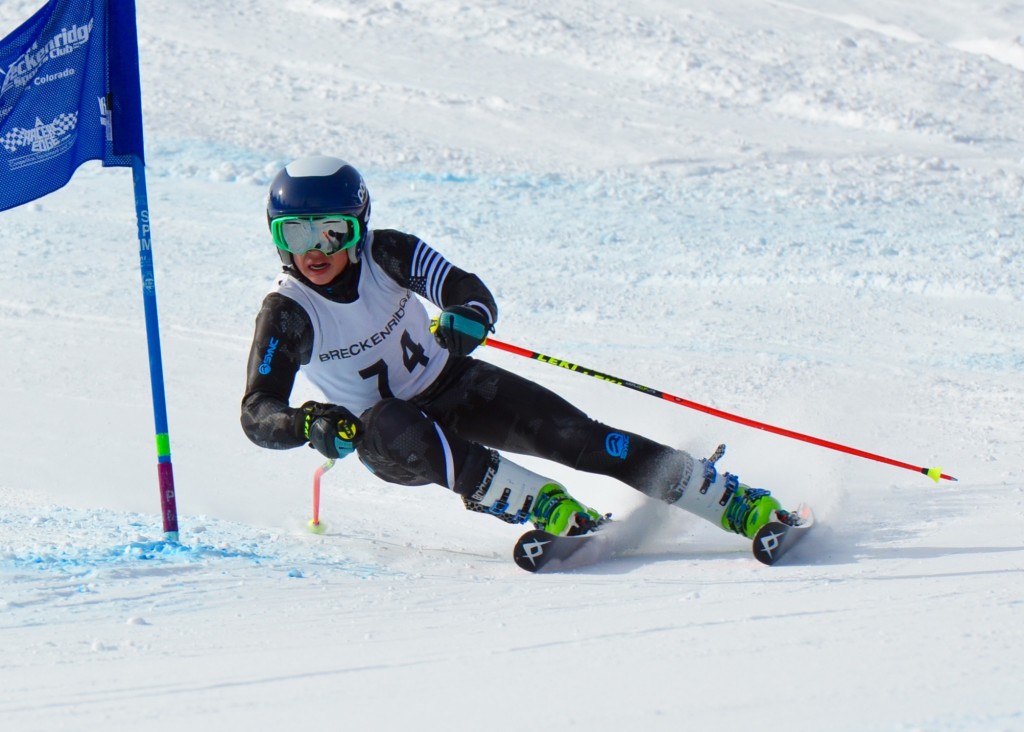 Jordan Simon shredding a turn
Cross Country
SSWSC XC Athletes roll through Aspen
Aspen Valley Ski Club hosted Rocky Mountain Nordic Junior National Qualifying Races this past weekend. SSWSC XC athletes secured many of the top finishes. Saturday's race was a Classic Sprint, where 30 athletes qualify from the morning's 1.2k time trial to race six person head to head heats in the afternoon on the same course. SSWSC's Waverly Gebhardt (FU16), Sadie Cotton (FU20/18), Sumner Cotton (MU14) and Grey Barbier (MU12) won their quarter final, semi- final, and final, in route to 1st place on the day. SSWSC had four of six in the male U20/18 final, with Wyatt Gebhardt placing 2nd, Evan Barbier 3rd, Nick Sweeney 4th, and Tyler Terranova 6th. Other notable Classic Sprint results include: Wally Magill- 4th MU14, Dasha Kuznetsova- 4th FU20/18, Avery Harrington- 5th FU16, Chase Weynand- 5th MU16, Cooper Jones- 6th MU16, Kieran Hahn- 7th MU16, Chase High- 9th MU16, Anna Terranova- 10th FU16, Meg Anderson- 7th FU20/18, Henry Magill- 5th MU12
Sunday was a different format and different technique. In the U16 female 5k Mass Start Freestyle, Waverly Gebhardt lead from the gun, and finished 30 plus seconds ahead of second place. SSWSC's Avery Harrington produced a strong final kilometer to finish 8th on the day. Wyatt Gebhardt used the same strategy as his sister, leading from start to finish, in the U20/18 male 15k Mass Start Freestyle. He finished first with a 1:34 cushion over second place. SSWSC's Tyler Terranova raced to a solid third place in the 15k. Dasha Kusnetsova led the female U20/18 10k race for the first half, but Vail's Maddie Donavan closed the gap and pressed on for the victory, with Dasha following in second place. Sadie Cotton suffered a high speed fall, yet managed to finish 4th in the FU20/18 race. Meg Anderson took tenth place.
In the U14 Male 3k Mass Start /Freestyle, SSWSC's Wally Magill nipped teammate Sumner Cotton at the line for 3rd place. Grey Barbier took 2nd in the MU12 race, with Henry Magill in 6th.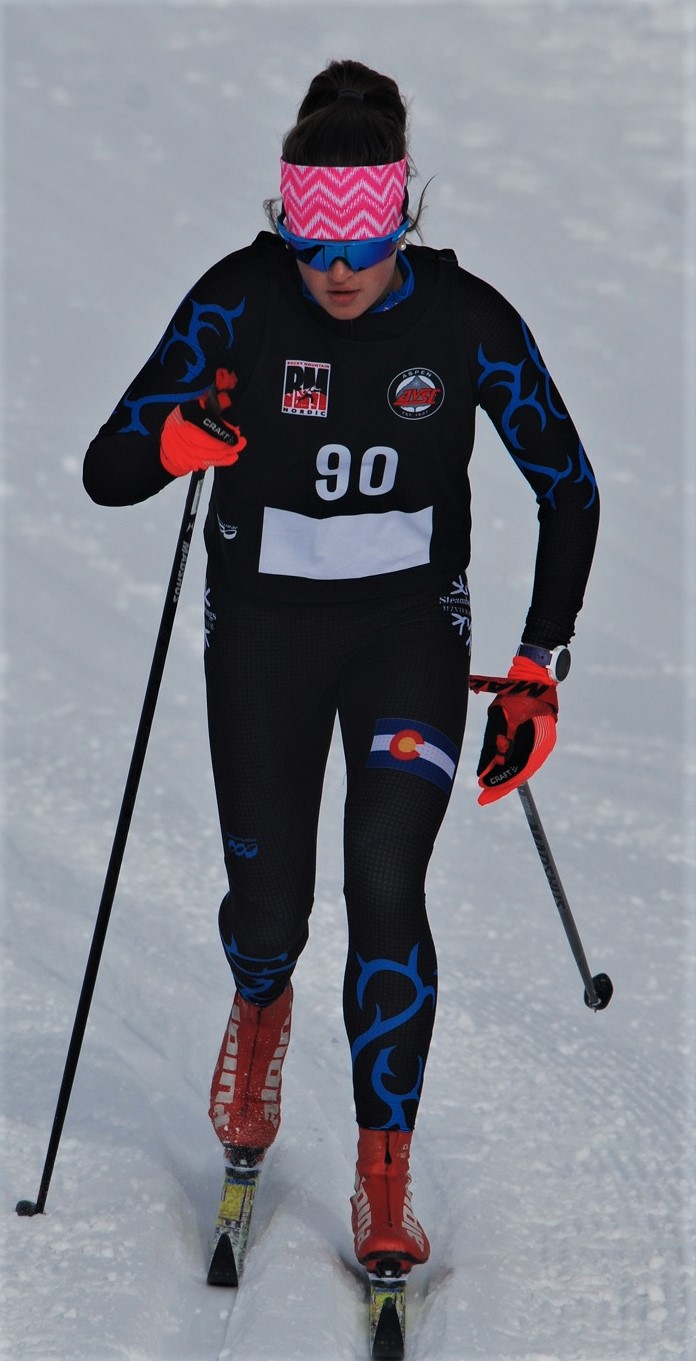 Sadie Cotton

Waverly Gebhardt