Athlete News, January 12th, 2018
Alpine U16: US Ski & Snowboard National Performance Series
U16 alpine racers from the Steamboat Springs Winter Sports Club proved they are among the best this week at Burke Mountain in Vermont. Burke Hosted the US Ski and Snowboard's National Performance Series. This event brings together the top U16 alpine racers in the country to train and compete against one another. This project consisted of two slalom and two giant slalom races. The men from SSWSC took charge of the races and walked away from the event with ten out of twelve podium spots for the week, and all four wins. The women had two podiums and a win as well. In the first slalom, Cooper Puckett took home the gold, with his teammate, Cam Owens earning silver. The men also had three more in the top ten. Marat Washburn, Jack Reich, and Nico Richeda finished fifth, ninth, and tenth respectively. On the women's side, Izzy Washburn charged into ninth place. The day did not end there. a second Slalom race was held immediately after the first race concluded. The men swept the podium. Nico Richeda took home the gold, Cam Owens added another silver medal on the day, and Jack Reich took the bronze. SSWSC also had Cole Gedeon in fifth, and Marat Washburn in ninth place. For the women, Izzy Washburn put two solid runs together to finish eleventh. After the Slalom races, the project shifted into giant slalom. Steamboat made another strong statement by sweeping the podium a second time. Jack Reich took his turn on top of the podium, Nico Richeda took silver, and Nick Unkovskoy took bronze. Two more steamboat men landed in the top ten. Cole Gedeon finished fifth, and Marat Washburn finished eight. On the women's side, Izzy Washburn won the second run and made up over three seconds over the other competitors in the first run to win the race. Steamboat was feeling strong heading into the final giant slalom race. The men had familiar success with Jack Reich taking the win, Cooper Puckett in second, and Nick Unkovskoy coming in fourth place. For the Women, Izzy Washburn put down another two amazing runs to finish in second place.
Out of this event, the best eleven U16s are selected to race against the world's best at the Seven Nations Cup. Out of the eleven from the United States picked, five are from the Steamboat Springs Winter Sports Club. Cooper Puckett, Nico Richeda, Jack Reich, Cam Owens, and Izzy Washburn will compete in Europe against U16s from all over the world to see who truly is the best.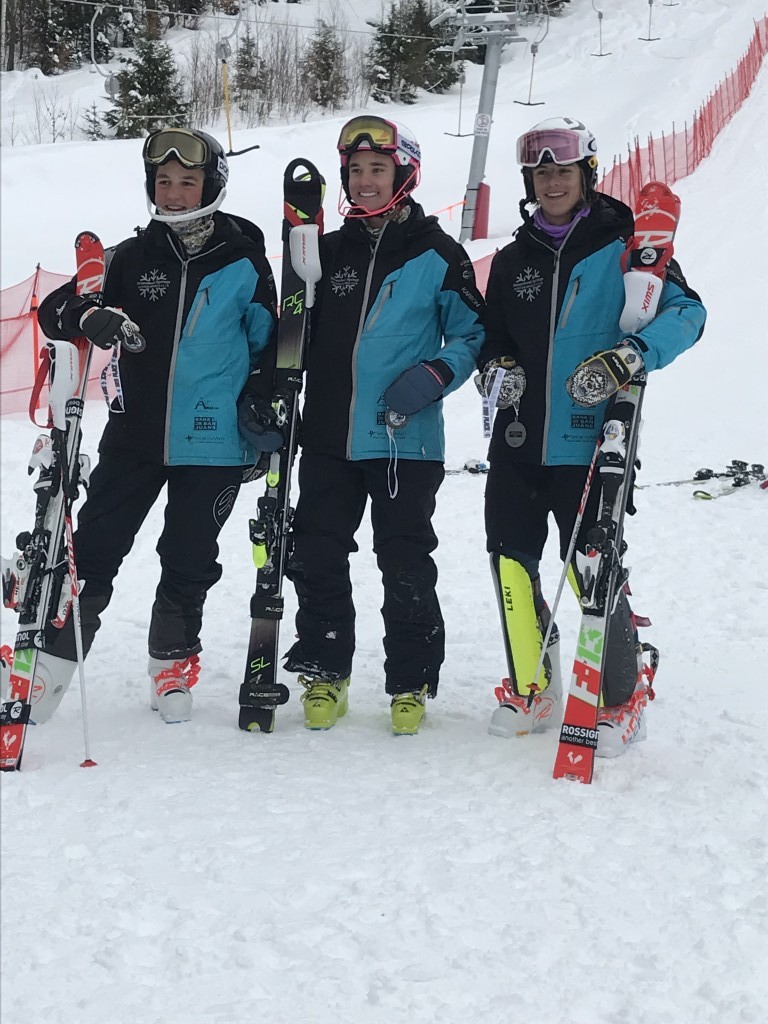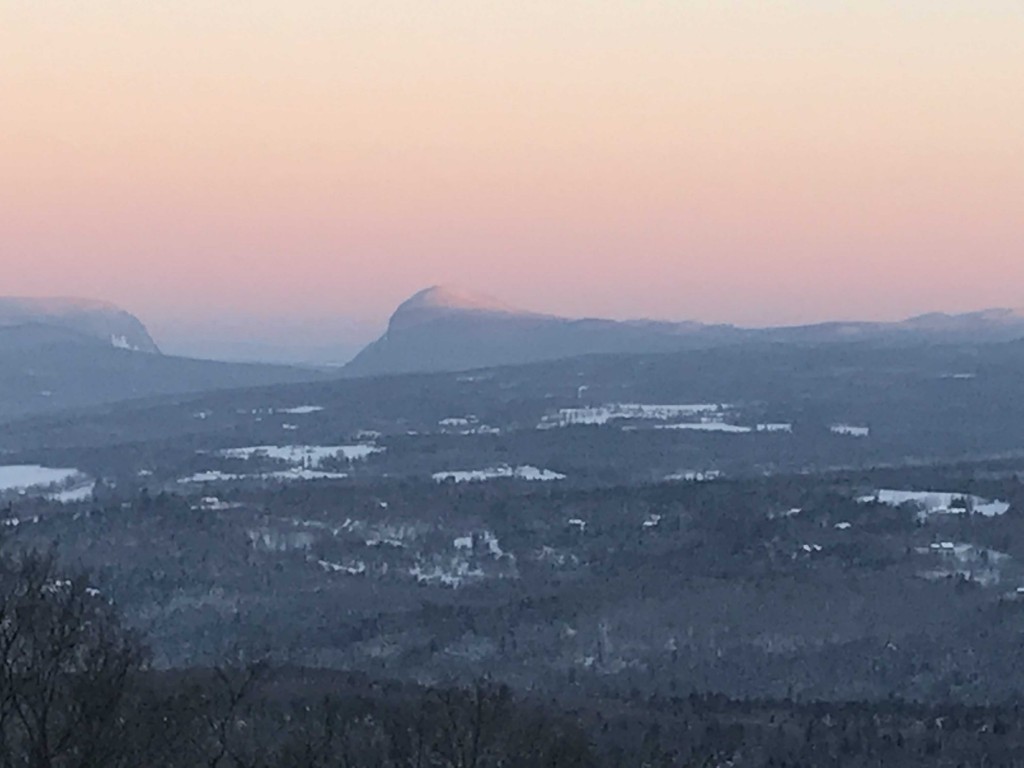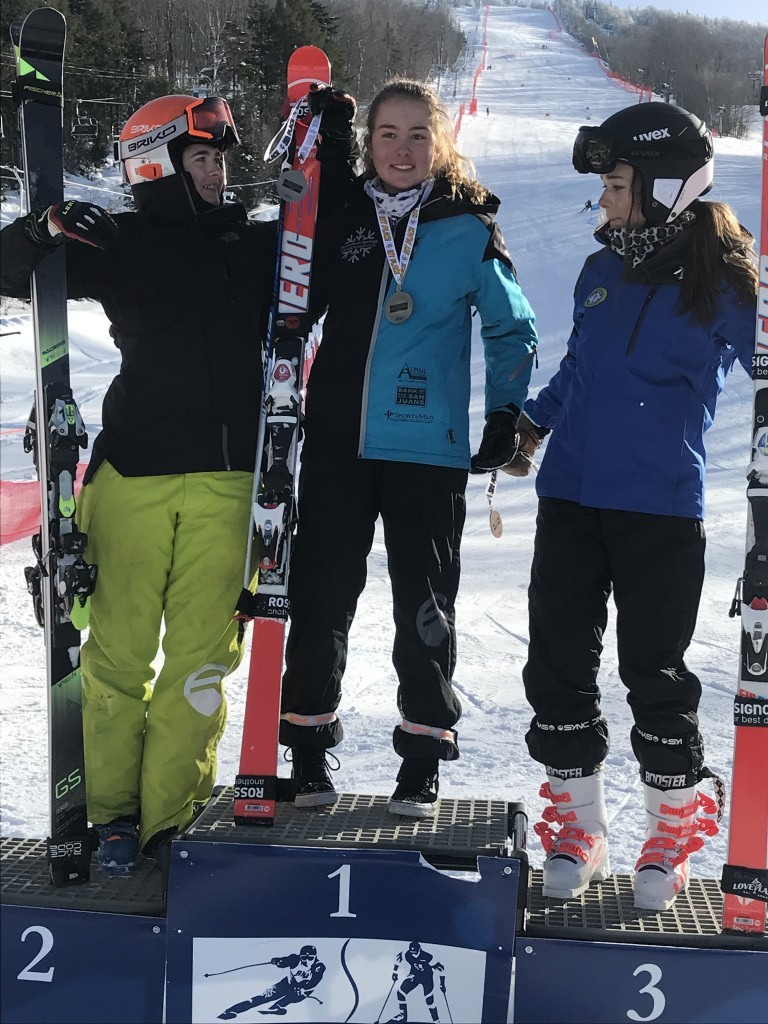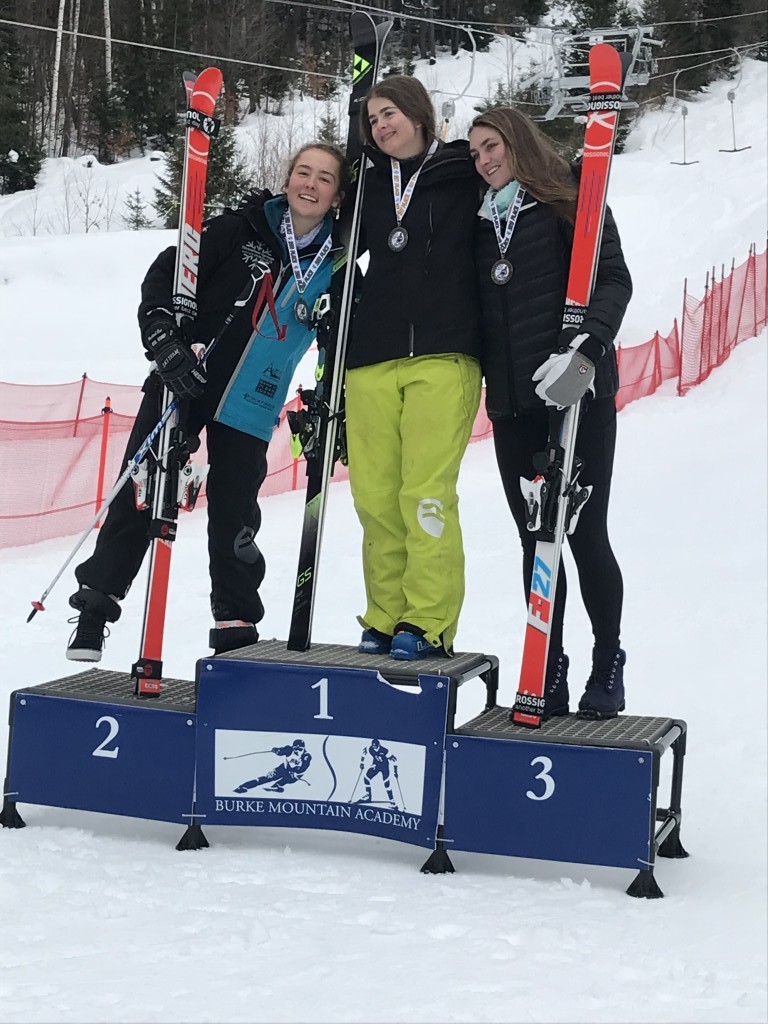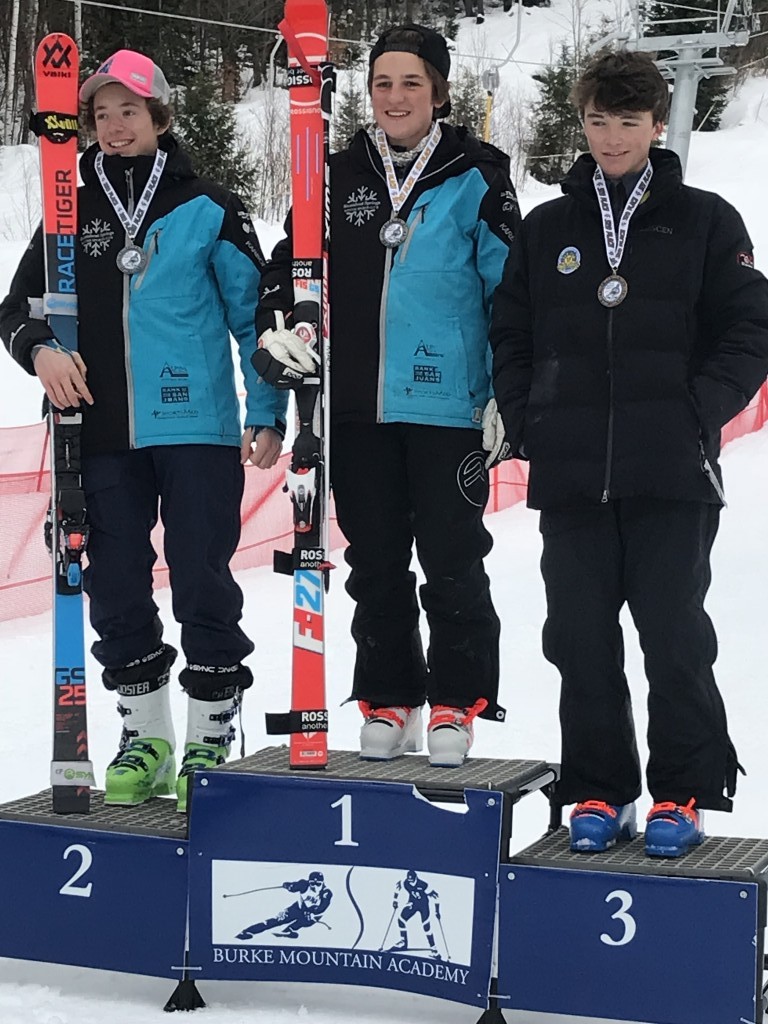 Alpine U16 Sync Cup Series
2 Giant Slalom races, part of the season long Sync Cup Series were held at Loveland Ski Area January 3 and 4th. Steamboat landed two skiers on the podium the first day. Helenka Ostaszewski led the way for the ladies in 3rd place overall and for U16's, this was Helenka's first U16 podium! Jaelie Hovey moved all the way up to 5th place from the 31st starting position. Emily Craig also had a great day finishing in 8th place overall. Other top Steamboat female finishers included Emilia Cooper in 16th, Natalia Tatge in 17th, and Marissa Drobek in 18th- all moving up significantly from their respective starting positions.
On the Men's side James Lahrman kept the season long podium streak alive for the boys finishing in 3rd place for U16's. The other top Steamboat boys results included Phenix Tatge in 16th, and Tyler Thomas in 20th.
In the second GS Race Helenka Ostaszewki had another good day finishing 7th. She was followed by teammates Emily Craig in 11th, and Natalia Tatge in 16th, Emilia Cooper 18th, and Marissa Drobek 20th. James Lahrman was again the top Steamboat boy finishing in 3rd place for U16's. He was followed by Phenix Tatge in 10th, Jordan Simon in 12th, Tyler Thomas in 13th, Kai McGuffin in 16th, and Leo Davies in 18th.
The next U16 races are two Super G, and two Downhill Races in Aspen, January 20-26.
Alpine U14
We held the Bolle Age Class Race in Steamboat this past weekend and our athletes did very well! The top 10 results for the U14 Alpine team are listed below.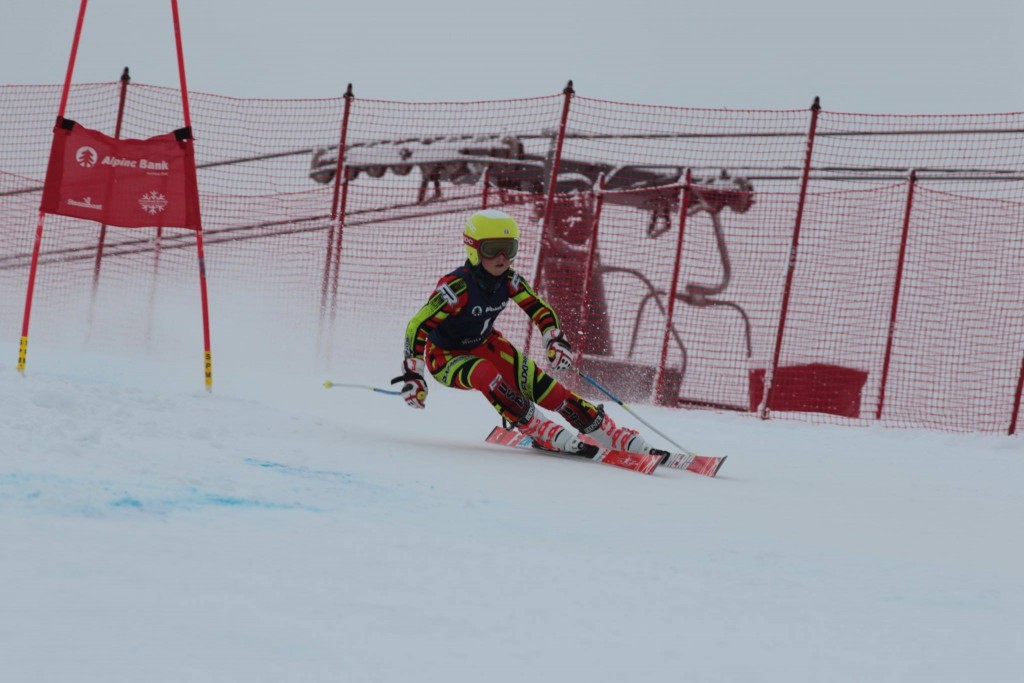 U14_Bolle_2.tif
Saturday Ladies' Run #1
2nd Pia Bruce
4th Caroline Gilchrist
5th Rylee McLouth
10th Emily Watson
Saturday Ladies' Run #2
1st Pia Bruce
2nd Caroline Gilchrist
7th Adi Lage
8th Rylee McLouth
Saturday Men's Run #1
2nd Speedy Richeda
3rd Colin Kagan
6th Jonah Fleischer
7th Jeremy Nolting
10th Roman Elvidge

Saturday Men's Run #2
1st Speedy Richeda
4th Colin Kagan
5th Jonah Fleischer
7th Alex Orozco
8th Jeremy Nolting
10th Ian Haupt
Sunday Ladies' Run #1
1st Pia Bruce
3rd Caroline Gilchrist
7th Annika Ort
9th Rylee McLouth
Sunday Ladies' Run #2
2nd Pia Bruce
3rd Caroline Gilchrist
6th Annika Ort
8th Rylee McLouth
Sunday Men's Run #1
1st Speedy Richeda
3rd Jeremy Nolting
4th Jack Fox
5th Colin Kagan
7th Alex Orozco
10th Ian Haupt
Sunday Men's Run #2
2nd Speedy Richeda
4th Jeremy Nolting
6th Brooks Overstake
8th Charlie Welch
Freeskiing
The Steamboat Springs Winter Sports Club Freeskiing Team started its USASA Competitive season this weekend with Revolution Tour Qualifier USASA Events in both Halfpipe and Slopestyle.
Due to lack of snow, and the possibility of moving upper level events the team completed in both Halfpipe and Slopestyle on the same day. This was a great new challenge four our riders as they had to prepare for a longer day of competition with a tight schedule, something they will face as they move into higher levels of competition.
Slopestyle was a large field as always and we had a great turnout of SSWSC athletes skiing in the competition. River King made his freeskiing debut this weekend coming from the Freestyle team. He fit right in and put down 2 solid runs in both Slope and Pipe. Alex Speigel landed a backflip in competition for the first time finishing in the top 10 of his age group, and Riley Jacobs sent a flat 3, a trick she has been working hard on since water ramps during summer training. which got her a 2nd place finish along with her win in Pipe. Liam Baxter qualified for the revolution tour slopestyle events with his win in Slope to match his 1st in Pipe.
Here are the full Steamboat results.
Halfpipe
12-13 Boys
3rd Cale McCarthy
9 Wiley Wagner
13 Owen Taylor
Youth Men 14-15
1st Liam Baxter
5th Charlie Greene
6th River King
Youth Women 14 - 15
1st Riley Jacobs
Slopestyle
12 - 13 boys
6 Cael McCarthy
15 Wiley Wagner
19 Logan Spiegel
21 Owen Taylor
Junior Men 16-17
6 Michael MacBlane
Youth Men 14-15
1 Liam Baxter
9 Silas Leeson
10 Alex Spiegel
11 Charlie Green
12 Will Gossman
13 River King
Youth Women 14-15
2 Riley Jacobs