Athlete News, April 5, 2019
Snowboarding
2019 Junior World Championships were in Rogla Slovenia:
PGS April 2nd
2nd Jamie Behan
16 Cody Winters
23 Nate True
40 Winston Vaughan
PSL April 3rd
3rd Jamie Behan
7th Cody Winters
30th Winston Vaughan
36th Nate True
The SSWSC Snowboard Team had an incredible week at the USASA Nationals in Copper Mountain and brought home a total of 24 podiums!

Ruggie Girls (7& Under)
Aimee Wild
1st Snowboardcross
2nd Place Halfpipe
2nd Place Slopestyle
3rd Place Slalom
4th Place Giant Slalom
1st OVERALL
Grommet Boys (8-9)
Aaron Wild
2nd Place Slopestyle
10th Snowboardcross
12th Place Halfpipe
22nd Slalom
24th Giant Slalom
Menehune Girls (10-11)
Gigi Boyd
2nd Giant Slalom
4th Place Slalom
6th Place Snowboardcross
Izzy Hamric
9th Halfpipe
13th Slopestyle
Menehune Boys (10-11)
Kai Jensen
7th Snowboardcross
13th Giant Slalom
34th Slalom
Breaker Girls (12-13)
AJ Juneau
1st Slalom
1st Snowboardcross
36th Giant Slalom

Tatum Lightner
4th Giant Slalom
10th Slalom
17th Snowboardcross
Breaker Boys (12-13)
Walker Overstake
2nd Slalom
3rd Giant Slalom
3rd Snowboardcross
45th Halfpipe
Jesse Hamric
20th Slopestyle
18th Halfpipe
Jackie Clemente
21st Slopestyle
Braden Duty
25th Giant Slalom
24th Slalom
37th Slopestyle
48th Halfpipe
Jonathen Berlet
27th Giant Slalom
29th Slalom
46th Snowboardcross
Youth Women (14-15)
Kendall Harrington
1st Slalom
6th Giant Slalom
4th Halfpipe
12th Snowboardcross
Junior Women (16-17)
Cecily George
4th Halfpipe
10th Snowboardcross
Junior Men (16-17)
Jacy Werner
2nd Giant Slalom
3rd Slalom
3rd Snowboardcross
21st Slopestyle
Johnny Duty
1st Giant Slalom
7th Slalom
Mac Panzarella
22nd Halfpipe
Open Class Women
Dana Albers
3rd Giant Slalom
4th Slalom
Kelsi Stephenson
4th Giant Slalom
6th Slalom
Open Class Men
Robby Burns
1st Slalom
1st Giant Slalom
Jacob Farber
2nd Slalom
3rd Giant Slalom
Everett McEwan
3rd Slalom
5th Giant Slalom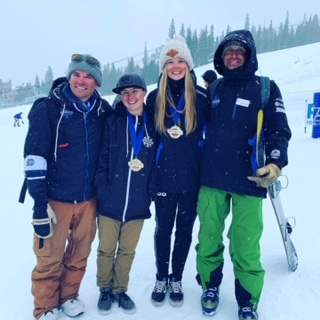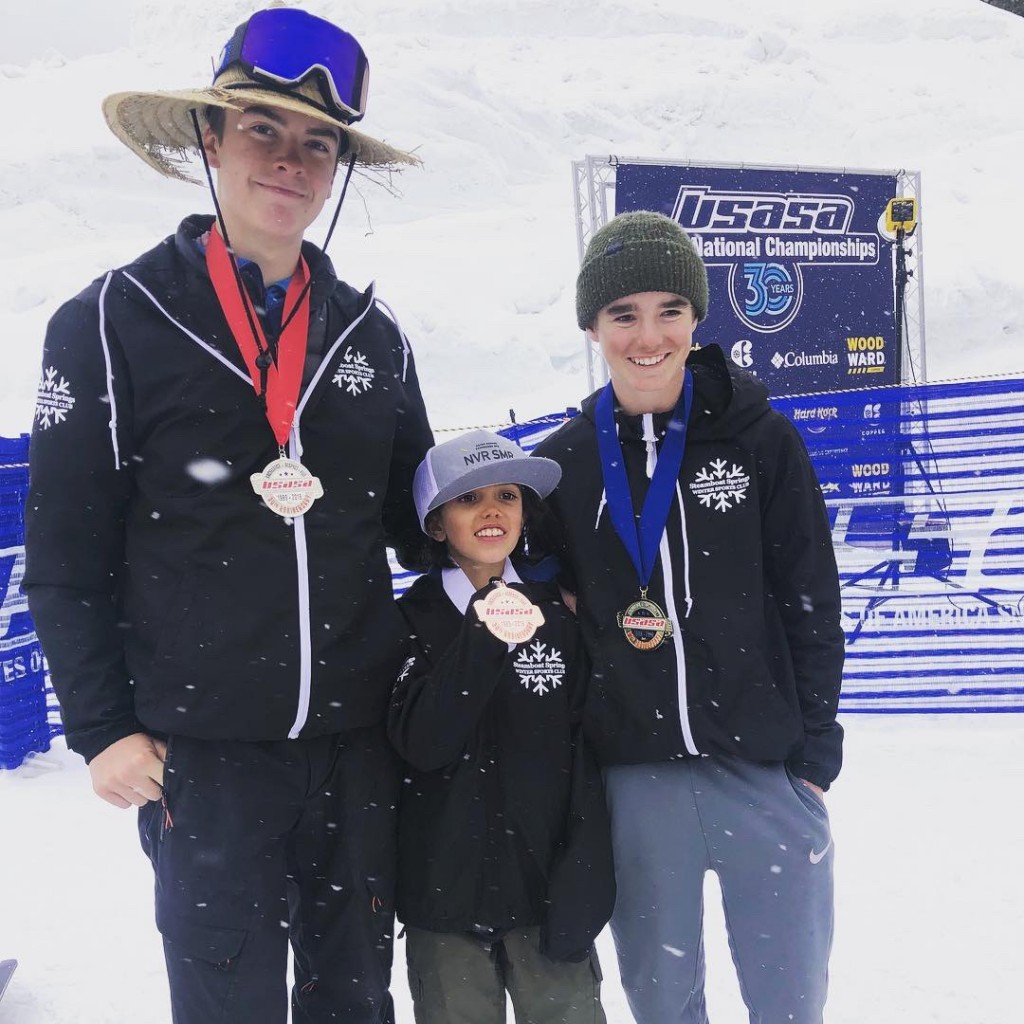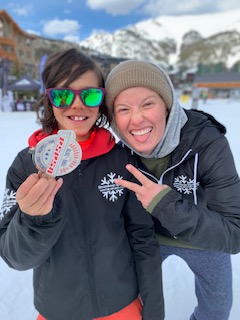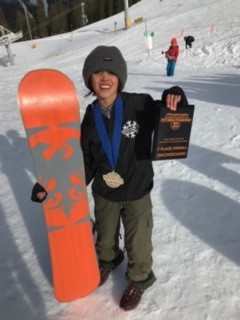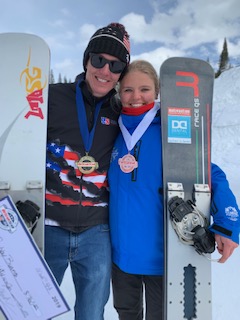 Alpine
TheU16 Nationals were held in Breckenridge, Colorado March 31st- April 4th. 9 Steamboat athletes attended the U16 Nationals in Breckenridge. Ryli Grosdidier, Caroline Gilchrist, Natalia Tatge, Nicole Nolting, Marissa Drobek, Cooper Puckett, Jordan Simon, Tyler Thomas and Nick Orfanakis. There were 5 days of competition as part of the National Competition and assessment of the nationals best U16 alpine skiers. The week began with a slalom race, in which Jordan Simon moved up to 4th place overall from the 30th starting position.
Day 2 was a Giant Slalom race. Jordan Simon again led the way for Steamboat finishing in 2nd place. Cooper Puckett finished in 3rd, after recording the fastest 2nd run time! Ryli Grosdidier also had a fast 2nd run in the Giant Slalom, with the 2nd fastest time on Run #2. Ryli finished 3rd place overall in the Ladies Giant Slalom race.
Day 3 was a Skills Competition in which Cooper Puckett defended his National title from last year by winning the event again. Jordan Simon finished 5th. Day 4 was a Super-G race that take place amid snow squalls and bouts of sunshine. Jordan Simon had an amazing run, and won the race by over a half second. Close on his heels was teammate Cooper Puckett. The last day of racing concluded with a Duals Competition in which athletes compete in teams of four fo their Region. Cooper Puckett's Rocky/Central team made it the farthest in the brackets, finishing 2nd place Overall. Rocky Central won the Regions Cup with the most World Cup Points, followed by West in 2nd place, and East in 3rd place.

Most of the Winter Sports Club U16 Alpine athletes are done competing for the season, but there are more ski camps on the horizon as they prepare for next season.

U16 Nationals Men's Overall
Jordan Simon- 1st Place
Jay Poulter- Stratton Mountain School- 2nd Place
Cooper Puckett- 3rd Place
Men's Super-G
Jordan Simon- 1st
Cooper Puckett- 3rd

Ladie's Super-G
Ryli Grosdidier- 14th
Marissa Drobek- 17th
Men's Giant Slalom
Jordan Simon- 2nd place
Cooper Puckett- 3rd place

Ladie's Giant Slalom
Ryli Grosdidier- 3rd Place

Men's Slalom
Jordan Simon- 4th place

Ladie's Slalom
Ryli Grosdidier- 10th place

Men's Skills Quest-
1st Place Cooper Puckett
5th place Jordan Simon