Athlete News, February 25, 2022
FREESKIING
SSWSC Freeskiing athletes traveled to Arapahoe Basin last Thursday and Friday to compete in another round of IFSA regional competitions. The event was held in the West Montezuma Bowl area with the upper half used for the first event and the lower half used for the second.
A light dusting of snow and bluebird skies greeted the athletes Thursday morning. In a very wide venue SSWSC found creative and challenging lines that would lead them to success. In the Ski Female 12-14 category Ellie Reynolds brought home the silver with teammate Ivy Ladrow bringing home the bronze. Izzy Cerasoli would end the day 9th and Zoe Chase at 11th. In the ski male 12-14 field Darian Squires skied a clean line to grab 9th out of a field of 35. Becca Poper in the 15-18 ski female division tele turned her way to 6th, just missing the top five. In the large 15-18 boys field Ford Fontaine skied to 22nd place with a fluid line full of airs.
The wind was blowing Thursday night and filled the venue with a deep layer of thick snow for the Friday competition. Wiley Wagner secured the top SSWSC result of the day at 11th in the 15-18 ski male field, missing the top ten by .2 points. Teammates Owen Jones (16th), Jose Munoz (25th), Kyan Strong (27th) and Ian Lozano (31st) all competed in one of the largest 15-18 male fields ever at a Regional event. Miles Damore skied a very technical line but lost a ski near his crux move.
Currently SSWSC athletes Darian Squires and Ellie Reynolds are ranked FIRST in the Rocky Mountain Region 12-14 male/female ski division. Rocky Mountain is the largest region in IFSA with over 700 athletes from U12 to 18.
ALPINE
U16
In less than two weeks, the Steamboat Springs Winter Sports Club will be hosting the U16 Rocky/Central Championships from February 7th to 11th 2022. The regions' best athletes will gather in Steamboat Springs to compete in some highly competitive events for their chance to be the region champions in Downhill, Super-G, Super-G Combined, Giant Slalom, and Slalom. The competitions will take place both on our historic Howelsen Hill and at Mt. Werner on the epic All Out venue. Athletes will also have the chance to qualify for U16 Nationals which will be taking place in Sugarloaf, Maine in early April.
The SSWSC U16 alpine program is excited to have 6 women and 4 men compete during these events.
Our local athletes who have qualified for this event are:
Women
Noelle Roth
Abby Olson
Mollie McTigue
Katharina Cosby
Emma McHaffie
Hazel Fernley
Men
Adrian Beauregard
Caman Beauregard
Curtis Zanni
Caspian Troan
These events are the highlight for the Rocky and Central region, and the Steamboat Springs Winter Sports Club is looking forward to hosting the teams and putting on a great series. Its success however is not without the help of volunteers, so if you want to take part and watch some great racing and talent, please visit the following website to sign-up and help volunteer during the event: https://www.sswsc.org/volunteer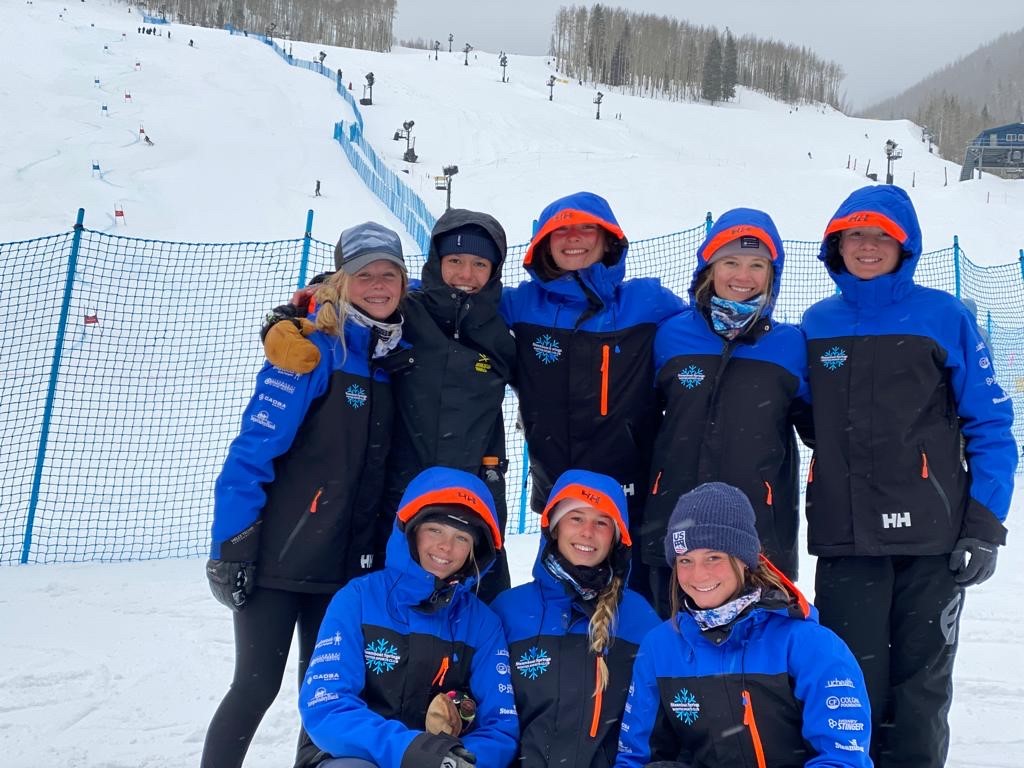 Masters
Our Masters athletes are representing team SSWSC well! Masters, or adult level races, typically have 50 athletes competing. Congratulations to our athletes crowding the podium and fastest times on the course!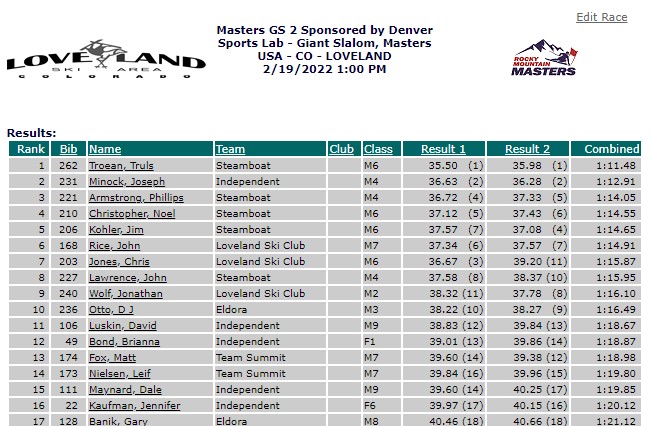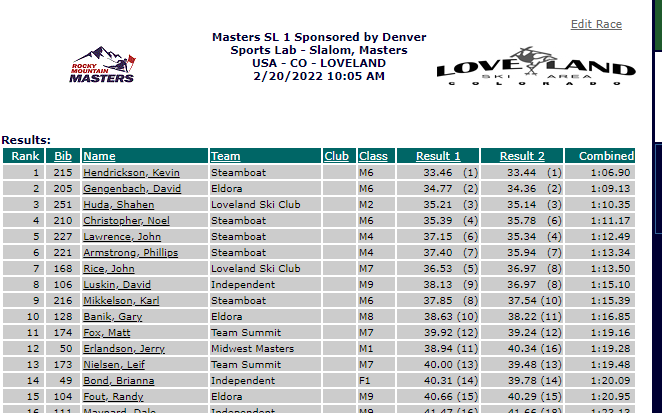 CROSS COUNTRY
Ski and Snowboard Club Vail/Rocky Mountain Nordic JNQ
The 2021/2022 Rocky Mountain Nordic JNQ Series wrapped up in Minturn, Co at the Maloit Park XC Trail System over the weekend. The series contained eight races of different distances and techniques. Results from these eight races had a bearing on which U16, U18, and U20 athletes would qualify for Junior Nationals- being held in Minneapolis, MN- March 7th-12th. Within every JNQ event there are races held for younger athletes, down to U8.
Conditions could not have been more favorable with blue skies and cold snow. Day one was a Mass Start Classic Race for all age groups. SSWSC's Trey Jones put on a powerful performance taking the win in the U18/20M 10K race. His teammate, Griff Rillos was 20 seconds in the rears, taking second. Additional SSWSC XC finishes: 5th Henry Magill, 9th Thomas Cooper, and 11th Grey Barbier
In the U18/20 female 10k race, two female SSWSC XC athletes had their best results of the season- Ruby May in 6th and Charley Lodwick in 8th. They were followed by: Tinsley Wilkinson 10th, Heidi Andre 11th, and Suzy Magill 13th
While Vail's Reiner Schmidt took the win in the U16M 5k, SSWSC XC's Tristan Thrasher and Campbell McLaren fought tooth and nail against each other in a photo finish, with Tristan taking second and Campbell third by the narrowest margin. Luke Bedell came in 23rd.
SSWSC XC had solid performances in the U16F 5k: Nikita Andre 5th, Grace Olexa 6th, Kiri May 7th, Anna Rhodes 13th, and Alena Rossi 18th
In the U14M 2.5K, Charlie Wiedel impressed with a second place finish, with Quinn Dressen in 24th, Braden Fleming in 26th, and Henry Patten in 32nd
Tig Loomis was back to her winning ways after taking the last JNQ off. She won the U14F 2.5K race. Additional results: Shea Rossi 5th, Davis Brosterhous 9th, Shea Sias 12th
Georgia Bishop had won the previous six races in the RMN series and continued on form, winning Friday's U12F 2.5k race. Other results included: Bella Blackwell 21st, Klara Novotny 22nd
The U12M race saw Sawyer Landers in 7th, Bode Rhodes in 8th, Conor Devin 11th, Jackson McLaren 16th, Jett Brosterhous 17th, Ben Becker 19th, and Isaac Weinberg 22nd
Beatrice Bishop notched another win in the U10F race and Annika Wiedel finished a strong 4th place.
Forrest Bishop took the win tin the U8M race
An Individual Start Freestyle (Skate) Race was held on Sunday. In the U18/20M race the top seven were within 32 seconds of one another. SSWSC XC's Griff Rillos finished with 6th tenths winning margin for first. Henry Magill 4th, Grey Barbier 5th, Thomas Cooper 7th
The U18/20F finishers were: Charley Lodwick 9th, Tinsley Wilkinson 11th, Heidi Andre 14th, Suzy Magill 17th
Results for the U16F race included: Nikita Andre 5th, Grace Olexa 6th, Kiri May 8th, Anna Rhodes 14th, Elena Rossi 21st
Charlie Wiedel secured the win in the U14M race. Other finishers included: Quinn Dressen 11th, Braden Fleming 22nd, Henry Patten 25th
The U14F race saw Tig Loomis double up on wins, with Shea Rossi in 4th, Shea Sias 9th, Davis Brosterhous 11th
Bode Rhodes was top finisher in the U12M race, crossing the line in 7th. Other finishers: Sawyer Landers 8th, Conor Devin 9th, Jett Brosterhous 16th, Thomas Drever 23rd
Georgia Bishop capped off her season with another win in the U12F race. Followed by: Hadley Spillane in 17th, Klara Novotny 21st, Bella Blackwell 23rd, Bella Picket 24th
Beatrice Bishop took second in the U10F race, with Annika Wiedel coming in 5th
Axel Loomis held on for 2nd place in the U8M race.
After the last race, the season points were tabulated.
Congratulations to the 2022 Junior National Team members from the SSWSC XC Program
1. Trey Jones U18M
2. Griff Rillos U18M
3. Thomas Cooper U18M
4. Grey Barbier U16M
5. Henry Magill U16M
6. Campbell McLaren U16M
7. Tristan Thrasher U16M
8. Charley Lodwick U18F
9. Ruby May U18F
10. Tinsley Wilkinson U18F
11. Nikita Andre U16F
12. Grace Olexa U16F
13. Kiri May U16F
14. Heidi Andre 1st Alternate U18F
15. Anna Rhodes 3rd Alternate U16F

Grey Barbier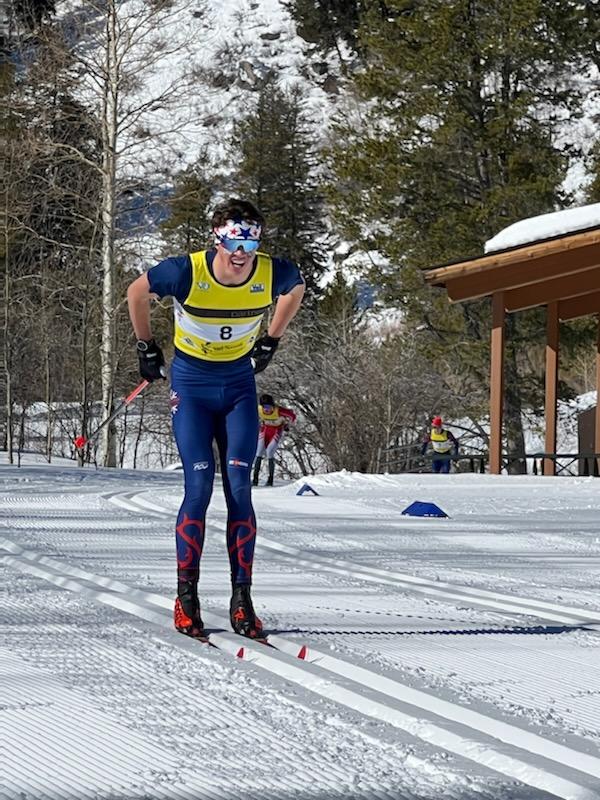 Griff Rillos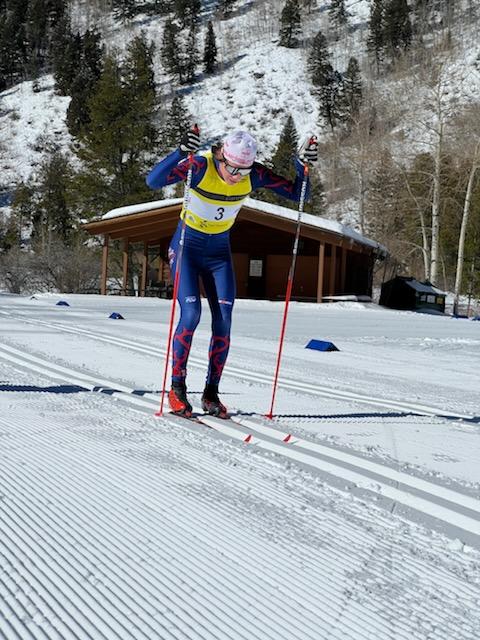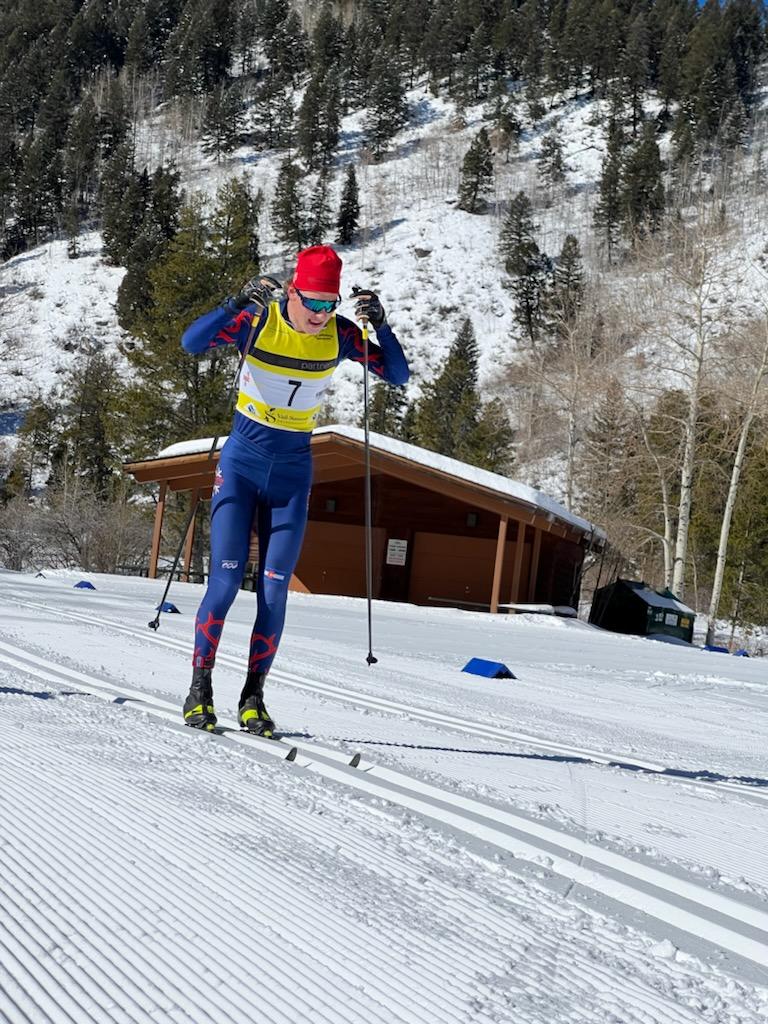 Trey Jones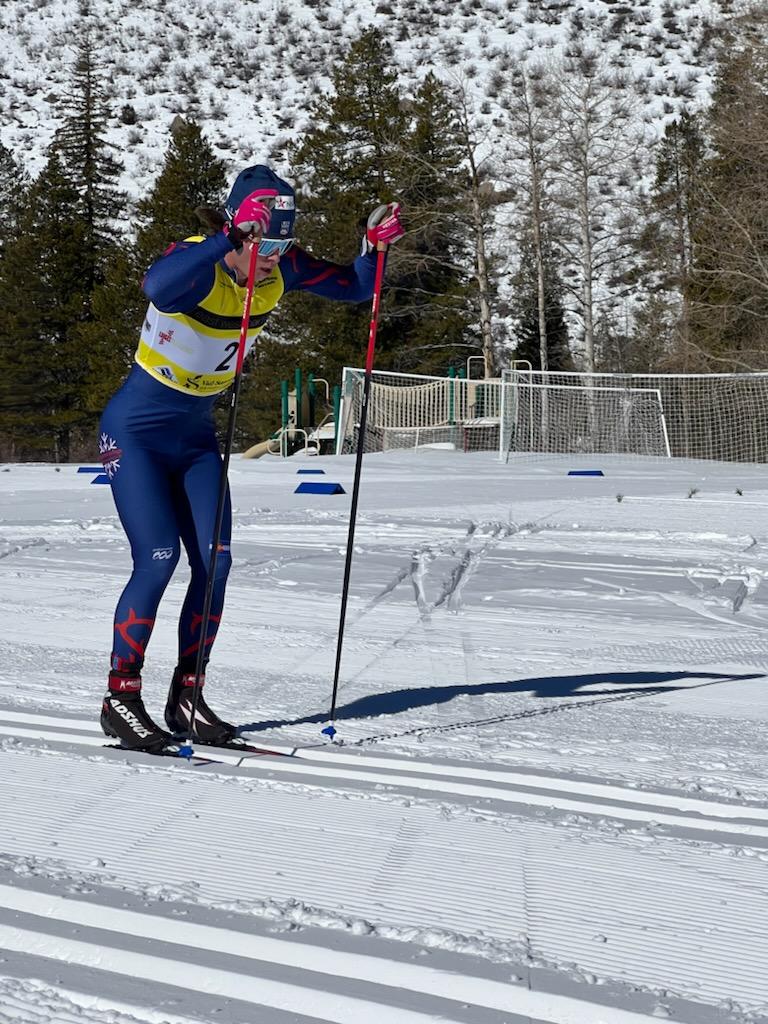 U16 Men's Podium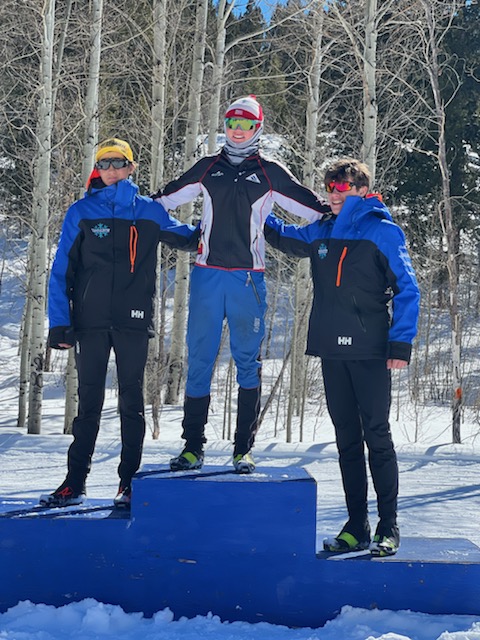 MOGULS
Olympian Olivia Giaccio made a visit to SSWSC, signed a lot of helmets, posed for a ton of photos and even skied with some of the lucky SSWSC athletes. After sending a weekly update to the U10 athletes all season, Olivia came to HH to meet many in person and share d her Olympic experiences. A huge thank you to Olivia!

The NorAm skiers rounded out their NorAm season with the final stop at Killington, VT. With uncharacteristic warm temperatures, the athletes competed on a soft but lengthy course with huge airs. The four competitions were an amazing experience for all 6 SSWSC athletes who participated in the NorAm tour and they're appreciative of what they learned on the road. Congratulations to Xander Tatar-Brown, Collin Hassel, Jaime Maudsen, Anabel Ayad, Ella Walker and Zoe Schaa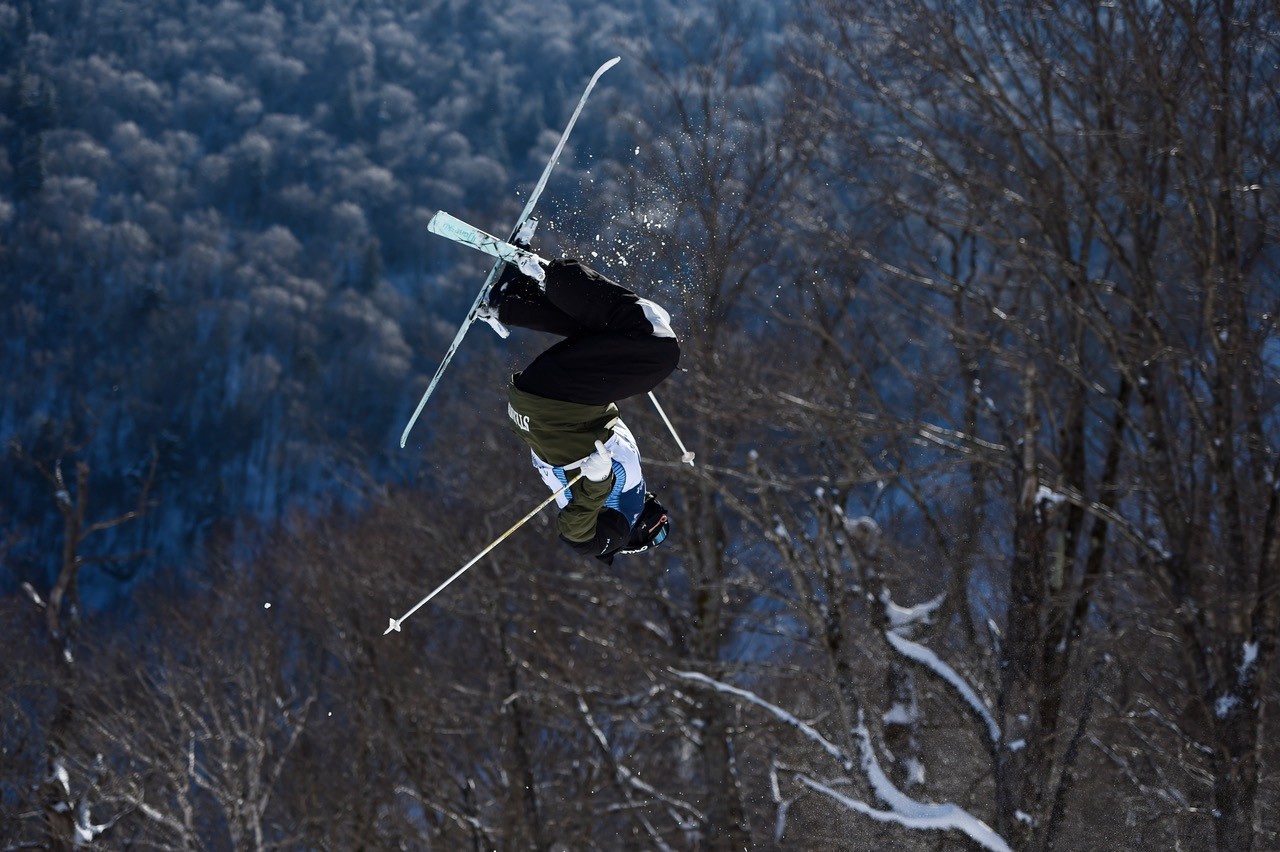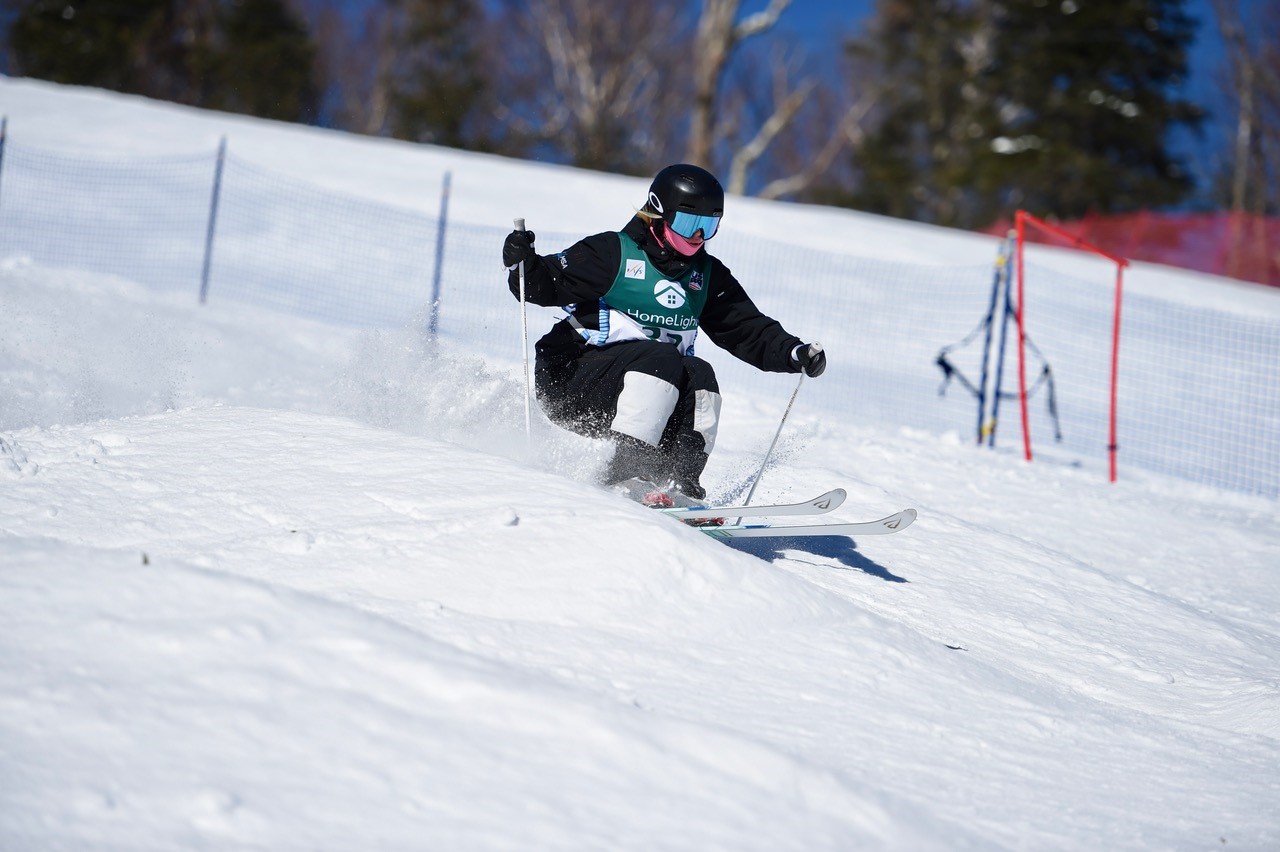 Telluride played host to the last Comp Series event over President's week-end. With 3 days of competitions and 9 SSWSC athletes in the mix, the athletes got in some very productive training as well as competition experience. Xander Tatar-Brown earned a top 10 finish in all three comps with two 6th places and a 10th place. Jaime Maudsen earned 4th in singles, Abby McLarnon was 8th in singles and Anabel Ayad was 3rd in singles and won the duals competition. The Comp Series athletes have this week-end off to train and then head to Winter Park for Divisional Championships.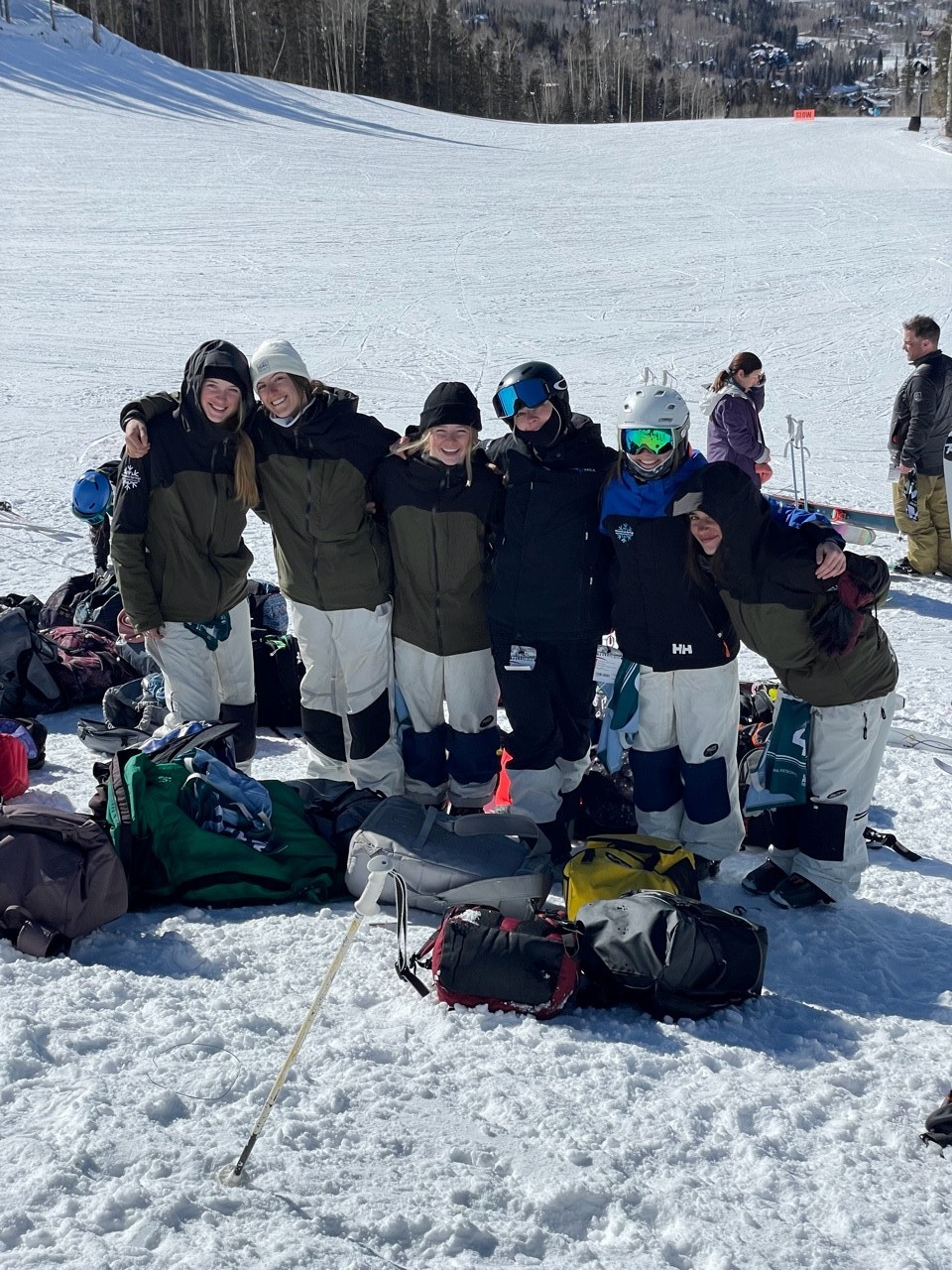 Last week-end the RQS/DEVO skiers were in Winter Park, bumpin' on Bradley's Bash. Congratulations to Anouk Bradley (4th), Shannon Kane (5th), Jesse Boehm (14th), Finley Fontaine (18th), Gigi Lobeck (23rd) and Lyllah Miller (30th). For the gentlemen, Scotty Kane took 2nd, Shane Mariano, 5th, Collin Mudgett-Furgueson, 6th, Griffin Harvey 27th and Henry Crump 33rd. For the DEVO athletes, in F13, Sydney Soard was 6th, Elsa Damore took 7th, Clarie Montgomery was 8th and Kenzie Ricketts was 11th. In M11, Sam Pulford was 17th and Aiden Kottcamp was 19th. For M13, Cole Anderson was the lone SSWSC entry, earning 9th.
The RQS/DEVO skiers head to Aspen this week-end with coaches, Aaron, Jonah and Chase. Good luck to the competitors!