2018 Winter Carnival: February 7-11 "Lighting the Flame"
SUBMIT YOUR ARTWORK STARTING NOVEMBER 1st:
1. Contain your artwork within a circle that fills an 8.5 x 11 piece of paper or larger. Any medium may be used that translates well onto a flat button. (Markers, pencils, digital design, crayons, paint, etc). Please note, we cannot use the Olympic Rings or the word "Olympic". If a submission includes these and wins, it will need to be photoshopped.

2. Scan or photograph your artwork
3. UPLOAD your artwork with your name and age from NOVEMBER 1st-NOVEMBER 23rd at

www.WinterCarnivalButtonArt.com

4. Share your button and encourage your friends to vote from December 1-12!
We do not collect personal information of voters, so anyone can vote!

SUBMIT YOUR ARTWORK NOW!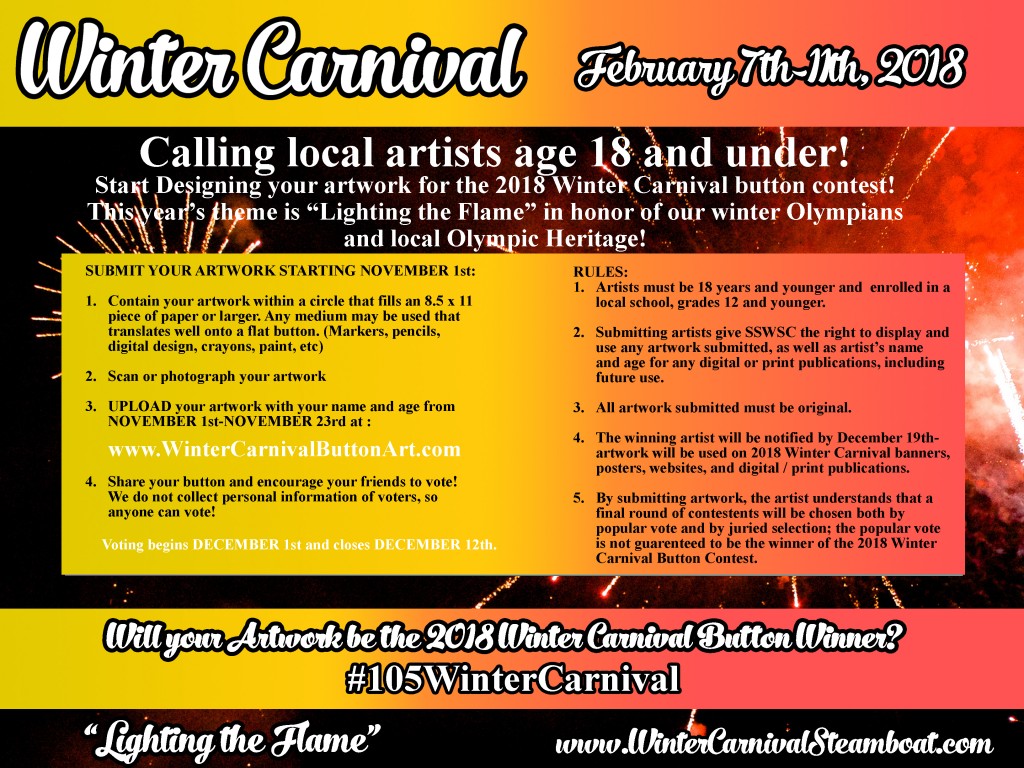 Full Schedule of Events


WEDNESDAY, FEBRUARY 7TH, 2018

5:30 P.M. OPENING CEREMONIES
(Olympian Hall, Howelsen Hill Lodge, Downtown off of 5th) A celebration honoring the Winter Carnival Queen, her Court of Attendants, Little Princesses, and the Grand Marshals.
6:00 - 8:00 P.M. SPEED AND FLIGHT NIGHT SKI JUMPING
(Ages 12+, Hill Size 20, 30, 45 and 75, Howelsen Hill, Downtown off of 5th) Learn to ski jump (on alpine or telemark equipment) under the lights on the historic ski jumps of Howelsen Hill. Register ($15) the night of the event from 5:15 –5:45pm in the Fireplace Room at Howelsen Hill Lodge. Contact Pat Arnone 970-734-8966.


THURSDAY, FEBRUARY 8TH, 2018

6:00 - 9:00 P.M. S'MORE FAMILY FUN PARTY
Presented by: F.M. Light & Sons

(Howelsen Hill Party Tent, Downtown off of 5th Street) Families, take part in the Winter Carnival Celebration! Throughout the evening's activities at Howelsen Hill, a family style chili and S'more party will be taking place in the big white tent on Vanatta Ballfield. Just call it S'More Family Fun! Enjoy the DJ and dance, then head outside to ski, ride, or watch the fire show by the "Pyroneers," and enjoy s'more fun with the entire family! $10 tent entry for adults, $5 for kids 12 and under, wear your winter carnival button!
5:00 P.M. CROSS-COUNTRY OBSTACLE RACE
(Ages 5-12, Howelsen Hill, Downtown off of 5th) A fun and entertaining noncompetitive obstacle race at Howelsen Hill for Nordic skiers and "wanna be" Nordic skiers. Spectators are welcome. Pre-registration not required, but a release form must be signed or already be on file with SSWSC in order to participate.
5:00-6:00 P.M. AIR BAG JAM SESSION
(Howelsen Hill, Downtown off of 5th) Located under the lights of Howelsen Hill. Watch the athletes of the Winter Sports Club launch into the air onto a 15ft tall 50ft wide air bag.
5:00-6:00 P.M. POWDER TOOLS MID-WINTER TERRAIN PARK JAM SESSION
(Ages 14 and Under, Howelsen Hill, Downtown off of 5th) Open to both skiers and snowboarders. Located under the lights of the Howelsen Hill Terrain Park, this event is open to the public. Pre-registration is required at 4:00 pm at the terrain park. A waiver must be signed or already be on file with the SSWSC in order to participate. Practice runs from 4:30-5:00 pm, Jam Session from 5:00-6:00 pm.
5:30 - 6:30 P.M. PARENT-CHILD DUALS
(All Ages, Howelsen Hill, Downtown off of 5th) Everyone is a winner in this friendly competition. Come join our family fun by racing or bumping down the junior courses on Howelsen Hill Face. Go head to head against your child on either the GS style race course or dual mogul course. Pre-registration is not required, but a release form must be signed or already be on file with SSWSC in order to participate.
5:30-7:00 P.M. OPEN SKI JUMPING
(All Ages, Howelsen Hill, Downtown off of 5th) Ever wonder how Olympic Ski Jumpers can fly over 3 football fields? Now is your chance to come learn to fly in a safe & fun environment! The SSWSC welcomes you to try the bump jumps, 20m & 30m during our historic Winter Carnival. Alpine ski equipment recommended. Pre-registration is not required, but a release form must be signed or already be on file with SSWSC in order to participate.

FRIDAY, FEBRUARY 9thth, 2018

10:00 A.M. CHRISTY SPORTS SODA POP SLALOM
(Ages 11 and under, Steamboat Ski Resort, Stampede Run) This is a fun race and is open to any skier or snowboarder ages 11 and under (SSWSC U12 athletes are not eligible). Pre-registration required at the Winter Sports Club office February 2nd, 3rd, and 7th, from 3:00-6:00pm.
1:30 - 3:00 P.M. SKI JUMPING JAMBOREE
(Ages 4-11, Hill Size Bump & 20, Howelsen Hill, Downtown off of 5th) An enjoyable time for children to take to the Bump Jump and 20 meter jump at the Nordic jumping complex of Howelsen Hill for some "flying fun" on alpine equipment. Pre-registration required at the Winter Sports Club office February 2nd, 3rd, and 7th, from 3:00-6:00pm. Check-in from 12:30-1:15 pm on event day. Open to the public.
3:00 - 5:00 P.M. SNOW SCULPTURE JUDGING
(All Ages, Lincoln Avenue) Stroll down Lincoln to view hand carved snow sculptures! Judging will take place from 3-5pm tonight, February 10th, and winners will be highlighted with ribbons and announced at Street Events on February 11th and 12th and at the Night Extravaganza on February 11th! Sculptures will be built February 9th-10th in three categories; student, professional, and individual/group/business. Applications can be found at www.steamboatarts.org. For more info, contact the Steamboat Springs Arts Council at (970)879-9008.
4:00 - 6:00 P.M. NORDIC JUMPING EXHIBITION
(SSWSC Athletes, Howelsen Hill, Downtown off of 5th) SSWSC Nordic Combined athletes jumping the Hill Size 20, 30, 45,75 and 100.
6:00 - 7:00 P.M. AMATEUR SKI JUMPING
(Ages 15+, Howelsen Hill, Downtown off of 5th) Ski Jumping (on alpine equipment) under the lights on the historic ski jumps of Howelsen Hill. Prizes, jumping and high-flying fun. Register ($25) the night of the event from 5:00-5:45 pm in the Fireplace Room at Howelsen Hill Lodge. For more information, contact Pat Arnone at 970-734-8966.
6:00 - 8:00 P.M. WHEELS BIKE SHOP DUAL SLALOM BICYCLE RACE
(Ages 12+, Howelsen Hill, Downtown off of 5th) An exciting on-snow, mountain bike event down the face of Howelsen Hill. Event includes practice, qualifying, and final competition rounds. Register the night of the event at 5:30 pm in the Fireplace Room at Howelsen Hill Lodge. For more information, contact Chris Johns with Wheels Bike Shop at 970-846-7433.
7:00 P.M. - 12:00 A.M. TITO'S MOUNTAIN SOIREE
(Age 21+, Howelsen Hill, in the Tent at Vanatta Field) Presented by Tito's Handmade Vodka

Celebrate the 104th Winter Carnival in a true Winter Wonderland. An evening of libations, food, live music with Loose Change, a bonfire, and more. Tickets must be purchased in advance 970-879-0695 x 100. sswsc.tix.com

SATURDAY, FEBRUARY 10TH, 2018

8:00 - 11:00 A.M. KNIGHTS OF COLUMBUS PANCAKE BREAKFAST
(All Ages, Holy Name Catholic Church – 524 Oak St.) Hosted annually by the Knights of Columbus, this function is the perfect way to fuel up for all of the day's activities. In addition to a Winter Carnival button, donations are graciously accepted.
8:00 A.M. 100-METER NORDIC SPRINT
(All Ages, Downtown, Lincoln Avenue) The Steamboat Springs Nordic Council is looking for the fastest skate skiers in the Boat! They are hosting a 100-meter Nordic Sprint on Lincoln Avenue between 7th and 8th streets prior to the Street Events. The race will have male and female divisions as well as 13 and over & 12 and under age categories. Anyone interested can register for this free event at the Steamboat Touring Center 970-879-8180. Check in morning of the event at 7:30am at 7th Street.
9:00 A.M. – noon STREET EVENTS
(Downtown Lincoln Avenue) Presented by Yampa Valley Bank

A wildly entertaining show featuring children on skis and snowboards being pulled behind horses along snow covered Lincoln Avenue. Races include street slalom, ski joring, ring and spear, donkey jump and the famous adult shovel race. The horse events are for children ages 6-14; there are also non-horse events for ages 1-14. Pre-registration required at WinterCarnivalSteamboat.com beginning February 3rd at 10 am.
1:00 P.M. PRO ALPINE SKI JUMPING QUALIFICATIONS
(Howelsen Hill, Downtown off of 5th) This is a must-see ski jumping event with participants launching off of the HS127 "Big Hill" on alpine skis and boots, rather than the usual ski jumping equipment. For more information, contact Pat Arnone at 970-734- 8966, $100 entry fee.
6:15 - 6:45 P.M. SSWSC ATHLETE EXHIBITION
(Howelsen Hill, Downtown off of 5th) SSWSC athletes demonstrate their skills as the sun sets behind Howelsen Hill!
7:00 P.M. NIGHT EXTRAVAGANZA
(Howelsen Hill, Downtown off of 5th) Presented by Yampa Valley Bank

Join us for this must-see evening of entertainment at historic Howelsen Hill! This community favorite draws thousands of spectators for an exciting display of "Take me to the mountains." The evening starts with a winter sports exhibition highlighting athletes showing their prowess in the dark, lit by flares and LED lights! Known across the country, the Lighted Man will arc down Howelsen Hill shooting fireworks from his pyrotechnic suit, and Nordic and alpine jumpers will soar through a fiery hoop off of the Nordic jumps! End the night with a stunning fireworks show that will feature one of the largest fireworks in the Country! Spectators: Don't forget your Winter Carnival button!

SUNDAY, FEBRUARY 11TH, 2018

9:00 A.M. – noon STREET EVENTS
(Downtown Lincoln Avenue) Presented by Yampa Valley Bank

A wildly entertaining show featuring children on skis and snowboards being pulled behind horses along snow covered Lincoln Avenue. Races include street slalom, ski joring, ring and spear, donkey jump and the famous adult shovel race. The horse events are for children ages 6-14; there are also non-horse events for ages 1-14. Pre-registration required at WinterCarnivalSteamboat.com beginning February 3rd at 10 am.
APPROX. 11:30 A.M. AFTER STREET EVENTS DIAMOND HITCH PARADE
The diamond hitch consists of at least four (4) skiers. The skiers hold on to points of a rope tied in the shape of one or more diamonds. Animals, people or vehicles may pull the skiers down the snow-filled streets. Anyone is welcome to enter the parade. Pre-registration required, deadline is February 3rd at 6pm. Register online at www.WinterCarnivalSteamboat.com.
1:00 P.M. PRO ALPINE SKI JUMPING FINALS
(By Qualification, Howelsen Hill, Downtown off of 5th) This is a must-see ski jumping event with participants launching off of the HS127 "Big Hill" on alpine skis and boots, rather than the usual ski jumping equipment. Watch as world records get broken! For more information, contact Pat Arnone at 970-734- 8966, $100 entry fee.

Street Events

On Saturday, February 11th and Sunday, February 12th, hundreds of people will line Lincoln Avenue to witness the Street Events. The Street Events are a wildly popular and entertaining show featuring children on skis (or snowboards) being pulled behind horses down a snow-covered Lincoln Avenue. Horse Events include: Street Slalom, Ski Joring, Ring & Spear, Ring & Box, and the famous Donkey Jump. Horse Events are for children ages 6 to 14 years old, while Non-Horse Events are for children ranging in age from infant to 14 years old. See below for the 2017 Street Events Schedule.

Register for the Diamond Hitch Parade Here

SATURDAY, FEBRUARY 10


Time Event Age
8:15 a.m. 100m Nordic Dash*

9:00 a.m. Street Slalom (10-14)
9:30 a.m. 3-Legged Race (50yds) (5-8)
9:40 a.m. Ski Joring (6-9)
10:00 a.m. 3-Legged Race (75yds) (9-11)
10:05 a.m. Ski Joring (10-14)
10:35 a.m. 25yd Dash (3-5)
10:40 a.m. Ring & Box (6-9)
11:10 a.m. 50yd Dash (6-8)
11:15 a.m. 75yd Dash (9-11)
11:25 a.m. Donkey Jump (6-9)
11:55 a.m. Shovel Race (18+)

SUNDAY, FEBRUARY 11


Time Event Age
9:00 a.m. Ring & Spear (6-9)
9:00 a.m. Ring & Spear (6-9)
9:30 a.m. Obstacle Course (50yds) (5-7)
9:40 a.m. Obstacle Course (50yds) (8-10)
9:50 a.m. Obstacle Course (50yds) (11-14)
10:00 a.m. Street Slalom (6-9)
10:20 a.m. 25yd Dog Dash (0-5)
10:25 a.m. 25yd Dad Dash (0-5)
10:25 a.m. 25yd Dad Dash (0-5)
10:30 a.m. Donkey Jump (10-14)
11:00 a.m. Shovel Race (18+)
11:30 a.m. PARADE BEGINS



Events in bold require advance registration.


*On Saturday, the Nordic Council will be putting on a 100 meter Nordic Sprint. This race will start on 6th and end at 8th Street. Please contact the Nordic Council for registration information. The street events will start at 9:00 a.m. as usual.



HORSE EVENTS

Ring and Box
(Ages 6 - 9): Contestant with skis on will have a ring of rope in their hand and will be pulled down main street by a horse. The contestant will attempt to drop the ring in a washtub as he/she passes by tub. Fastest time wins. Penalty for missing the washtub.

Ring and Spear
(Ages 6 - 9): Five stands will be located on the street with a ring of rope hanging from each stand. Contestants with skis will carry a spear and attempt to collect all five rings while being pulled by a horse down the street. Most rings collected and fastest time wins. Penalties for every ring missed.

Ski Joring
(Ages 6 - 9 and 10 - 14): Contestant with skis will race a flat course down the street while being pulled by a horse. Fastest time wins.
Street Slalom
(Ages 6 - 9 and 10 - 14): Contestant with skis will ski a slalom course through a series of cones while being pulled by a horse down the street. Fastest time wins. Anyone missing a cone or falling during performance will be disqualified.

Donkey Jump
(Ages 6 - 9 and 10 - 14): Contestant will attempt to jump off a 2-foot ramp while being pulled on skis by a horse down main street. Longest distance while maintaining a standing position wins.



Shovel Race
(Ages 18 and over): Contestants will situate themselves in a shovel of any type and while being pulled by a horse, will race a flat course down the street. Fastest time wins. Anyone falling off the shovel during performance will be disqualified.




NON-HORSE EVENTS

Waivers must be signed by participants or their guardian the day of the event at the start line.

25 Yard Dog and Dad Dash

(Ages 5 and under) Children 5 years old and younger compete against one another while being pulled in a sled or toboggan (no metal runners allowed) by the family dog. All dogs must be leashed and led by the parent/dog owner during the dash. Following the dog competition will be the Dad Dash with Dad on all fours pulling the child. First one over the finish line wins.






3-Legged Race
(Ages 5 - 8 and 9-11) Two people on skis tie legs together (ties provided) and race to finish line. The first pair over the finish line wins.

Obstacle Course
(Ages 4-6, 7-10, and 11-14) Contestants on skis maneuver around a variety of obstacles and then make a straight dash to the finish line. First one over the finish line wins.

25, 50, and 75 Yard Dashes
25 Yard Dash for ages 3-5 years, 50 Yard Dash for 6-8 years and 75 Yard Dash for 9-11 years all on skis.


STREET EVENT REGISTRATION

Register early as we can only accept a certain number of kids in each event and spaces fill early. We try to accommodate as many kids as we can in the time we have allotted for the street events. REGISTRATION WILL BEGIN FRIDAY, FEBRUARY 3RD.
Register for the Diamond Hitch Parade Here




Night Extravaganza



On Saturday, February 11th, the Night Extravaganza on Howelsen Hill is lit up with colors as Winter Sports Club athletes flip through the air off the jumps while others descend down the mountain leaving a red glow outlining perfect ski turns. Most known, the light-wrapped Lighted Man carves down the hill with roman candles shooting out of his backpack, which makes for a spectacular opening act for the fireworks show and the brave athletes jumping through the fiery hoop. Don't forget to wear your Winter Carnival Button!

Tito's Mountain Soiree

Celebrate the 105th Winter Carnival and the OPENING CEREMONIES of the 2018 Winter Olympics in a true Winter Wonderland at the best Winter Carnival celebration around! Dress in your best, in themed costume, or in your best Local Style and join our community for this unique celebration! Located in an outdoor heated party tent, you'll have unlimited libations (including access to a custom ice shot luge and shot skis provided by our presenting sponsor, Titos Handmade Vodka), hearty appetizers, and live music and dancing to local band "Loose Change with Pat Waters." Share laughter and stories around our bonfire outside, and watch some of the outdoor festivities happening at Howelsen Hill earlier in the night. Ages 21+, located at Vanatta Field at Howelsen HIll, Downtown off of 5th Street./>

Event Registration and Tickets

Registration for the Non-Horse events will be the day of the event at the registration tent.



<

Register for the Diamond Hitch Parade Here

Registration for Street Events will open Friday, February 3rd at 10:00am



Registration for the Soda Pop Slalom:
Howelsen Hill Lodge in the Fireplace Room, Thursday, February 2nd, – Friday, February 3rd (3:00 pm – 6:00 pm) & Tuesday February 7th– Wednesday, February 8th (3:00 pm-6:00 pm)

STREET EVENT RULES


Contestants must have read through the waiver statement and signed the release.

Pre-registration is mandatory for all horse events.

Contestants must wear goggles and a helmet (cycling or ski racing helmet is sufficient)

Contestants may enter only one (1) Horse Event per day.

Contestants may sign up only for events for which they are the designated age.

Contestants must have a Winter Carnival Button - available at the Winter Sports Club Offices, participating downtown merchants, and the Chamber Visitor Center

Shovel Race contestants must provide their own shovel.

Shovel Race contestants must wear a protective helmet such as a cycling or climbing helmet.


BUTTONS AND WHERE TO PURCHASE

A $10 Winter Carnival Button is required to participate or Spectate in events!

Congratulations to our Winter Carnival Button Art Contest finalists! Buttons are available at the following locations:

Aces Hardware
All That
Allen's Clothing
Alpine Bank
Bud Werner Memorial Library
Steamboat Chamber
Christy Sports at Central Park Plaza
City Market
City Offices
Colorado Mountain College
FM Light & Sons
Highmark
The Lodge
Lyon's Drug
Off the Beaten Path
Olson Development
One Steamboat Place
Paws & Claws
Safeway
Ski Haus
Ski Inn
SSWSC
SSRC Info Center
Steamboat Art Museum
Steamboat Sotheby's International Realty
Steamboat Village Brokers
Wild Plum
Wyndham Vacation Rentals
Yampa Valley Bank
Yampa Valley Medical Center

Winter Carnival Posters

YOU CAN STILL PURCHASE THE 2017 WINTER CARNIVAL POSTER BELOW!



PURCHASE YOUR 13x19 POSTER HERE

Questions

Please .(JavaScript must be enabled to view this email address) with any questions!

A $10 Winter Carnival Button is Required for Entry/Spectating at All Events.

Your button will allow you to pick up a free lift ticket for all events you register in. It will also grant you free skiing at Howelsen Hill during Winter Carnival! (Pick up your ski ticket inside by showing your button!)




The Winter Carnival, hosted by the Steamboat Springs Winter Sports Club, is a community-wide celebration of athleticism and winter. With over a century behind it as the official organizer of the Winter Carnival, the Steamboat Springs Winter Sports Club is proud to host this historic event that has been listed as one of the Top Ten Winter Carnivals in the World by National Geographic. For over 100 years, Winter Carnival has served our valley and visitors as a celebration that builds community and highlights our western and ski heritage.

When the Steamboat Springs Winter Carnival was first established, it was a celebration born out of the residents' need to forget the hardships of winter, chase away the shorter days, and bring happiness back to a valley plagued by snow. Today, this 5 day long carnival no longer represents a need to forget the long winters, it highlights the community wide acclaim of snow that has earned the town of Steamboat Springs the moniker, Ski Town, USA. Our Winter Carnival events are unique; we cover our main street with snow, saddle up the horses and tow young athletes on skis behind horses, wild with excitement! The athletes maneuver around cones, fly off jumps and best each other in friendly sport. Throughout the week, athletes will celebrate our Olympic heritage by soaring off of Nordic Jumps, practicing spins and aerials onto an airbag, and racing down the slopes of Howelsen Hill. The Winter Carnival Night Extravaganza entertains and amazes nearly 8,000 people in attendance as they watch the famous Lighted Man in his pyrotechnic suit shooting fireworks from his body, athletes jumping through the fiery hoop, and the spectacle of a barrage of fireworks that culminates in the explosion of one of the largest firework shells in the world.

We are privileged to celebrate our history and heritage in this idyllic mountain town with the largesse of a world-class Winter Carnival. We invite you to join us as we celebrate the unique heritage and community of the one, the only, Ski Town, USA.

Join the Story for the 2018 Winter Carnival using #105WinterCarnival