111th Steamboat Springs Winter Carnival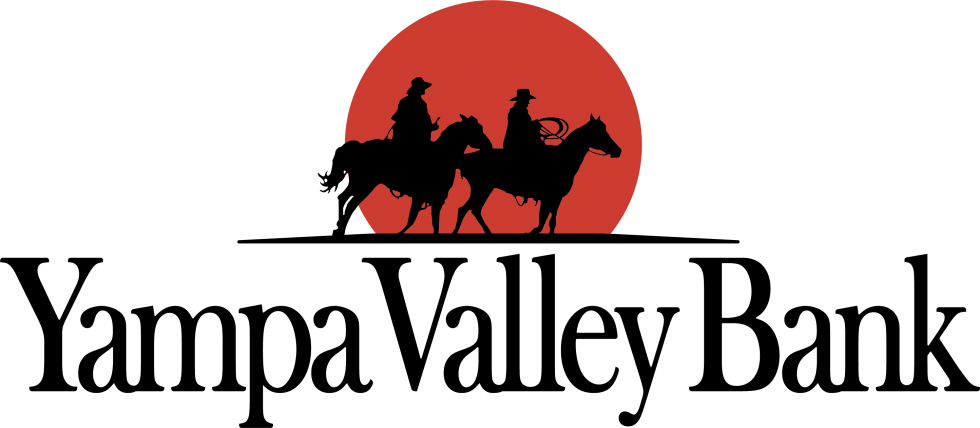 Join us to celebrate the unique heritage and community of Steamboat Springs, Ski Town, USA, at the 111th Steamboat Springs Winter Carnival - February 7 - 11, 2024.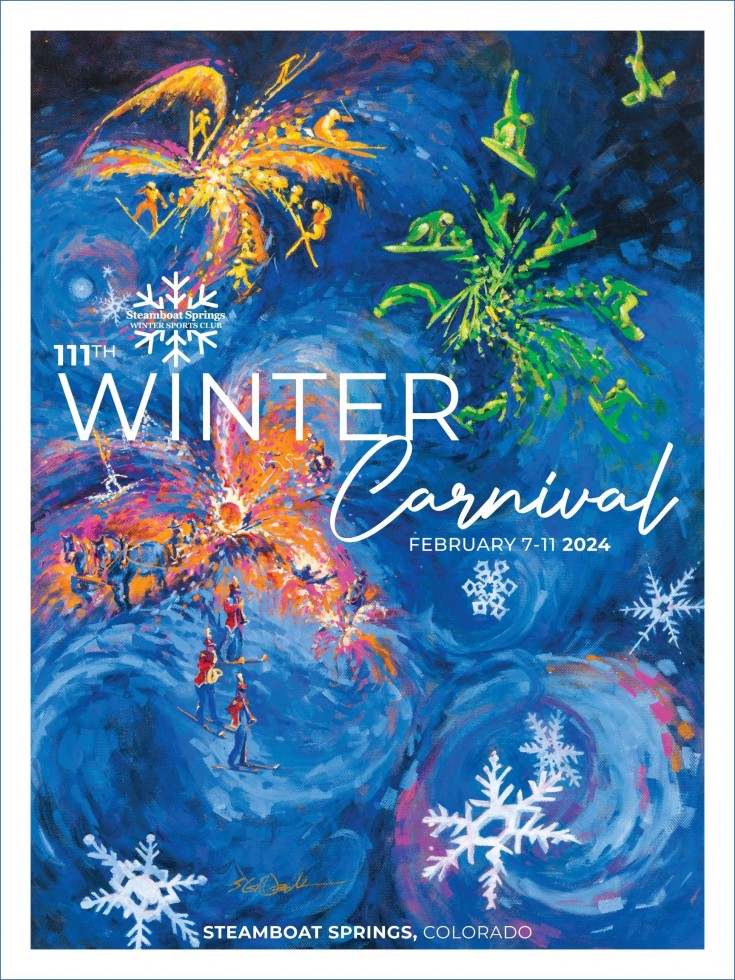 The Winter Carnival, proudly hosted by the Steamboat Springs Winter Sports Club and sponsored by Yampa Valley Bank, brings the community together to celebrate athleticism and winter, showcasing Steamboat's Western traditions and ski heritage. First established in 1914, the original intent of Winter Carnival was to help forget the hardships of winter, chase away the shorter days, and bring happiness back to a valley plagued by snow. Today, Winter Carnival honors snow, winter, and winter sports that make Steamboat Springs Ski Town, USA.
Steamboat Sotheby's International Realty recently revealed the original artwork for the 2024 Winter Carnival poster, created by local artist Susan Gill Jackson. The artwork is currently on display at Pine Moon Gallery and will go on sale on December 11, 2024, at locations around town.
WINTER CARNIVAL INFORMATION
FULL SCHEDULE OF EVENTS

111th Steamboat Springs Winter Carnival

February 7-11, 2024


A 2024, $10 Winter Carnival button is required for entry/spectating at all events. (no buffs/neck gaiters available this year)

A button is your access to spectate or participate in any Winter Carnival events, plus access to free skiing and riding from February 7-10 at Howelsen Hill. Howelsen Hill offers FREE SKIING every Sunday. Just bring your button to the ticket office to receive a ticket. Some events require additional tickets and registration. All events take place at Howelsen Hill unless noted otherwise. A signed liability release is required for participation in all events. A helmet is required for all events except cross country.

Tuesday, February 6

Noon - 1 p.m. OLYMPIC HERITAGE TOUR with Ben Berend and Tread of Pioneers Museum
(Howelsen Hill)
Join local Olympian Ben Berend to explore Steamboat's unmatched Olympic heritage and his personal athletic journey to Olympic excellence. Learn about the history of Carl Howelsen, ski jumping, Howelsen Hill, and the Steamboat Springs Winter Sports Club, and find out why Steamboat is home to more Olympic athletes than any place in North America. *Winter Carnival Button Encouraged! Meet at the front entrance of Howelsen Hill Lodge- 845 Howelsen Parkway.
5:30 - 6:30 p.m. HISTORY HAPPY HOUR with Tread of Pioneers Museum
"Flying Saucers, or Off Their Rockers? Colorado's Role in the 1966-1968 Scientific Study of Unidentified Flying Objects" with Megan K. Friedel, Assistant Professor, Lead Archivist & Head of Collections Management & Stewardship at University of Colorado Boulder *Winter Carnival Button Encouraged!
(Howelsen Hill)

Wednesday, February 7

5:30pm OPENING CEREMONIES
(Olympian Hall, Howelsen Hill Lodge, Downtown off of 5th)
A celebration honoring the Winter Carnival Queen, her Court of Attendants, Little Princesses, and the Grand Marshals.

5-8pm NORDIC EXCAVATING HITCHENS BROTHERS WEDNESDAY NIGHT JUMP
(Howelsen Hill, Downtown off of 5th)
Calling all kids ages 8-13 (born in 2008-2013) who want to try out the Nordic Jumps at Howelsen Hill! SSWSC coaches will help you learn to jump on the jump size that fits your age and skill level! Skis only, no snowboards. Hardshell over-ear helmets required. Registration closes Tuesday, February 7 at 5pm. REGISTER HERE

Thursday, February 9

2pm-6pm Air Bag Jam Session
(SSWSC Athlete Display, Howelsen Hill, Downtown off of 5th)
Watch as SSWSC freestyle, freeskiing, and snowboard athletes launch into the air and work on their tricks, landing on a 50-foot airbag! Closed to the public, this event offers exceptional photography opportunities of airborne athletes!

4pm SNOW SCULPTURE JUDGING
(All Ages, Lincoln Avenue)
Stroll down Lincoln to view hand-carved snow sculptures! Judging will occur at 4pm on February 9, and winners will be highlighted with ribbons and announced at the street events on February 11 and 12. Student and community teams will build sculptures on February 9, inspired by the Dream, Dare, Dazzle theme! Vote on your favorite sculpture at @SteamboatCreates on Facebook and Instagram. For more info, contact Steamboat Creates at (970)879-9008, or robin@steamboatcreates.org.

4:30-5:30pm CROSS COUNTRY OBSTACLE COURSE
(Ages 5-12, Rodeo Grounds Howelsen Hill, Downtown off of 5th)
A fun and entertaining non-competitive obstacle course for cross country or wanna-be skiers at Howelsen Hill. Spectators are welcome. Pre-registration is not required, but a release form must be signed or already on file with SSWSC in order to participate.

5-6pm. POWDERTOOLS MID-WINTER TERRAIN PARK JAM SESSION
(Ages 14 and Under, Howelsen Hill, Downtown off of 5th)
Open to both skiers and snowboarders. Located under the lights of Howelsen Hill Terrain Park, this event is open to the public. Pre-registration is required at 4:00 pm at the terrain park. A liability waiver must be signed or already on file with the SSWSC to participate. Practice runs from 4:30-5pm, and Jam Session from 5-6pm.

4:30-6pm FAMILY DUALS
(All Ages, Howelsen Hill, Downtown off of 5th)
Everyone is a winner in this friendly competition. Join our family fun by racing or bumping down the junior courses on Howelsen Hill Face. Go head to head on the GS-style race course. Pre-registration is not required, but a release form must be signed or already on file with SSWSC in order to participate.

4-5:30pm SKI JUMPING JAMBOREE
(Ages 4-11, Hill Size Bump & 20, Howelsen Hill, Downtown off of 5th)
An enjoyable time for children to try the Bump Jump and 20-meter jump at the nordic jumping complex of Howelsen Hill for some "flying fun" on alpine equipment. Pre-registration is not required, but a release form must be signed or already on file with SSWSC in order to participate.

5:30-6:30pm WINTER CARNIVAL MEMORIES
(Olympian Hall, Howelsen Hill)
Join the Tread of Pioneers Museum and the Steamboat Springs Winter Sports Club for a special evening with a panel of longtime locals sharing their favorite memories of Winter Carnivals throughout the decades. Free hot beverages served. No rsvp, free event. MORE INFORMATION.

5:30-8:30pm S'MORE FAMILY FUN PARTY
(Howelsen Hill Party Tent, Downtown off of 5th Street)
Presented by Off the Beaten Path/BookTrails
Food provided by La Central Catering and Moving Mountains
Families, take part in the Winter Carnival Celebration! During the evening activities at Howelsen Hill, a family-style chili and s'more party will take place in the big white tent on Vanatta Ballfield. Just call it S'More Family Fun! Enjoy the outside activities, then head into the tent for warm chili, a DJ, and dancing! Complete with a bonfire and s'more-making outside! A Winter Carnival button/buff and TICKETS REQUIRED. Tickets go on sale January 27, 2023. Food is served first come, first serve, 5:30-7pm.

Friday, February 10

10am-1pm CHRISTY SPORTS SODA POP SLALOM
(Ages 10 and under for LITTLE KIDS, ages 11-14 for BIG KID DUALS, Howelsen Hill, magic carpet, and Face)
This is a fun race with a starter, announcer, and a soda pop reward for all participants! This race is open to skiers and snowboarders! We will offer a duals race course on the magic carpet for little kids from 10am-1pm and on the Face for big kids from 11am-1pm! This fun, non-timed course allows kids of all ages to race their friends and family. REGISTER HERE.

10am-2pm Winter Carnival Poster Signing
(Old Town Hot Springs)
Meet Winter Carnival poster artist Joanne Orce at Old Town Hot Springs. Bring your poster, or posters will be available for purchase.

4:30-6pm. NORDIC JUMPING EXHIBITION
(SSWSC Athletes, Howelsen Hill, Downtown off of 5th)
SSWSC Nordic Combined and Special Jumping athletes jumping the 20-meter, 30-meter, 45-meter,75-meter, and 100-meter jumps.

5-5:30pm New this year! SKI BALLET
(Howelsen Hill, Ponyland, the big magic carpet next to the nordic ski jumps)
Wear your sequins and stretch pants! A throwback to the mid-70s and once an official Olympic sport, ski ballet in its purest form included routines choreographed to music consisting of flips, jumps, rolls, spins, and leg crossings. In this Winter Carnival competition, anything goes, but costumes are mandatory! All competitors must attend a pre-competition meeting at 4:30pm on February 10 to sign a waiver and receive a lift ticket by showing Winter Carnival Button. Join the fun as a competitor or spectator at Howelsen Hill. REGISTER HERE.

6-7pm AMATEUR SKI JUMPING
(Ages 15+, Howelsen Hill, Downtown off of 5th)

Ski Jumping (on alpine equipment) under the lights on the historic ski jumps of Howelsen Hill. Prizes, jumping, and high-flying is fun. Register ($25) the night of the event from 5:00-5:45 pm in the Fireplace Room at Howelsen Hill Lodge. For more information, contact Pat Arnone at 970-734-8966.

6-8pm JOHNSIE MEMORIAL DUAL SLALOM BICYCLE RACE
(Ages 12+, Howelsen Hill, Downtown off of 5th)
An exciting on-snow mountain bike event. Most of the action takes place on the poma ride up to the top of the course, but this year the course will include more terrain and jumps to spice up the action. Come take a chance and ride the course or spectate and watch the action. The event includes practice, qualifying, and final competition rounds. Register for FREE the night of the event, 5-5:30pm in the Fireplace Room at Howelsen Hill Lodge.
For more information, contact Wheels Bike Shop at 970-819-4805.

7pm - 11pm TITO'S MOUNTAIN SOIREE
(Age 21+, Howelsen Hill, in the Tent at Vanatta Field)
Presented by Tito's Handmade Vodka
Celebrate the 110th Winter Carnival at an 80's themed dance party with an evening of libations, food, live music by the 6 Million Dollar Band, fire pits, and more. Tickets on sale January 2, 2023. Purchase HERE. SOLD OUT

Saturday, February 11

8am 100-METER NORDIC SPRINT
(All Ages, Downtown, Lincoln Avenue)
The Steamboat Springs Nordic Council is looking for the fastest skate skiers in the Boat! They are hosting a 100-meter Nordic Sprint on Lincoln Avenue between 7th and 8th streets prior to the Street Events. The race will have male and female divisions as well as 13 and over & 12 and under age categories. Anyone interested can register for this for free. Check in the morning of the event with SSWSC XC Program Director Brian Tate at 7:30 am on 7th Street.

9am-noon STREET EVENTS
Presented by Yampa Valley Bank
A wildly entertaining show featuring children on skis and snowboards being pulled behind horses along snow-covered Lincoln Avenue. Races include street slalom, ski joring, donkey jumps, 3-legged races, 25-, 50-, and 75-yard dashes, and the famous adult shovel race. The horse events are for children ages 6-14, and non-horse events for ages 1-14. Pre-registration for horse event is required HERE. Registration opens on February 3 at 10am. Non-horse event registration is on-site the morning of the event. Don't forget your Winter Carnival button or buff to spectate!

1pm PRO ALPINE SKI JUMPING QUALIFICATIONS
(Howelsen Hill, Downtown off of 5th)
This is a must-see ski jumping event with participants launching off of the 100 meter on alpine skis and boots, rather than the usual ski jumping equipment. For more information, contact Pat Arnone at 970-734-8966, $100 entry fee.

6:45-7:15pm. SSWSC ATHLETE EXHIBITION
(Howelsen Hill, Downtown off of 5th)
SSWSC athletes demonstrate their skills as the sun sets behind Howelsen Hill!

7:30-8:30pm NIGHT EXTRAVAGANZA
(Howelsen Hill, Downtown off of 5th)
Presented by Yampa Valley Bank
Athlete Lighting Provider: Yampa Valley Electric Association
Join us for this must-see evening of entertainment at historic Howelsen Hill!
This community favorite draws thousands of spectators for an exciting light display! The evening highlights local athletes showing their prowess in the dark, lit by flares and LED lights. The Lighted Man will then ski down Howelsen Hill shooting fireworks from his pyrotechnic suit, and jumpers will soar through a fiery hoop off of the nordic jumps! End the night with a stunning fireworks show!
Spectators: Don't forget your Winter Carnival button or buff!

Sunday, February 12

9-11am STREET EVENTS
Presented by Yampa Valley Bank
A wildly entertaining show featuring children on skis and snowboards being pulled behind horses along snow-covered Lincoln Avenue. Races include street slalom, ski joring, donkey jumps, 3-legged races, 25-, 50-, and 75-yard dashes, and the famous adult shovel race. The horse events are for children ages 6-14, and non-horse events for ages 1-14. Pre-registration for horse event is required HERE. Registration opens on February 3 at 10am. Non-horse event registration is on-site the morning of the event. Don't forget your Winter Carnival button or buff to spectate!

11am DIAMOND HITCH PARADE (after Street Events)
The diamond hitch consists of at least four skiers. The skiers hold on to points of a rope tied in the shape of one or more diamonds. Animals, people or vehicles may pull the skiers down the snow-filled streets. Anyone is welcome to enter the parade. Pre-registration required.

1-2pm. PRO ALPINE SKI JUMPING FINALS
(By Qualification, Howelsen Hill, Downtown off of 5th)
This is a must-see ski jumping event with qualifying participants launching off of the 100 meter jump again on alpine skis and boots, rather than the usual ski jumping equipment. Watch as the jumpers try to break the hill record. For more information, contact Pat Arnone at 970-734- 8966, $100 entry fee.

Why Should I Purchase a Button or a Buff?

Funds from button sales go towards hosting Winter Carnival and support the athletes of the SSWSC. In addition, wearing your button or buff gives you FREE SKIING at Howelsen Hill February 8- February 12! Just go to the ticket office to receive your ticket!

Additional Event Registration and Ticket Links

The following events require additional registration and tickets:

February 8: Nordic Excavating Hitchens Brothers Wednesday Night Jump (Wednesday, February 8): Registration closes February 7, FREE. Register HERE.

February 9: S'more Family Fun Event (Thursday, February 9): Tickets on sale on January 27 at 10am. COST is $10 (12 and under) and $15 (13 and up). Purchase tickets HERE.

February 10: Christy Sports Soda Pop Slalom All Ages (Friday, February 10): Registration opens February 1 at 10am, FREE. Register HERE.

February 10: Ski Ballet (Friday, February 10): Register HERE.

February 10: Johnsie Memorial Dual Slalom Bicycle Race: Friday, February 10, at Howelsen Hill. Register 5-5:30pm in the Fireplace Room in Howelsen Hill Lodge. FREE REGISTRATION.

February 10: Tito's Mountain Soiree (Friday, February 10): Tickets on sale on January 2. COST is $135 until January 15, then the price increases to $150. 21 and older only. Purchase tickets HERE.

SOLD OUT

February 11: Amateur Ski Jumping: Register Friday, February 11, at Howelsen Hill. Register 5-5:30pm in the Fireplace Room in Howelsen Hill Lodge. COST, $25.

February 11: Cross Country 100M Skate Sprint Race on Lincoln Avenue: Saturday, February 11, 8am start. The start is located at 8th St. and Lincoln Avenue. Register on-site at 7:30am. FREE REGISTRATION.

February 11-12: Street Events (Saturday and Sunday, February 11 and 12): Registration opens February 3 at 10am, FREE. Register HERE.

February 11-12: Powder Tools Mid Winter Terrain Park Jam Session (Saturday and Sunday, February 11 and 12): Registration opens February 3 at 10am. FREE.

February 12: Diamond Hitch Parade (Sunday, February 12): Register HERE.

WINTER CARNIVAL BUTTON OR NECK GAITER REQUIRED TO REGISTER.

S'More Family Fun - February 9, 2023

(Howelsen Hill Party Tent, Downtown off of 5th Street)

Presented by Off the Beaten Path/BookTrails

Food provided by La Central Catering and Moving Mountains

Families, take part in the Winter Carnival Celebration! During the evening activities at Howelsen Hill, a family-style chili and s'more party will take place in the big white tent on Vanatta Ballfield. Just call it S'More Family Fun! Enjoy the outside ski activities, then head into the tent for warm chili, a DJ and dancing! Complete with a bonfire, fire spinners, and s'more-making outside! A Winter Carnival button is required. Purchase tickets in advance HERE. Food is served first come, first serve, 5:30-7:00pm.

Tito's Mountain Soiree - SOLD OUT

Party On and Bust a Move! Tito's Mountain Soiree

Party On and Bust a Move!

Friday, February 11

7:00 pm – 11:00 pm

The Big Tent on Vanatta Field

The Tito's Mountain Soiree 80s Theme Party featuring live music by the 6 Million Dollar Band – the ultimate 80s experience - is just around the corner! That means it's time to dig through your closet to find your best bodacious costume. Your ticket includes a hearty appetizer buffet, generous libations provided by Tito's Handmade Vodka and bonfires outside of the heated party tent. PURCHASE TICKETS HERE

Tito's Mountain Soirée is SOLD OUT. This event has been sold out since January 9, 2023. If you are interested in attending this event, please sign up for the wait list on the event website. If you purchase resale tickets through a third party, we cannot guarantee the authenticity of the tickets. If you no longer plan to attend the event, please request a refund through the event website so tickets can be available to the next person on the waitlist. If you have any questions, please email sswsc@sswsc.org.

Night Extravaganza - February 11, 2023

(Howelsen Hill, Downtown off of 5th) Presented by Yampa Valley Bank Athlete Lighting Provider: Yampa Valley Electric Association

On Saturday, February 11, the Night Extravaganza starts at 7:30pm. Turn your eyes to Howelsen Hill; lit up with colors as Winter Sports Club athletes flip through the air off the jumps while others descend the mountain leaving a red glow outlining perfect ski turns. Most known, the light-wrapped Lighted Man carves down the hill with roman candles shooting out of his backpack, which makes for a spectacular opening act for the fireworks show and the brave athletes jumping through the fiery hoop.

Athletes will begin performing at 6:15pm for the early arrivals, and the Night Show will start promptly at 7:30pm with introductions followed by torchlit skiers. Fireworks end the show between 8 and 8:30pm. Parking is limited and congested close to Howelsen Hill; consider taking a bus or walking to the show!

Don't forget to wear your Winter Carnival Button or buff!

Street Events - February 11-12, 2023

REGISTER FOR STREET EVENTS HERE, beginning February 3 at 10am.

SATURDAY, February 11

8:15am 100-meter Nordic Sprint. Register with the Nordic Council for this event.

9:00-9:35am - SkiJoring (6-9 years)

9:35-10:10am - SkiJoring (10-14 years)

10:10-10:45am - Street Slalom (10-14 years)

10:45-10:55am - 3-legged Race, 50yd (5-8 years)

10:55-11:05am - 3-legged Race, 75yd (9-11 years)

11:05-11:15am - 25yd Dash (3-5 years)

11:15-11:25am - 50yd Dash (6-8 years)

11:25-11:35am - 75yd Dash (9-11 years)

11:35-12:05pm - Donkey Jump (6-9 years)

12:05-12:10pm - Shovel Race (18+)

SUNDAY, February 12

9:00-9:35am - Street Slalom (6-9 years)

9:35-9:45am - 25yd Dog Dash (0-5 years)

9:45-9:55am - 25yd Dad Dash (0-5 years)

9:55-10:30am - Donkey Jump (10-14 years)

10:30-10:35am - Shovel Race (18+)

11:00am - Diamond Hitch Parade begins

*Events that require advance registration. Start Times are approximate

*On Saturday, the Nordic Council will put on a 100-meter Nordic Sprint. This race will start on 6th and end at 8th Street. Please contact the Nordic Council for registration information. The street events will start at 9:00 a.m. as usual.
Photo by Kent Vertrees

HORSE EVENTS

Ski Joring
(Ages 6 - 9 and 10 - 14): Contestants with skis will race a flat course down the street while being pulled by a horse. The fastest time wins.
Street Slalom
(Ages 6 - 9 and 10 - 14): Contestant with skis will ski a slalom course through a series of cones while being pulled by a horse down the street. Fastest time wins. Anyone missing a cone or falling during performance will be disqualified.

Donkey Jump
(Ages 6 - 9 and 10 - 14): Contestant will attempt to jump off a 2-foot ramp while being pulled on skis by a horse down main street. Longest distance while maintaining a standing position wins.


Photo by Dan Hebard
Shovel Race
(Ages 18 and over): Contestants will situate themselves in a shovel of any type and while being pulled by a horse, will race a flat course down the street. Fastest time wins. Anyone falling off the shovel during performance will be disqualified.


Photo by Ronal Clow

NON-HORSE EVENTS

Waivers must be signed by participants or their guardian the day of the event at the start line.

25 Yard Dog and Dad Dash

(Ages 5 and under) Children 5 years old and younger compete against one another while being pulled in a sled or toboggan (no metal runners allowed) by the family dog. All dogs must be leashed and led by the parent/dog owner during the dash. Following the dog competition will be the Dad Dash with Dad on all fours pulling the child. First one over the finish line wins.


Photo by Rory Clow

Photo by Rory Clow

3-Legged Race
(Ages 5 - 8 and 9-11) Two people on skis tie legs together (ties provided) and race to finish line. The first pair over the finish line wins.

Obstacle Course
(Ages 4-6, 7-10, and 11-14) Contestants on skis maneuver around a variety of obstacles and then make a straight dash to the finish line. First one over the finish line wins.

25, 50, and 75 Yard Dashes
25 Yard Dash for ages 3-5 years, 50 Yard Dash for 6-8 years and 75 Yard Dash for 9-11 years all on skis.

STREET EVENT RULES

Contestants must have read through the waiver statement and signed the release.

Pre-registration is mandatory for all horse events.

Contestants must wear goggles and a helmet (cycling or ski racing helmet is sufficient)

Contestants may enter only one (1) Horse Event per day.

Contestants may sign up only for events for which they are the designated age.

Contestants must have a Winter Carnival Button - available at the Winter Sports Club Offices, participating downtown merchants, and the Chamber Visitor Center

Shovel Race contestants must provide their own shovel.

Shovel Race contestants must wear a protective helmet.

Diamond Hitch Parade - February 12, 2023

REGISTER HERE FOR THE DIAMOND HITCH PARADE
The Diamond Hitch Parade is Sunday, February 12, at approximately 11 a.m., immediately following the Street Events on Lincoln Avenue. Depending on the complexity of your float, staging will happen from 8-10am These details will be shared with entrants once parade registration has ended on Wed. Feb 9th. Anyone is welcome to enter the Parade!

*** We are looking for a sleigh, cart, or alternative ride for the Winter Carnival Court as our normal sleigh is out of commission this year. If you would like to participate by driving the Carnival Queen, Court, and Princesses, PLEASE reach out!

Requirements:

1. ALL VEHICLES MUST HAVE TRACKS! No chained tires will be allowed this year

2. ALL ENTRANTS MUST PROVIDE A THREE OR FOUR LINE PARAGRAPH FOR THE ANNOUNCER TO READ (PLEASE COMPLETE WITH THIS ENTRY FORM)

3. YOU WILL BE NOTIFIED ABOUT YOUR PLACE IN THE LINEUP A FEW DAYS PRIOR TO THE PARADE. This will assist you in determining where to set up in the parade line-up.

4. FOR SAFETY REASONS, NO OBJECTS (CANDY, BEADS, ETC.) MAY BE THROWN

5. While anyone is welcome to enter the parade, only those entrants using the Diamond Hitch are eligible to be judged. The DIAMOND HITCH consists of at least four (4) skiers. The skiers hold on to points of a rope tied in the shape of one or more diamonds. Animals, people or tracked vehicles may pull the skiers down the snow-filled streets.

6. 1st - 3rd place will be awarded in the Primary (K-5th Grade), Intermediate (6th-12th Grade), Adult and Commercial (Business) Categories. If you would like your entry to be judged, please be sure to indicate so on the entry form.

Entrants who wish to be judged must:

Wear costumes and use decorations that represent the Winter Carnival Theme: Where Legends are Made
Use at least one diamond hitch
Be on skis or snowboards
Hold the diamond position throughout the parade route
*** We are looking for a sleigh, cart, or alternative ride for the Winter Carnival Court as our normal sleigh is out of commission this year. If you would like to participate by driving the Carnival Queen, Court and Princesses, PLEASE reach out!

BUTTONS ON SALE NOW

A 2023 $10 Winter Carnival button or $15 neck gaiter is required to spectate or participate at all Winter Carnival events, plus show your button or neck gaiter at the Howelsen Hill ticket office for a ticket to ski or ride on Howelsen Hill February 8-12, 2023, FREE. Some events require additional registration or tickets. Proceeds support SSWSC athletes! Collectible Winter Carnival buttons are ON SALE NOW at the locations listed below or order a buff or button online before February 1, 2023, ORDER NOW
SSWSC athletes and coaches will receive a complimentary button!

PURCHASE BUTTONS AT THESE LOCATIONS:

Ace at the Curve
Alpine Bank
Allen's Clothing
Arctic Liquors
Christy Sports
City Market
City of Steamboat Springs
FM Light & Sons
Info Center at Steamboat Resort Corp
Lyons Drug
Off the Beaten Path
Old Town Hotsprings
One Steamboat Place
Paws N Claws
Safeway
Ski Haus
Steamboat Art Museum
Steamboat Chamber of Commerce Steamboat Grand-Concierge
Steamboat Resorts Sotheby's Wildhorse Sotheby's Town Sotheby's Mountain
UCHealth-Yampa Valley Medical Center
Wild Plum
Yampa Valley Bank

This year's button artwork is by 14-year-old Steamboat Mountain School student Davis Brosterhous.

Davis' Inspiration: "I am an SSWSC athlete and train at Howelsen Hill multiple days a week. Howelsen Hill plays such a huge role in our community and Winter Carnival, and I really wanted to express that in my art piece. Every day I walk to Howelsen from school, I see the same perspective as what I drew in my art piece. So, when we were given the Winter Carnival button assignment in art, I just drew it by memory. Howelsen Hill is a big part of life for skiers, locals, and the whole town of Steamboat, and that is why it was my Inspiration for the Winter Carnival button this year."

Winter Carnival Posters and Neck Gaiters

Steamboat Sotheby's International Realty revealed the original artwork for the 2023 Winter Carnival poster in December 2022, created by local artist Joanne Orce. The same artwork is printed on cozy neck gaiters, also available for purchase. The poster will be auctioned at the SSWSC Foundation "All In!" fundraising event on Saturday, February 11, benefiting the SSWSC Scholarship Fund. For additional information or to express interest in the auction, please contact Ellen Campbell, SSWSC Director of Development, at ecampbell@sswsc.org or call 970/439-0860.

A 2023 $10 Winter Carnival button or $15 neck gaiter is required for entry/spectating at all events.

Neck gaiters and posters are available at the following:

FM Light & Sons
Lyon's Corner Drug
Off the Beaten Path
Pine Moon Gallery
SSWSC Office
Steamboat Sotheby's Realty Offices
Steamboat Specialties

Neck gaiters are available at the following:

Ski Haus
Howelsen ticket office (during Winter Carnival)

The 110th Winter Carnival artwork was created by local artist Joanne Orce and sponsored by Steamboat Sotheby's International Realty.

2022 WINTER CARNIVAL ARTWORK INSPIRATION

For the Winter Carnival poster, Orce drew inspiration not only from landscape but from her roots as a lifelong athlete to arrive at the design that would be at the heart of the painting, a ski jumper in mid-flight. She wanted the poster to be centered around the kids, so she polled the kids on her swim team to find out their favorite event—the consensus was the Soda Pop Slalom, so Orce integrated that into the foreground, including a lot of detail in what she describes as "this world on Howelsen Hill, kind of like Where's Waldo".

The original artwork will be on display at Pine Moon Gallery starting Friday, December 9, 2022.

Winter Carnival Memories Tread of Pioneers & Steamboat Radio

Two new events this year celebrating the history of Winter Carnival with Tread of Pioneers!

Wednesday, February 8 - noon: Olympic Heritage Tour with Ben Berend, Howelsen Hill

Thursday, February 9 - 5:30-6:30pm: Winter Carnival Memories, Olympian Hall, Howelsen Hill Join the Tread of Pioneers Museum and the Steamboat Springs Winter Sports Club for a special evening with a panel of longtime locals sharing their favorite memories of Winter Carnivals throughout the decades. Free hot beverages served. No rsvp, free event. MORE INFORMATION.

Winter Carnival Memories

By Candice Bannister, Executive Director Tread of Pioneers


Introduced by Norwegian ski jumping pioneer Carl Howelsen, the first Winter Carnival events in Steamboat Springs took place in 1914 on Woodchuck Hill, the present site of Colorado Mountain College. The first Carnival introduced ski jumping and competitive skiing to the people of Steamboat Springs. Until then, skiing was mostly a mode of winter transportation in the deep Routt County winters. Officials estimated that 1,500 to 2,000 people gathered to watch the simultaneous jump by Carl Howelsen and James Pestrud that first year. The events were so popular that residents decided Winter Carnival should return annually. The mid-winter Carnival also serves as a fundraiser for the Steamboat Springs Winter Sports Club. If only Howelsen could see the renowned club now—how proud he would be.

Though many people celebrate the Carnival that has evolved over the last century, few know just how this tradition came to be. It all started in 1913, in neighboring Hot Sulphur Springs, when Steamboat Springs resident and outdoor enthusiast Marjorie Perry (sister of Charlotte Perry, co-founder of Perry-Mansfield Performing Arts School and Camp) stumbled upon the former Barnum and Bailey Circus Star Carl Howelsen, and his "Winter Sports Carnival" while on her trip from Denver to Steamboat Springs by way of the Moffat Railroad. Ms. Perry was so impressed by the ski jumping events she witnessed there, she convinced Howelsen to come to Steamboat for an exhibition. Howelsen's son, Leif Howelsen, confirmed that as soon as his father saw the town, "he immediately knew that Steamboat Springs was the place for him. The mountains, the open valleys, the ranches, and the people, everything appealed to him." Howelsen soon made Steamboat Springs his home and the town would never be the same again.

The depth of Howelsen's influence cannot be overstated. His contributions to the sports of skiing and ski jumping form the foundation of the history of these sports in this state and country. Locally, not only was he the founder and coach of the first Steamboat Ski Club (now the Steamboat Springs Winter Sports Club) and the Winter Carnival, but he also built the first ski jumps on Howelsen Hill, set ski jumping records, taught countless residents how to ski jump and ski for fun and competition, and coached early competitors including Steamboat's first Olympian ski jumper John Steele. Of all of Howelsen's contributions to our community, perhaps his most impactful gifts were those he imparted to the local youth, summarized in this fitting tribute from the Steamboat Pilot: "During his time here, he taught the young riders to compete for the love of the sport, and has set an admirable example by never letting his medals get too heavy for him."

Sources: The History of Skiing at Steamboat Springs by Sureva Towler and the Flying Norseman by Leif Howelsen.

Brian Harvey at Steamboat Radio conducted interviews of "Favorite Winter Carnival Memories." Listen to them below! PJ Wharton's favorite memory, presented by Yampa Valley Bank Loris Werner shares his favorite memories, presented by UCHealth Bobby Yaeger remembers generations pulling kids down Lincoln Avenue, presented by the City of Steamboat Springs Bob Dapper's favorite memory was attempting to fly off the jumps carrying a full sized flag! This memory is presented by Native Excavating SSWSC Sport Development Director Blair Seymour discusses her favorite memory of her son, World Cup Racer Jett Seymour, participating in the Soda Pop Slalom. Presented by Deer Park Road Corporation Local Jeff Temple shares memories of the Lighted Man, Presented by Smartwool Steamboat local and creator of the World Record Breaking Firework, Tim Borden, shares his favorite Winter Carnival Memories presented by Steamboat Resort Executive Director Candice Bannister, from the Tread of Pioneers Museum, shares her favorite memories about Leif Howelsen. Presented by Steamboat Sotheby's International Realty.

Questions

Please

.(JavaScript must be enabled to view this email address)

with any questions or call the Steamboat Springs Winter Sports Club at 970-879-0695.
Check out the story of the 2022 Winter Carnival using #109WinterCarnival