Thursday, January 2, 2020 The Moose Barrows' Trophy Howelsen Hill - Steamboat Springs
Did you know that you can RACE against Ted Ligety on Thursday, January 2nd at Howelsen Hill!? Entry includes parties, mingling with Ted and other pros, anda small field that means your chance to win back at least part of your entry in price money is relatively high! Plus, your racing skills could be on TV! (CBS Sports Network)
Do you have what it takes?
REGISTER NOW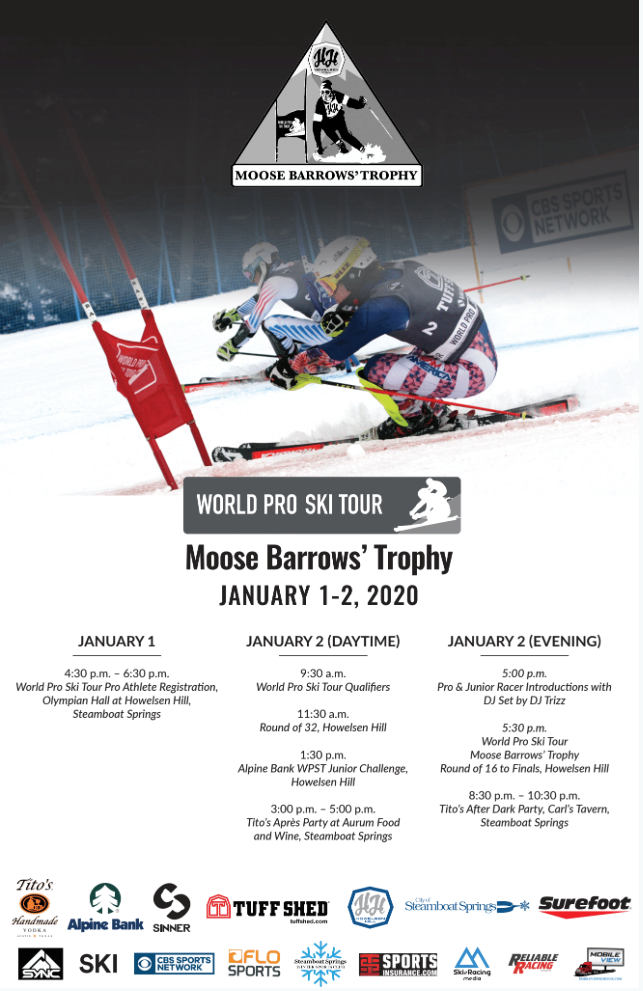 The World Pro Ski Tour (WPST) kicked off the season of action-packed, professional alpine ski racing events in Vail, Colorado on December 14, 2019 and now heads to Howelsen Hill in Steamboat Springs on January 2.
Exciting head-to-head racing featuring some of the best skiers in North America. The Steamboat event will be the debut of double Olympic gold medalist and 5-time World Champion, Ted Ligety in the World Pro Ski Tour. The race is open to anyone, and we expect several local racers to sign up to try to compete head-to-head with Ligety and other pro athletes, including 2019 Tour Winner and World Championships silver medalist, Phil Brown, and two-time Olympian Nolan Kasper. The finals at night should draw a huge crowd. The event will be live-streamed via Facebook and FloLive.tv, with a highlights show to air on CBS Sports Network one week following the event.
About the World Pro Ski Tour
The World Pro Ski Tour is a nationwide tour of events where professional skiers race side-by-side in a single elimination format. Prize money and an overall World Pro Tour title attract Olympians and professional skiers from around the world. Tour athletes compete for points and an overall Tour title. A special World Pro Ski Tour World Championships event will be held at Taos Ski Valley, April 10-12, 2020. On-site spectators and TV viewers can watch all stops on the Tour in an exciting and easy to understand format.
If You Go
What: World Pro Ski Tour
Where: Howelsen Hill, Steamboat Springs
When: January 1 & 2, 2020
Jan 1
Pro Athlete Registration – 4:30 pm – 6:30 pm, Olympian Hall
Jan 2
9:30 am - 11:00 am WPST Pro Qualifications, Howelsen Hill
11:30 am – 1:00 pm Moose Barrows' Trophy – Round of 32
1:30 pm – 4:30 pm Alpine Bank WPST Junior Challenge
Cheer on Steamboat Youth Athletes as They Compete for Scholarships and Meet Pro Racers! Alpine Bank supports programs and opportunities that affect young people in the communities they serve around Colorado. Coming together withthe World Pro Ski Tour, the Alpine Bank World Pro Ski Tour Junior Challenge offers scholarships to the top athletes.
3:00 pm – 5:00 pm Tito's Après Party – Aurum Food & Wine
5:00 pm – Alpine Bank WPST Junior Challenge winners & Pro Racer Introductions and DJ set by DJ Trizz
5:30 pm – 7:00 pm Moose Barrows' Trophy – Dual Super-Slalom, Round of 16 to Finals – Live Stream on FloLive.tv
Top 4 Awards – Finish Area Immediately following the Pro race
8:30 pm – 10:30 pm Tito's Après Party – Carl's Tavern

Schedule subject to change