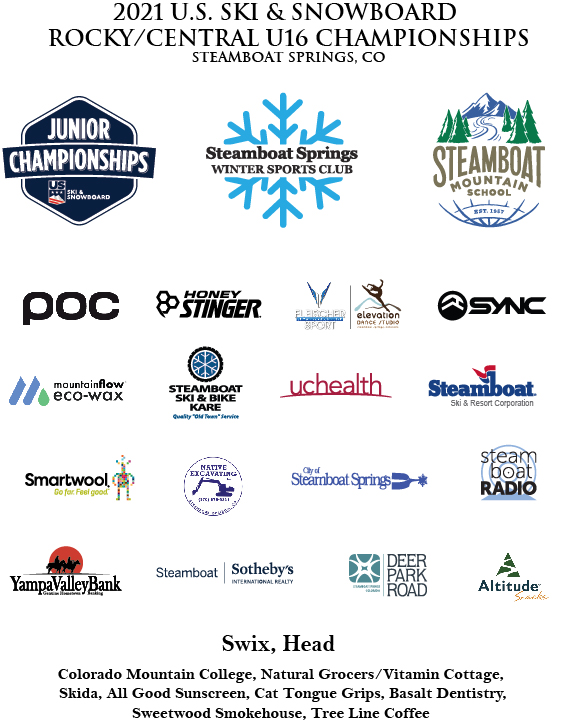 The 2021 U.S. Ski & Snowboard Rocky/Central U16 Championships featured the top 14, 15 and 16 year old skiers from the 18 state Rocky/Central region, from Ohio and Michigan through Colorado to Arizona and New Mexico.
Watch!
Check out the archived videos on the bottom of the page.
Awards

Women's Downhill Awards
Men's Downhill Awards Women's Super G Men's Super G Women's Combined Men's Combined Women's Slalom Men's Slalom Men's GS Men's Overall Women's Overall

Race Results

OVERALL STANDINGS
Final Overall Standings Girls
Final Overall Standings Boys

For individual race results, go to www.ussalivetiming.com and search the dates March 2-5, 2021.
Check Out Your Race Photos!
The photographers at Fresh Prints were at will be at all the events (except the night slalom) catching the athletes on film. Check out the photos online at the Fresh Prints website. Complete portfolios are available for all racers, package rates not available on website so call or stop by the store in Gondola Square, upper level, between Gondola Pub & Grill and the Sheraton. For more information, email them at FreshPrints@photosteamboat.com or call 970.875.3463.
Be Part of the Conversation!
Visit our U16 Champs Facebook Page for photos, updates, and additional information! If you have photos you'd like to share with everyone, tag them on social media as #SteamboatU16Champs and tag @RockyCentralU16Champs, and our Twitter feed @SSWSCHowelsen.
Questions?
Contact the SSWSC office at 970.879.0695 or email.
Archived Videos
Videos are available to view until the end of March
Women's Downhill, March 2
Men's Downhill, March 2
Women's Super G, March 3
Men's Super G, March 3
Women's Super Combined Slalom, March 3
Men's Super Combined Slalom, March 3
Women's Slalom Run 1, March 4
Women's Slalom Run 2, March 4
Men's Slalom Run 1, March 4
Men's Slalom Run 2, March 4
Men's Giant Slalom Run 1, March 5
Men's Giant Slalom Run 2, March 5
Women's Giant Slalom Run 1, March 5
Women's Giant Slalom Run 2, March 5
#SteamboatU16Champs