Watch the Races
Watch the event on YouTube, just search "Murphy Roberts Holiday Classic" on the YouTube app on your Smart TV, phone or tablet, or click on the links below.
December 23 - Run 2 Women & Men
December 23 - Run 1 Women & Men
December 22 - Run 2 Night Race Women & Men
December 22 - Run 1 Women & Men
December 18 - NJR Race #2 Men
December 18 - NJR Race #1 Men
December 17 - NJR Race #2 Women
December 17 - NJR Race #1 Women
About the Race
This race features top club and collegiate racers compete on one of the toughest slalom hills in the country at Howelsen Hill in the Murphy Roberts Holiday Classic. This marquee race was renamed in honor of Murphy Roberts, a former SSWSC alpine athlete who passed away unexpectedly in 2016 at the age of 22. The race attracts a strong national field and a crowd that typically only graces European competitions at this level. With substantial prize money on the line, the stakes are high and the racers are fast!
Curious who has taken home the historic prize purses and shown their prowess as skiers in the past? View a list of winners here.
Race Photos by Tania and Chuck Coffey
One of the many traditions of the Murphy Roberts Holiday Classic are the outstanding action photos taken by long-time SSWSC supporters Tania and Chuck Coffey. Their photos will be posted here and available for purchase and download after each race day. VIEW AVAILABLE PHOTOS NOW
Historic Prize Purse For December 22 & 23 Races!

The women and men will be competing for the largest prize purse in regional FIS racing history for the events on Wednesday night and Thursday. $29,000 will be awarded over the two days!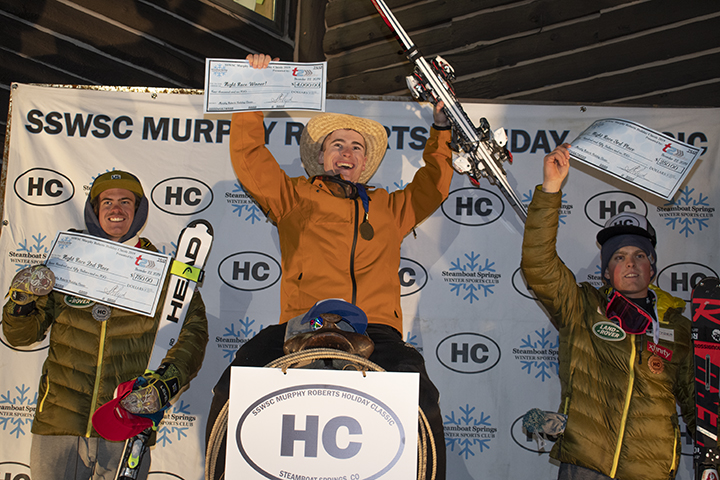 Special thanks to our prize money sponsors:
World Cup Dreams
Ron & Sarah Simon
Edward Jones offices of Chris Puckett and David Lamb
David Baldinger, Jr.
Colgan Foundation
Gwen Rogers
Emich Volkswagen
David High, Alpine Bank
Peter Daley
$1,000 Murphy Roberts Holiday Classic Scholarships Awarded
The Murphy Roberts Holiday Classic Scholarship Award were awarded to Sophia Palmquist and Jeremy Nolting, who demonstrate a passion for alpine ski racing while selflessly providing a level of enthusiasm, fun, and team participation that supports his/her teammates in a way that stands out among the field of eligible participants, according to the Roberts family. The award recipients received $1,000 to use toward their skiing and academic pursuits. The Roberts Family hopes that this scholarship will continue to encourage athletes to push one another and to cheer loudly for their teammates and fellow competitors!