Due to the Covid-19 epidemic, all SSWSC summer programming is subject to change. Program start/end dates, times, schedules, structure and prices may be adjusted. If necessary, programs may be cancelled. We will communicate any program changes to all families who have registered.
Summer on-snow camps are a valuable opportunity to work on fundamental skills and to be immersed in all the performance domains of alpine skiing (technical, tactical, physical, mental, equipment preparation, team dynamics and culture). Due to the COVID-19 pandemic and associated safety and health protocols, our summer camp offerings are subject to change.
Due to state and local regulations, we will not be able to provide team transportation or lodging for these camps.
June Fundamentals Camp at Copper Mountain
DATES: June 3-16 (full camp), June 3-11 (short camp)
AGES: U16 & older. Current SSWSC athletes, SSWSC athletes in college and prospective SSWSC athletes only.
CAMP COST: Full camp $1,725; Short camp $1,200
DETAIL: A technical fundamentals focused camp with skiing in and out of gates. Introduction to basic, rhythmic courses. Sets the foundation for the remaining summer camps and for fall on-snow progressions. A great time to get back to the basics and address some of the technical deficiencies from the previous year. Also a great time to get used to or try out new equipment. Skiers planning to attend July or August sessions should participate in this camp to fully take advantage of the next camps, the training is progressive.These camps will be day camps only with morning skiing followed by dryland recovery or conditioning and video analysis. No team transport or lodging.
DAILY SCHEDULE: On-snow days June 3-6, June 8-11 and June 13-16. Load lift at 6:00 or 8:30am, will vary over the course of the camp. Skiers should be off the hill by 9:00 or 11:30, will have a break and start dryland session.
July GS/SL Camp at Mount Hood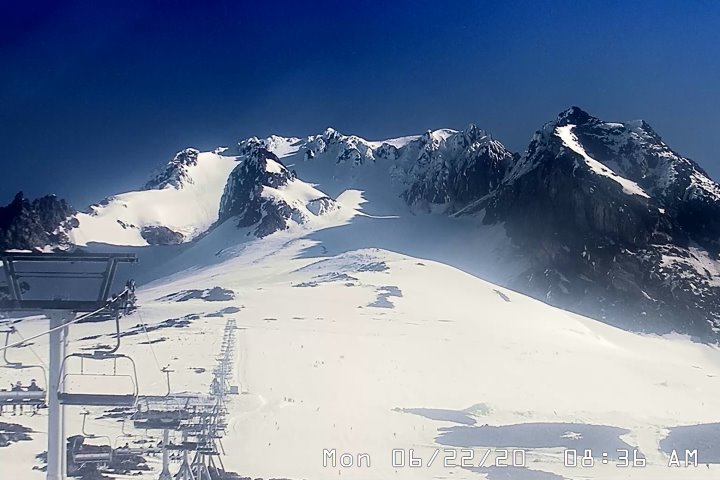 DATES: July 11-19
AGES: U16 & older. SSWSC athletes and alumni only.
CAMP COST: $1,575
DETAIL: Building from the June camp, this camp spends more time in GS and SL gates and introduces more challenging course sets and terrain. Focus is on honing technical fundamentals and improving line. These camps will be day camps only with morning skiing, afternoon dryland, and no team transport or lodging.
DAILY SCHEDULE: July 11-14: AM skiing, PM dryland; July 15: OFF; July 16-19: AM skiing, PM dryland (no dryland July 19). Done by noon on July 19.
August SL Camp at Mount Hood
DATES: August 8-15
AGES: FIS
CAMP COST: $1,350
REGISTRATION DEADLINE: July 27 - after this date only if space is still available. To register click here. Space is limited, register early!
DETAIL: Building from the June and July camps, this camp focuses on SL courses on the upper lanes on the Palmer snowfield. Fundamentals in short and medium radius turns and a focus on race line. This camp will be day camp with morning skiing, afternoon dryland, and no team transport or lodging.
COVID CONSIDERATIONS: The state of Oregon and Clackamas County are currently at the same COVID risk level as Colorado and Routt County, but this may change. If the camp is cancelled prior to August 6, full refunds will be made. From August 6 through the camp, only recoverable costs will be refunded in the case of a cancellation or termination. There will be daily symptom checks prior to training. SSHS students must register for and obtain a COVID test between August 19-21 upon their return to Steamboat as a condition of attendance at this camp. Any other camp participants that will be attending school in-person prior to August 31 should also arrange for testing. Students who start school after August 31 are encouraged to quarantine or test upon returning home. See latest Routt County public health and travel guidance here.
DAILY SCHEDULE: August 8-11: AM skiing, PM dryland; August 12: OFF; August 13-15: AM skiing, PM dryland (no dryland August 15)
COACHING STAFF: Mike Bansmer, Robert Baker, Sean McCormick, Noah Freed
PLANNING YOUR TRIP TO MOUNT HOOD
Our lodging partner for many years at Mount Hood has been Collins Lake Resort located in Government Camp. Their chalet units include garages for tuning and are well-appointed with full kitchens and laundry. When we learned that we could not provide team lodging this summer for our June camp, they graciously provided a full refund of our reservation. We recommend staying here, check them out at www.collinslakeresort.com. Mention the discount code "steamboat" for 10% off. The coaches will be staying here. Government Camp is the most central location for access to camp activities, but the towns on the way to Portland on Hwy 26 have houses and condos for rent that are close as well (Rhododendron, Zig Zag, Welches, Mt. Hood Village).
For more information, contact Tyler Shepherd