SSWSC is excited to start the new year by recognizing exemplary SSWSC athletes who are achieving on and off the mountain through an Athlete of the Week program. Athletes across the club will be highlighted for community service, sportsmanship, academic and extracurricular achievement and athletic performance and are featured in the Friday edition of the Steamboat Today.

March 24th, 2017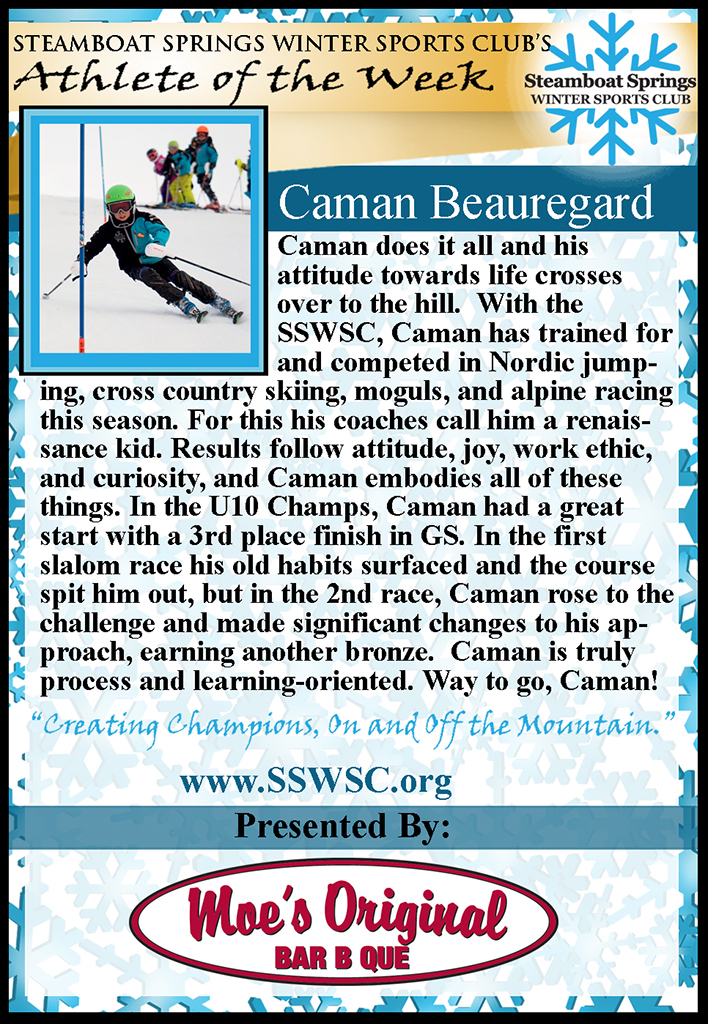 March 17th, 2017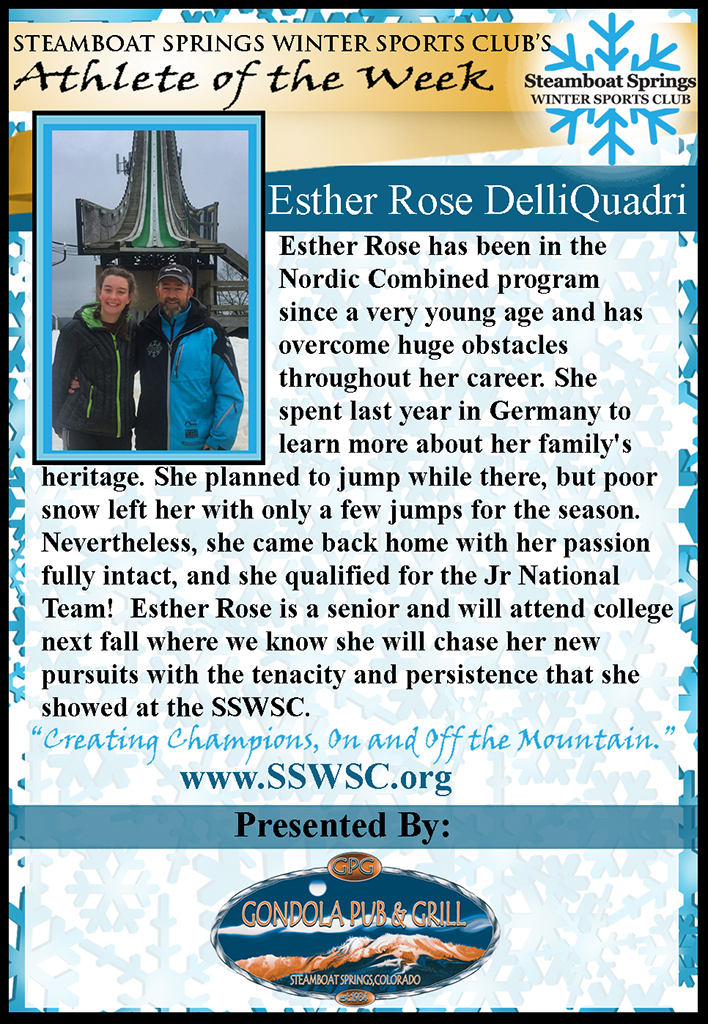 March 10, 2017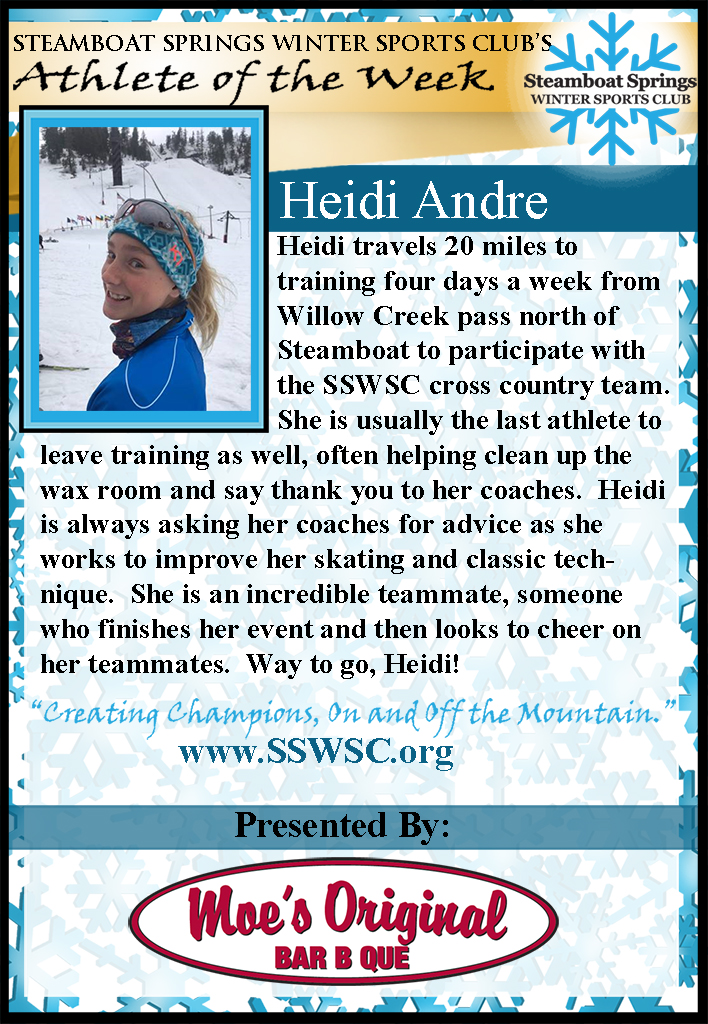 March 3, 2017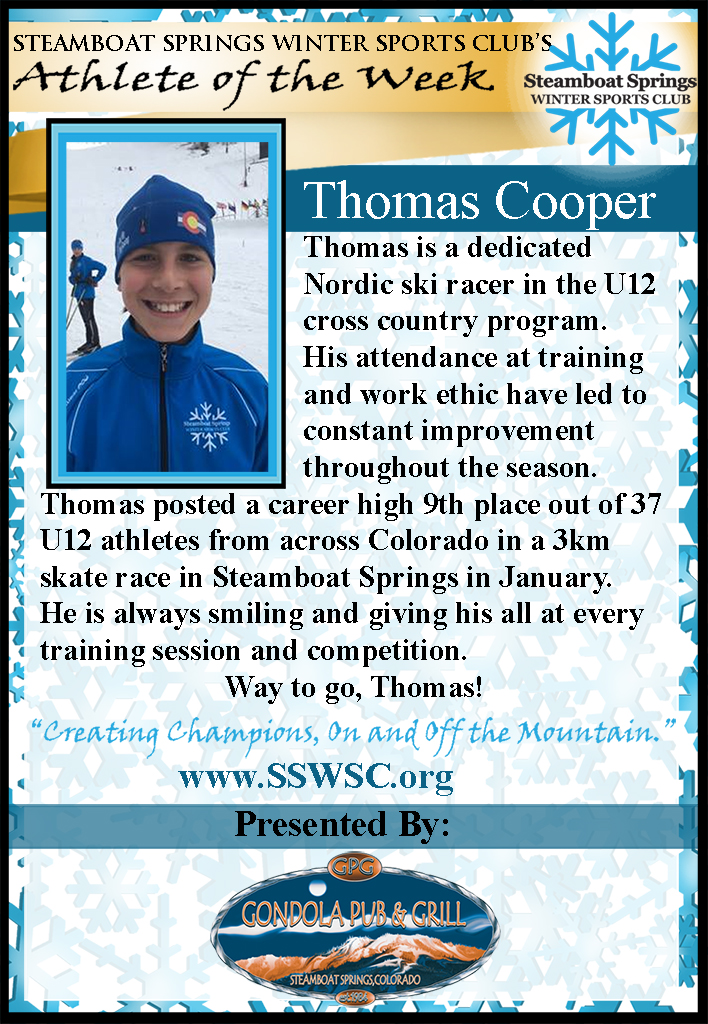 February 24th, 2017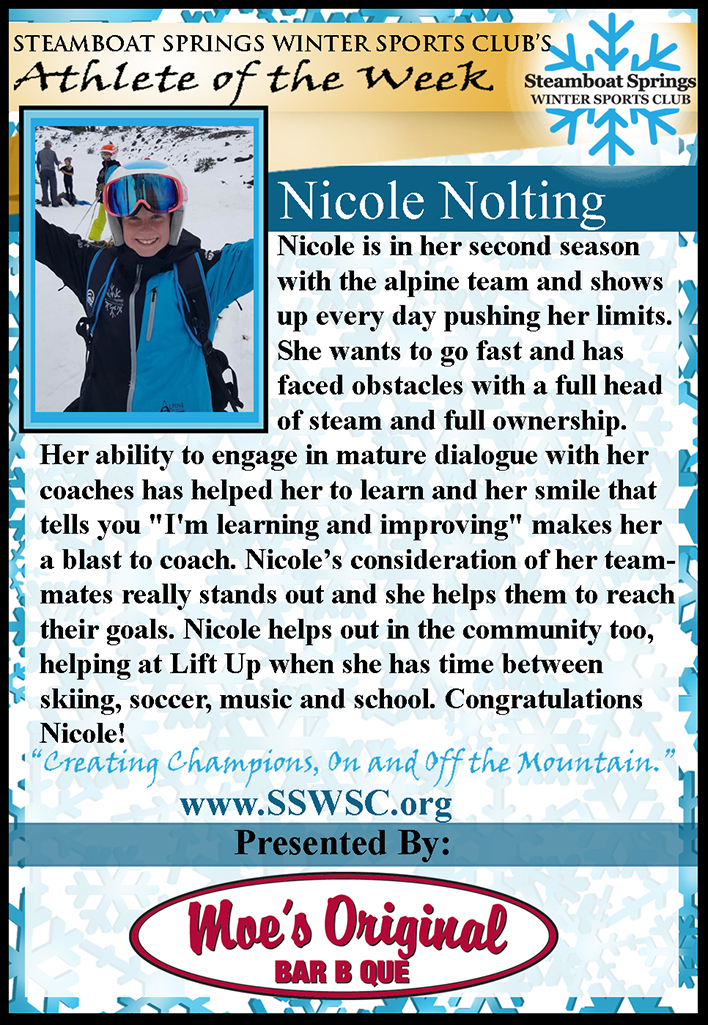 February 17th, 2017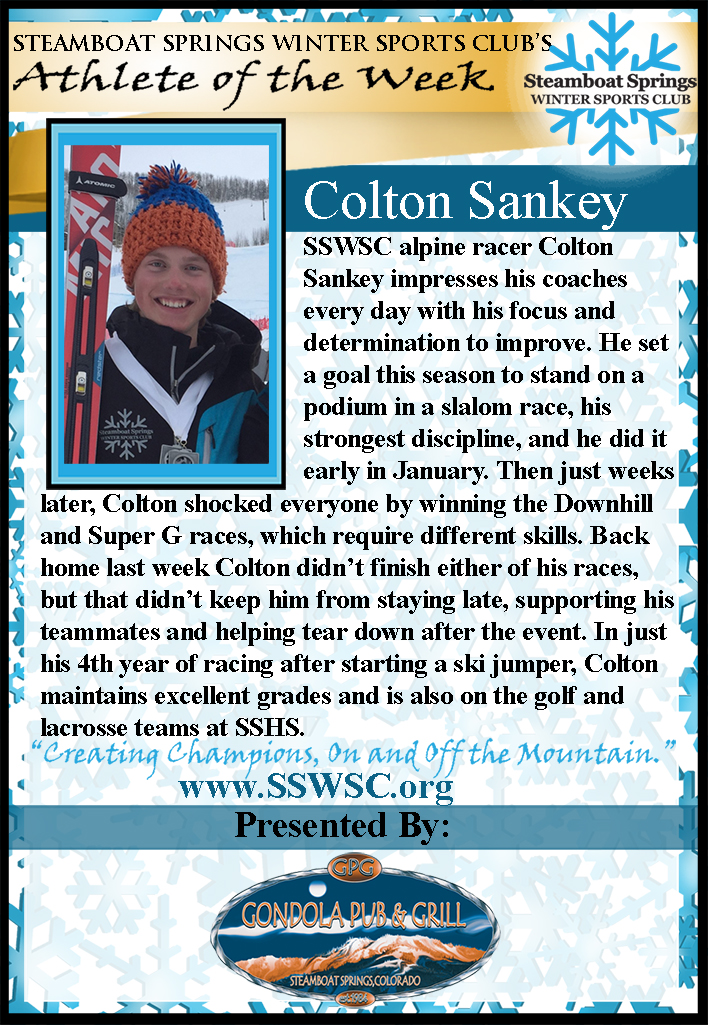 February 10th, 2017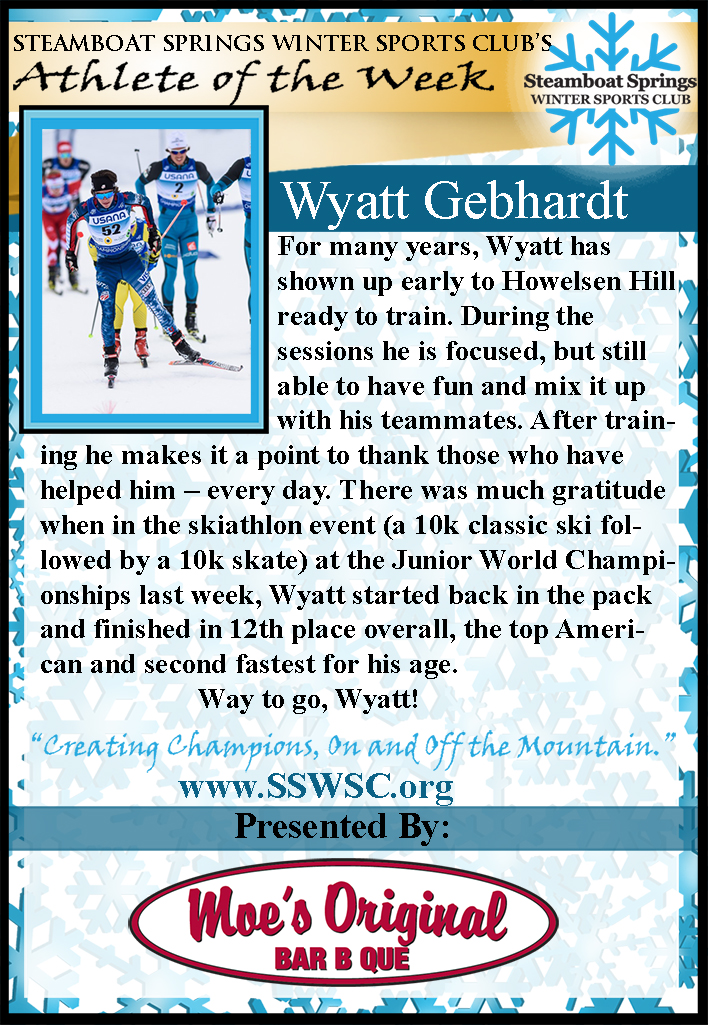 February 3rd, 2017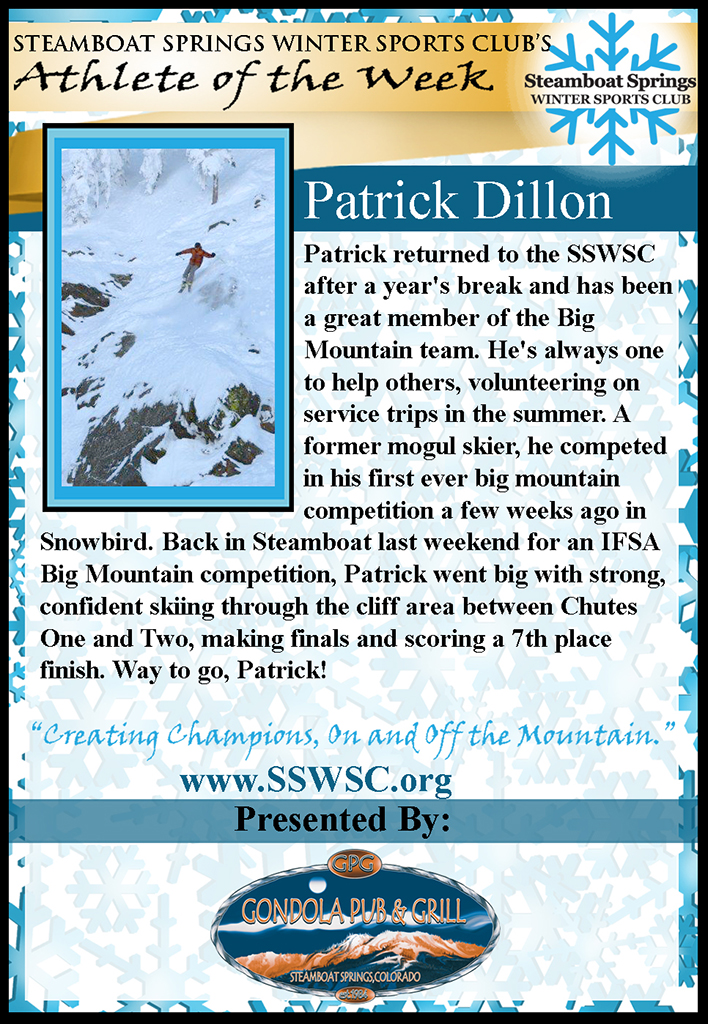 January 27th, 2017

January 20th, 2017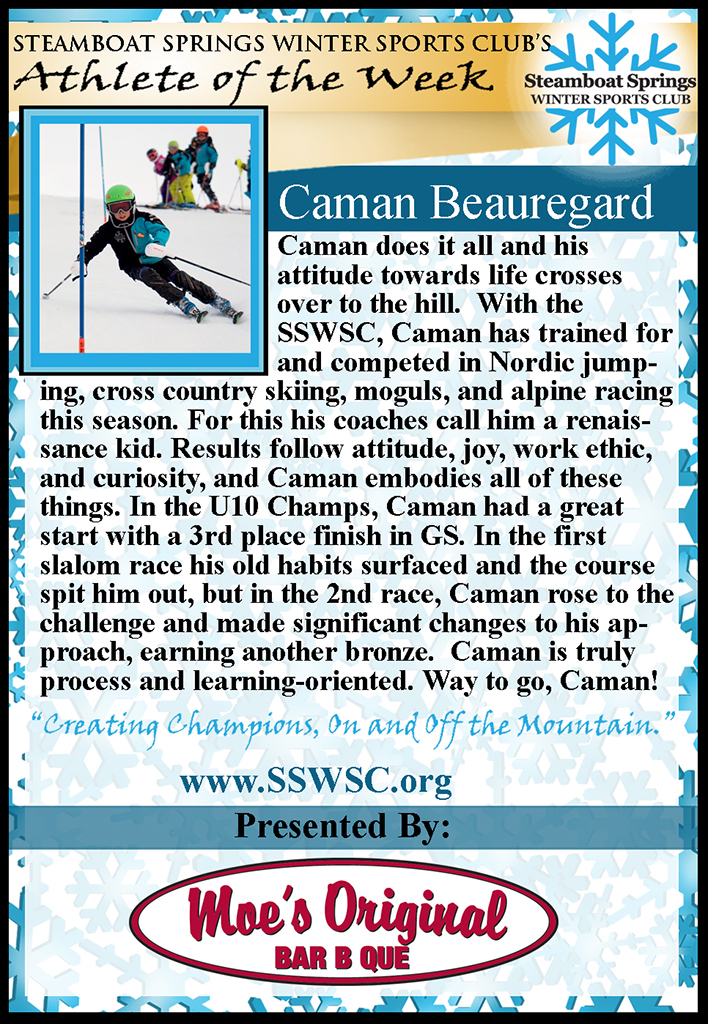 January 13th, 2016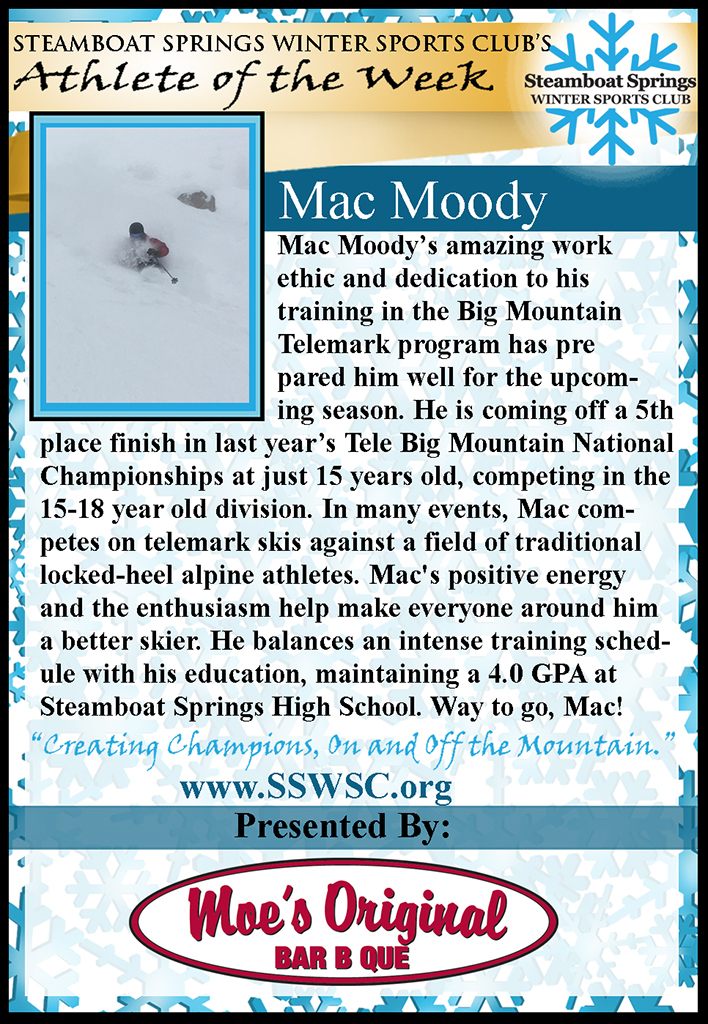 January 6, 2017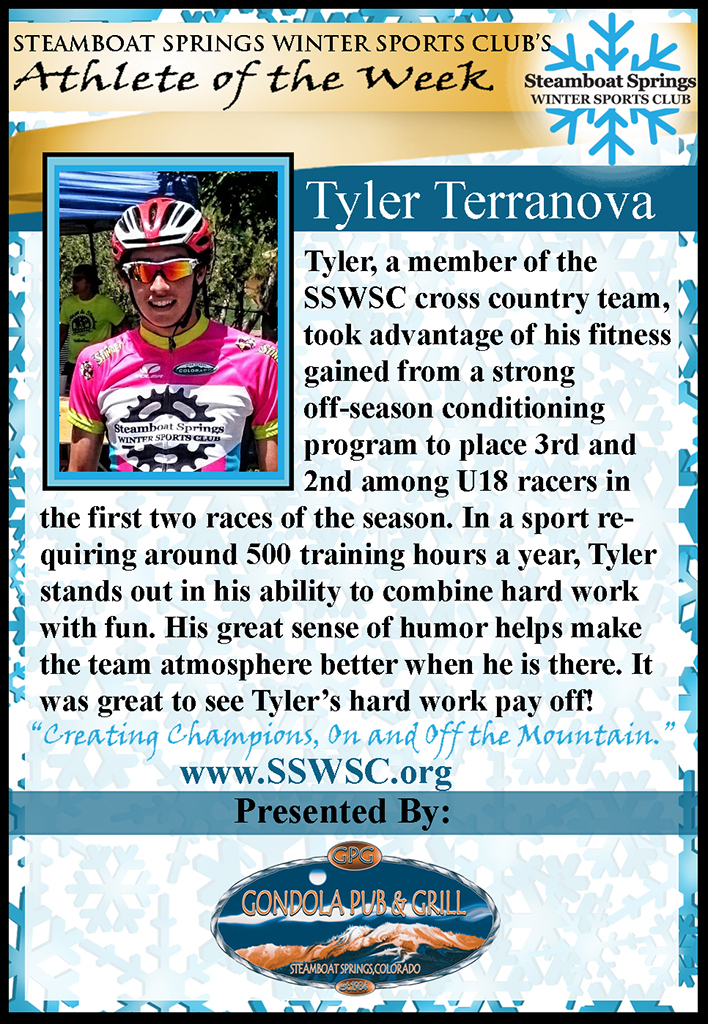 December 30th, 2016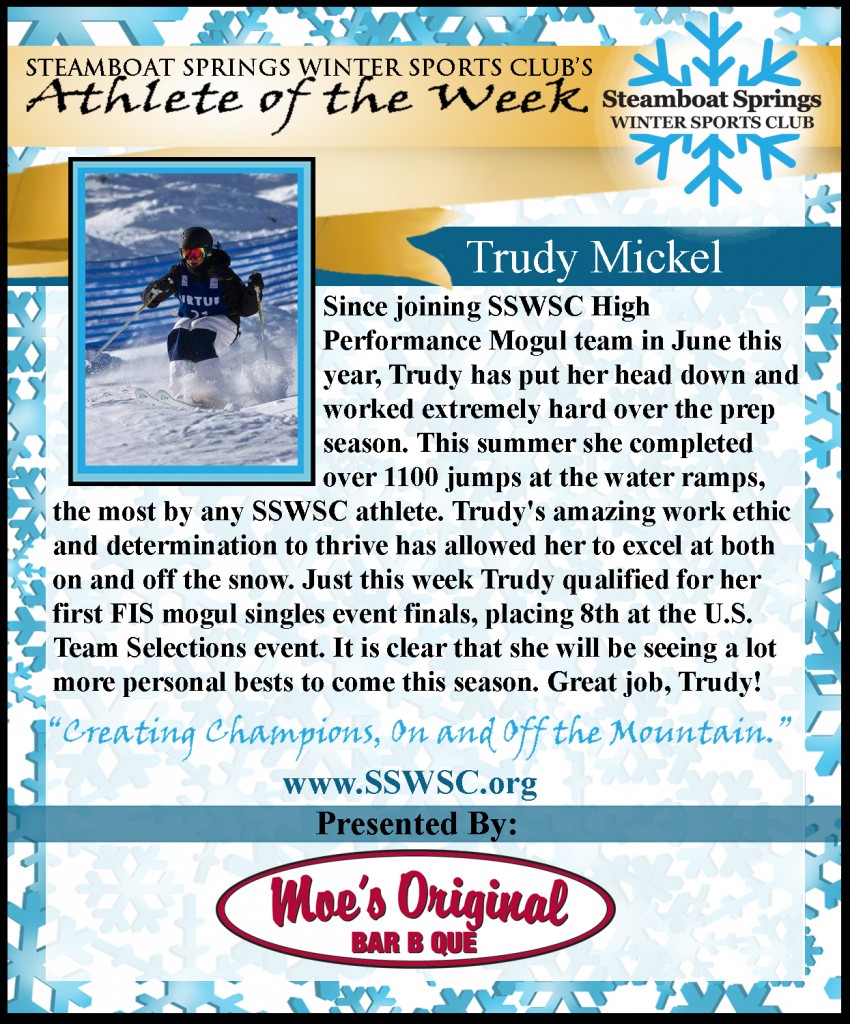 December 23rd, 2016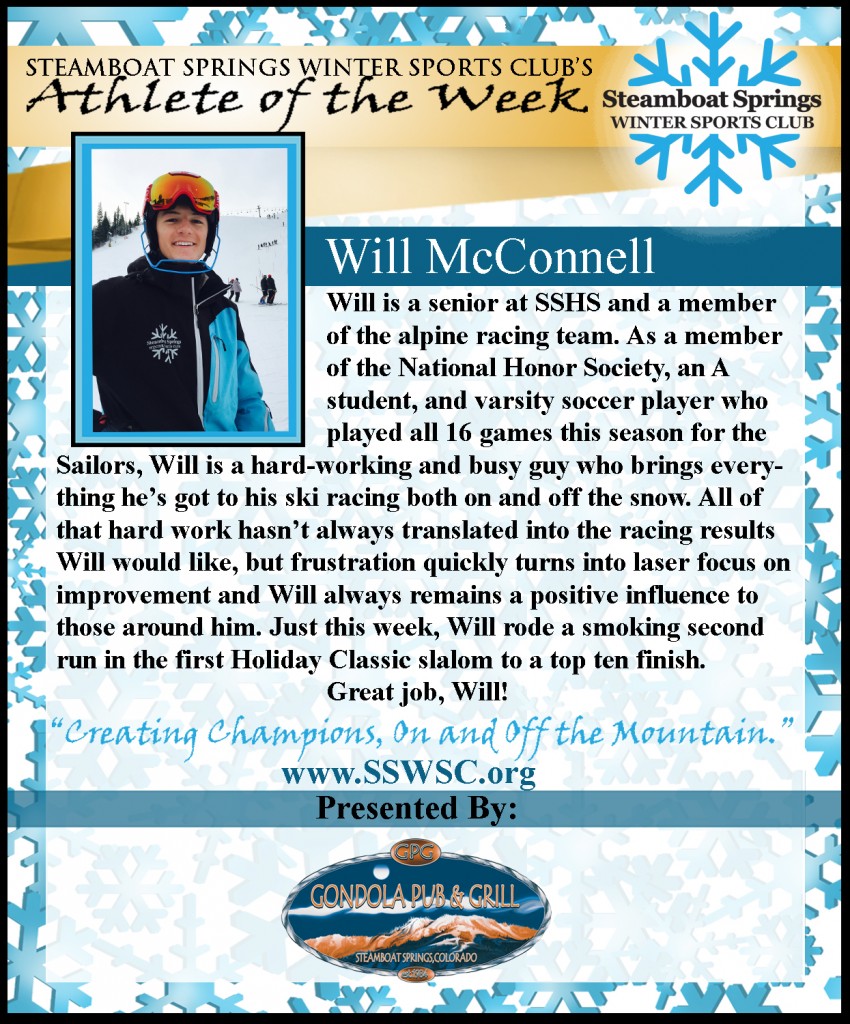 December 16th, 2016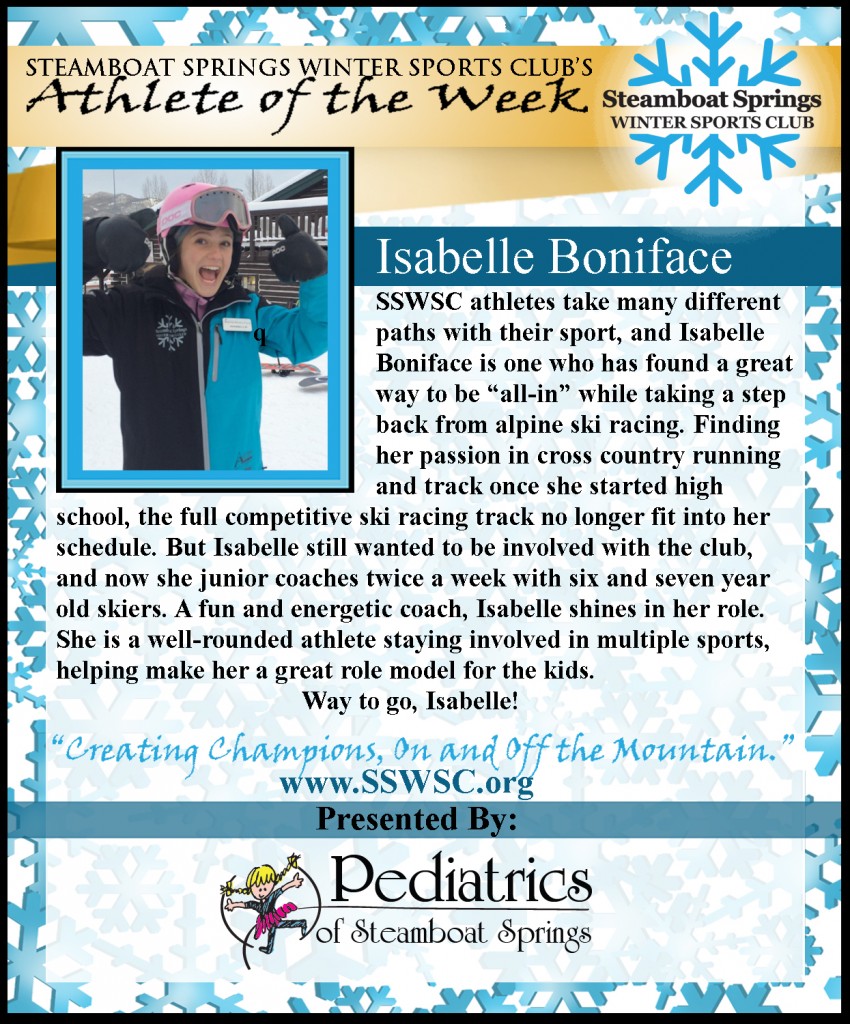 December 9th, 2016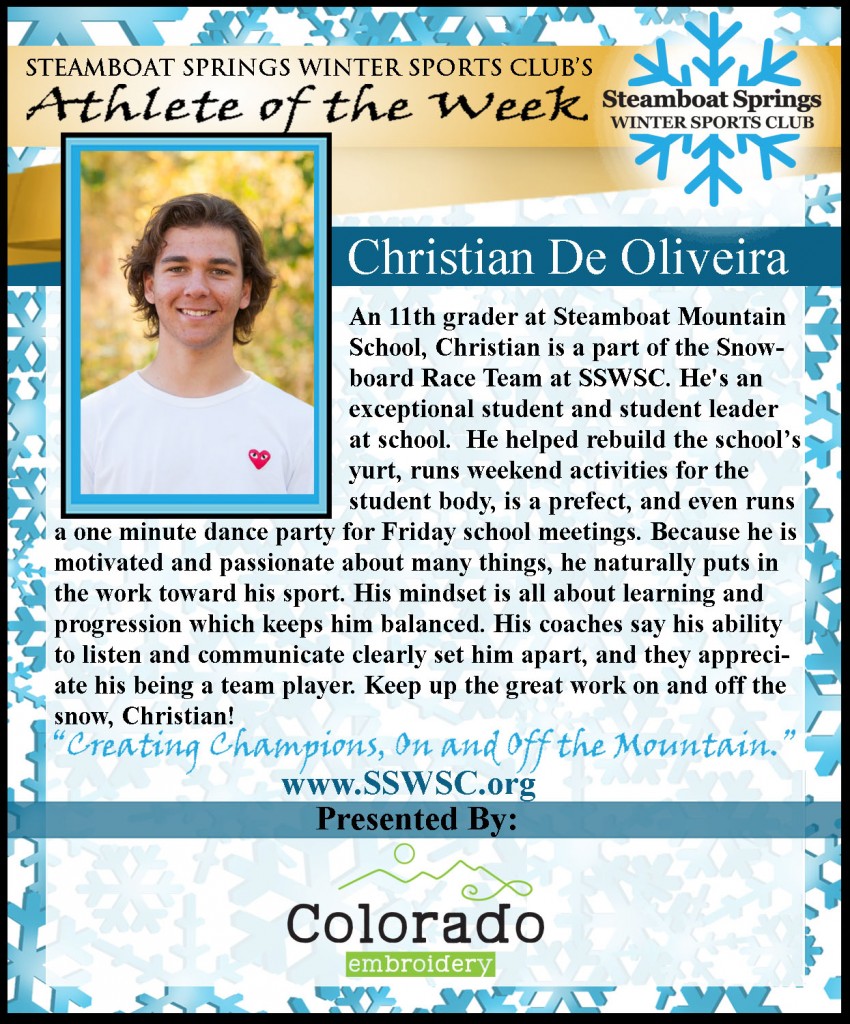 December 2nd, 2016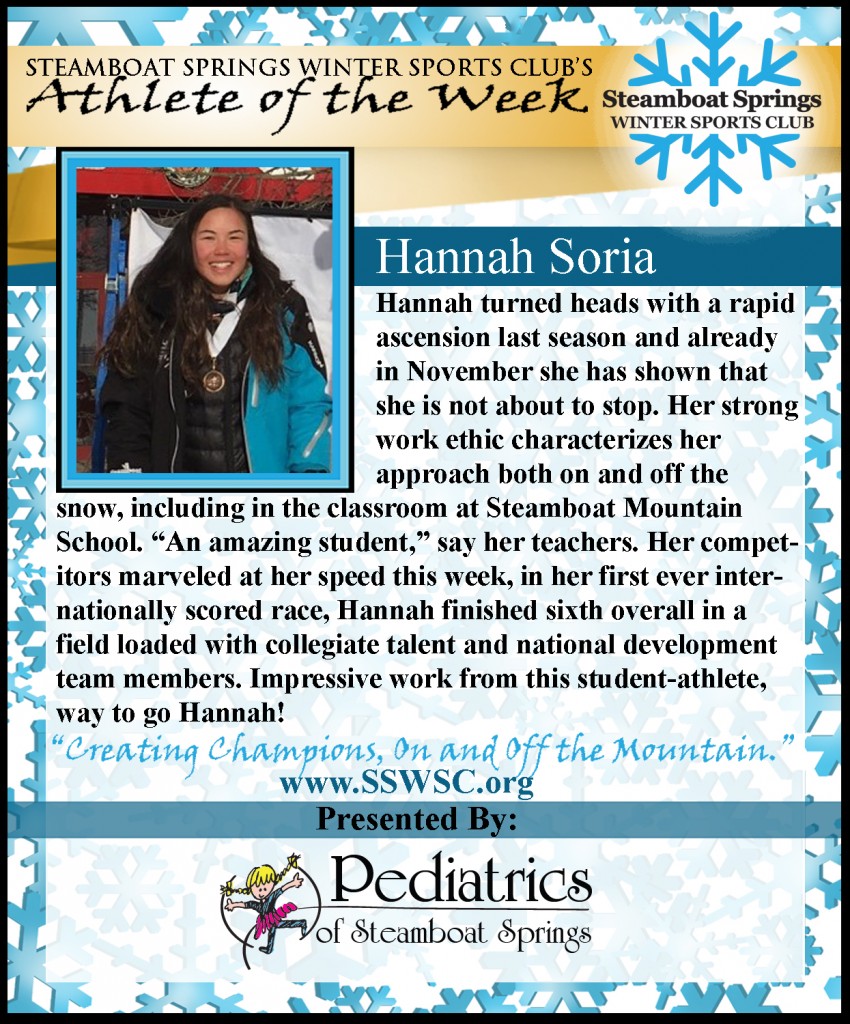 November 25th, 2016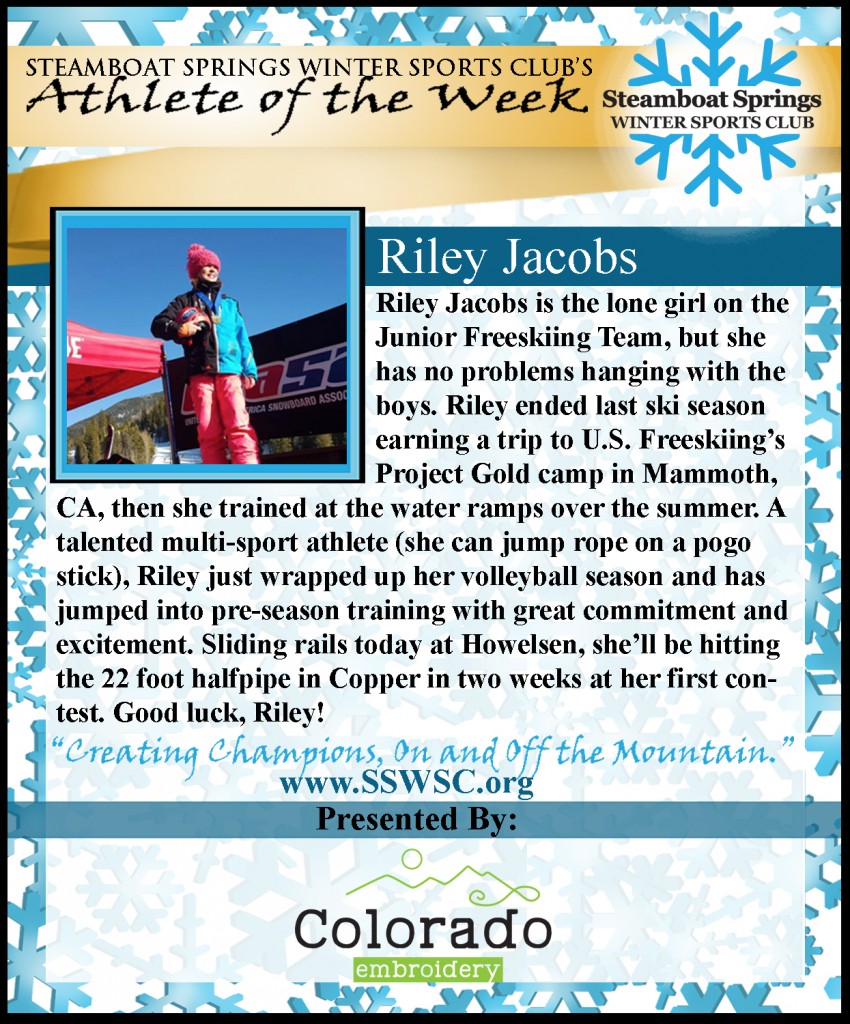 November 18th, 2016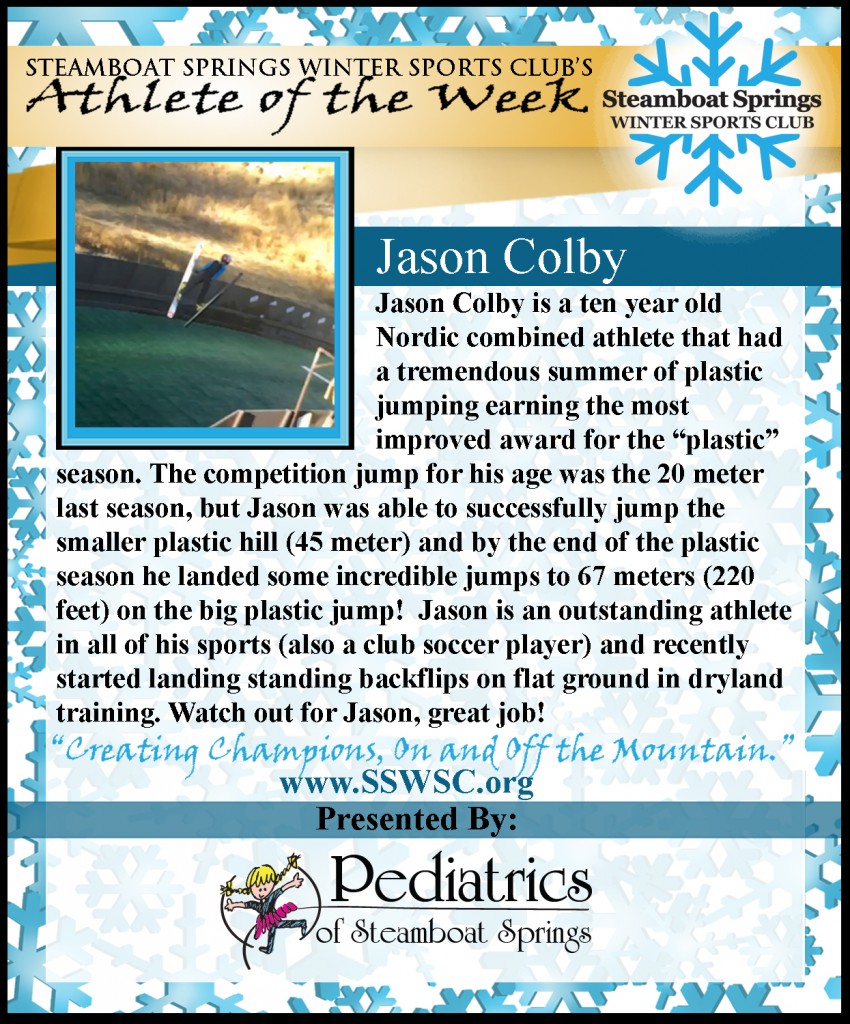 November 11th, 2016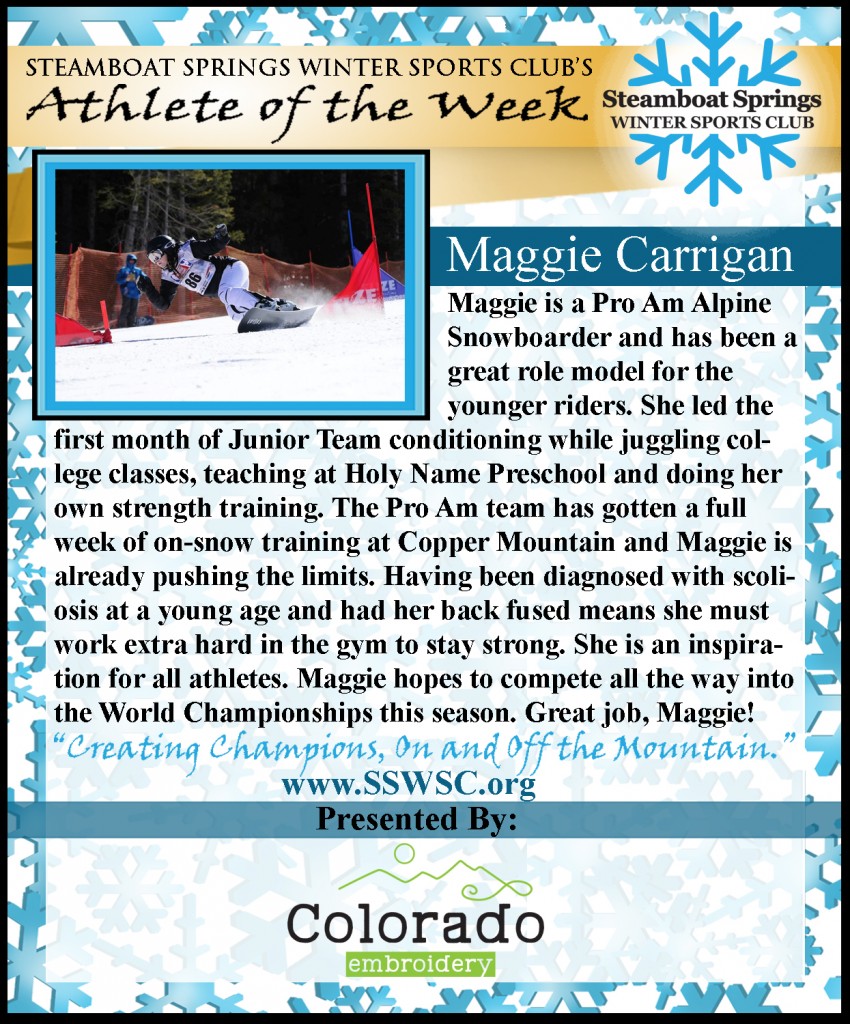 November 4th, 2016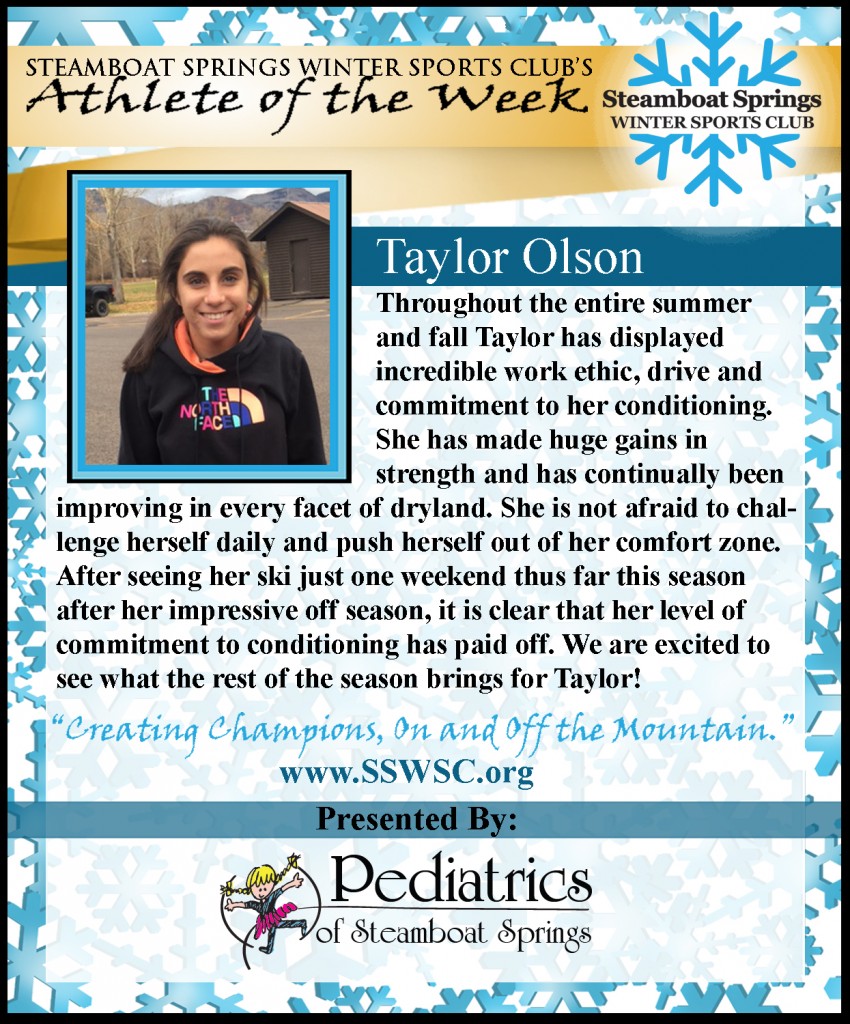 October 28th, 2016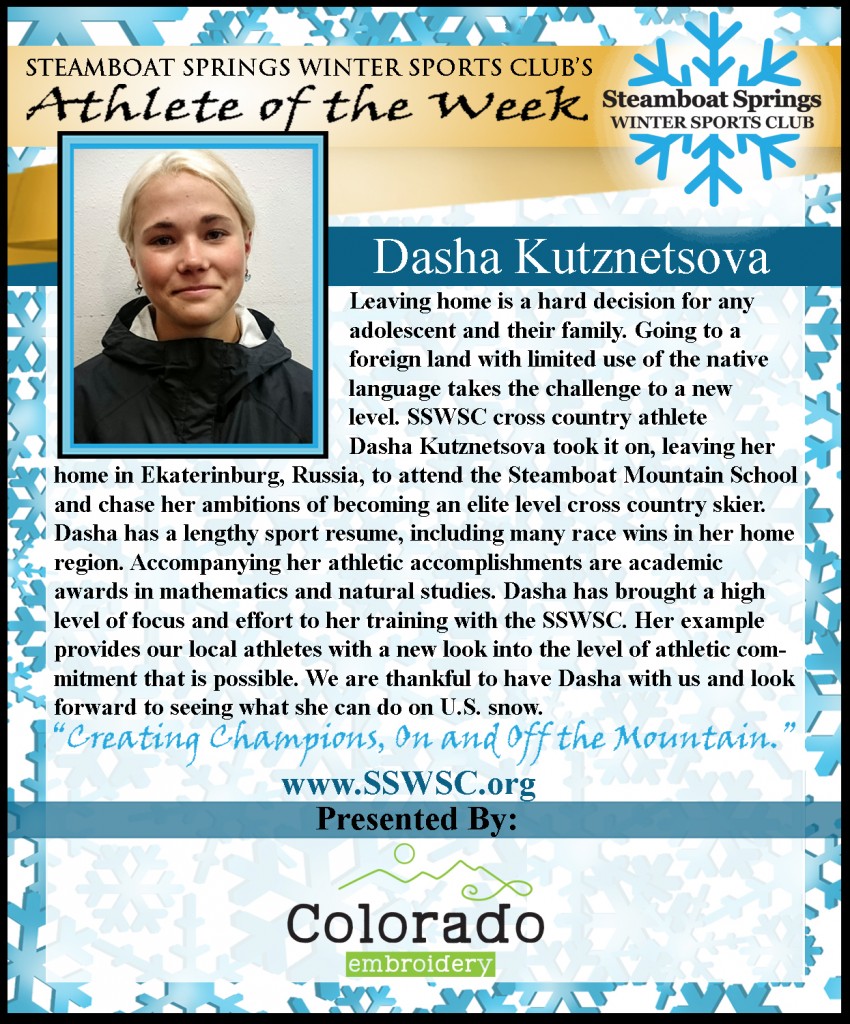 October 21st, 2016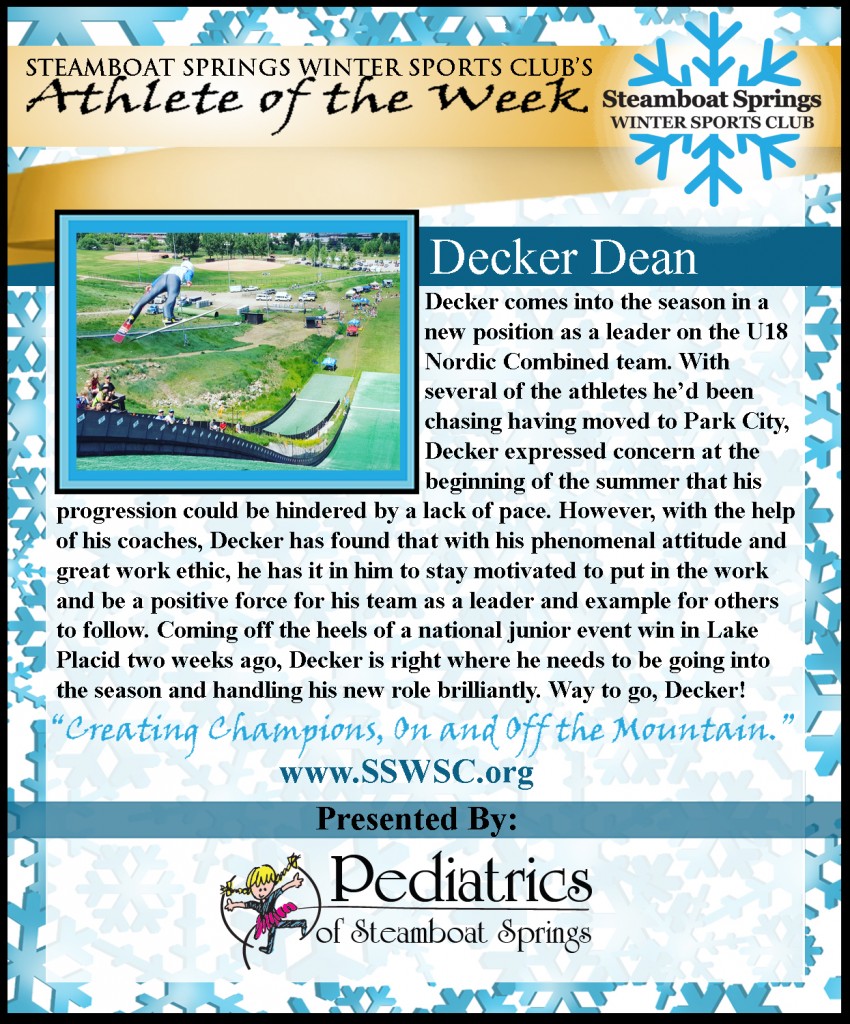 October 14th, 2016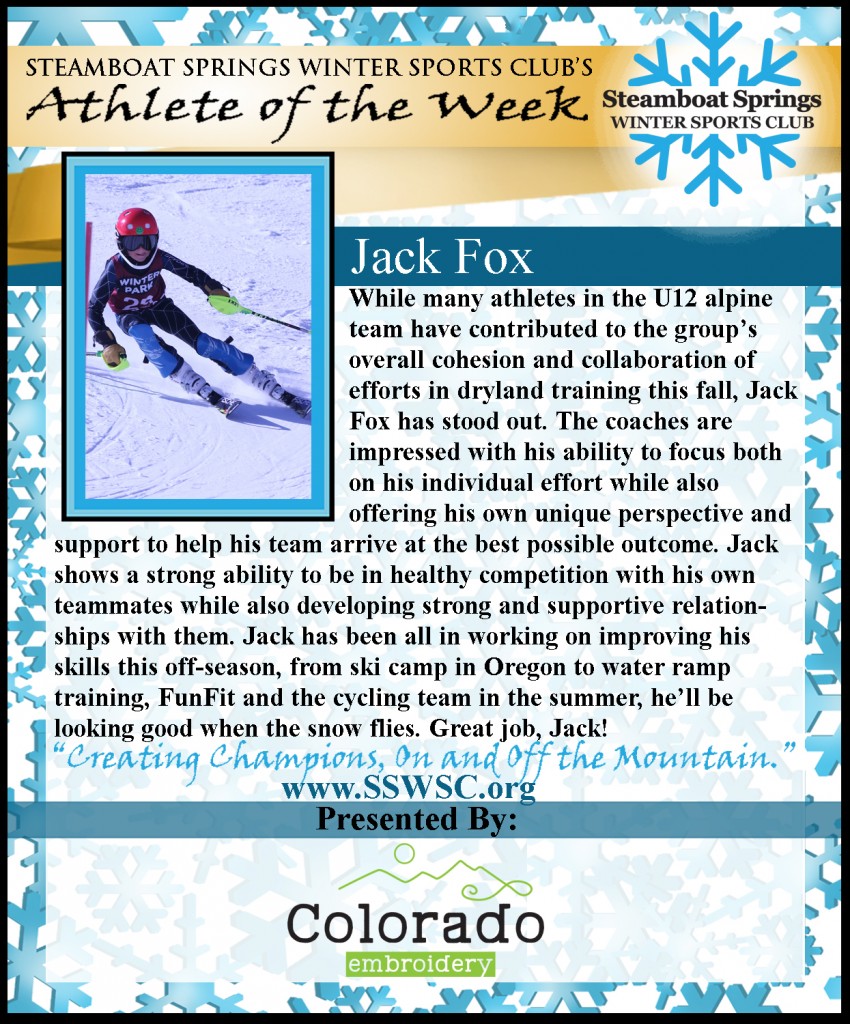 October 7th, 2016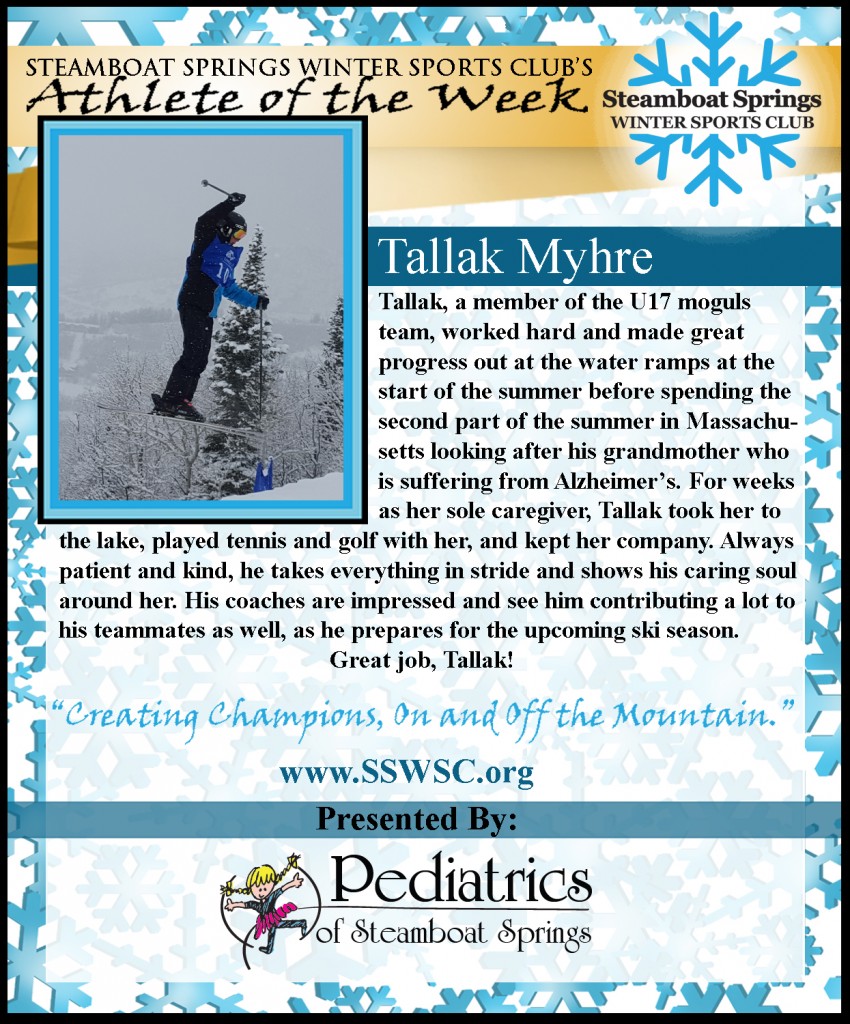 September 30, 2016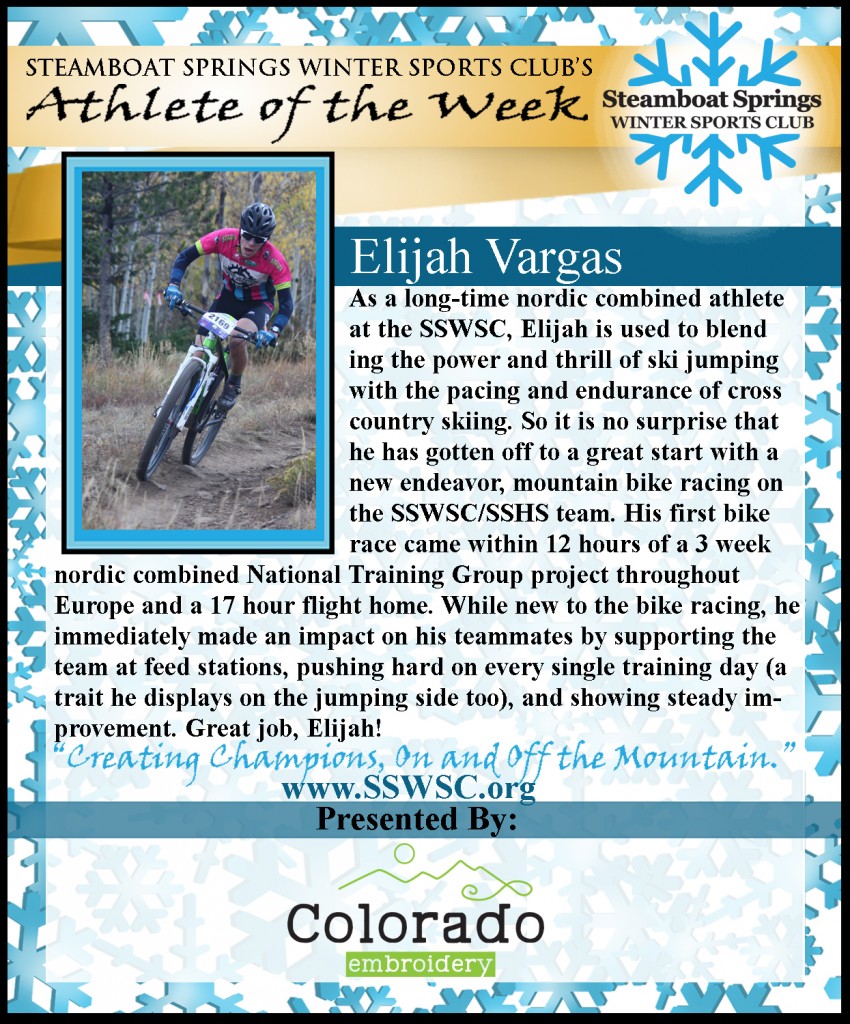 September 23, 2016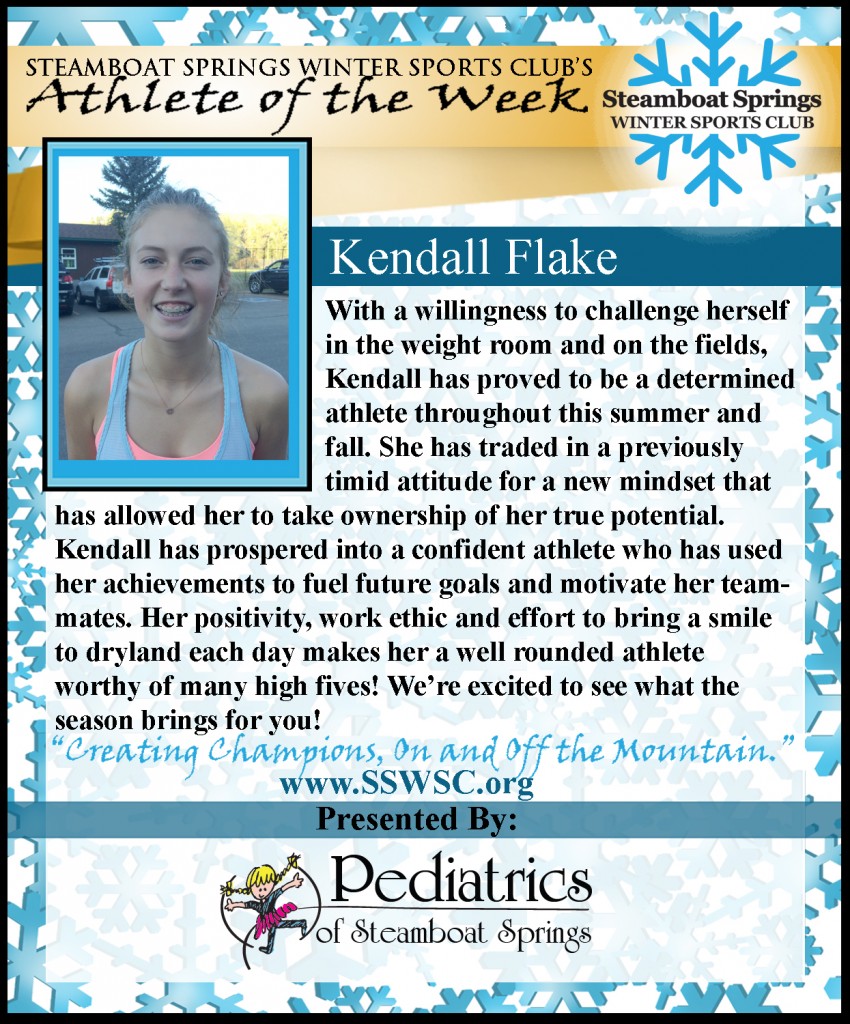 September 16th, 2016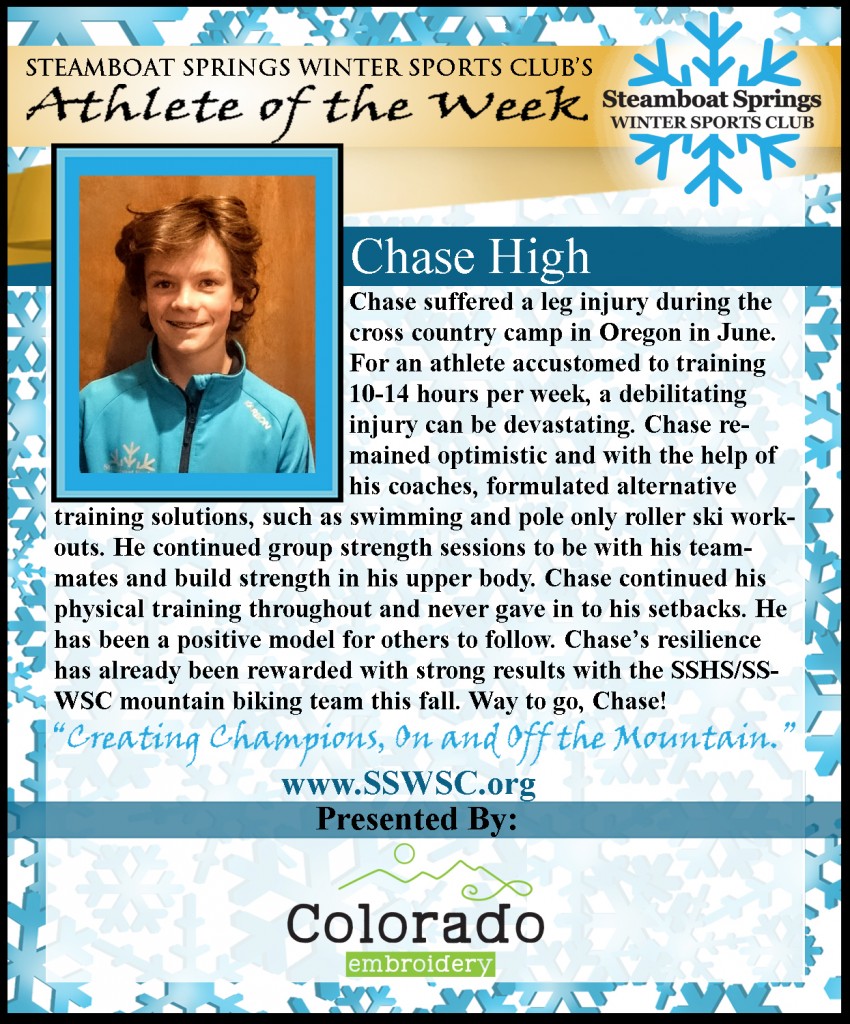 September 9, 2016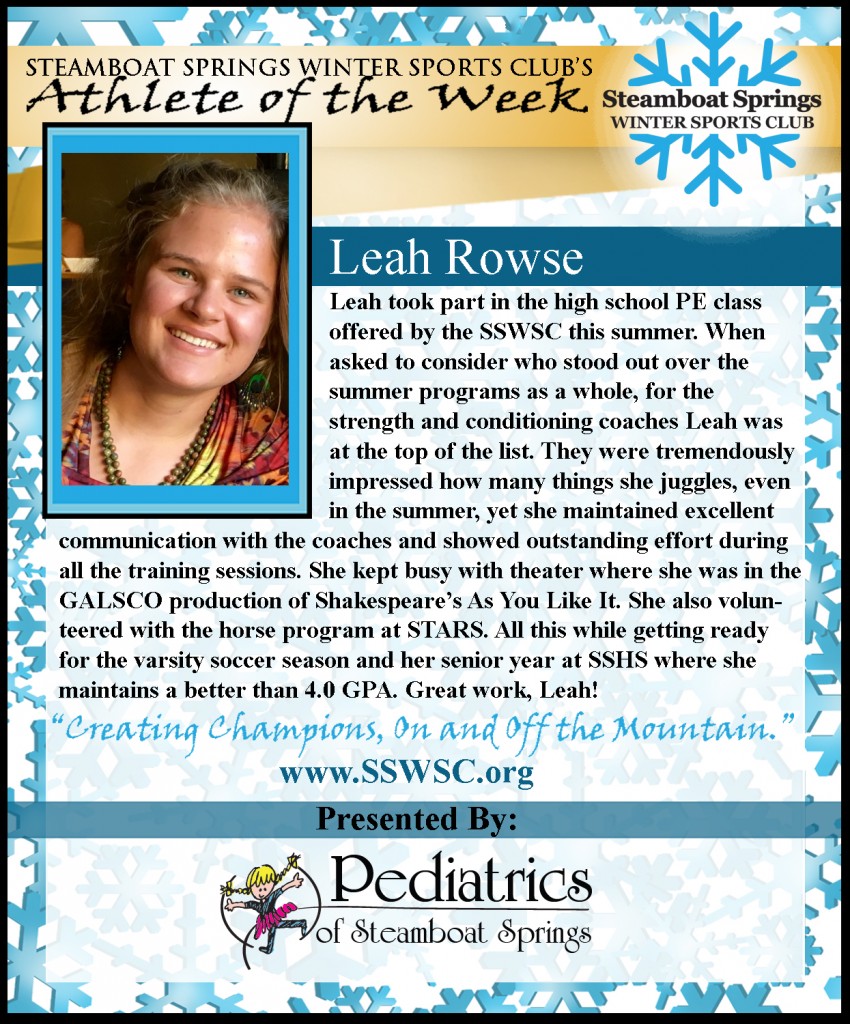 September 2, 2016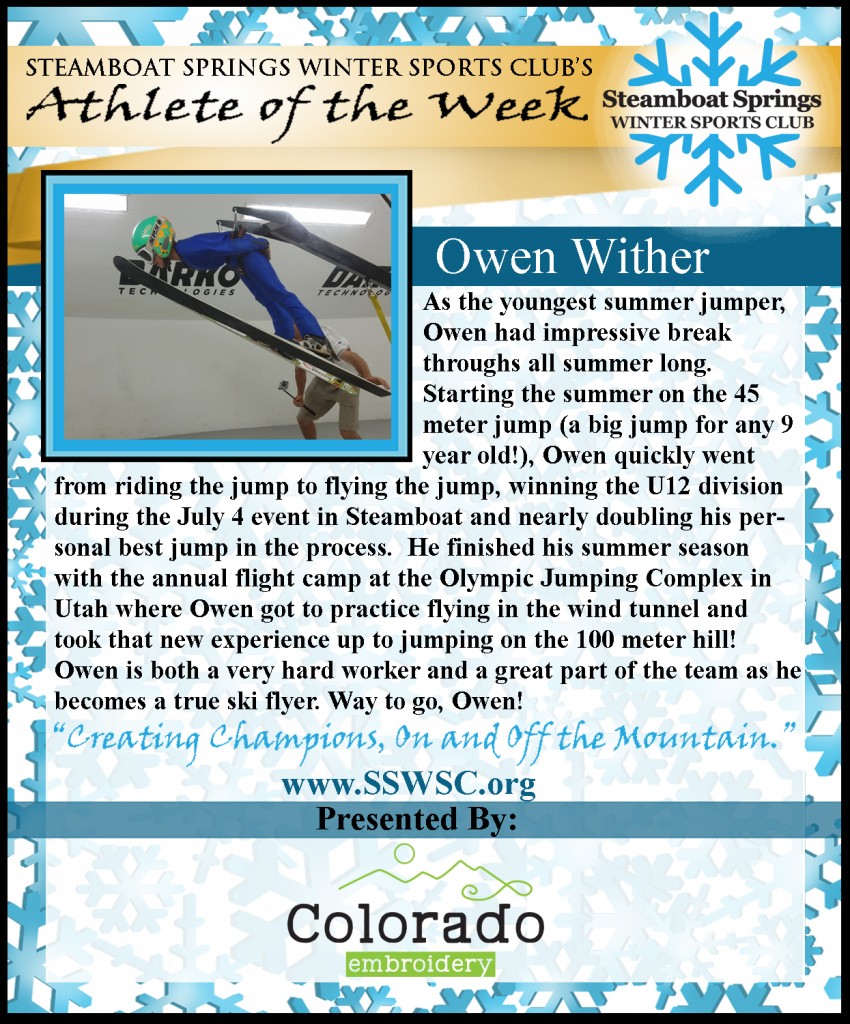 August 26, 2016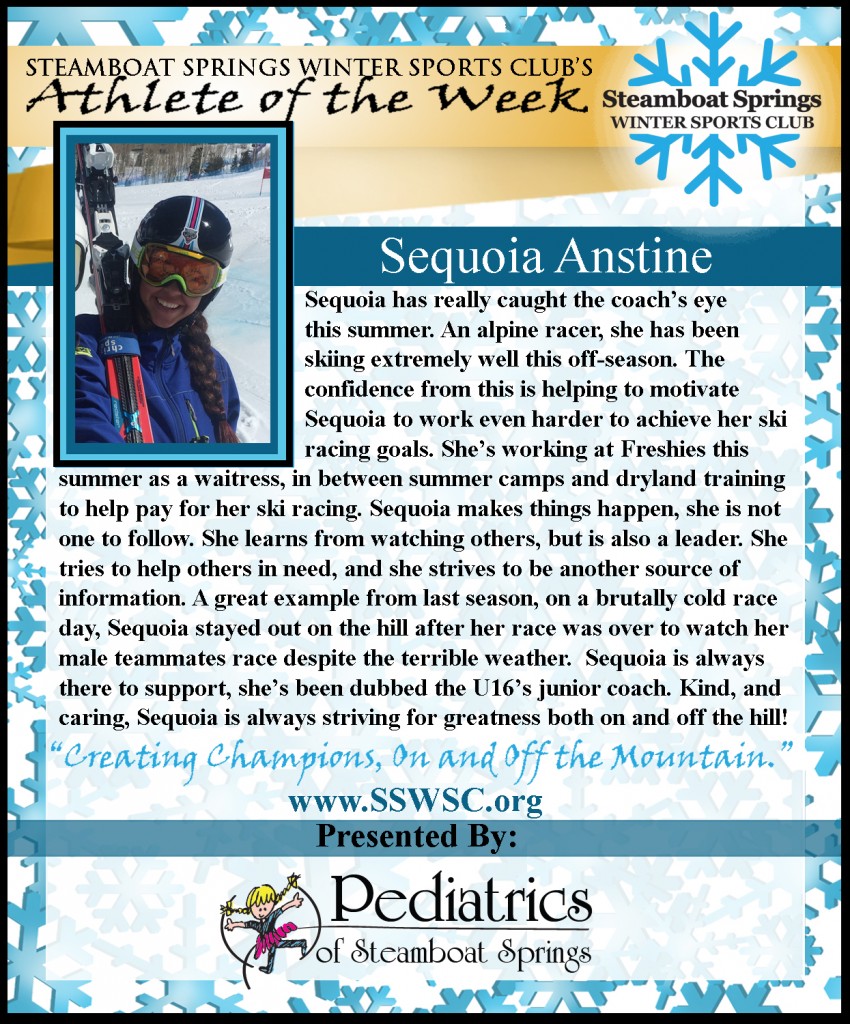 August 19, 2016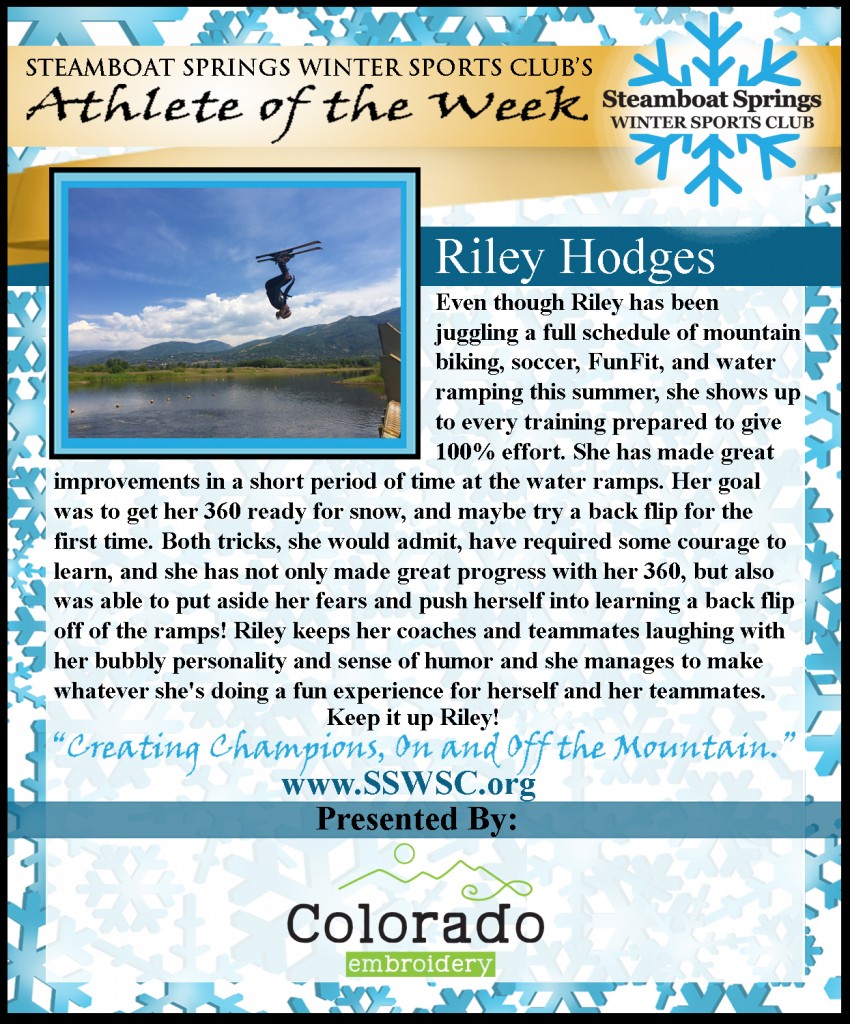 August 12, 2016: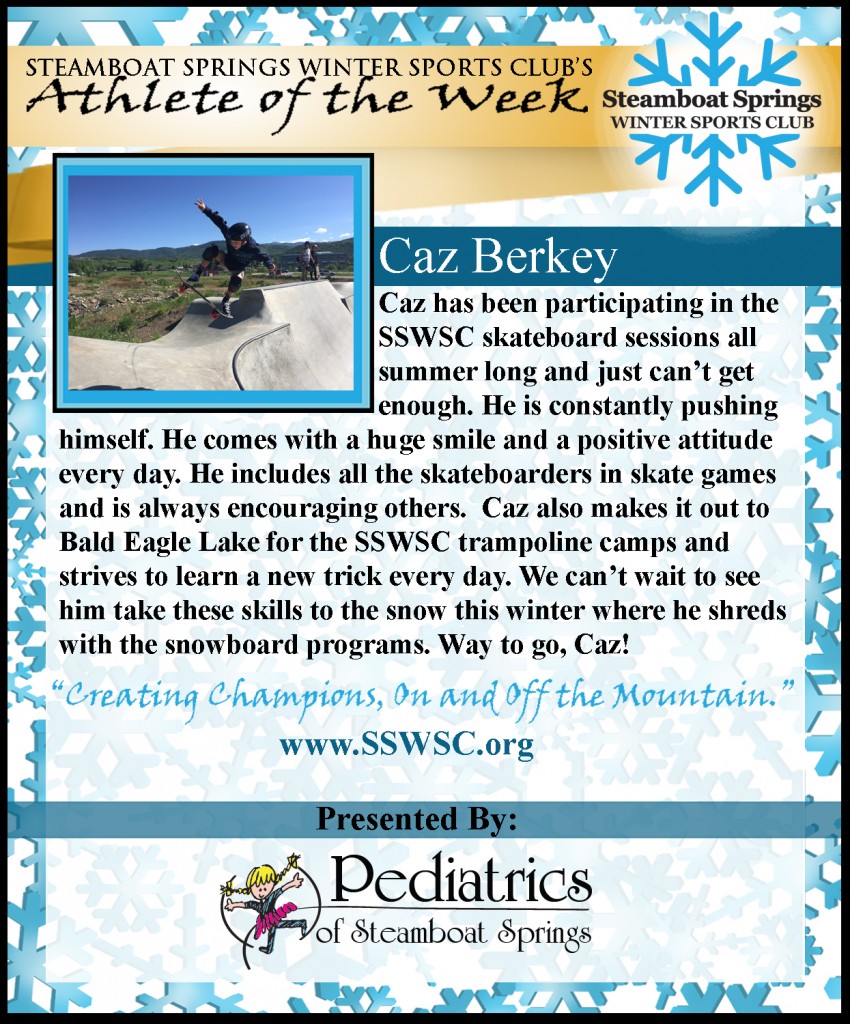 August 5th, 2016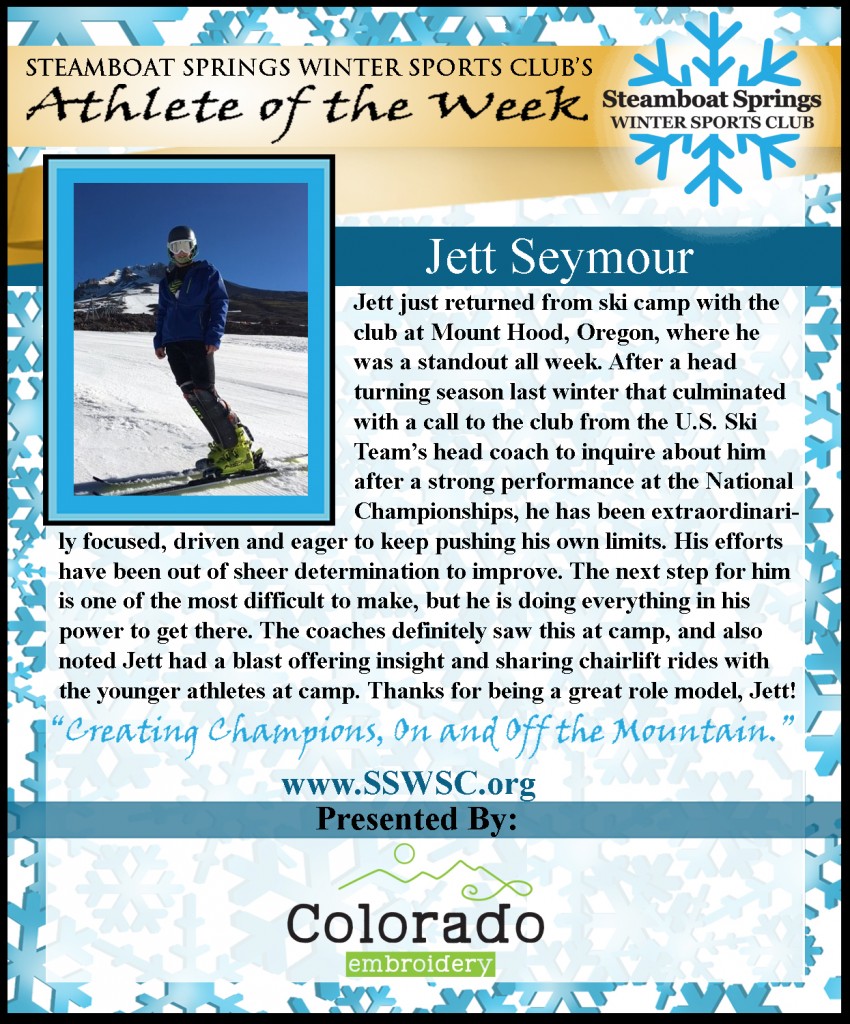 July 29th, 2016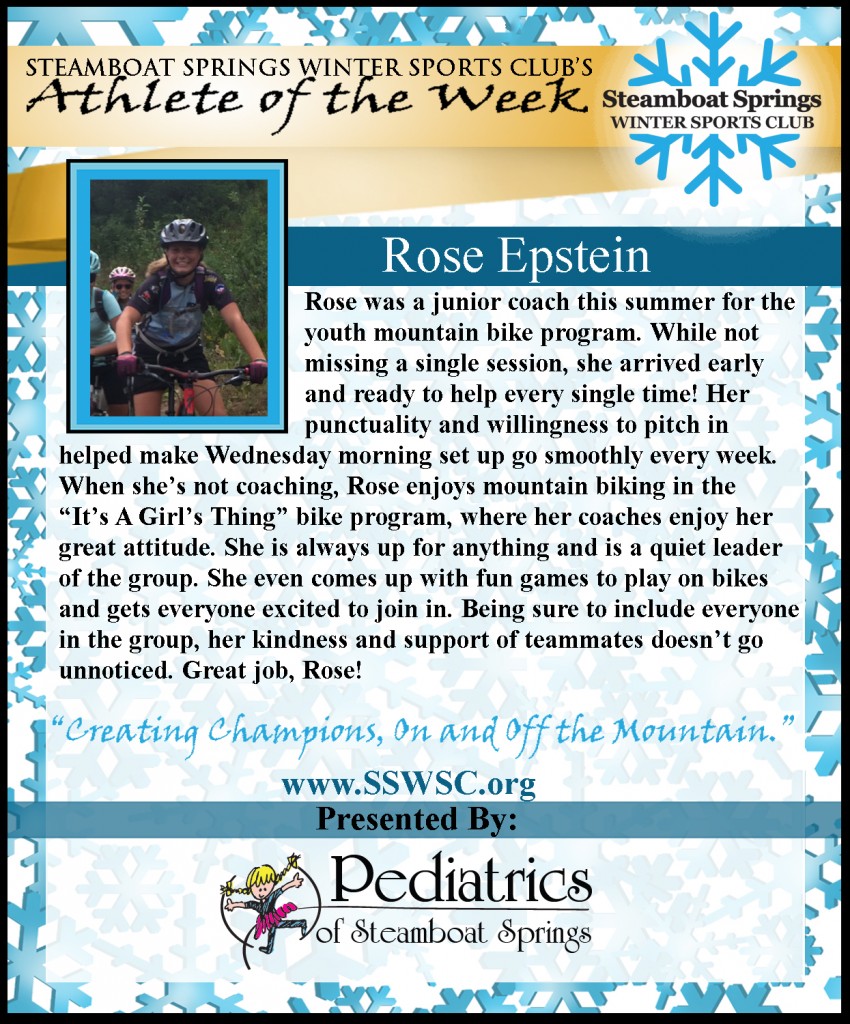 July 22, 2016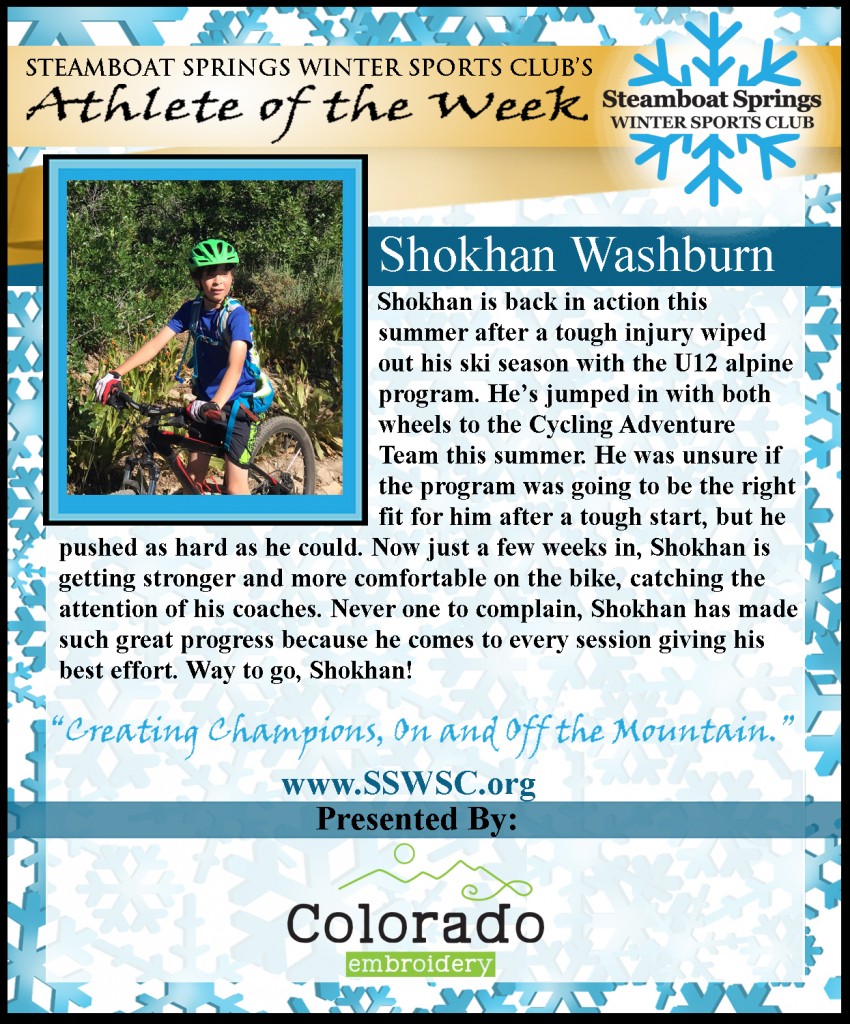 July 16, 2016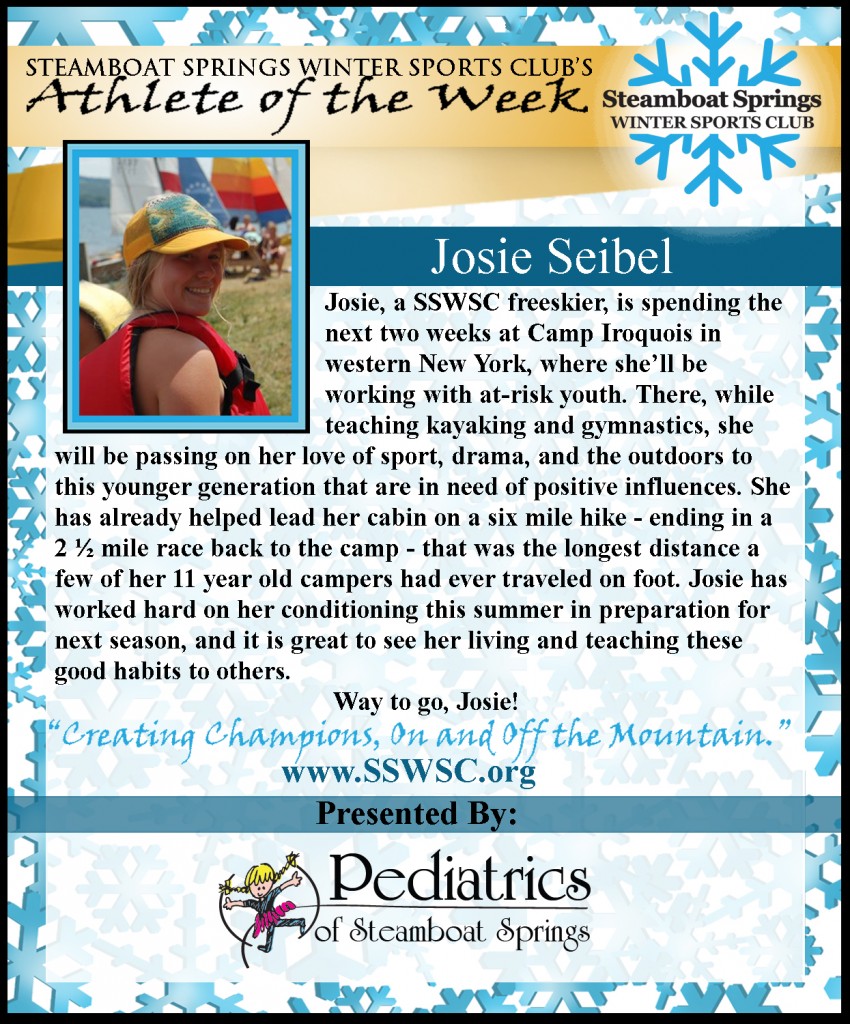 July 8, 2016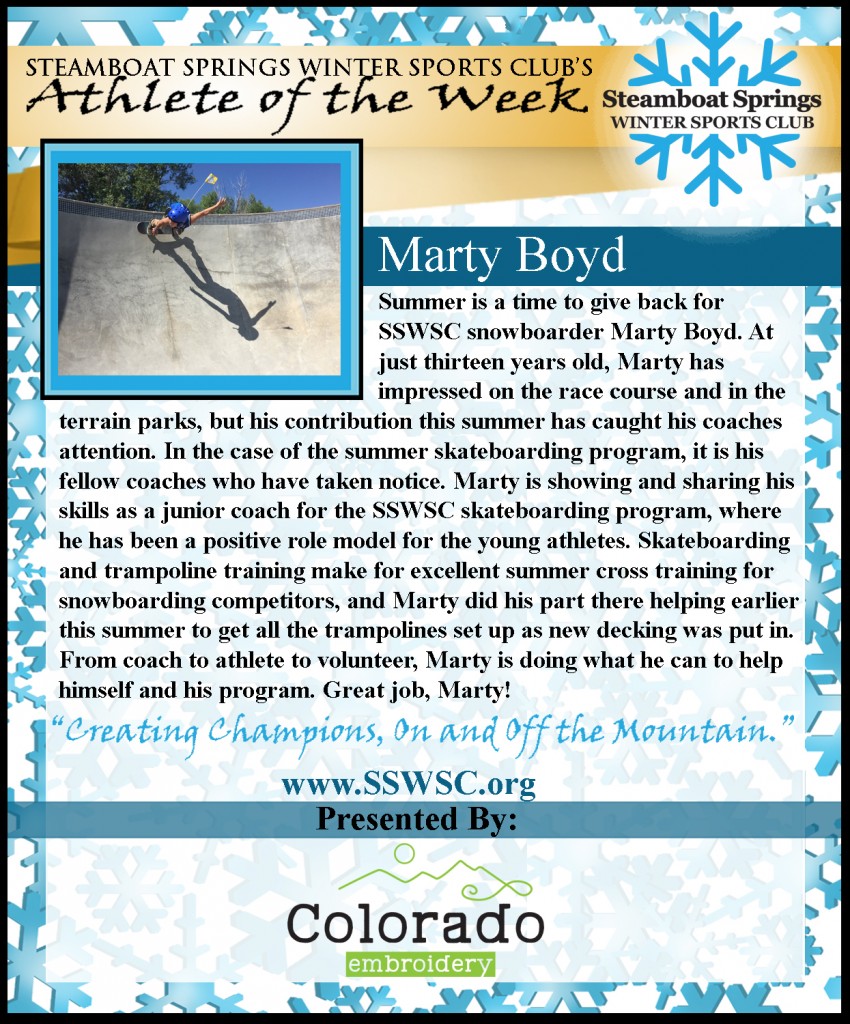 July 1, 2016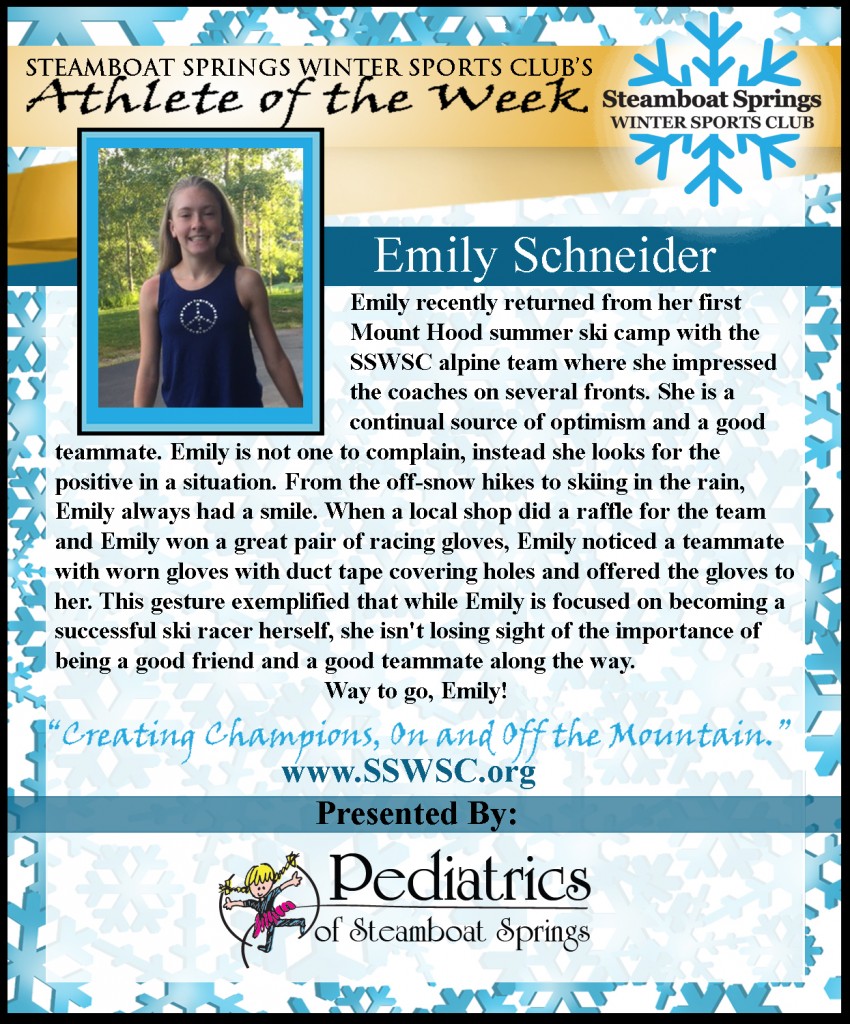 June 24th, 2016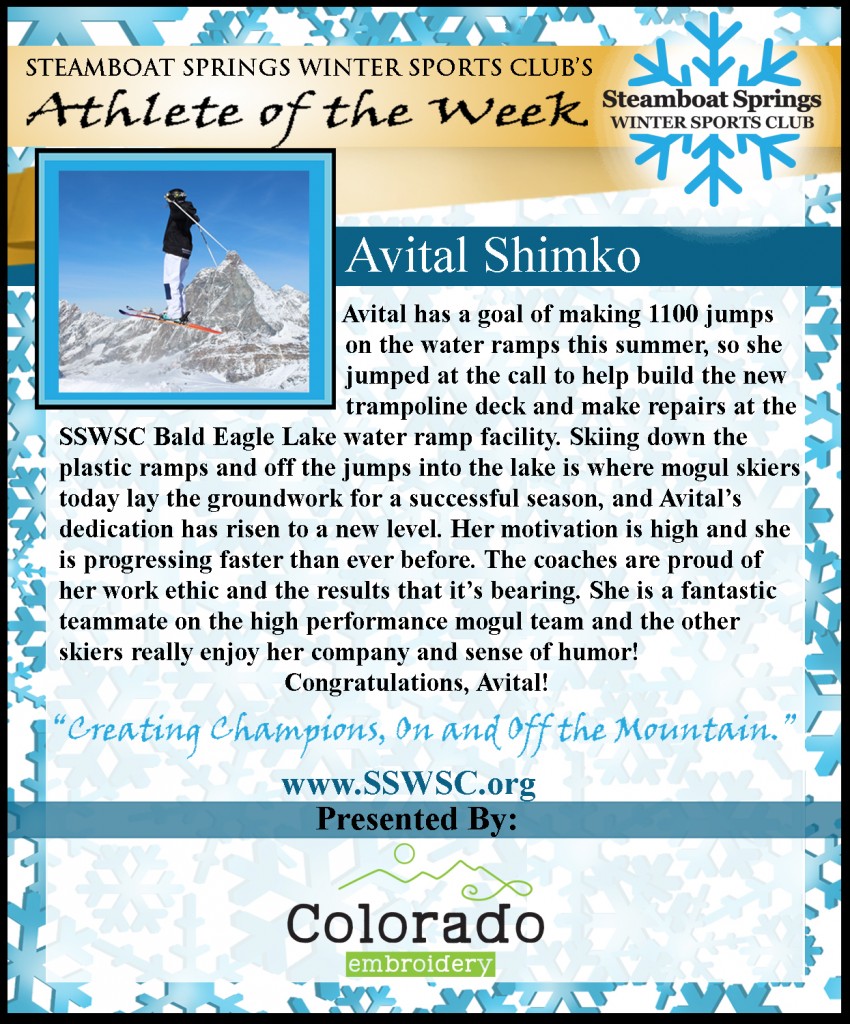 June 17, 2016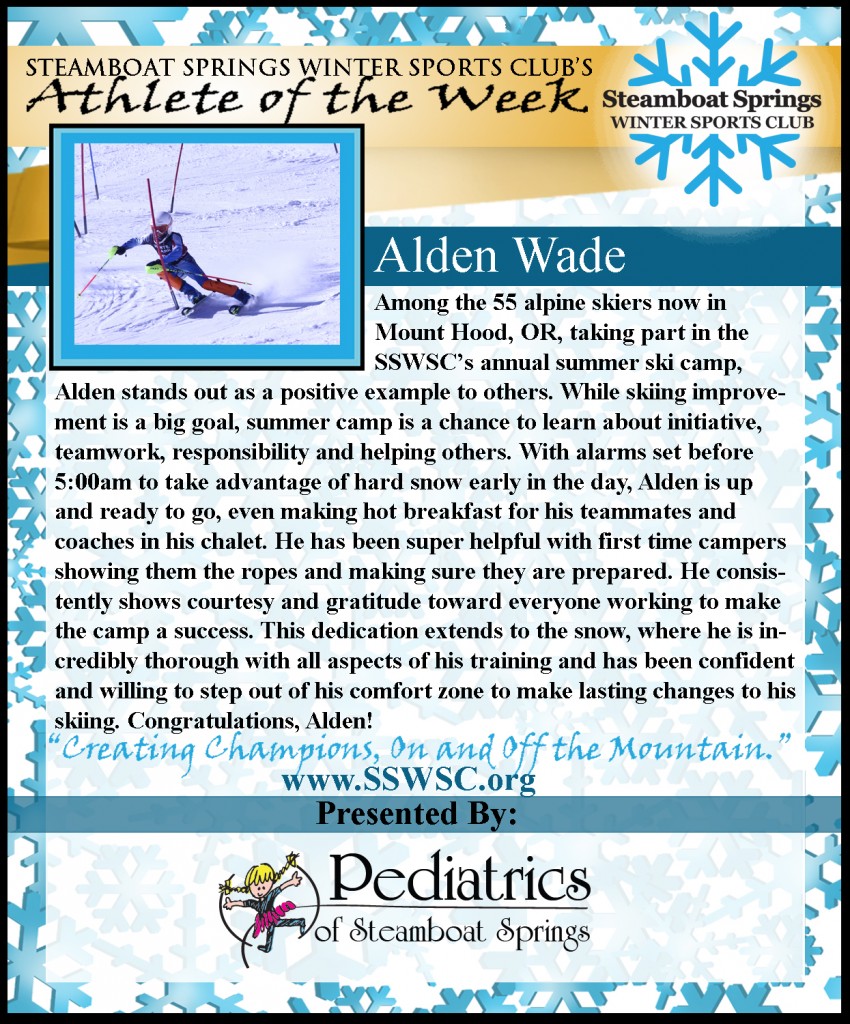 June 10th, 2016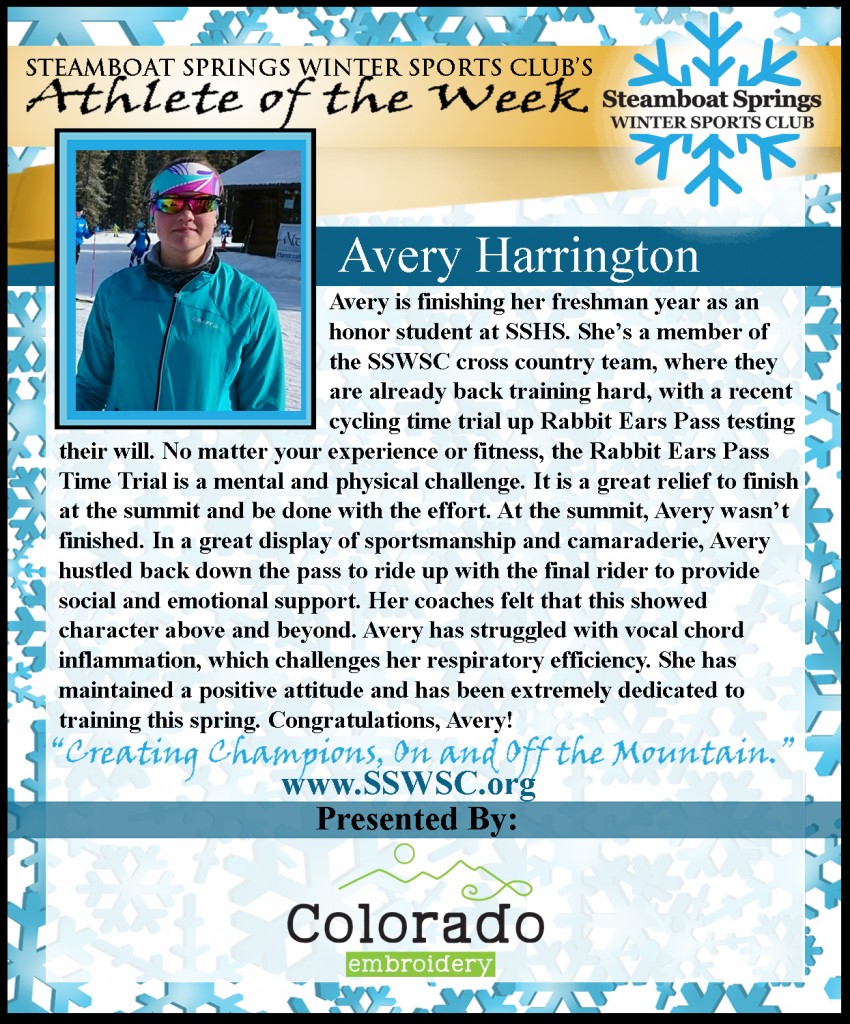 June 3rd, 2016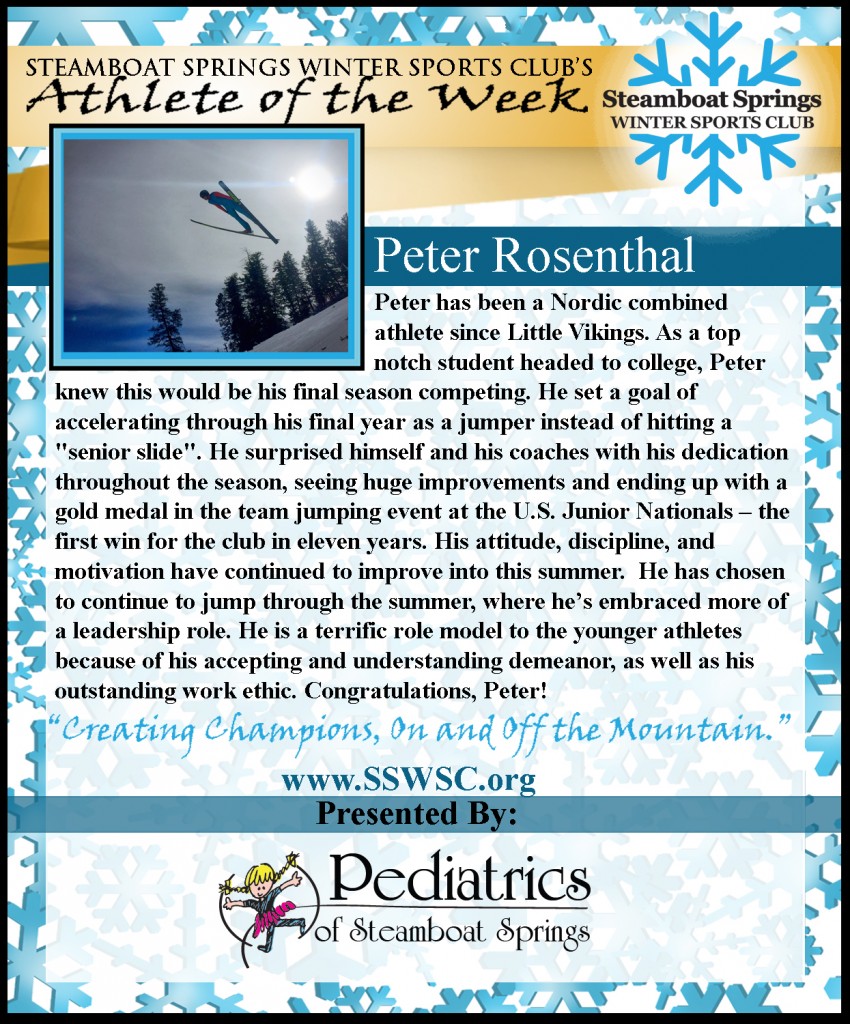 May 27th, 2016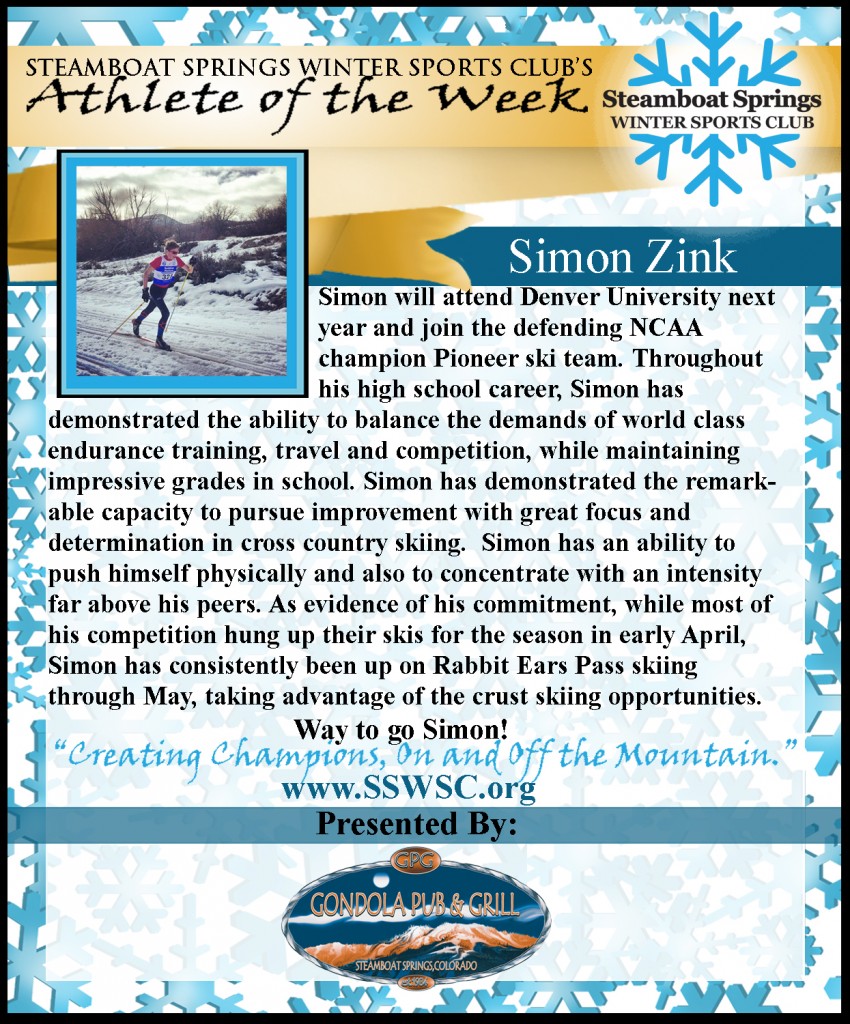 May 20th, 2016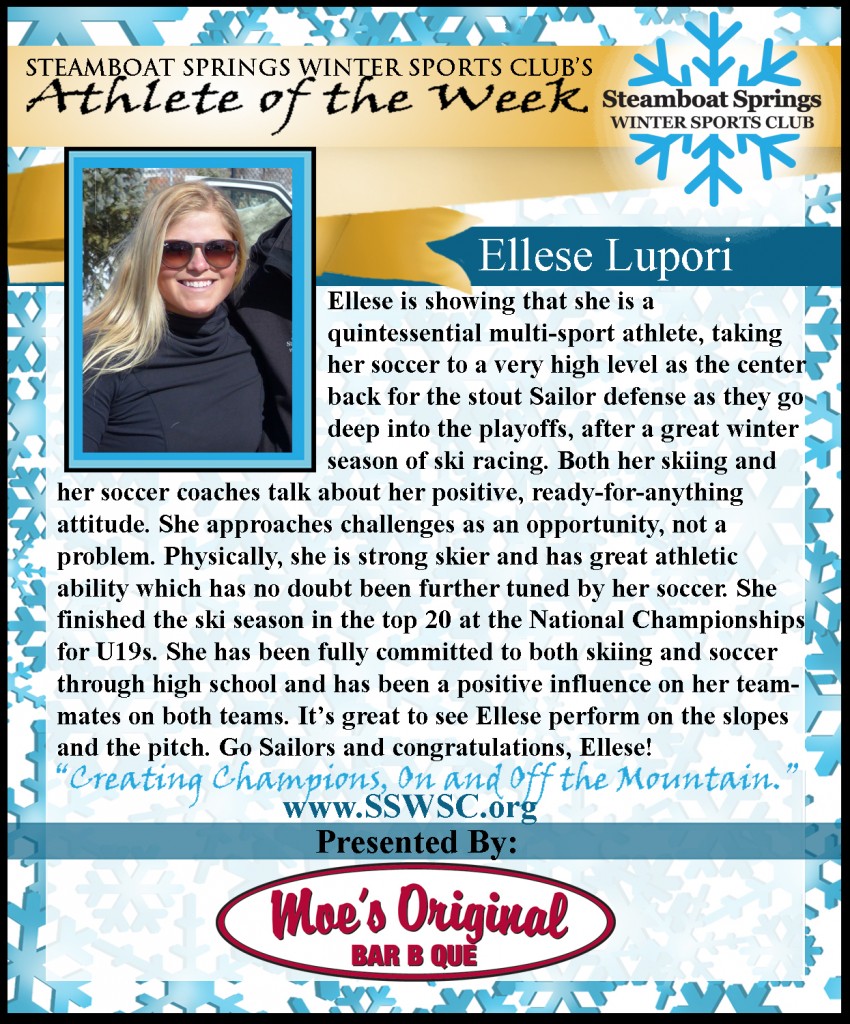 May 13th, 2016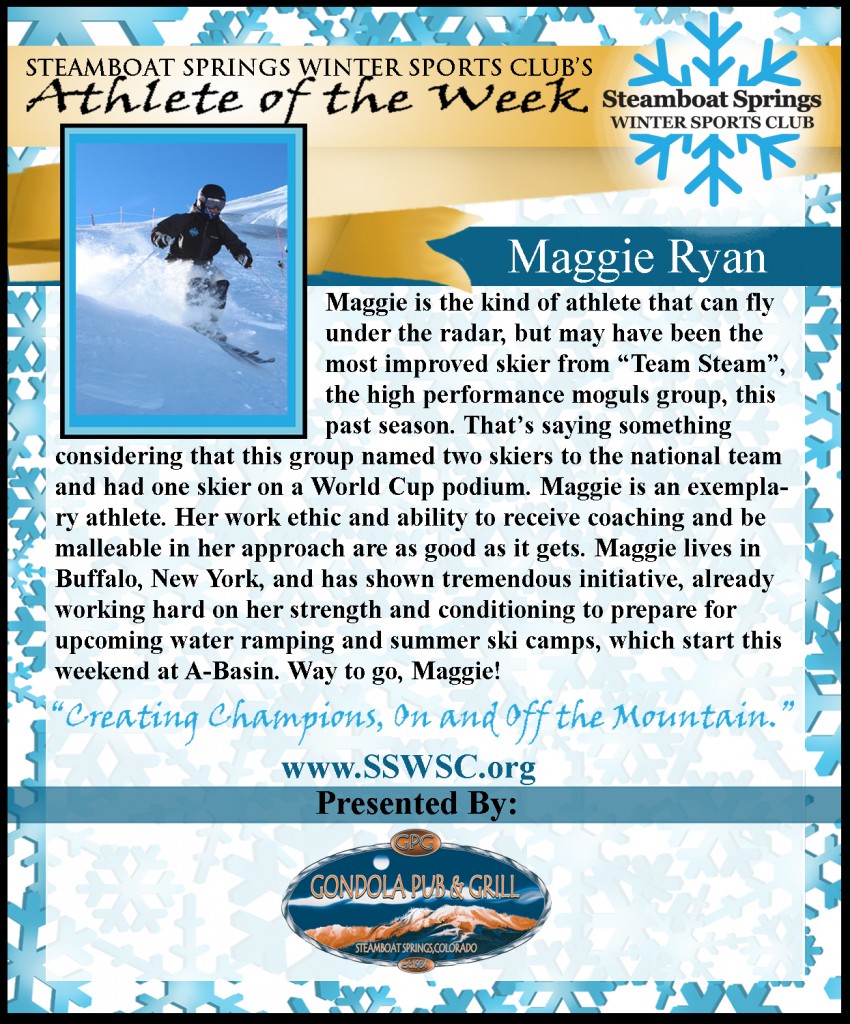 May 6th, 2016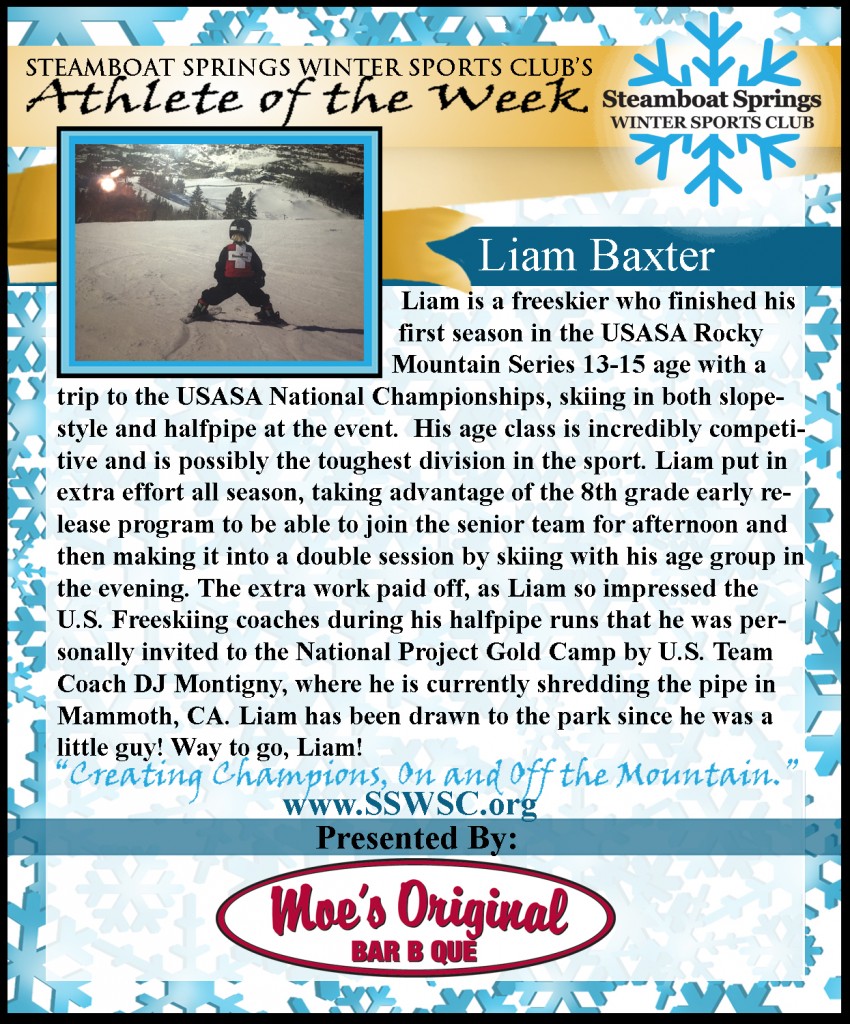 April 29th, 2016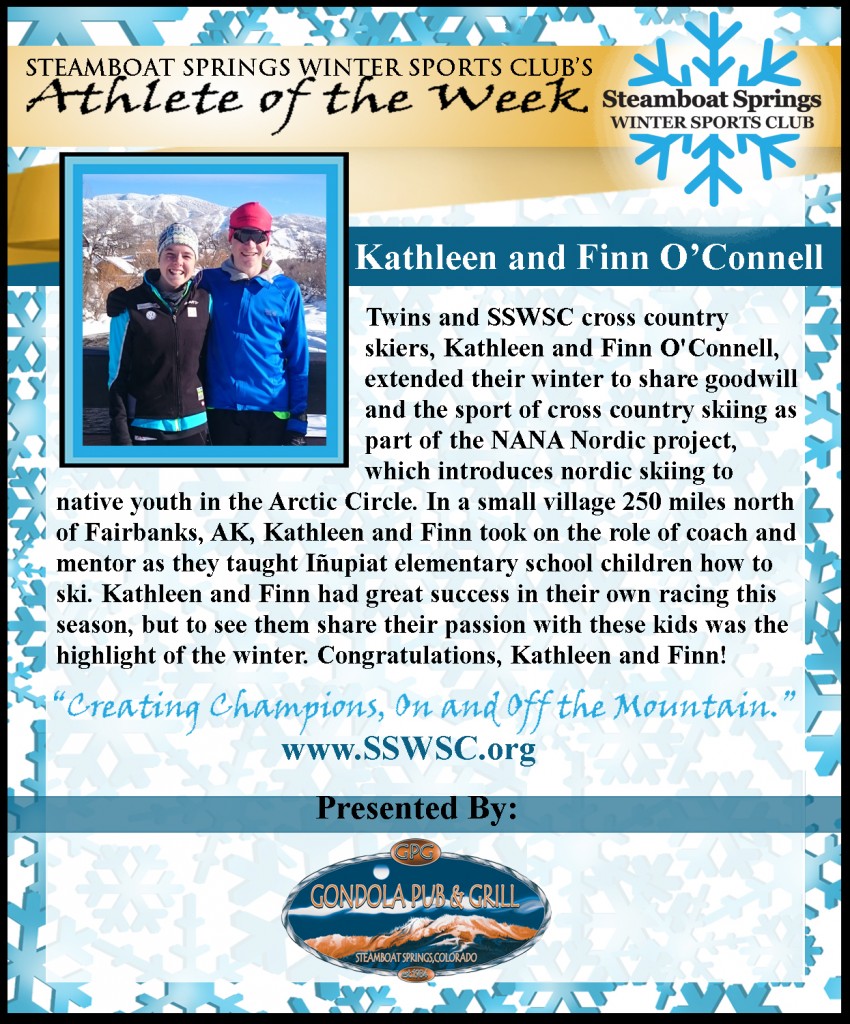 April 22nd, 2016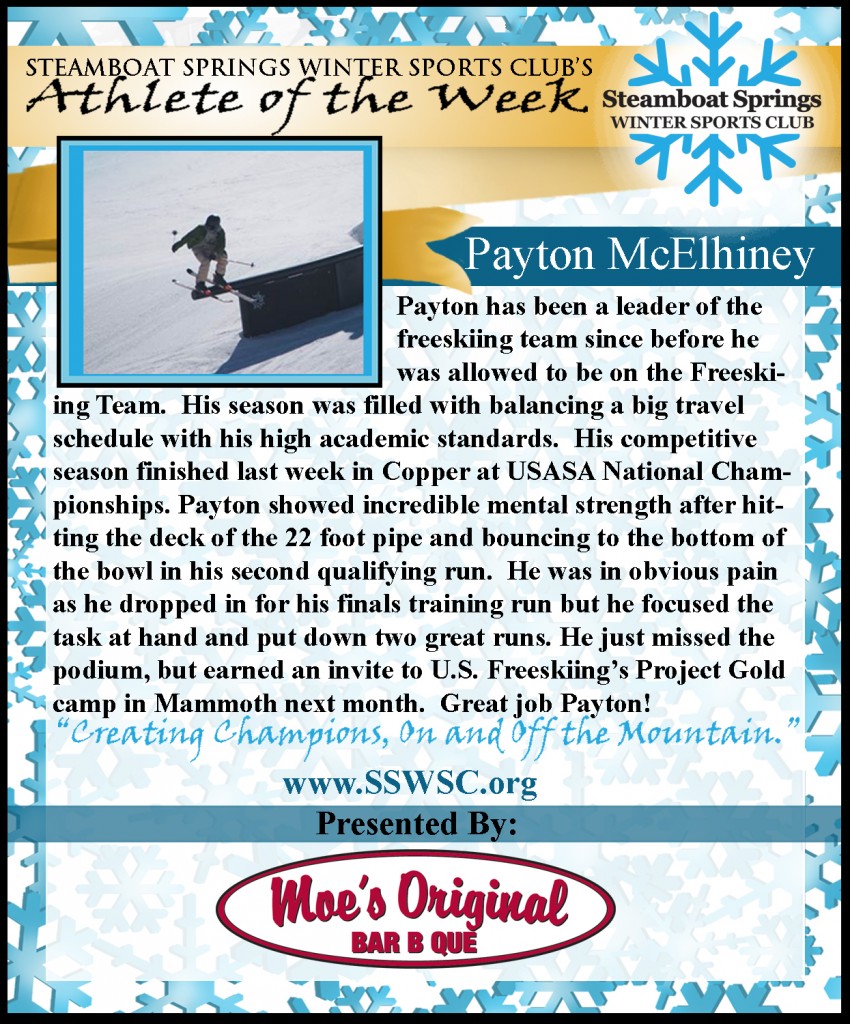 April 15, 2016:
Congratulations to Kyle Kagan!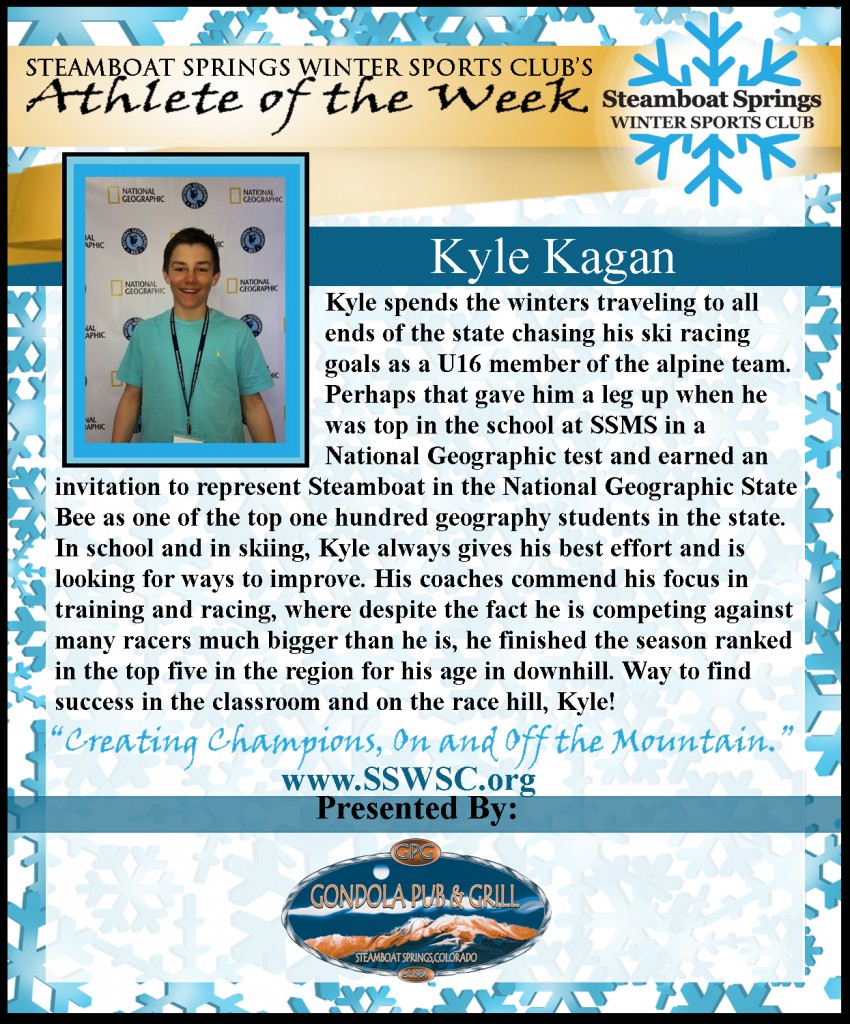 April 8th, 2016
Congratulations to Bryan Gilbertson!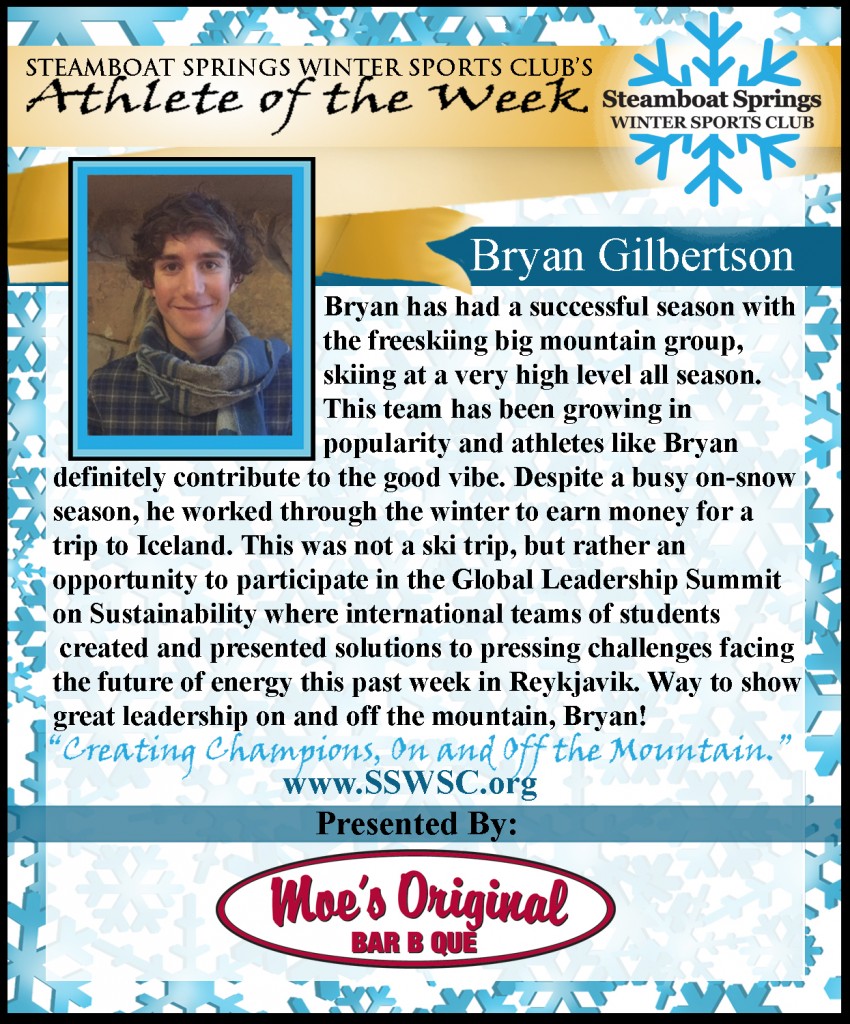 April 1st, 2016
Congratulations to brothers Cole and Cooper Puckett, who were both selected as this week's "Athlete of the Week" due to a similar show of honesty!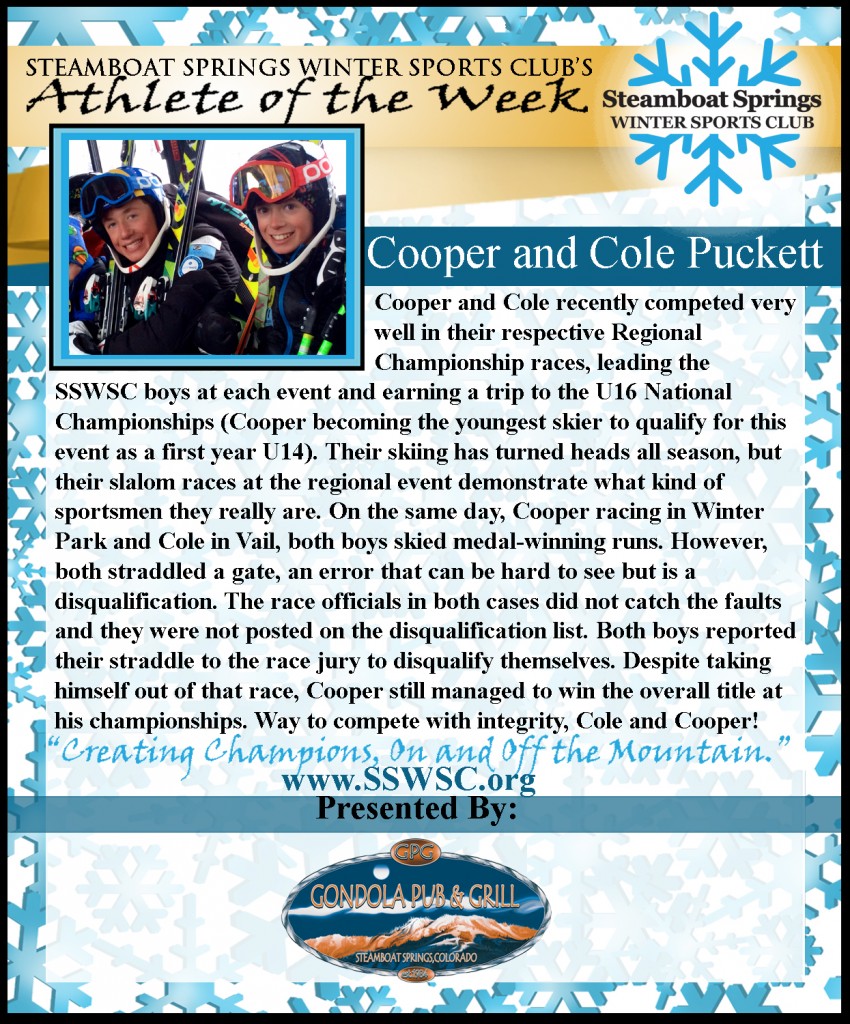 March 25th, 2016
Congratulations to Jacy Werner!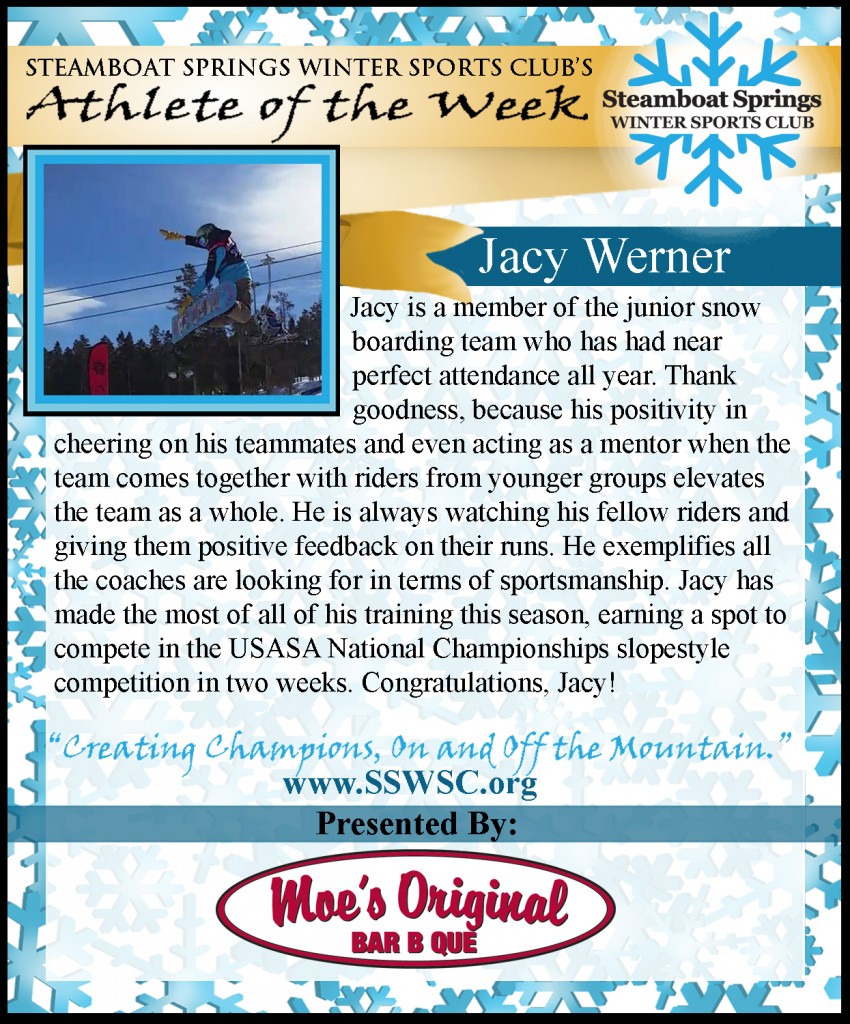 March 18th, 2016
Congratulations to this week's athlete: Jordi Floyd!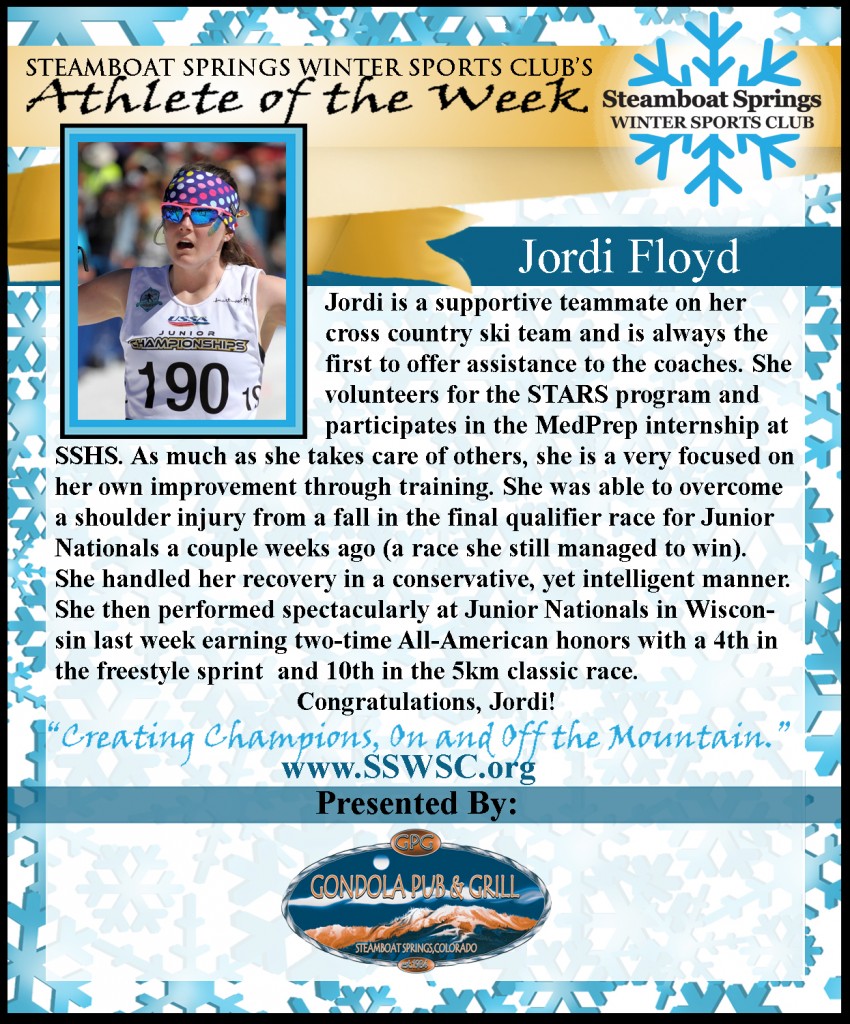 March 11th, 2016:
Congratulations to Thomas Miller!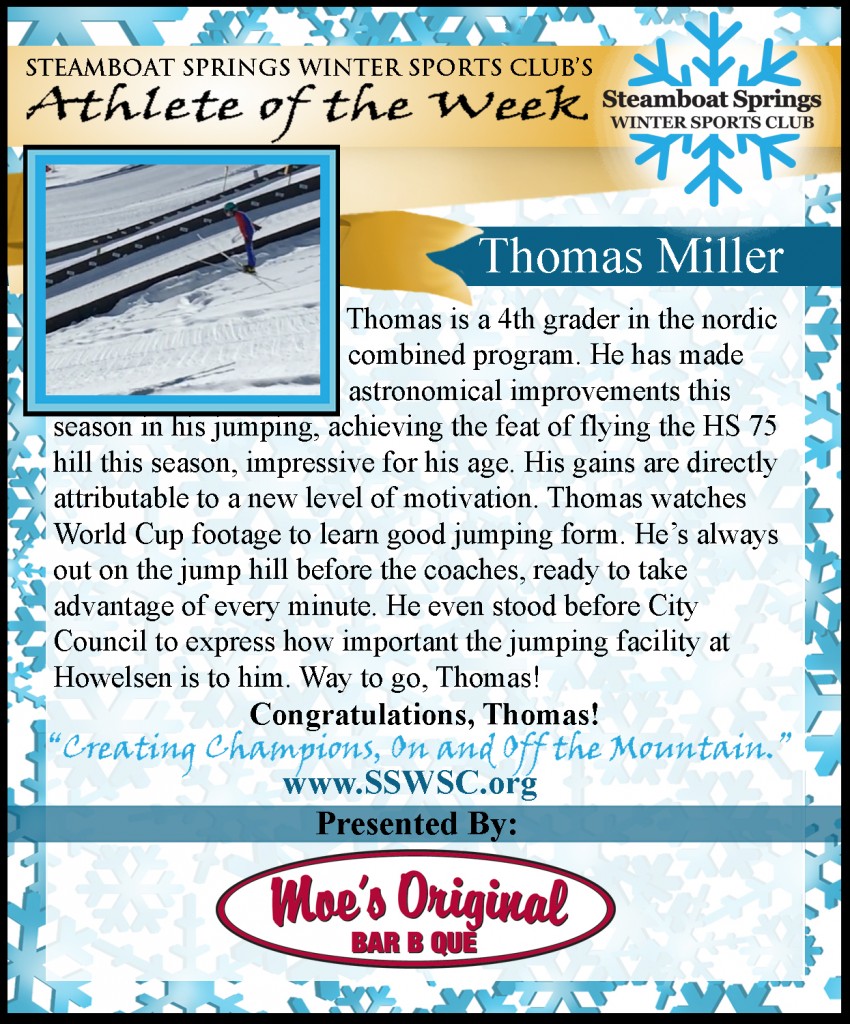 March 4th, 2016
Congratulations to River King!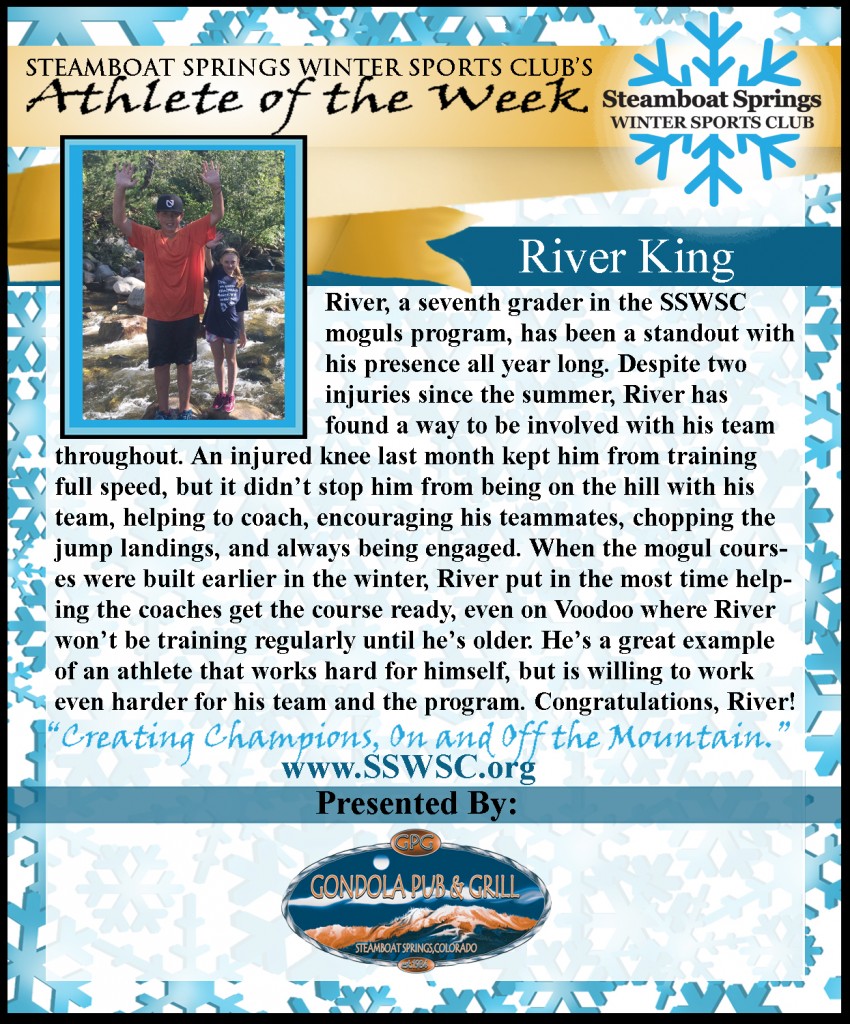 February 26th, 2016:
Congratulations to Emily Craig! She showed incredible honesty and skill; we admire her for being a Champion, on and off the Mountain!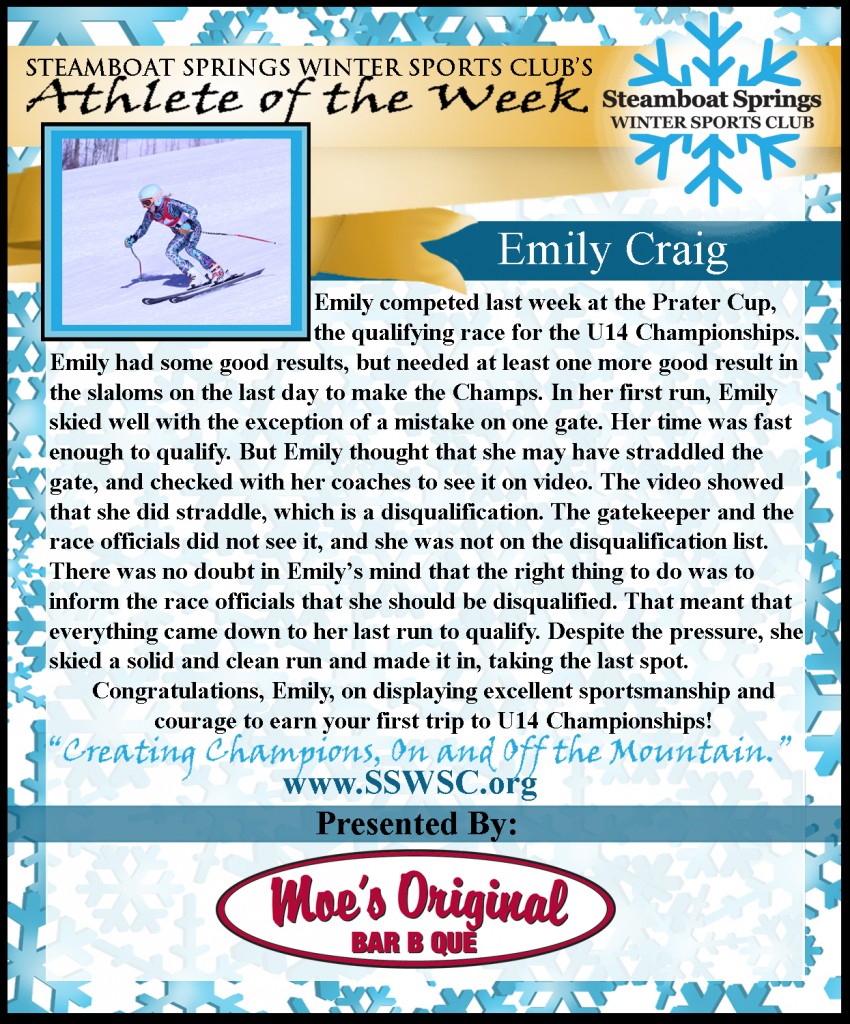 February 19th, 2016:
Congratulations to Tim Kastelijns for the happy attitude and hard work that earned him the title of Athlete of the Week!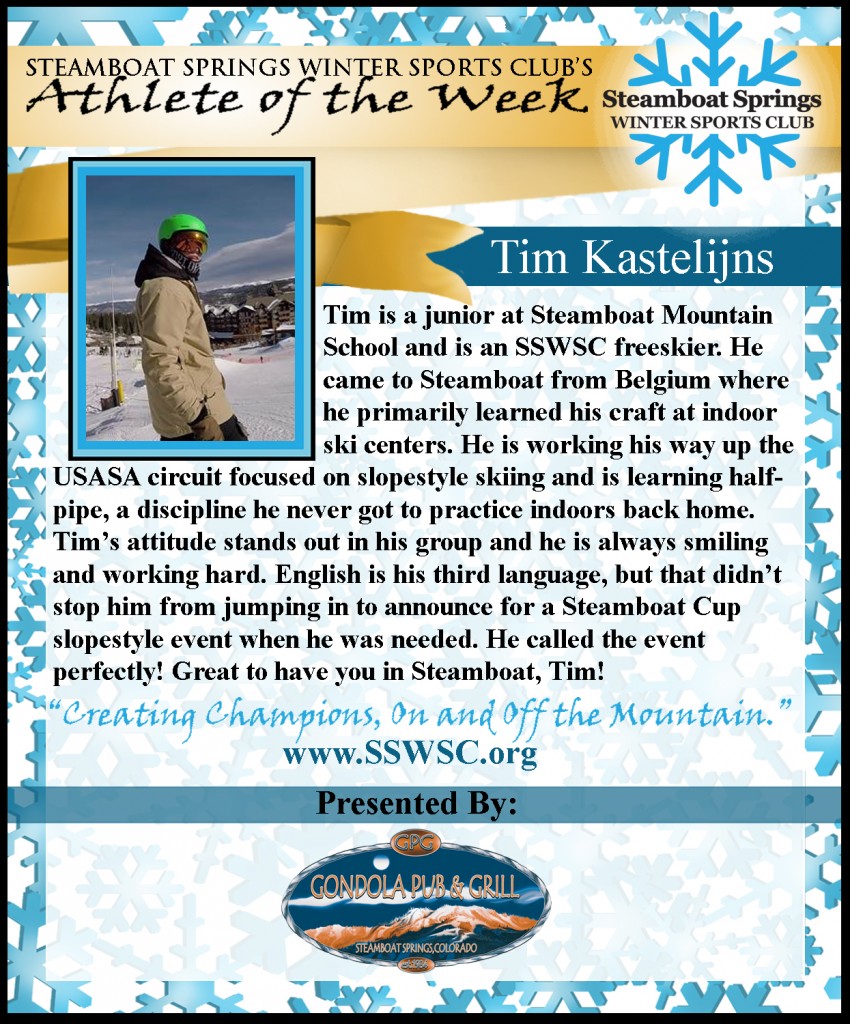 February 12, 2016
Congratulations to Anna Burkholder, who is known for her kindness!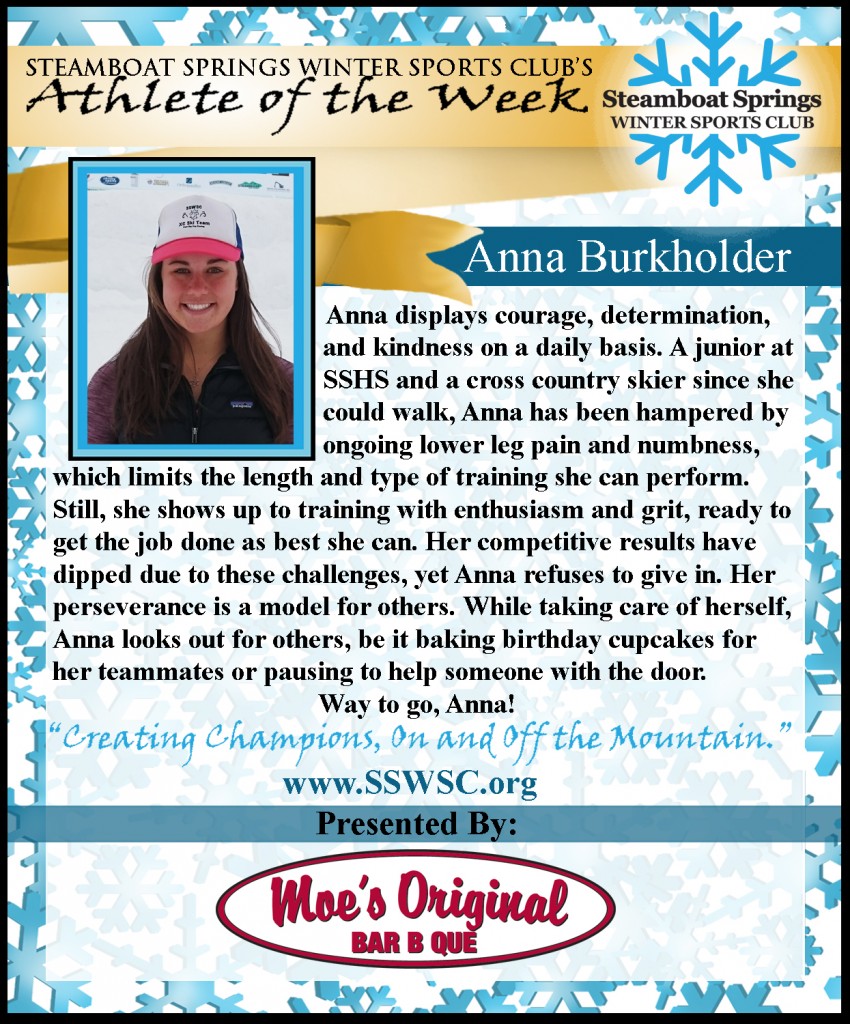 January 29, 2016
Congratulations to Leo Davies!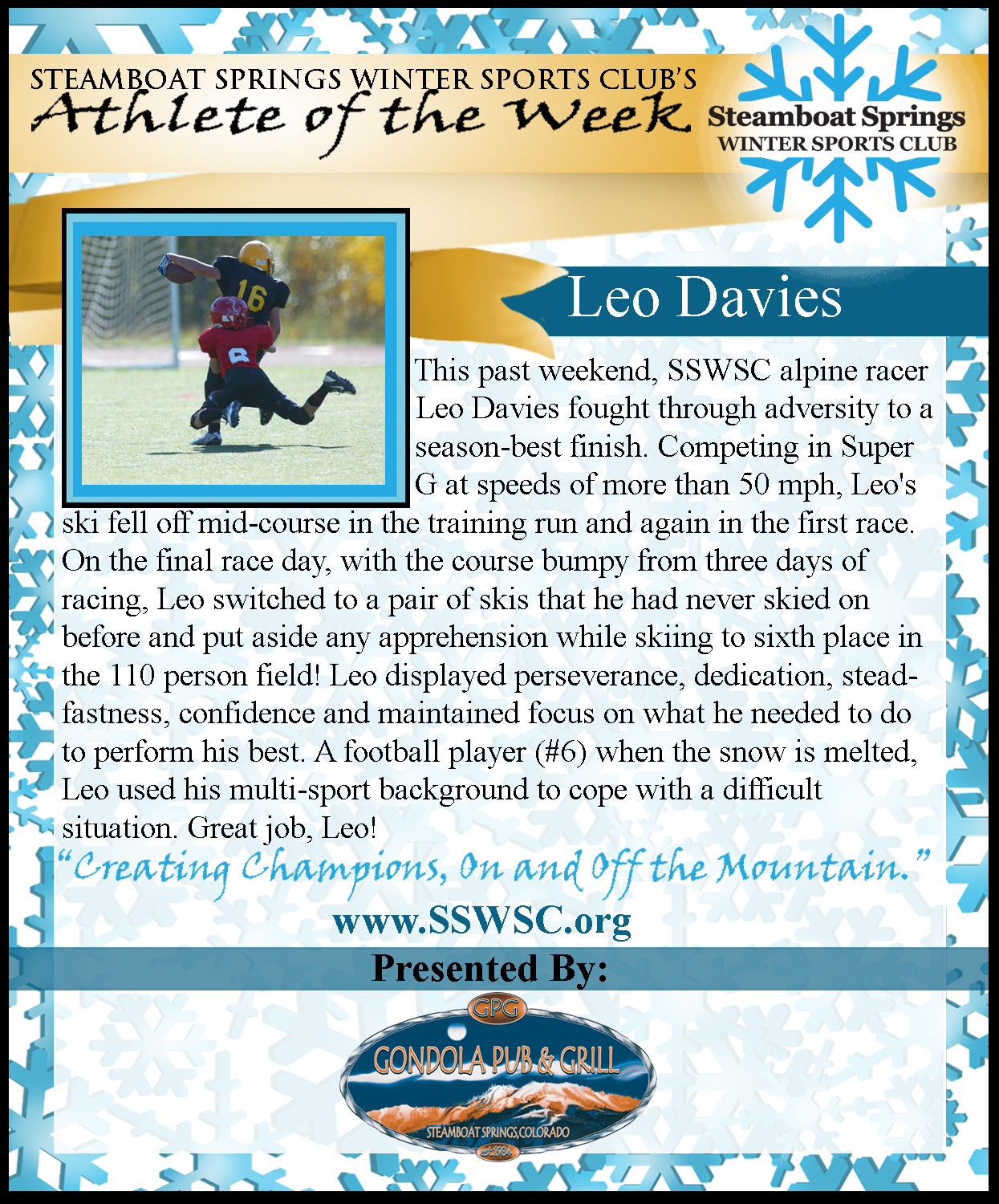 January 22, 2016
Congratulations to Lucas Rowse! While working on his own goals, Lucas helps to inspire younger athletes, too!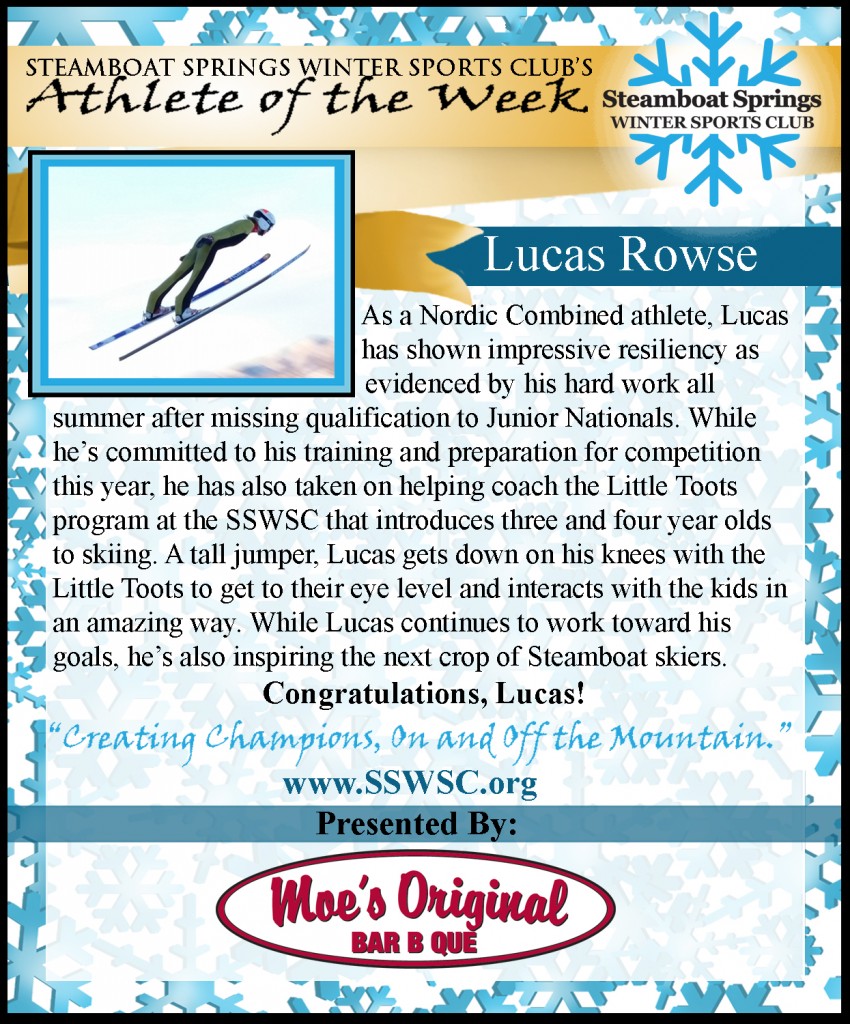 January 15, 2016
Congratulations to Ashley Spiegel, who introduced "Accountabillabuddy" program to her fellow athletes!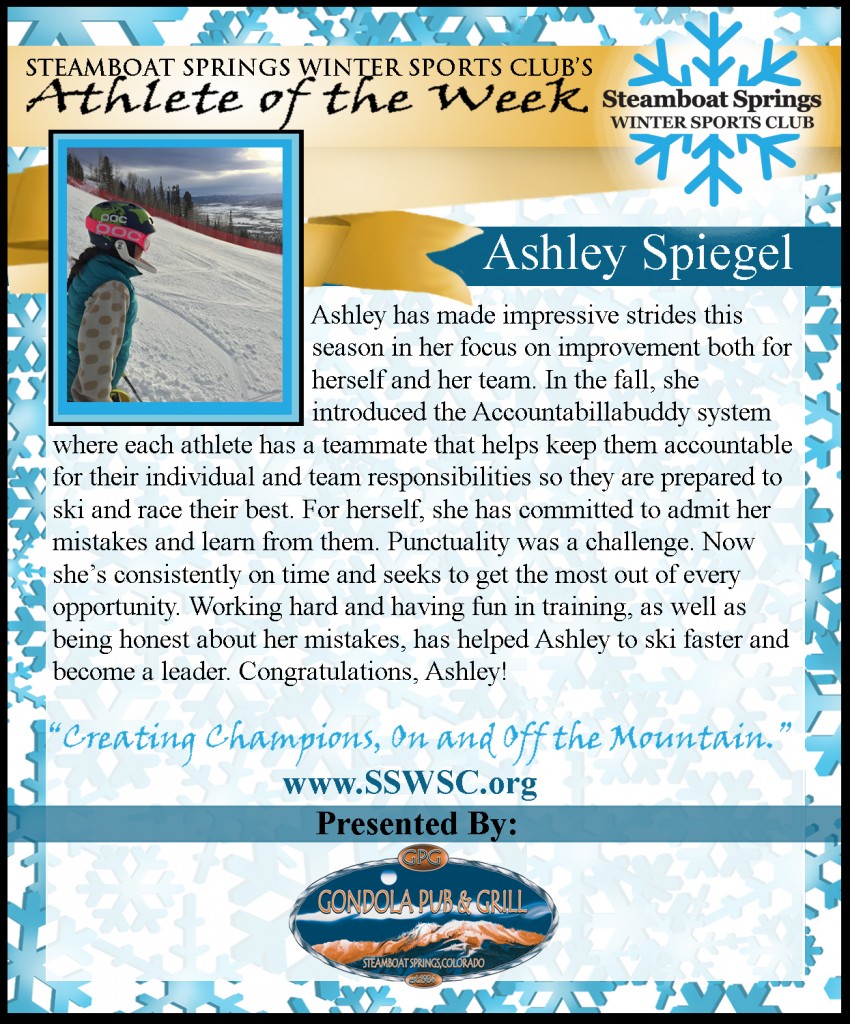 January 8, 2016
Congratulations to this week's athlete of the week Rosie Mancari, selected this year to the U.S. Development Snowboard Cross team while also volunteering for events and Howelsen Hill's snowboard cross build.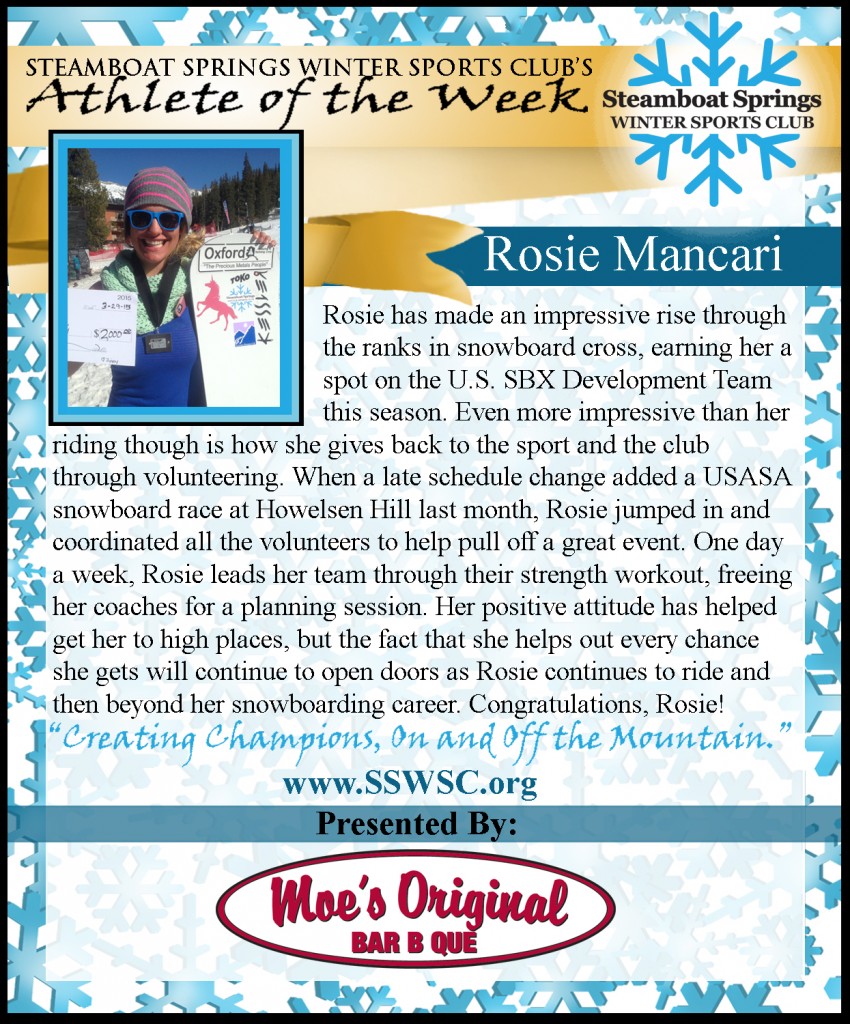 January 1, 2016
Congratulations to January 1 athlete of the week Meg Anderson, an outstanding student-athlete who is a leader and role model in the SSWSC cross country program.