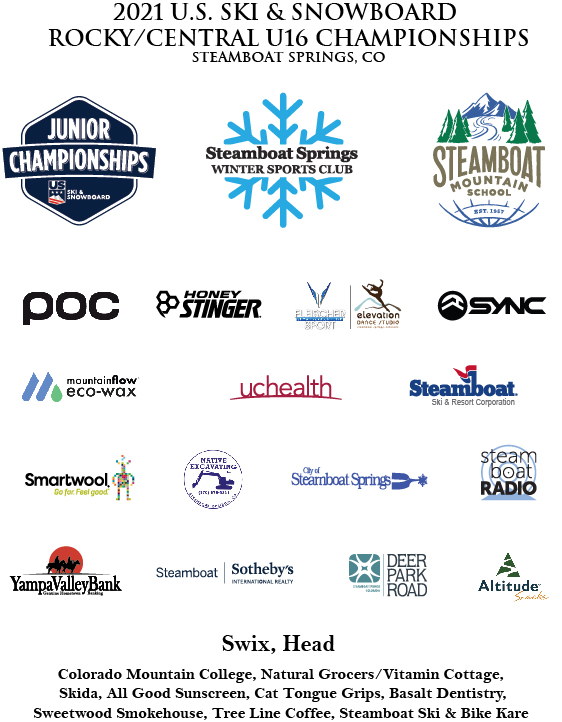 The 2021 U.S. Ski & Snowboard Rocky/Central U16 Championships features the top 14 and 15 year old skiers from the 18 state Rocky/Central region, from Ohio and Michigan through Colorado to Arizona and New Mexico.
Watch!
All events will be live streamed! Spectators are restricted on-site, but everyone will be able to see these amazingly talented ski racers all week long.
Event COVID Mitigation

Participant safety is of the utmost importance throughout the event. With a high rate of tourism, Colorado mountain towns are seeing somewhat higher rates of COVID transmission than other areas in the state, but the trend has been moving in the right direction as we move to the final weeks before the event. The race organizing committee requests that families traveling to Steamboat Springs read and abide by the most current public health orders in Routt County, and the race jury will strictly enforce all U.S. Ski & Snowboard and local rules with regard to athlete and participant safety related to COVID-19 throughout the event.

ATHLETE COVID PROTOCOLS:

All participants must complete a COVID pre-screening form 24-48 hours prior to their first event CLICK HERE
Face covering over nose and mouth required at all times for all participants while at ski area when six feet cannot be maintained between you and others. Face covering required at all times regardless of distancing while within the competition venue and when in or near lift lines. For your race run, face covering may be removed when the skier before you leaves the start, and must be put back on before exiting the finish arena.
Team captains must confirm daily symptom checks of their athletes.
Athletes will keep their bib through the entire event.
There are no indoor facilities available to racers or their families. Race headquarters and athlete check-in will be outside. Port-a-lets are available at both venues. The Howelsen Hill lodge is closed to entry.
Based on current public health policies with regard to field size, the races will be separated by gender but conducted on the same day. Unless specifically requested by the race jury, boys may not be within the competition venue during the girls races and vice versa.
No spectators are permitted at the finish. There is no uphill traffic allowed at Steamboat Ski Resort during operating hours. Volunteers are needed and volunteering is a great way to watch the race. Additionally, all races will be live streamed.
Awards presentations will be done virtually and athletes will be able to pick up their awards the following day (or for GS after the race)

The race organizing committee is working on enhanced video and online visibility and recognition for all the athletes for this event in light of the restrictions we face due to COVID. While we regret we will not be able to come together in person for opening ceremonies or an awards banquet, we hope that with our greater online presence and video presentations that the athletes will be able to share their experiences with all their family and friends back home!

Racer Information and Registration

Congratulations qualified athletes! There are 3 steps in the athlete registration process. Registration must be completed by Wednesday, February 24.

Register for the races and pay entry fees at my.usskiandsnowboard.org
Complete event registration and competitor bio here (you'll be asked to upload a good headshot, so please have one ready)
Sign SSWSC release form and Steamboat Ski Resort release form (click on both links). Racers who have already competed in Steamboat this season do NOT need to sign these waivers again.

Entry fee is $525. This includes race entries, lift tickets for 4 days at Steamboat Ski Resort, lift tickets for 3 days at Howelsen Hill, athlete gift bag, virtual events, race days snacks, local restaurant voucher and souvenir bib. Discounted entry fee of $495 for Ikon pass holders, you will receive a $30 refund on their entry and must use their season pass. Ikon base pass holder may choose this refund as well if they use their pass. Refunds will be processed at the start of the event. There are no refunds for athletes who choose not to compete in all events.

PARENTS: Check out this local's guide provided by the SSWSC parents to help make your week in Steamboat easier and more fun!

Coach registration is posted below. All coaches must register by February 27 at 5:00pm

Full Schedule of Events

March 1 – Official DH training
March 2 – DH race
March 3 – Super G and Super Combined races
March 4 – Slalom race
March 5 – GS race

Download the detailed schedule (subject to change)

About The Venues

The races are held at two separate ski areas located in Steamboat Springs, CO. The Downhill, Super G and GS races are held at Steamboat Ski Resort on the All Out/Sitz/See Me trails near the base of the mountain and the slalom races are held at Howelsen Hill Ski Area. The two ski areas are ten minutes apart by car, with good lodging options by the mountain (Steamboat Ski Resort) and in downtown (Howelsen Hill).

Lodging

Mountain Resorts
Condos and vacation homes throughout Steamboat Springs. Save 10% with the promo code SSWSC21 at Mountain Resorts, Simply Steamboat and Pioneer Ridge. Click here or call 888.686.8075.

Resident Inn by Marriott
New lodging property opened in December. All rooms are full suites with full kitchens, seating area with double sleeper sofa, workstation, king beds and free Wi-Fi. 72 hour cancellation. Complimentary breakfast: Full-service bar and dinner only restaurant-Grab and go market, Pre-arrival grocery delivery service, Pet friendly- Meeting room available for evening team get together - Fitness center, pool and hot tub, outdoor BBQ and fire pit. Conveniently located just steps from the local free bus and right behind Safeway.

BOOK HERE or contact Stacy Most 970.629.6102. Studio $159 - 1 Bedroom $209 - 2 Bedroom $309 Plus Tax 9.4% - No Resort Fee

Race Spectating

All races will feature a live video broadcast! You'll find each day's race video link on this page, as well as archived video and special video features, including a behind-the-scenes look at the week of racing that will be published following the races. Be sure to share the links with family and friends!

Per Routt County public health guidance and U.S. Ski & Snowboard rules, no spectators are allowed at the finish of the races or in the base area at Howelsen Hill. Steamboat Ski Resort is not allowing any uphill traffic on the trails (hiking or skiing) during operating hours this season.

The best way to watch in-person is to volunteer. Check out our volunteer positions here or email Kevin Sankey to register.

If you are skiing or riding on the mountain, there are some places you can see the course. At Steamboat Ski Resort, parents and siblings of racers can pre-order lift tickets at 20% off the window price, or purchase $55 Christie Peak only lift tickets (DH, SG and GS races are all on the Christie Peak chair). These tickets must be pre-ordered 48 hours in advance using this ticket request form. (Athlete tickets are included with their entry fee.)

Downhill & Super G
The event is at Steamboat Ski Resort, starting at the All Out start house and moving onto Sitz and See Me before finishing on Headwall. The downhill will be done in two runs, with 2nd run seeding reverse 30 like a regular GS or SL event. We request that there be no congregating in the Short Cut Road/top of Headwall area near the bottom of the course.

GS
The event is at Steamboat Ski Resort on the All Out race trail. The finish is at the timing building just above Short Cut Road. If you are skiing, there are plenty of places to watch from the side of the course if you ski Sitz to See Me. No spectators or congregating at the finish!

Super Combined Slalom and Slalom
The events are at Howelsen Hill on the Main Face. Unfortunately there is no spectating at the base of Howelsen Hill this year.

Race Results & Start Lists

Go to www.ussalivetiming.com. NOTE: If you are watching the live video stream and live timing, there will be a 30-60 second delay on the video compared to what you see on live timing.

Coach Registration

TEAM CAPTAINS! Please complete this TEAM CAPTAIN FORM by Saturday, February 27 at 5:00pm.

All coaches must register on my.usskiandsnowboard.org and complete the COVID pre-screening HERE 24-48 hours before the first day of competition.

Coaches must also complete the ONLINE RELEASE FORM HERE.
Check Out Your Race Photos!
The photographers at Fresh Prints were at will be at all the events (except the night slalom) catching the athletes on film. Check out the photos online at the Fresh Prints website. Complete portfolios are available for all racers. For more information, email them at FreshPrints@photosteamboat.com or call 970.875.3463.
Be Part of the Conversation!
Visit our U16 Champs Facebook Page for photos, updates, and additional information! If you have photos you'd like to share with everyone, tag them on social media as #SteamboatU16Champs and tag @RockyCentralU16Champs, and our Twitter feed @SSWSCHowelsen.
Questions?
Contact the SSWSC office at 970.879.0695 or email.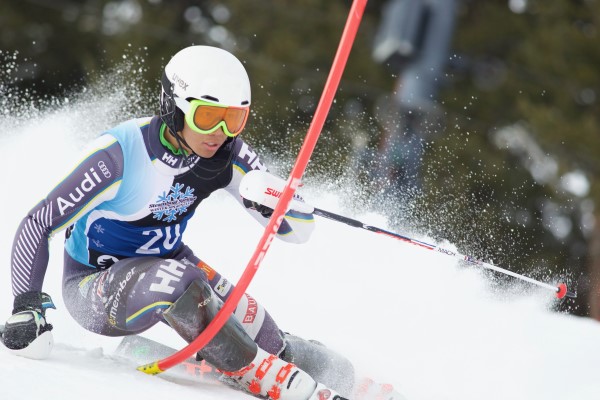 #SteamboatU16Champs