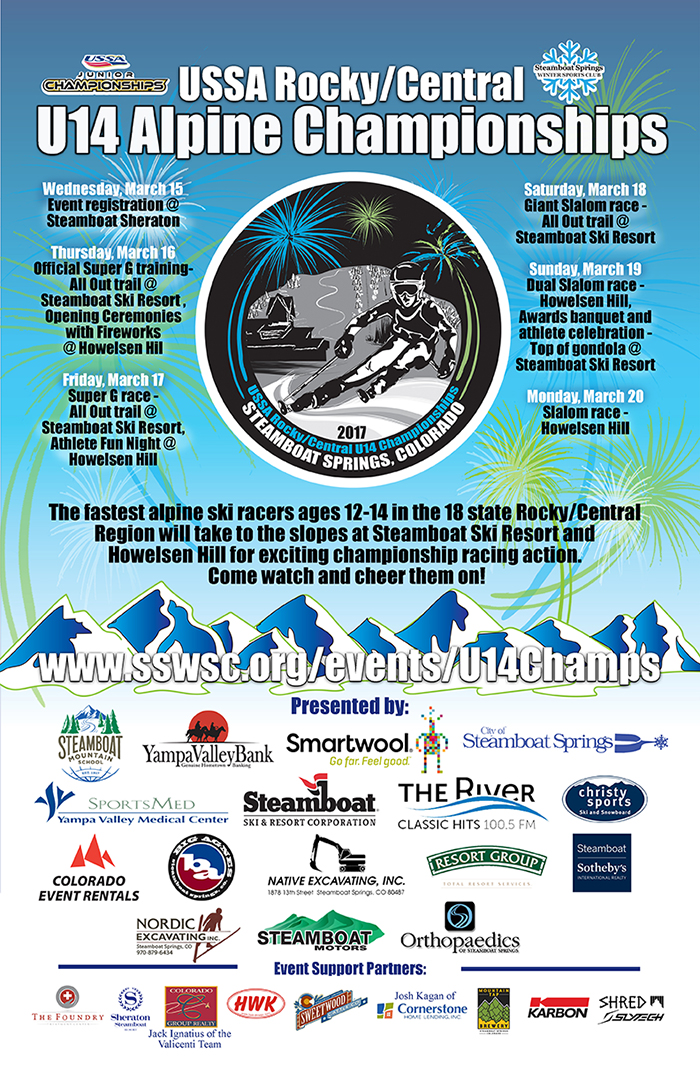 Additional Event Support by:

Ranch Organics, FM Light and Sons, Fuzziwigs, Bolle, Rocket Fizz, Fuxi Racing USA, Bula, The Steamboat Group, Imageseller, Grass Sticks Poles, Clif Bar, SYNC, Backdoor Grill, Double Z, Creekside Cafe and Gondola Pub and Grill

Great Job Racers!
What a terrific week of racing! Every racer dazzled the crowd with their skills and fearless racing. Thank you to all the parents who supported their children through the events. Thank you to our volunteers who helped make the events run smoothly. A huge thank you to the SSWSC coaching staff who worked tirelessly to set up perfect race environments. And thanks to our great sponsors who helped make this event a memorable one for all the athletes!
Race Results
Video Feed for Dual Slalom and Slalom Races
Sunday's dual slalom bracketed rounds and Monday's slalom races are still available for viewing up close and personal. Hear our announcers and watch the racers on Howelsen Hill. The video feed is provided by Steamboat Radio and KTYV Sports on FM @ 98.9.
Watch Sunday's dual slalom bracketed finals
Watch Monday's Slalom races
You can also find the live feed and the recorded version after the races at www.SportsonFM.com.
U14 Championships in the News
The Steamboat Today featured this article highlighting the U14 Championship event, featuring an amazing view of the super G and giant slalom race venue and impressive skiing from one of our U14 Championships competitors.
Be Part of the Conversation!
Visit our events Facebook Page for photos, updates, and additional information! If you have photos you'd like to share with everyone, tag them on social media as #SteamboatU14Champs and tag our facebook page @Steamboat Springs Winter Sports Club, and our Twitter Feed, @SSWSCHowelsen.
Questions?
Contact the SSWSC office at 970.879.0695 or email.
#SteamboatU14Champs