Brian Tate
XC Director
Brian has coached for the SSWSC Nordic Program since 1998. The first three years were spent coaching with the Ability Nordic Combined Team. From 2001 till present, Brian has been coaching the Ability X-C Team. In 2009 a new position was created, and Brian was offer the Cross Country Program Director Position. Brian coaches the Ability XC Team along with Josh Smullin. He also oversees the other five XC programs in the SSWSC. He presently holds a seat on the Rocky Mountain Nordic Executive Board- the regional XC governing body. Brian holds a USSA Level 100 XC Coaching Certification. His enthusiasm for sport and fitness is strong.
Josh Smullin
XC Ability Head Coach


Josh started his life in Fairbanks, Alaska. His family moved to Minnesota when he was five years old, and from there to Bend, Oregon when he was ten. He spent the next eight years competing for the MBSEF- placing in the top five at J.N.'s numerous times. Josh spent his junior year of high school in Sweden at the Mora Ski Gymnasium. Josh walked on the Colorado University Ski Team as a freshman and earned a athletic scholarship. He was a four year NCAA qualifier and the captain of the CU Ski Team his senior year. Josh graduated from CU with degrees in Kinesiology and Psychology. He continued his education at the University of Utah, where he earned a Masters Degree in Sport Psychology. He also was an Assistant Nordic Coach for the Utes. From 2005 through the present, Josh raced for Team Rossignol, capturing several podium finishes in major marathon races across the U.S., and one Super Tour victory. Josh holds a USSA Level 100 XC Coaching Certification. In the three seasons Josh has spent with the SSWSC, the XC Program has enjoyed historical success. The SSWSC is excited to have a coach of Josh's caliber part of the XC Program



Ben Barbier
XC Age Class Head Coach
Brad Piske
XC Age Class Assistant Coach
Nordic skiing didn't enter Brad's snow-sport repertoire until well into his 30s, when asked to participate in a 5 km company-wide ski race hosted by the environmental consulting/engineering firm for which he was employed. Having never donned a pair of Nordic skis, Brad completed the race in "skier-cross" fashion and discovered what he still believes to be one of the most demanding and rewarding endurance sports on the planet. Brad began coaching for a SSWSC, entry-level, Nordic-combined program in 1999 when his two daughters started Nordic skiing for the club. In 2004 Brad was asked to begin and be the head coach for a new, entry-level, XC program called Cross-Country Cruisers. His passion for skate and classic skiing continued as he developed as a skier, coach and parent of two competitive, Nordic athletes. In 2009 Brad began his current post as assistant coach for the SSWSC Age-Class, Nordic, J4/J3 athletes. His oldest daughter is currently skiing for the Dartmouth College Nordic ski team, and his youngest daughter is a J1 Nordic athlete competing for the SSWSC Ability program. Brad continues his strong belief in, and is proud to represent, Nordic skiing, Nordic athletes and the SSWSC Nordic programs.
Deb Rose
XC Development Head Coach
Marco Rabanal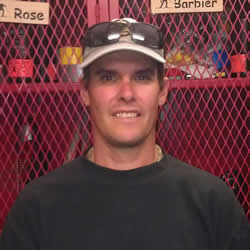 XC Cruisers Head Coach
In the 2010/11 season Marco assumed the head coaching position for the Cross Country Cruisers section of the SSWSC nordic program. Because Cruisers serves as the introduction to Nordic skiing for your children, it is an important springboard to generate a passion for the sport and the coaching role demands an ability to relate to young kids. Having taught kids programs in a variety of activities like soccer, hockey, rock climbing, biking and river sport, Marco has a solid base of experience to draw from when you leave your skier at the "ball field" for practice. Born in Spain, raised in Grand Jct, and a SBS resident since 1997, he loves what living in the Yampa valley offers and shares it with his wife Nicole and two 'Nordic' kids Soria and Gabe.
Trish O'Connell
Mini-Vikings Head Coach
Trish has been the head coach of Mini-Vikings since its inception 10 years ago. She also assists with Cross-Country Cruisers. "Being able to share my joy and passion for Nordic skiing with our youngest skiers is a great privilege."
Trish, originally form New
Jersey
, has been teaching skiing in Steamboat for 27 years. With her husband Chuck, who also helps coach Cruisers, they are enjoying raising their four great kids who all are skiers with the SSWSC.